SEATTLE – While the KEXP DJ spins records on a bright September afternoon, Alex Roldán sits signing autographs behind the coffee bar at the KEXP Gathering Space. Fans line up to meet him and taste Roldan Legacy, the single origin Roldán worked on with the team at Caffe Vita that's being released at the event.
Above him on the wall is a quote from Piero Bambi – a driving force behind La Marzocco before his passing in 2020 – that feels equally suited to Roldán, Caffe Vita, and the project they've worked together on: "You can learn the technique, but passion is cultivated through dedication, love, pride and respect in your work."
The collaboration, as Caffe Vita stated in a release, combines "two of Seattle's most beloved pastimes – coffee and soccer." But it's more than that. As the name suggests, Roldan Legacy represents history. That history is interwoven throughout the coffee itself and the collaboration between Alex Roldán and Caffe Vita. Since starting at Seattle University in 2014, Alex has made Seattle his home, while Caffe Vita has been a part of Seattle's coffee scene for almost 30 years. Coffee even runs in the family for the Roldáns as Alex's paternal grandfather worked in the coffee trade in Guatemala.
The coffee itself comes from Finca Las Isabellas in El Salvador, the country of his mother Ana's birth. El Salvador is a key part of Alex's own personal legacy, a major differentiating point between his and Cristian's paths in football. Alex represents El Salvador in international play, while Cristian's international career has been tied to the USMNT. The two brothers have plenty of similarities in their journeys to this point – they both played collegiately in Seattle before going pro with the Sounders after being selected in the first round of the MLS SuperDraft, each moving into the MLS ranks with questions about what position they'd actually play at the pro level after being somewhat attack-minded midfielders in college, and they each joined the club the season before an MLS Cup victory. Cristian entered the MLS SuperDraft in 2015 as a Generation Adidas player following two standout seasons at the University of Washington with some observers projecting him as a top-five pick, while Alex had spent a full four years at Seattle University playing a significant role as Pete Fewing lifted the program to new heights.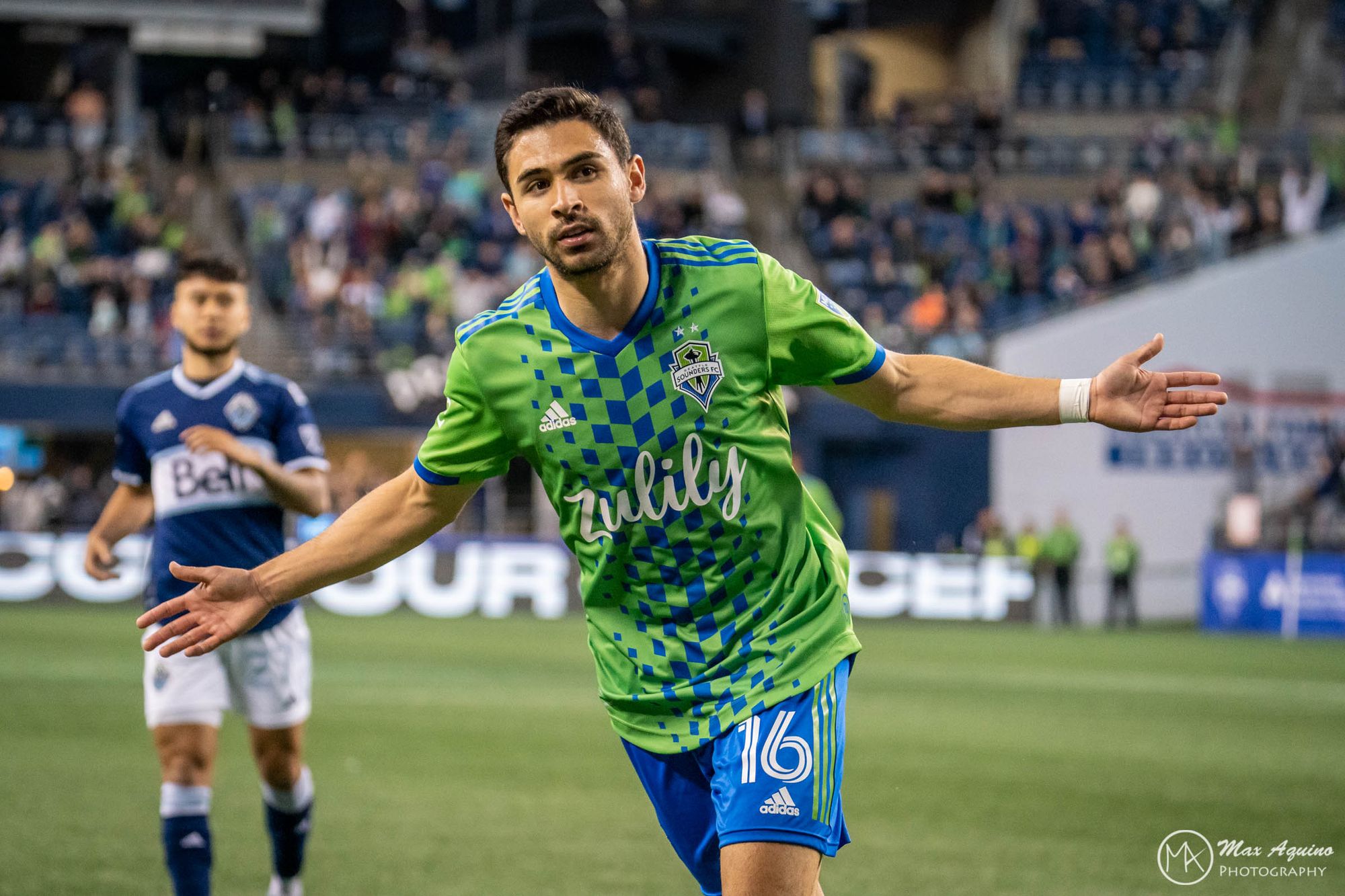 While both players served largely as role players in their rookie seasons, Cristian almost immediately became a locked-in starter in his second season. Alex struggled to find a place in the side and make it his own, eventually being cut following Seattle's 2019 championship. When he was given the opportunity to return to camp for the 2020 preseason and try to win a spot in a new position as the primary backup for starting right back Kelvin Leerdam, Alex truly started crafting his own legacy as he devoted himself to learning the new role. He appeared in all but five games across all competitions in the pandemic-shortened 2020 season, eventually claiming the starting RB spot for all four postseason games including Seattle's 3-0 MLS Cup Final loss.
Since then Alex Roldán has grown into a key part of how the Sounders play. Further unlocking his mix of skills was a major part of the tactical tweaks Seattle employed in the 2021 season that saw a departure from the side's typical 4-2-3-1 formation to utilize a three-back system with Alex deployed as the right wingback. His performances drew the attention of both El Salvador and Guatemala, before he ultimately chose to represent El Salvador. He went on to earn his first El Salvador cap in the nation's opening match of the 2021 Gold Cup against Guatemala in which he scored the opening goal of a 2-0 win. It was an iconic moment for a young man who had overcome challenges to prove himself a man who is more than suited to the big moments. He even captained El Salvador for six games during their push to qualify for the 2022 World Cup, an effort that fell well short but had its legs cut out from under it by the federation failing to agree to an acceptable agreement with the players. Roldán ultimately didn't appear in the final three games of the qualification campaign.
Alex's dedication and passion for El Salvador and the nation's people match his passion for his craft. That's part of the motivation for this collaboration. $2 from each bag sold will go to the Mangrove Association, an organization that works to improve the quality of life of the people in the Bay of Jiquilisco in El Salvador. It's a continuation of the commitment he showed when standing with his fellow national team players when fighting for better pay and more respect from the federation, and it's another example of Alex Roldán leaving a mark that's uniquely his. He's capable of stepping up in the moments when he's most needed – take his phenomenal goal to earn a point against FC Dallas on the road on Sept. 17 for example – so we should all be excited for this coffee collaboration, and even more so for what he does next.
Speaking of the coffee, Roldan Legacy is a delight. The medium roast is well-balanced, featuring full-body notes of brown sugar and green apple, with a floral finish that leaves a bright and pleasant taste after each drink. In my opinion, it would make a great iced coffee. You can try it for yourself by buying a bag from Caffe Vita. 12 oz. bags are available for $25.
Comments