Seattle and King County ended their recreational burn ban just in time. The Portland Timbers come to town on Saturday night and a bonfire will be built.
It's been too long since the Seattle Sounders beat the Portland Timbers. Despite being the better team over the past two years, the past five years, the past seven years, the MLS era, the USL era, the NASL era – Brian Schmetzer has struggled against Portland.
That's an absurdity that needs to stop. Now.
If the Sounders want to be a Cup contender and pick up a minor trophy along the way while qualifying for the Concacaf Champions Cup for their ninth time they need to extend their unbeaten streak from two games to many games.
Yes, they are almost certain to be missing their most important drafted player ever. Cristian Roldan embraced the rivalry more than most outsiders. He is vicious when facing the team that wears dark green.
He isn't the only one that enjoys dominating the Timbers. Raúl and Fredy have a history of doing so. Seattle's youth brigade have done it at the Academy and Defiance levels.
There is no better time for Seattle to recapture the essence of what it means to be a Sounder than against the Portland Timbers, at home, in front of tens of thousands of faithful in song and chant.
Put the Timbers on top. - Dave
Looking Back
Ertz retires, immediately; TFC find their next coach; more Messi, always
Julie Ertz is done – with the USWNT and with Angel City. This retirement is immediate, and a strong symbol of the the transition from the core of that double World Cup winning roster from '15 and '19 to whatever the new core will be in 2027 (wherever that World Cup is). This is also likely the end of the era where the players center their national team experience over their club, retiring when their season is over rather than the World Cup cycle ending. Ertz ends her playing career as a legend, with two Women's World Cups, an Olympic bronze, nine other USWNT trophies, two US women player of the year titles and dozens other individual recognitions. Retire grandly Julie.
John Herdman leaves Canada's men's team (after he left Canada's women's team) for Toronto FC. Can he buck the trend of midseason MLS coaching changes and provide a bump for the lowly Reds? Probably not. The problem in Toronto wasn't the coaching, as seen by their interim coach going 0-5 in his first five matches after Bob Bradley was fired.
Messi is bringing changes to the League. Will that mean that MLS finally moves away from playing on international dates? Maybe. Calendaring will be challenging as the Euros and Copa America (played in the U.S. next summer) don't share the entirety of their schedule, there's still the Leagues Cup, and about half the league has unplayable weather from December to February (and yes, about a third of the league has unplayable weather June to August). Also, Inter Miami is likely to quadruple its revenue this year, up to a quarter billion dollars – and that's just from half a season of Messi.
Notes
Puget Sound Soccer
It's a busy weekend for the area's pro soccer teams. Plus other matches to watch down the stretch. Also, Bumbershoot and PAX West are this weekend. Traffic will be more challenging than typical.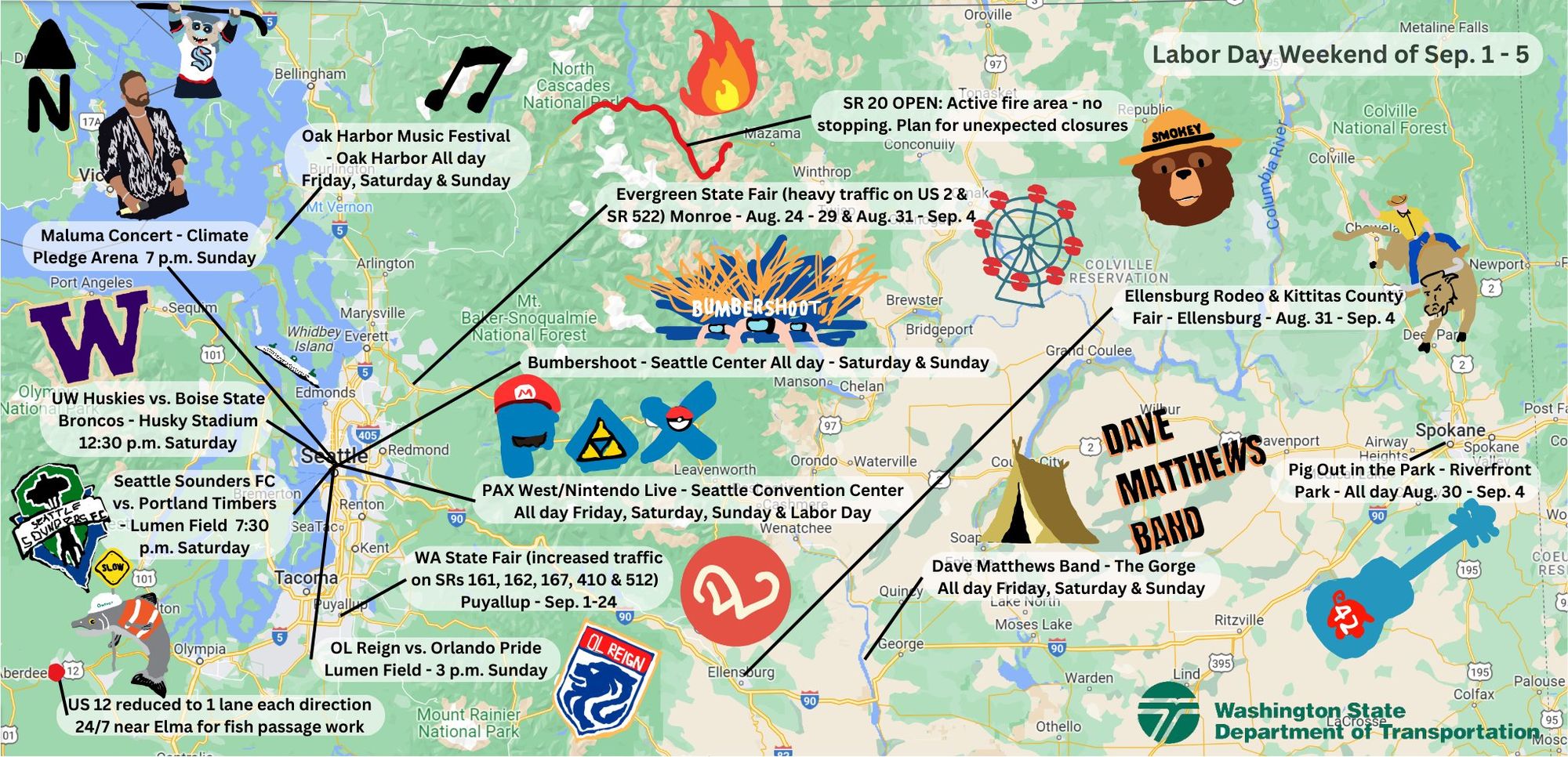 Friday
UW Husky men are at Indiana at 5 pm PT (Big 10 Network). Both teams are in the top 10.
Saturday
Gotham host North Carolina Courage at 4:30 pm PT (Paramount+). This is a key match with two teams who are just ahead of Reign in the table, so hope for a draw.
Seattle Sounders host Portland Timbers at 7:30 pm PT (MLS Season Pass) at Lumen Field. The winner of this match will take control in the race for the Cascadia Cup, which is currently held by Portland, with Vancouver at the top of the standings this season. Seattle has 8 points in their last six MLS matches, while the Timbers have 7 points in the same stretch.
Sunday
Seattle U women host Yale at Championship Field at 1 pm PT. The Redhawks are 82-33-9 at home from 2009 to the present after beating CSUN Thursday night.
OL Reign host Orlando Pride at 3 pm PT (Paramount+ and FOX 13+). Lumen Field will be bumping with a large crowd in this key match between teams on opposite edges of the NWSL red line.
LAFC host Inter Miami at 7 pm PT (MLS Season Pass). LA is only ahead of Seattle in the West standings due to goal differential, though they do have the ppg lead.
Monday, Labor Day
Defiance host Timbers 2 at 8 pm PT (MLS Season Pass) at Starfire Stadium. Defiance are 6th in the Power Rankings. Wade Webber's side will make the playoffs with a win.
Comments