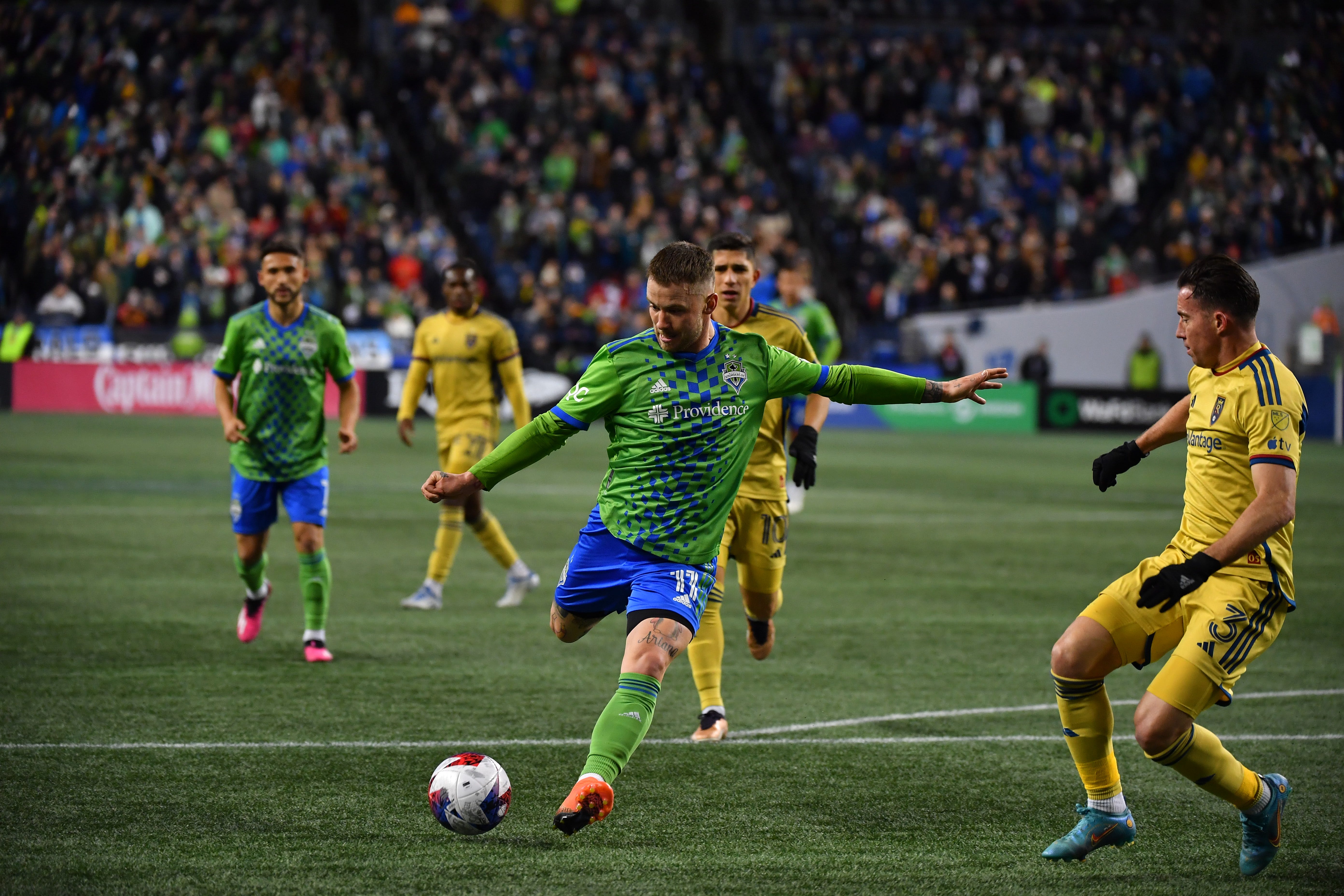 The Seattle Sounders are off to a perfect start through two games after taking care of Real Salt Lake 2-0 on Saturday in a match that was considerably more lopsided than the final score would suggest. This is just the fourth time the Sounders have started a season with two consecutive wins and a win against FC Cincinnati would equal the team's best-ever three-game start.
Before we turn the page, though, here are some of my observations from the win over RSL:
This team is fun
By now, you've probably seen Brian Schmetzer's quote about this being "some of the best soccer" in Sounders history. What's striking is how many different forms it's taking. It's not just intricate passing combinations, quick counter-attacks or high-intensity pressing, it's a bit of a combination of everything. The Sounders lead MLS in both "build-up attacks" (sequences that include at least 10 connected passes and lead to a shot) and "direct attacks" (sequences that start in the defensive end, involve at least 50% of passes going forward and result in a shot), according to Opta. They also rank among the league leaders in possessions won in the opposition's defensive third. I don't know how sustainable all this is, but it's been a joy to see them do it.
This might be the best midfield in MLS
The engine for a lot of that fun is the midfield, of course. We're obviously just two games in, but Nicolás Lodeiro, João Paulo and Albert Rusnák have done a pretty good job reminding everyone that they also powered the Concacaf Champions League run last year. Since then, however, there was a growing sense that maybe their best days were behind them. Who knows if they can sustain this level for another eight months, but is anyone really interested in betting against them? Lodeiro looks as fit as ever, João Paulo looks every bit as good as he was pre-injury and Rusnák once again looks like the possession-keeping machine he has always been. What's maybe most impressive about this start is that the Sounders have six goals and none of these three have been credited with contributing to any of them. Once that starts to happen, watch out.
Jordan Morris looks like a different player
Last week, I suggested Morris looks like he has rediscovered his 2020 form. I'd like to revise that and say that I think he actually looks better than that. Morris wasn't necessarily as dominant in this one, but he did score another goal and was even more involved with 20 more touches and 18 more passes than a week ago. Of those 47 passes, six were "progressive," which are forward passes that travel at least 10 yards or are into the penalty area. He was also involved in some of the more intricate passing combinations, of which there were several. I'm just really impressed with how well he's played and think we may be entering a new phase of his development into an elite attacking talent.
Jackson Ragen has taken a real step forward
Talking about the improvement of Jackson Ragen, Stefan Frei said he jokinginly refers to the centerback as "Chad Marshall 2.0." The funniest part about that? We've been hearing similar talk for at least a year. Ragen was a bit of a late bloomer as he took a few years to grow into his 6-foot-6 frame, but his improvement since first signing with Tacoma Defiance in 2021 has been immense. Ragen has always been a good passer and excelled at reading angles, but somewhat counter-intuitively hasn't been as good in the air as you'd expect. That seems to have been addressed this offseason as Ragen has won 10 of 11 aerial duels this year. I'm sure Xavier Arreaga is going to get minutes eventually, but it might not be at Ragen's expense.
Let's not get too far ahead of ourselves
Fun as it has been to watch this team, I'm being careful about reading too much into it. It's not that I think the Rapids and RSL are going to be bad necessarily, but more that I suspect the Sounders were just closer to their midseason form than either of their opponents were thanks to having to be ready for Club World Cup a month ago. This week they're going to get a much better test in FC Cincinnati, who have been one of the league's other top teams by most of the advanced metrics and are a popular pick for the Supporters' Shield this year. Still, I suspect FCC feels like the Sounders are more of a measuring stick than the other way around. Personally, I'm pretty excited to see how they match up.
Everything else you need to know
Comments