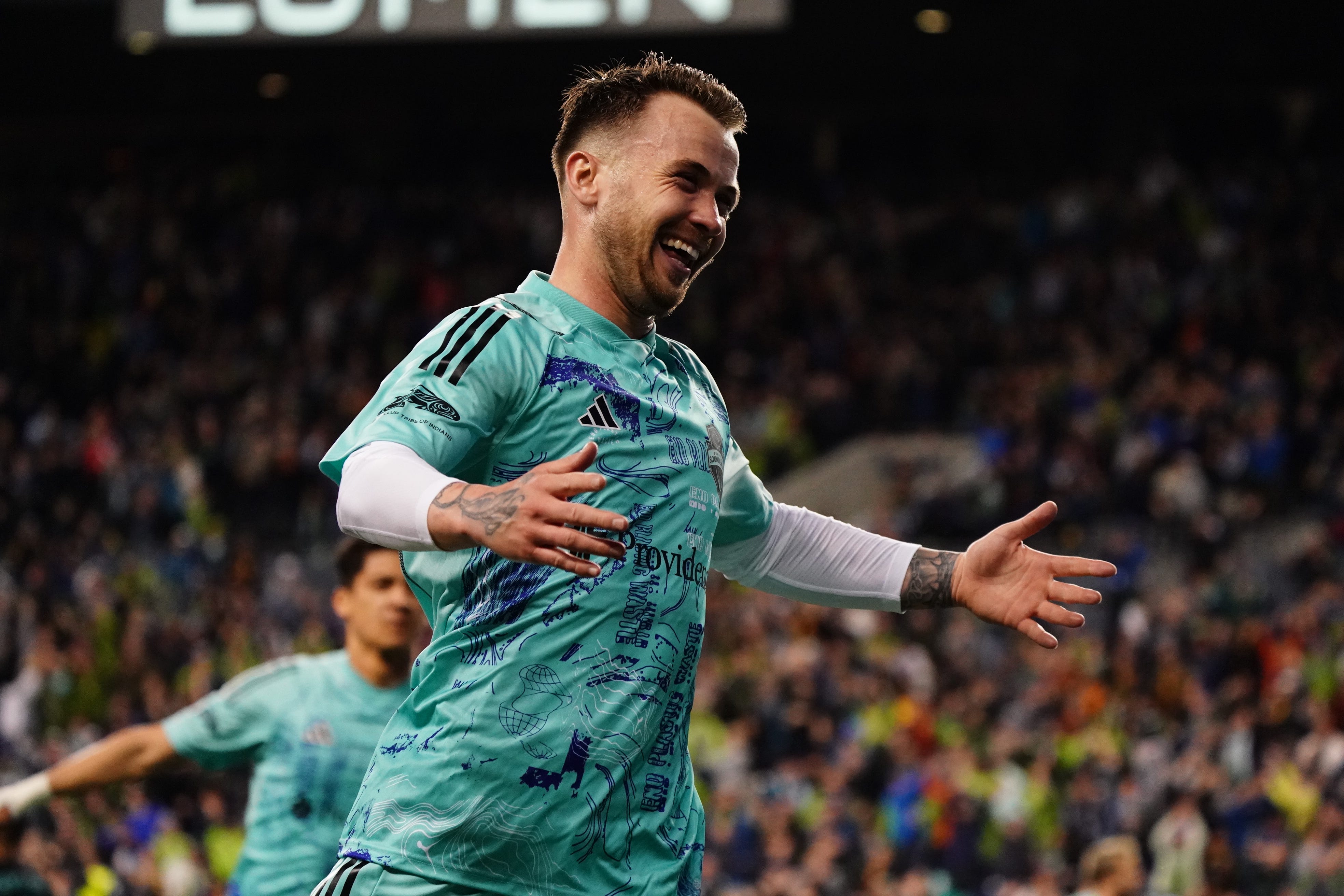 This was shaping up to be a pretty annoying week for the Sounders. It started with a particularly dumb loss to the Portland Timbers and seemed to only get worse. First, Raúl Ruidíaz suffered yet another hamstring injury — this one likely to keep him out for at least a month. Later that night, Jordan Morris played reasonably well in an ultimately pointless friendly, but also logged 88 minutes which meant he wasn't going to be able to start for the Sounders. Counting Cristian Roldan (concussion) and Josh Atencio (adductor), that left the Sounders down four potential starters.
As if that weren't enough, they got more bad news when Nouhou went down with a migraine just a few hours before Saturday's kickoff, forcing Kelyn Rowe into an emergency start.
Given all that, it probably shouldn't have come as a big shock that the Sounders looked something short of their best against Minnesota United. But I think it's a positive sign that they still found a way to win, riding Albert Rusnák's 78th minute strike to a 1-0 victory.
It's been said before, but good teams find ways to get results even when they aren't at their best and that's exactly what the Sounders did here. Minnesota did an admirable job of making life difficult, sitting in a midblock designed to gum up the midfield and giving few opportunities to get into transition, but the Sounders finally solved that dilemma.
Here are my main observations from the match:
Solid defense
A good defensive performance can oftentimes look a little boring from the outside. After all, the best defense does not involve a lot of dynamic play. It relies on good positioning and cutting out chances before they really get a chance to develop. But that's also exactly what the Sounders did on Saturday.
As uninterested as Minnesota was in possessing the ball, they also were completely unable to generate chances on counter-attacks or danger from set pieces. Of Minnesota's nine total shots, six were from outside the penalty area and they only had one shot that had an xG value of at least .10 (Robin Lod's close-range attempt that was ultimately blocked).
Minnesota finished with just .5 expected goals and just 34% of possession. That's the second-lowest xG the Sounders have allowed all season and the lowest possession they've allowed. It's also the fifth time this year the Sounders have held an opponent below 1.0 xG, something they only accomplished six times all of last season.
Rusnák finds the net
I don't think we're ever going to see Rusnák put up the kind of numbers he did for Real Salt Lake when he was consistently deployed higher up the pitch, but his goal was a good reminder that he's still a very capable attacking player. The shot was well struck and something very reminiscent of what he'd do during his RSL days, hovering around the top of the penalty area and looking for shots.
I don't know how many goals we can expect from Rusnák this year, but this one seems to be part of a possible trend. Rusnák's strike was the second time in three games that a central midfielder has scored from outside the penalty area after Josh Atencio scored from even farther away against St. Louis.
Shots like that are not particularly likely to score, but just being able to be consistently dangerous from there will help keep defense's from packing players into the penalty area.
Depth on display
The mark of a deep MLS team is not necessarily that they can play just as well without their starters as they can with them — that's a bit unrealistic at this point in the league's evolution. Rather, it's that they can adapt their game efficiently enough to get results.
That's what we saw against Minnesota, with Kelyn Rowe, Obed Vargas and Héber all serving their roles effectively. Of those three, Rowe is probably the one around whom there is the most skepticism. That's especially true when he's serving as the backup left back despite by his own admission not being entirely comfortable at that spot.
It's notable that the Sounders are now 2-0-0 when he starts there this year. Rowe didn't do anything particularly impressive, but he did avoid mistakes and was a solid contributor. He also won 7 of 13 duels, was 2-for-3 on tackles and even had two interceptions. None of this is going to challenge Nouhou for a starting spot, but they don't need him to.
Adrian Heath's personal nightmare
You've probably seen the stat that's floating around about the Sounders improving their home record against Minnesota to 8-0-0 across all competitions. That's apparently the most dominant home record of any MLS team against another in league history, which shouldn't be all that surprising. But what's even more amazing is that the Sounders are now 12-1-1 against Adrian Heath all time, including a 9-0-0 record at home. That extra game came when Heath brought Orlando City to Lumen Field and was summarily thumped 4-0. Sadly, he wasn't around for the 2016 meeting that the Sounders won 3-1 in Orlando as he'd already been fired.
Painful as this loss may have been for Heath, I suspect it barely registers in terms of his all-time list of agonizing losses to the Sounders. This was neither a blowout (like either of the times the Sounders beat Heath 4-0) nor a particularly late collapse (twice the Sounders have scored stoppage-time winners). This was a pretty run-of-the-mill loss on Heath's scale, at least.
Everything else you need to know
The Sounders play the USL Championship's San Diego Loyal in the third round of the U.S. Open Cup on Wednesday at Starfire Stadium. If you've never watched a Sounders game at Starfire, I highly recommend the experience. If you can't go the game is being streamed on B/R's YouTube channel.
The Sounders will return to league play on Saturday when they visit Real Salt Lake, someplace they've not won in the regular season since 2011.
Danny Leyva was sent on loan to the Colorado Rapids just before the close of the primary transfer window. It's a pretty good deal for the Sounders who have the ability to recall Leyva as soon as the summer transfer window and didn't need to include a purchase option. Leyva is a promising talent but was finding first-team playing time tough to come by and should have a clearer path to minutes with the Rapids, where he'll be reunited with former Defiance coach Chris Little, now an assistant in Colorado.
Tacoma Defiance scored an impressive victory over Houston Dynamo 2 on Sunday. Despite getting out shot 22-5, they equalized through a penalty and then found the late game-winner after Gio Miglietti put in a rebound.
Comments