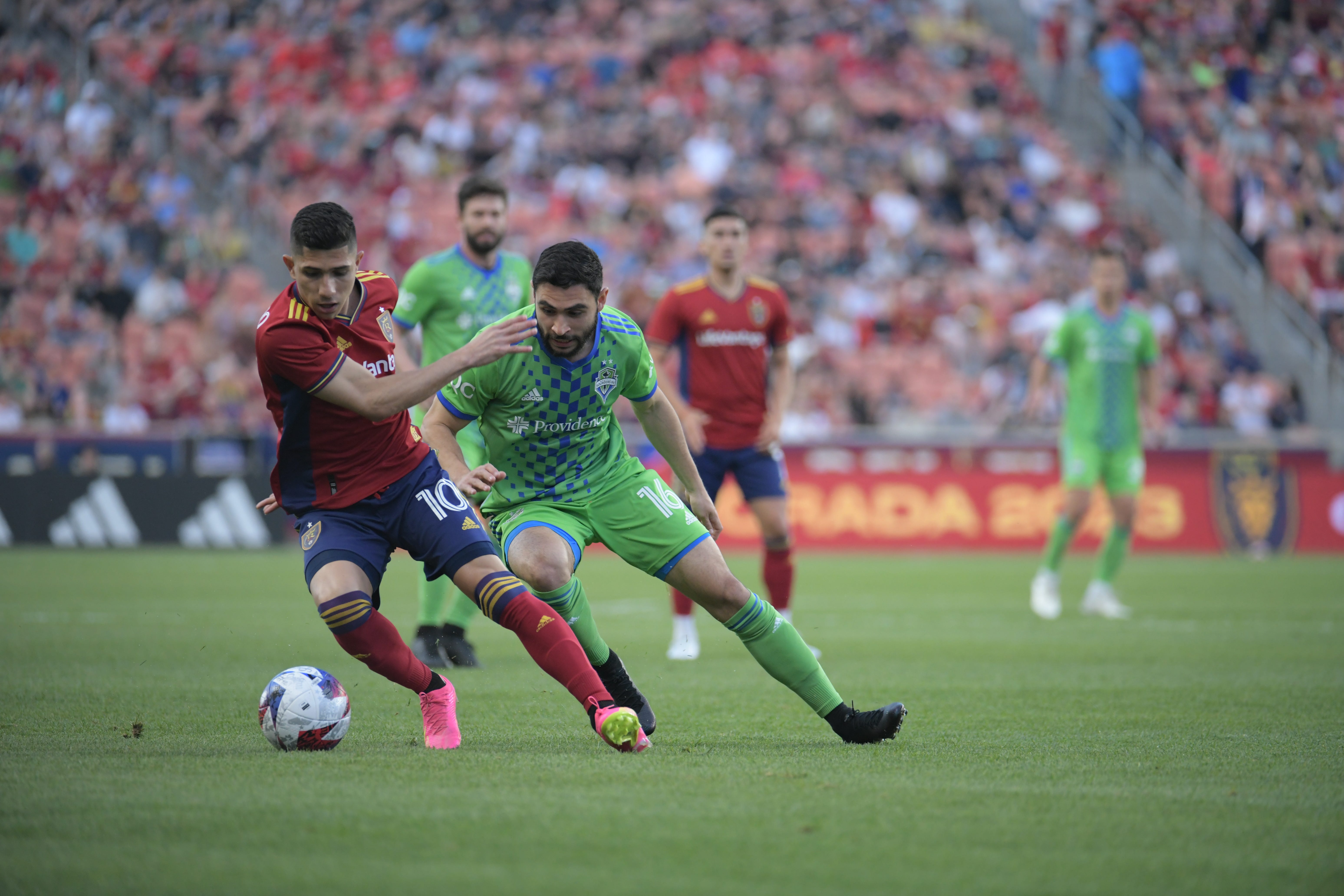 As the score implied, the Sounders' 0-0 tie with Real Salt Lake was a bit of a slog. The Sounders had some decent looks at scoring a goal, gave up a couple of half-chances on the other end, but this game never really had much flow. That might have been because of all the cards — nine!!! in total — or that games in Sandy always seem to end up this way.
However you slice it, the point was at least acceptable. RSL has been playing a lot better than they had at the start of the year — they'd won 3 of 4 heading into this game — and points are always tough to come by there. This was just the second time in the last 13 trips to Utah that the Sounders had come away with anything and it was enough to push them back into first place of the Western Conference.
Here's my main observations from the game:
Costly point
Before I get to anything else, it should be noted that Kelyn Rowe went down with what looked to be a pretty serious knee injury late in the game. Although it looks like he avoided a worst-case scenario, he's still going to miss some time. What makes that doubly troublesome is Nouhou's recovery from a mystery illness is also taking a bit to resolve. In the very short term, the Sounders may need to come up with some creative solutions at left back. In the one game without both players, that involved Alex Roldan playing there. I suspect we could see Reed Baker-Whiting or Xavier Arreaga deputize as well.
Hopefully less worrisome is that João Paulo also picked up his fifth yellow card of the season, meaning he'll need to serve a one-game suspension. I say "less worrisome" because the Sounders seem to actually be in OK shape without him. Josh Atencio appears to be fully back and has looked very good when he's been asked to fill in. I have very little concern with the Sounders' ability to manage one game without JP, and maybe the rest is ultimately a good thing for him.
Morris on the right
It's still just a sample size of two games so I don't want to jump to any extreme conclusions, but I don't think playing Morris on the right is putting him in a position to be at his best. I understand that this is a good way to get him on the field with Léo Chú and potentially Raúl Ruidíaz and I'm not at all convinced there was a better option than this on Saturday, but I do think we're seeing some limitations.
Morris has had two of his three worst games by xG+xA on the right side. Three of his goals have been scored in four starts as a left winger and his other five goals have been scored in three games as a forward. More than that, he's averaging .76 xG+xA on the left and 1.10 as a forward.
Morris had a couple decent looks in this one and certainly should have done better on the glancing header he put wide, but also didn't look quite as comfortable or dangerous as we're used to seeing him.
My hope is that once Cristian Roldan is fully fit that he resumes his spot as the right midfielder, Morris moves to forward and Léo Chú remains on the left. I'm not quite sure what to do when Ruidíaz eventually comes back, but I'm also OK with punting on that question until it's relevant.
Defense wins championships
Annoying and unsatisfying as it may be to watch a scoreless draw, I think we can reasonably find even more encouragement in the Sounders' posting their sixth shutout of the season than stressing about being held without a goal for the third time in 10 games.
The biggest problem last year wasn't their offense — although that was not great either — it was the defense's inability to keep clean sheets or close out games. The Sounders went 7-15-5 in games decided by one goal or less. After getting a scoreless tie in their first competitive match of the season — in CCL against Motagua — they didn't register another one in their 42 other matches. They also lost seven matches 1-0. They finished six points out of the playoffs.
It's been said plenty of times before, but to be successful in MLS you have to figure out how to get results when the shots aren't falling. The Sounders seem to be doing a good job of that.
It's about to get very busy
I'm not going to call the RSL game a missed opportunity, but it does end of what has been a pretty calm start to the season in terms of fixture congestion. (Yes, yes, I realize this game was technically short-rest too but Chú was the only player who was asked to start both games.) Starting with the Sporting KC match on Sunday, the Sounders will play at least eight matches between May 7 and June 3. There's also the possibility of additional games on May 23 and June 6 if the Sounders keep advancing in the Open Cup.
As good as the Sounders' depth has looked so far this year, we're about to get a much more serious test. That's also part of why I'm not as worried about figuring out how to get Chú, Morris and Ruidíaz on the pitch together … even assuming health there's going to be plenty of minutes to be juggled.
This is the reason, I suspect, Xavier Arreaga hasn't been traded, why they made getting a backup forward an offseason priority and when it will come in handy that there are at least four viable starters at central midfielder.
Everything else you need to know
Sounders are hosting Sporting KC on Sunday at 1:30 PM. Sporting KC, in case you haven't heard, are 0-7-3 and off to arguably the worst start in MLS history. It would be pretty sweet for the Sounders to give them another loss and take any argument out of that statement. By the way, the game is also available for FREE on AppleTV.
We're recording tonight. With a nod to those of you not on Twitter, we'd like to encourage you to submit questions in comments on this story.
We also launched a bunch of new merchandise. You can check it out here.
American Soccer Analysis polled MLS GM's and they say the Sounders the most "analytically advanced" team in the league.
Tacoma Defiance got another nice win over the weekend, beating LA Galaxy II 3-1. Hal Uderitz (penalty), Braudilio Rodrigues and Paul Rothrock all scored goals.
Comments