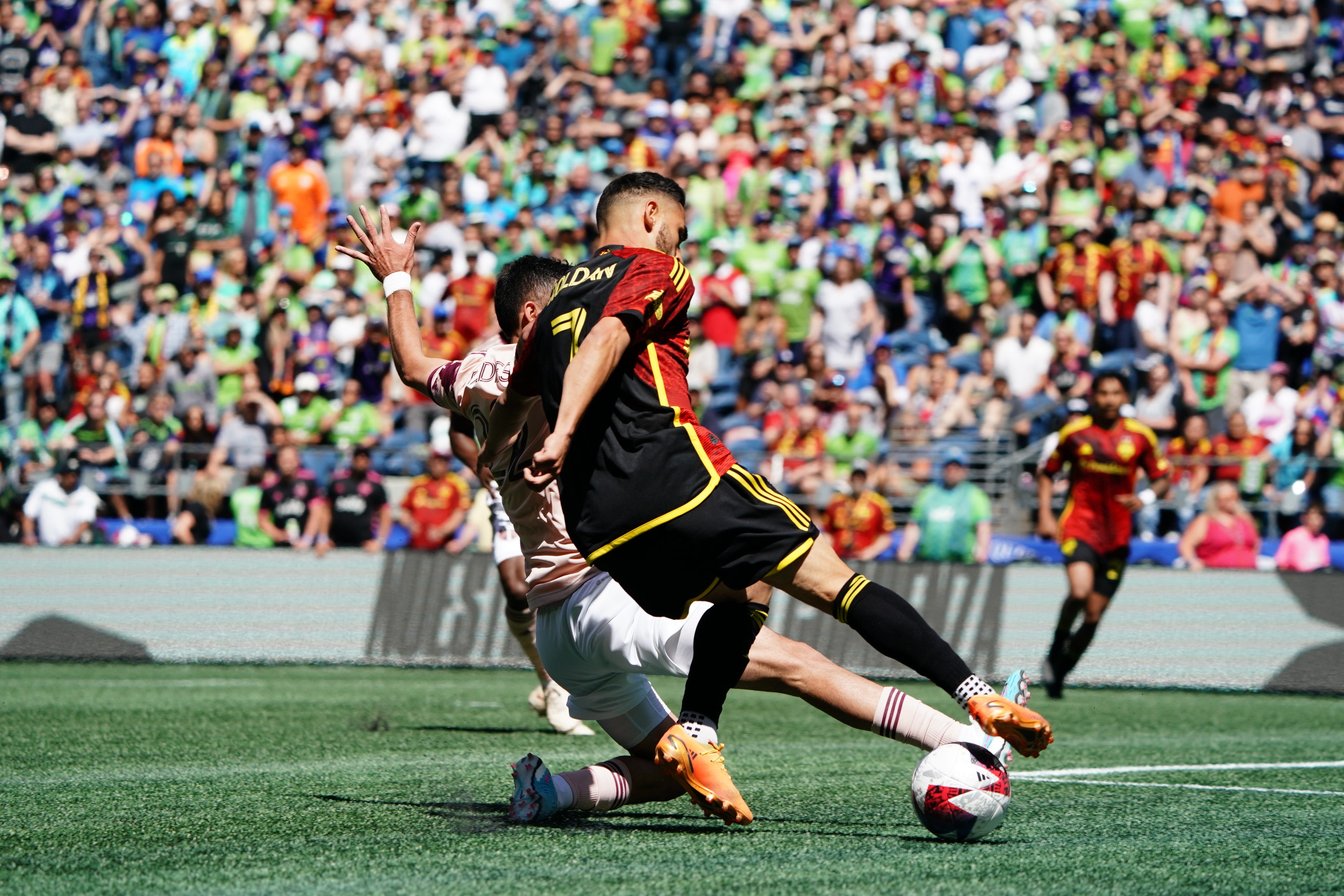 SEATTLE — I've now attended somewhere close to 40 Sounders-Timbers games over the years. I think I can say pretty authoritatively that Saturday's was among the most disappointing.
I don't mean that purely from a results-based perspective. A tie, even at home and against your biggest rivals, is not anywhere close to the worst result as we've learned the hard way in recent years. I'm not even saying the two teams lacked passion or whatever. I'm just saying that this game simply lacked excitement.
My best guess is that Brian Schmetzer was deadset against the idea that he was going to play into Gio Savarese's normal plan to defend deep and look for the counter. It's how the. Sounders have gotten burned numerous times in this rivalry. On the other wide, Savarese wasn't about to expose his fragile defensive team and probably figured the Sounders' would blink first.
In the postgame press-conference, I asked Schmetzer about his game plan and he insisted it was not intended to be this conservative but I hope he was just being cagey. Otherwise, we're left to consider that the Sounders managed just five shots at home against one of the worst defenses in the league. The only real moment of promise came when Cristian Roldan managed to get himself free in the penalty area and lofted a cross into the box that Léo Chú hit way over the crossbar. Aside from that, the Sounders only real chances came on corner kicks that were mostly dealt with relative ease.
Following Wednesday's disappointing loss, I suggested the Sounders were bound to see better results if they continued to produce chances like they did against the Earthquakes. Suffice it say, that was not even close to the case against the Timbers.
These are my main observations from the game:
Totally punchless
The Sounders managed only five shots, none of which were particularly dangerous. I'm fairly certain that's the fewest shots they've ever taken at home and it's certainly the fewest they've taken this season.
Their underlying numbers have mostly been pretty good, including the two previous games last week, but there was no hiding from this offensive performance. This was bad.
Similarly frustrating is that it has now been 10 games since the Sounders have scored more than one goal and they've been completely shut out in four of those. It's a testament to their defense that the Sounders have still managed to collect 11 points in that time and have even managed to salvage a point in half of the games in which they've failed to score this season.
This can't continue
This wasn't just that this was Sounders' worst performance by xG all season, it's that it was at home against their biggest rival. It's one thing if you come out flat at the end of a three-game week on the road like they did against the Whitecaps — disappointing as that was — but to conjure nothing offensively in a game like this, in front of 42,000 fans? It's incredibly disappointing.
What was truly strange was Brian Schmetzer's postgame comments. Logically, I fully understand that he's broadly correct about the first half of the season being well within the scope of what's acceptable. I was just taken off guard by how unbothered he seemed with the complete lack of danger the Sounders created or that the tie continued an eight-game run of winless games against the Timbers.
The best explanation I can come up with is that he's already tried the fire-and-brimstone thing when it comes to this rivalry and maybe he thinks it's better to put less emphasis on it? I don't know. This is obviously getting to be quite tired. The good news, I think, is that the Sounders have another chance to end this stupid streak this year when the Timbers come to town on Sept. 2.
Elite defensively
It should not be lost that for all the Sounders' struggles both in this game and over the past couple months that their defense has remained incredibly stout. Even though the Timbers managed to take 11 shots, only one was even remotely dangerous and the Sounders did a wonderful job of cutting out most of the counter-attack opportunities before they had much of a chance. On the rare occasion, the Timbers got out in transition, there was always players there to keep the ball in front of them.
No one seems to be talking about this, but Stefan Frei already has nine shutouts this year. That puts him on pace to break one of the oldest records in MLS: Tony Meola's 16 shutouts in 2000. I don't know that Frei can realistically keep up this pace, but it's notable that he's managed it while the Sounders have mostly managed to create chances so it's not like they necessarily have to allow themselves to be more exposed.
The kids did all right
Two of the most encouraging developments over the past couple months is the emergence of Cody Baker and Reed Baker-Whiting as viable MLS players.
Baker's emergence has seemingly come out of nowhere, especially if you've not been paying attention to the youth ranks. He's 19 and never made a USYNT appearance. Up until now, we'd seen him playing on the weaker left side. Against the Timbers, he showed that he's also perfectly capable of holding it down on the right and showed a bit more attacking instincts on that side as well. He also made at least one goal-saving play, coming from the weak side to break up a counter in the 14th minute.
Baker-Whiting has been on the radar of pro scouts for a bit longer but hadn't gotten many first-team looks before this year. Against the Timbers, it was obvious that he understands space at an elite level and clearly has eyes for danger, even if his final touch let him down a few times. I'm still not quite sure what his position is, but you're starting to see what scouts like about him so much.
Everything you need to know
The Sounders get a full week off, but will head back on the road. They visit Charlotte FC for the first time on Saturday.
The Thorns won the second part of the doubleheader. It was more active than the opener, but no less disappointing.
This was the second-ever Sounders-Reign doubleheader. The big difference this year was that the Sounders played first. I think it's a good event, but wonder if playing Portland is a little hat-on-hat. By that, I mean the games against Portland are already a big draw. They don't need to have them both played on the same day for the same ticket. If they want to keep the double-header concept, I'd rather see it be someone like LAFC-Angel City or Sporting KC-KC Current.
Comments