FULL-TIME: Albert Rusnák scored a 90th-minute game-winner to lift the Seattle Sounders to their first victory since July 8. Jordan Morris had given the Sounders a lead earlier in the second half – putting away a Nicolás Lodeiro free kick – but Austin FC came roaring back. Sebastian Driussi ultimately grabbed an equalizer after about 20 minutes of sustained pressure.
With the 2-1 win, the Sounders are now even on points with LAFC for second-place in the Western Conference, albeit with two more games played. They now host the Portland Timbers on Saturday.
LINEUPS: As expected, the Seattle Sounders rotated pretty heavily. Josh Atencio, Ethan Dobbelaere, Reed Baker-Whiting, Léo Chú and Xavier Arreaga all entered the lineup while Jordan Morris moved to striker.
---
It's been a bit since the Seattle Sounders last won a game. You may remember that one. The 3-2 win over the Vancouver Whitecaps felt like a momentum changer, getting a late goal to win their second straight.
Rather than setting their season on the right path, however, it proved to be more of a false dawn. The Sounders lost their next game and are now winless in six straight across all competitions. They've only had one longer drought since 2014.
The main problem has been an offense that simply can't find consistent ways to score and a defense that seems to buckle at the worst possible times. Not exactly a recipe for success.
Austin FC presents an opportunity to get right tonight. They are currently mired in a run of four straight losses and losses in 5 of 6, including two home games in Leagues Cup. They'll also be missing their best midfielder in Dani Pereira and are struggling to get goals from their No. 9 spot in eerily the same way as the Sounders.
Notes
Austin FC is riding a four-game losing streak across all competitions, one shy of their franchise record that was set in 2021. But they've only lost two of their last 11 at home (6-2-3).
After not allowing any stoppage-time goals in their first 23 matches of the season, Austin FC have now surrendered stoppage-time goals in each of their past two, including a 90+7 game-winner last week.
Nicolás Lodeiro recorded his ninth assist of the season against Minnesota United. He is one assist away from becoming just the fifth player in MLS history to have six or more seasons of at least 10 assists.
Absences: Injury, international duty and suspension
Austin
OUT: Žan Kolmanič (R ACL), Dan Pereira (suspended)
Seattle
QUESTIONABLE: Cristian Roldan (Concussion Protocol)
OUT: Kelyn Rowe (Right Quad Strain); Dylan Teves (Left Hamstring Strain)
Officials
REF: Drew Fischer; ARs: Cory Richardson, Walt Heatherly; 4TH: Matthew Corrigan; VAR: Daniel Radford; AVAR: Benjamin Wooten.
How to Watch
Match date/kickoff time: Wednesday, 5:39 PM PT
Venue: Q2 Stadium, Austin, Texas
Global Streaming English: MLS Season Pass (Keith Costigan & Maurice Edu)
Global Streaming Spanish: MLS Season Pass (Jorge Perez Navarro & Marcelo Balboa)
Local Radio: 950 KJR-AM Seattle, iHeartMedia (Danny Jackson & Pete Fewing)
Local Spanish Radio: El Rey 1360 AM (Rodriguez, Maqueda, Tapia)
Is this game available to stream for free? No
Will Sounders radio be available as an alternate feed? No
Lineups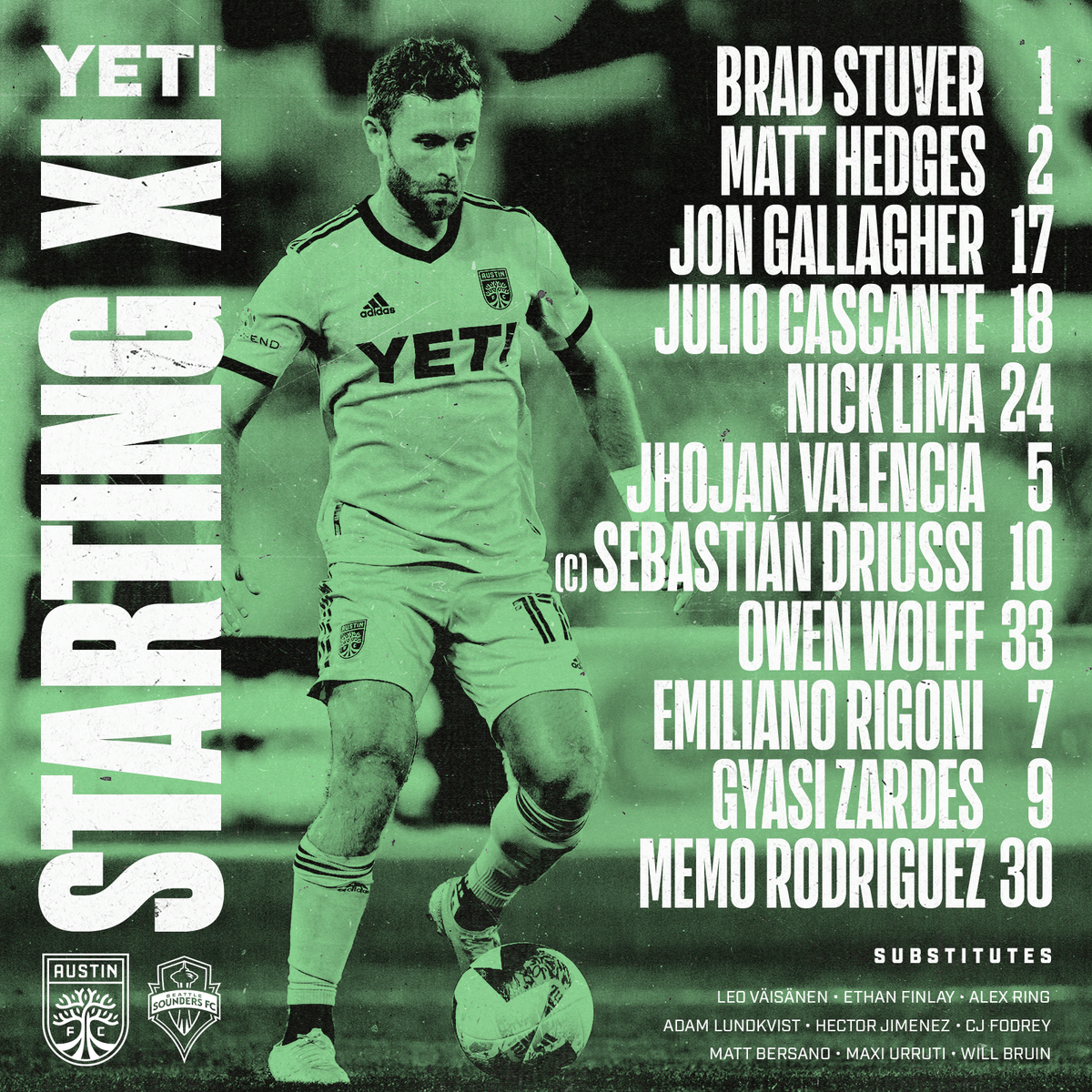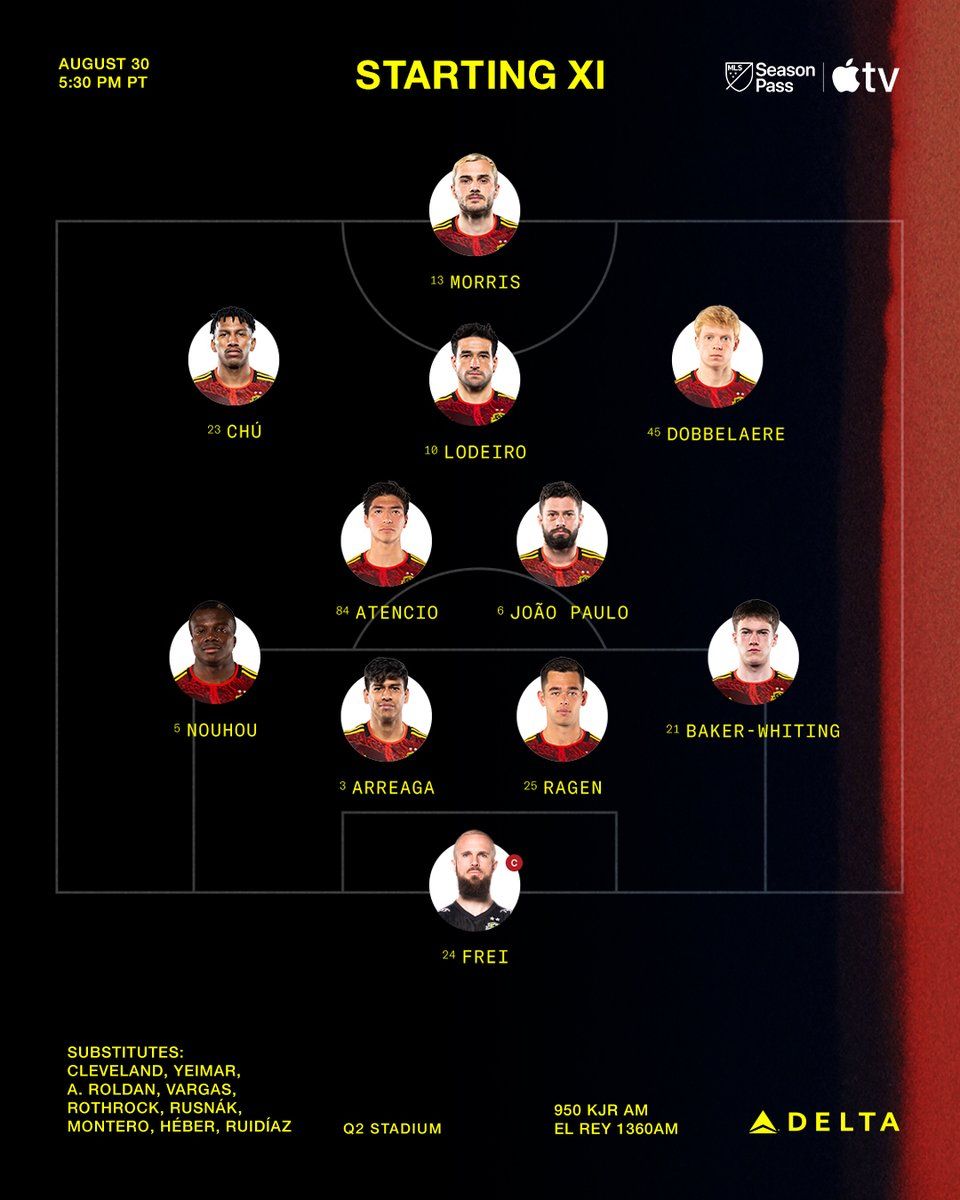 Highlights will be posted as the match progresses.
This is Seattle Sounders at Austin FC; watch with us
Comments