If a script writer was going to put together a series of matches for the Seattle Sounders to reboot their season, it would start with a road match against a team that is horrible at home (Minnesota United is the second-worst home team in MLS) and end with a match against the oldest rivalry in Anglo-American soccer.
That's exactly how this three-game week is framed. The Sounders will need more than a good script to get themselves out of the doldrums. From the coaching staff to every player on the team they must behave like "the Seattle F-ing Sounders, bro." Unlocking who they have been to once again become who they are is the job of Brian Schmetzer, who said earlier this week that there will be lineup changes.
Then several of those players who could provide deep shakeups played against Loons2 in their win Friday night. Even without Josh Atencio, Xavier Arreaga and a couple of the young right wingers who haven't performed, Schmetzer could still start a team that benches two DPs.
Will Seattle abandon the Plan A they had to start the season? Will they take advantage of a soft opponent?
Or will the sails luff?
One key stat
11 - the number of road points the Sounders have picked up in six previous matches against Minnesota.
Vibe check
"Plan A has a stink on it." - Edgin Darvis, D&D: Honor Among Thieves
How close to full strength is everyone?
Sounders Dylan Teves (left hamstring strain) and Kelyn Rowe (right quad strain) are OUT.
Loons have several key players OUT Ryan Jiba (knee), Robin Lod (knee), Kervin Arriaga (knee)
Projected lineups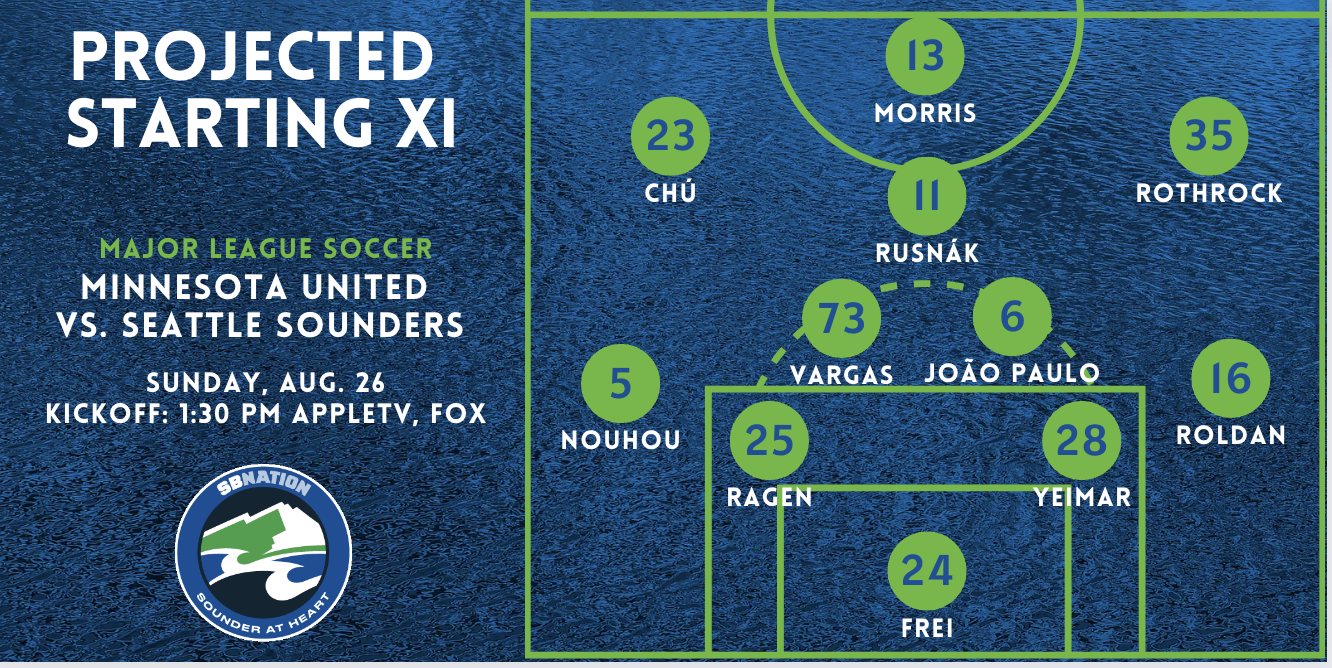 Sounders (4-2-3-1): Frei; Nouhou, Ragen, Yeimar, A.Roldan; Vargas, João Paulo; Chú, Rusnák, Rothrock; Morris
Loons (4-2-3-1): St. Clair; Bristow, Tapias, Boxall, Taylor; Dotson, Trapp; Rosales, Reynoso, Hlongwane; Pukki
What you need to know
Sounders record (place): 10-9-6, +4 for 4th in the West (away 4-5-2)
Loons record (place): 8-8-7, -2 for 9th in the West (home 2-2-6)
Where: Allianz Field, St. Paul, Minnesota
Kickoff time: 1:55 PM PT
Commentators (provider): John Strong & Stu Holden (FOX), Dre Cordero & Jamie Watson (Apple TV in English), Adrian Garcia-Marquez & Francisco Pinto (Apple TV in Spanish), Jackson Felts & Marcus Hahnemann (93.3 KJR FM), "Zuper" Mario Rodríguez, Felipe Maqueda & Carlos Tapia (El Rey 1360AM)
Comments