FULLTIME: The Sounders overcame a flat first half to pull out a very valuable point in a 1-1 tie with FC Dallas on Saturday. Reed Baker-Whiting set up Alex Roldan for a second-half equalizer and the Sounders actually had the better looks at a potential game-winner, with Cristian Roldan having a close-range shot blocked and Jordan Morris nearly setting up Nouhou on what was the game's final play.
DALLAS 1, SOUNDERS 1: Alex Roldan finished off a Reed Baker-Whiting cross, volleying a shot into the net for his first goal of the season. Baker-Whiting had broken down his defender to create the chance to pick up his first MLS assist.
DALLAS 1, SOUNDERS 0: Jader Obrian got out on a counter-attack, catching the Sounders out of position to give Dallas an early lead.
LINEUPS: The Seattle Sounders made a few notable changes to their lineup, mostly in response to Léo Chú's suspension. Albert Rusnák moves to left mid, Nicolás Lodeiro returns to the starting lineup and Reed Baker-Whiting replaces Nouhou at left back with Nouhou a late return from international duty. Also of note, Cristian Roldan is on the bench.
---
The Seattle Sounders, somehow, still occupy second place in the Western Conference. If they can get at least a point at FC Dallas – someplace they've historically struggled – that would go a long way toward helping that position feel a bit more stable.
Dallas, it should be said, have been very good at home even if they've been pretty middling overall. They've only lost 3 of 25 games across all competitions at Toyota Stadium, but they definitely have some weaknesses.
Primarily, that's on the offensive side of the ball. Dallas' 29 goals are the second-fewest in the Western Conference and the only player with as many as five goals is Jesus Ferreira (10).
Notes
The Sounders have gone just 1-8-3 since 2014 at Toyota Stadium. They've never scored more than one goal in any of those games.
FC Dallas is unbeaten in six straight and are 14-3-8 in their last 25 at Toyota Stadium.
The Sounders have won three straight trips to Texas (against Houston and Austin). Since 2010, no visiting team has won four straight games in the Lone Star State.
After failing to hold a two-goal lead just once in the first 129 times it happened, the 2-2 tie with the Portland Timbers marked the third time in their last 13 attempts that they failed to hold such a lead.
Since joining MLS in 2009, the Sounders have 81 road wins. That's eight more than any other team during that stretch.
Absences: Injury, international duty and suspension
Seattle
QUESTIONABLE: Cody Baker (Concussion Protocol); Cristian Roldan (Concussion Protocol)
OUT: Léo Chú (Suspension); Kelyn Rowe (Right Quad Strain)
Dallas
OUT: Alan Velasco (right calf), Bernard Kamungo (right shoulder), Geovane Jesus (right knee), Tarik Scott (season-ending knee injury)
QUESTIONABLE: Antonio Carrera (left ankle), Ema Twumasi (right shoulder)
Officials
REF: Allen Chapman; ARs: Chris Wattam, Claudiu Badea; 4TH: Sergii Boiko; VAR: Greg Dopka; AVAR: Jeff Musch
How to Watch
Match date/kickoff time: Saturday, 5:39 PM
Venue: Toyota Stadium, Frisco, Texas
Global Streaming English: MLS Season Pass (Max Bretos, Brian Dunseth)
Global Streaming Spanish: MLS Season Pass (Diego Pessolano, Walter Roque)
Local Radio: 950 KJR-AM Seattle, iHeartMedia (Danny Jackson & Steve Zakuani)
Local Spanish Radio: El Rey 1360 AM (Rodriguez, Maqueda, Tapia)
Is this game available to stream for free? No
Will Sounders radio be available as an alternate feed? No
Lineups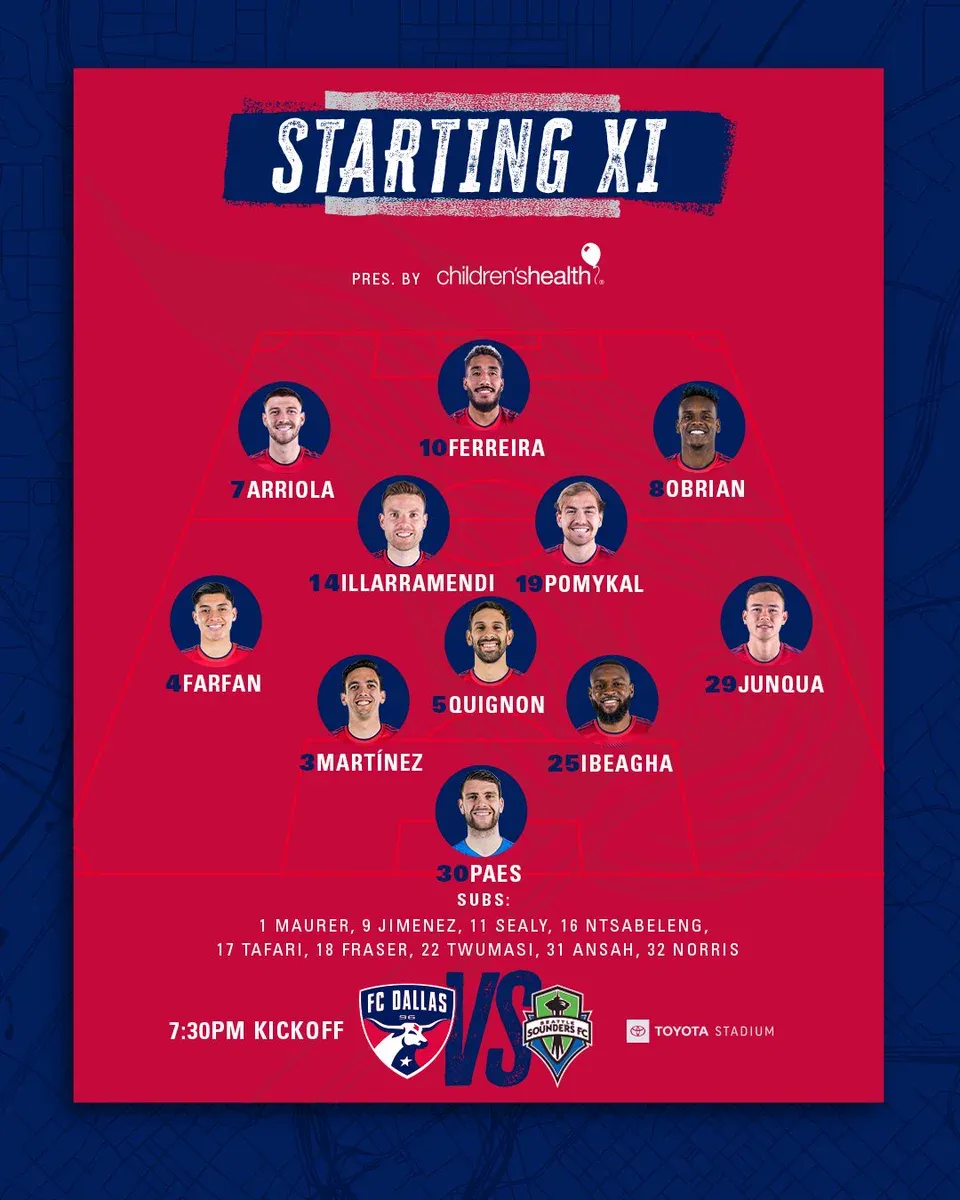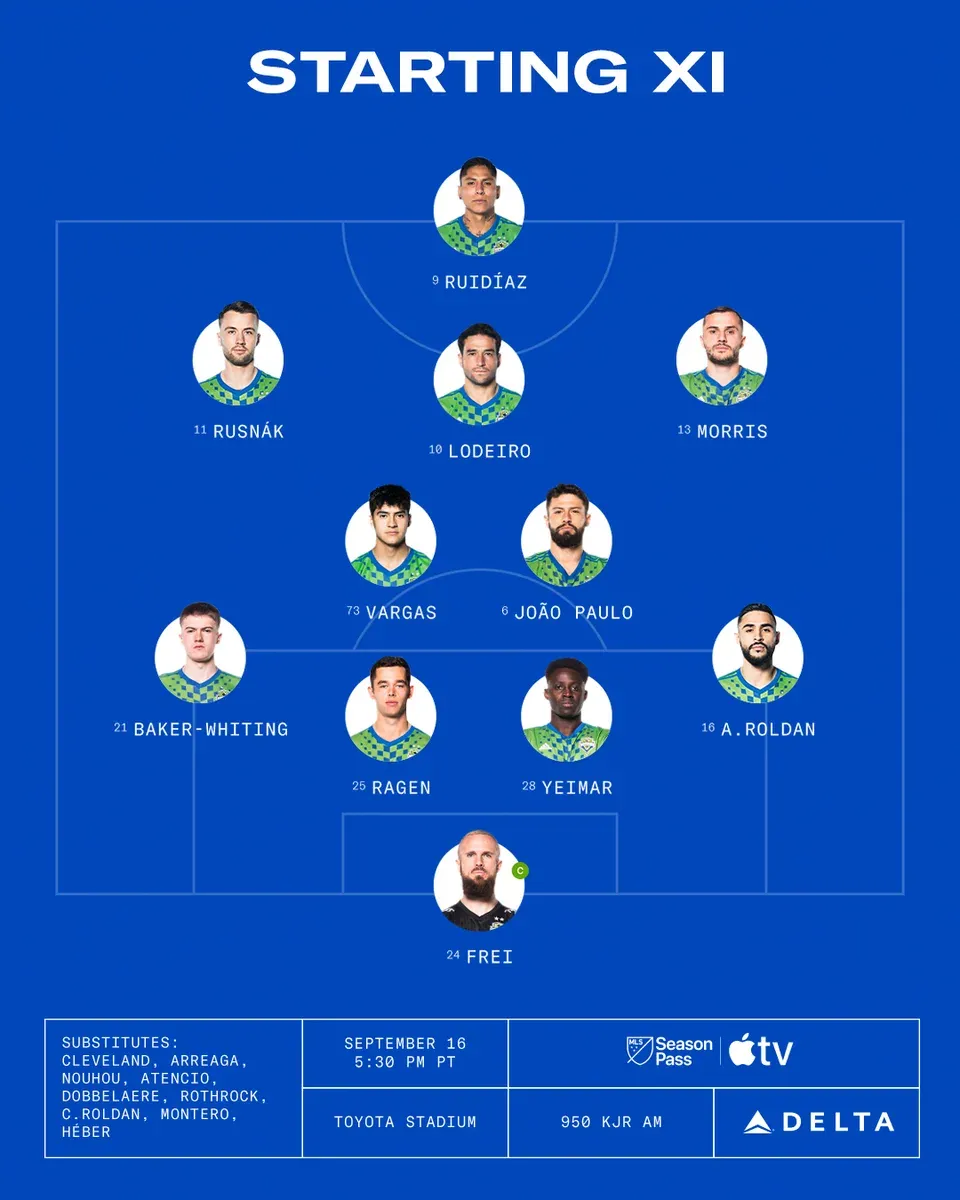 Highlights will be posted as the match progresses.
This is Seattle Sounders at FC Dallas; watch with us
Comments