If the Seattle Sounders are to only win one match in this three-game road trip, this Saturday night match in the warm Texas air would be the time. FC Dallas is a playoff-quality team, now that the red line is merely orange due to the play-in round. Colorado is awful and Nashville is in the East.
But if the Sounders feel like behaving like a team capable of winning the West, and the West is very winnable, mimicking the last trip with five points or even more would go quite a way towards that.
Schmetzer's team isn't playing to just make the playoffs. They're playing to have home-field advantage and prepare for a trophy. Last year's failure is essentially impossible to repeat. That long run of making the playoffs wasn't just about making the playoffs, though. The club had never finished worse than 7th in the league and 4th in the West.
Is history going to come back? That's up to the staff and players, because Dallas has performed quite well against Seattle going 8-1-3 over the last 12 games in Texas. Plus the Sounders haven't scored more than a single goal in that stretch.
That's history – currently, Dallas is quite injured. Plus, their defense has hit a bad patch. In their last five matches against MLS opponents they have only a single shutout and have given up 10 goals.
One key stat
3 - Seattle has won three straight in Texas, one away from the MLS record. Since September 19, 2019 the Sounders are 4-1-3, +2.
Vibe check
I know I came on strong
I was just excited
You might come along with us
Now we're going home
To the old horizon
To love, live, fall, survive
Tame Impala, Wings of Time
The Sounders are not greater than the sum of their parts right now. They aren't even the sum of their parts. With just a handful of games left, it's time in the story-arc that each of them recognize that together they are greater than they are along
How close to full strength is everyone?
Sounders with two OUT: Léo Chú (suspension), Kelyn Rowe (right quad strain) with two QUESTIONABLE: Cristian Roldan (concussion protocol), Cody Baker (concussion protocol) though Crisitan has returned to practice.
Dallas with four OUT: Tarik Scott (season-ending injury), Alan Velasco (right calf), Bernard Kamungo (right shoulder), Geovane Jesus (right knee) with two QUESTIONABLE: Antonio Carrera (left ankle), Ema Twumasi (right shoulder)
Projected lineups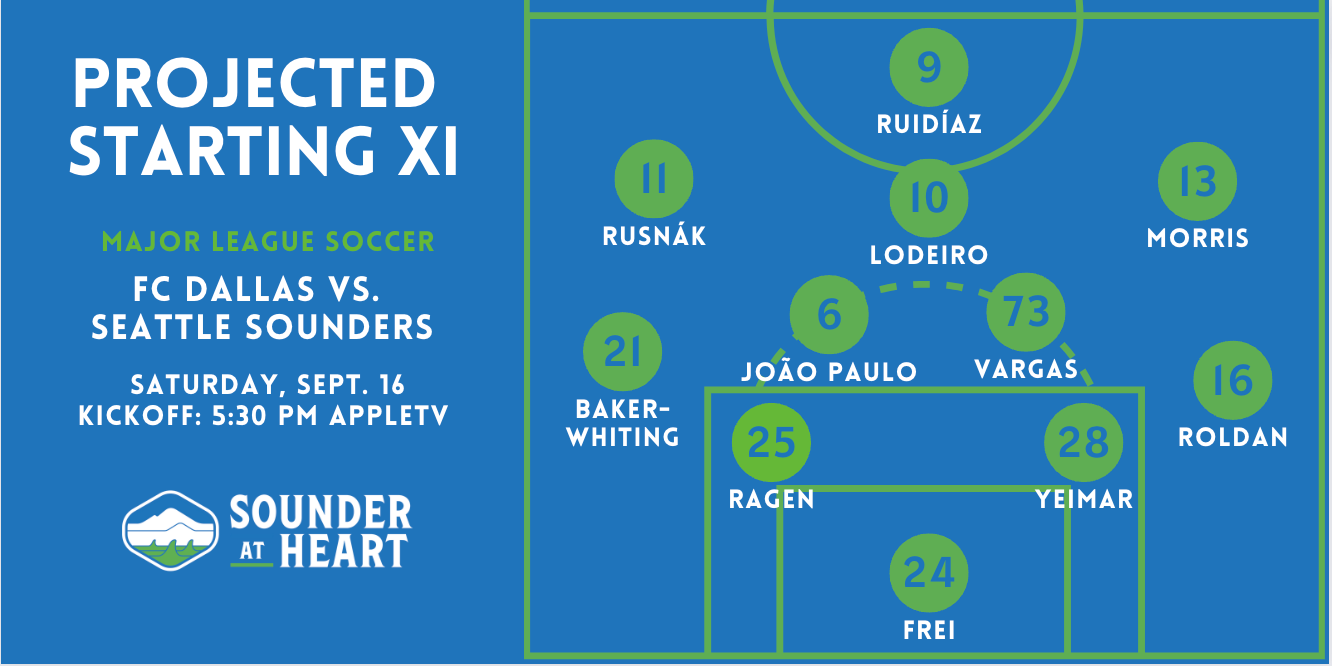 Sounders (4-2-3-1): Frei; Baker-Whiting, Ragen, Yeimar, A.Roldan; Vargas, João Paulo; Rusnák, Lodeiro, Morris; Ruidíaz
Dallas (4-3-3): Paes; Farfan, Ibeagha, Tafari, Junqua; Illarramendi, Fraser, Lletget; Arriola, Ferreira, Obrian
What you need to know
Sounders record (2nd in the West): 11-9-8, +5 with a 5-5-3 road record
Dallas record (9th in the West): 9-10-7, -1 with a 7-3-3 home record
Where: Toyota Stadium in Frisco, Texas
Kickoff time: 5:39 pm PT
Commentators (provider): Max Bretos with Brian Dunseth (MLS Season Pass in English); Diego Pessolano with Walter Rogue (MLS Season Pass in Spanish)
Further Reading
Comments