FULL-TIME: After storming out a 2-0 first-half lead and playing some of their best soccer of the season, the Seattle Sounders were forced to settle for another dispiriting tie with the Portland Timbers on Saturday. The game seemed to be well under control until Léo Chú was shown a second yellow in the 54th minute that came after a loose touch and he clattered into a Portland defender. Chú had previously been shown a yellow card after removing his shirt during the celebration of his goal earlier in the game.
The Sounders extended their winless run against the Timbers to six games and have now failed to beat them at CenturyLink Field in 10 straight dating back to 2017.
SOUNDERS 2, TIMBERS 2: Evander equalized in the 70th minute, just two minutes after Portland had scored their previous goal. Both were scored after the Sounders went down to 10 men.
SOUNDERS 2, TIMBERS 1: Literally seconds after entering the game, Dairon Asprilla scored off a throw-in when he was left unmarked at the back post.
SOUNDERS 2, TIMBERS 0: Léo Chú gave the Sounders' their first multi-goal lead over the Timbers since their 6-2 win in 2021, scoring on an impressive individual effort goal. Chú created the turnover near midfield and then continued his run after Raúl Ruidíaz played him into space. Chú then fought off a couple tacklers to slot it past David Bingham. The goal equaled the Sounders' total of their last five meetings against the Timbers.
SOUNDERS 1, TIMBERS 0: Raúl Ruidíaz ended a 740-minute goalless draught with his 12th career goal against the Timbers. The goal came in the 9th minute when he snuck into the back post and was all alone to finish off a flick from Jackson Ragen. It marked the first time the Sounders have even led the Timbers at CenturyLink Field in the regular season since 2017.
LINEUPS: Raúl Ruidíaz will get another opportunity to get right, this time against a foe against whom he's had much success. Ruidíaz's inclusion is one of five changes for the Sounders from their midweek win over Austin FC.
---
Rarely in the history of the Seattle Sounders-Portland Timbers rivalry, have the two teams come into the game needing a win quite this badly. The Timbers' predicament is such that they've already fired head coach Giovanni Savarese, but can still vault right back into the playoff race with a win.
The Sounders' situation is maybe not as dire, but there is a definite growing sense of doom that seems be hovering around the team. Although they are currently third in the Western Conference, their form over the last few months hardly inspires much sense of security.
Underscoring the importance of today's game is that the Sounders haven't beaten the Timbers in any of their last five meetings – tied for the longest streak from either team in the history of the rivalry. Even more appalling, the Sounders haven't beaten the Timbers at home in a regular-season game since 2017, a stretch of nine games.
As if this game needed anymore stakes, the Sounders also need to win in order to keep their chances of winning the Cascadia Cup alive. They'd also need to beat the Vancouver Whitecaps on Oct. 7 to reclaim the regional rivalry trophy.
Notes
The Sounders are just 2-3-5 in their last 10 home games across all competitions, including two consecutive losses. They've not lost three straight at home in a single season since joining MLS in 2009.
The Timbers snapped a four-game losing streak when they beat Real Salt Lake on Wednesday.
Raúl Ruidíaz has 11 career goals against the Timbers, more than any player against any opponent since he joined the Sounders in 2018. He has just one goal in his past five appearances against the Timbers, however, and is on a personal goal-less drought of more than 700 minutes.
This will be the Sounders' last home game until they host the LA Galaxy on Oct. 4.
Absences: Injury, international duty and suspension
Seattle
QUESTIONABLE: Cristian Roldan (Concussion Protocol)
OUT: Cody Baker (Concussion Protocol); Kelyn Rowe (Right Quad Strain); Dylan Teves (Left Hamstring Strain)
Portland
OUT: David Ayala (L knee), Jaroslaw Niezgoda (R knee), Eryk Williamson (R knee)
Officials
REF: Jon Freemon; ARs: Michael Barwegen, Logan Brown; 4TH: Lukasz Szpala; VAR: Edvin Jurisevic; AVAR: Jonathan Johnson
How to Watch
Match date/kickoff time: Saturday, 7:39 PM
Venue: Lumen Field, Seattle
Global Streaming English: MLS Season Pass (Max Bretos & Phil Neville)
Global Streaming Spanish: MLS Season Pass (Jorge Perez Navarro, Marcelo Balboa & Diego Valeri)
Local Radio: 950 KJR-AM Seattle, iHeartMedia (Danny Jackson, Brad Evans & Michelle Ludtka Furbush)
Local Spanish Radio: El Rey 1360 AM (Rodriguez, Maqueda, Tapia)
Is this game available to stream for free? No
Will Sounders radio be available as an alternate feed? Yes
Lineups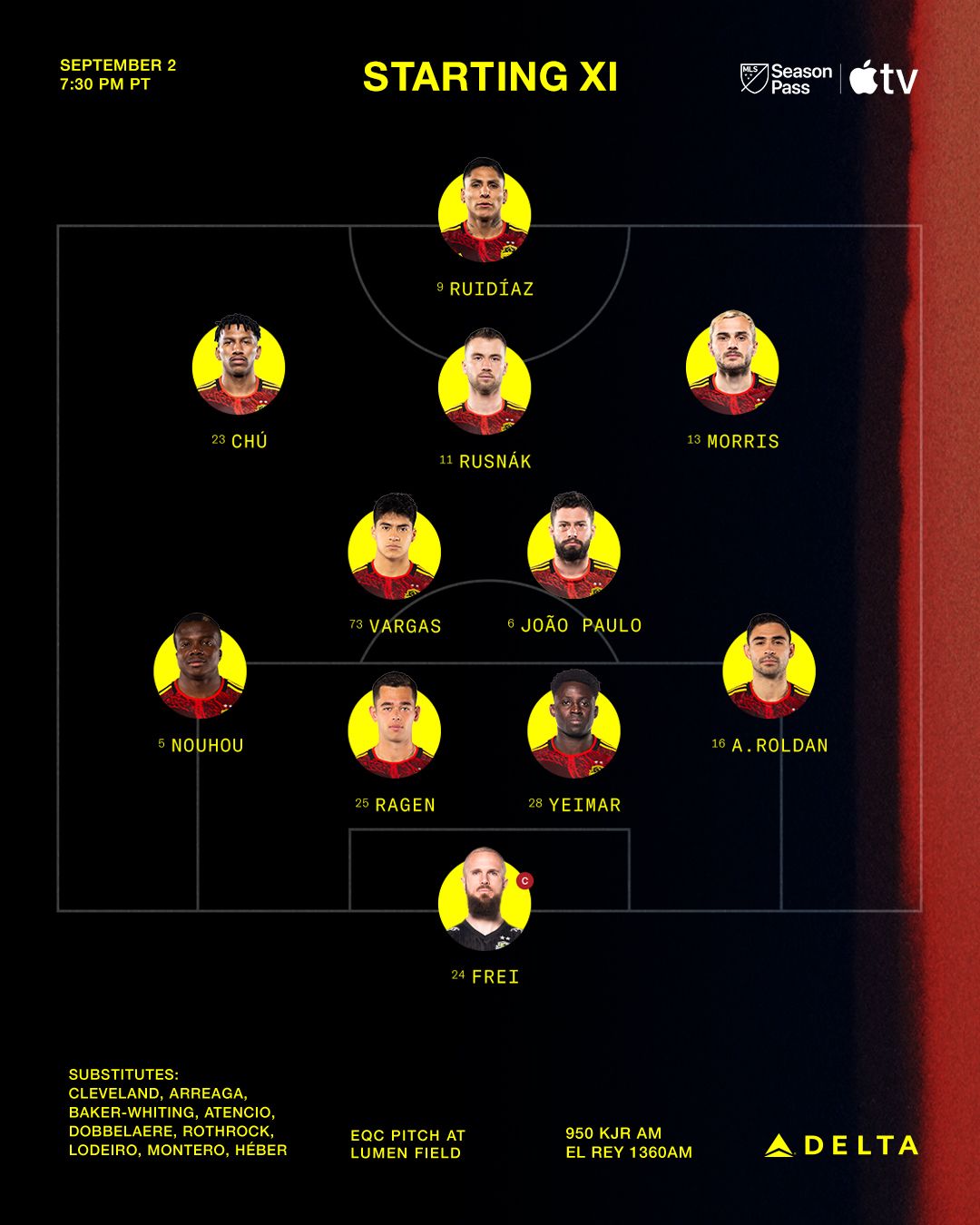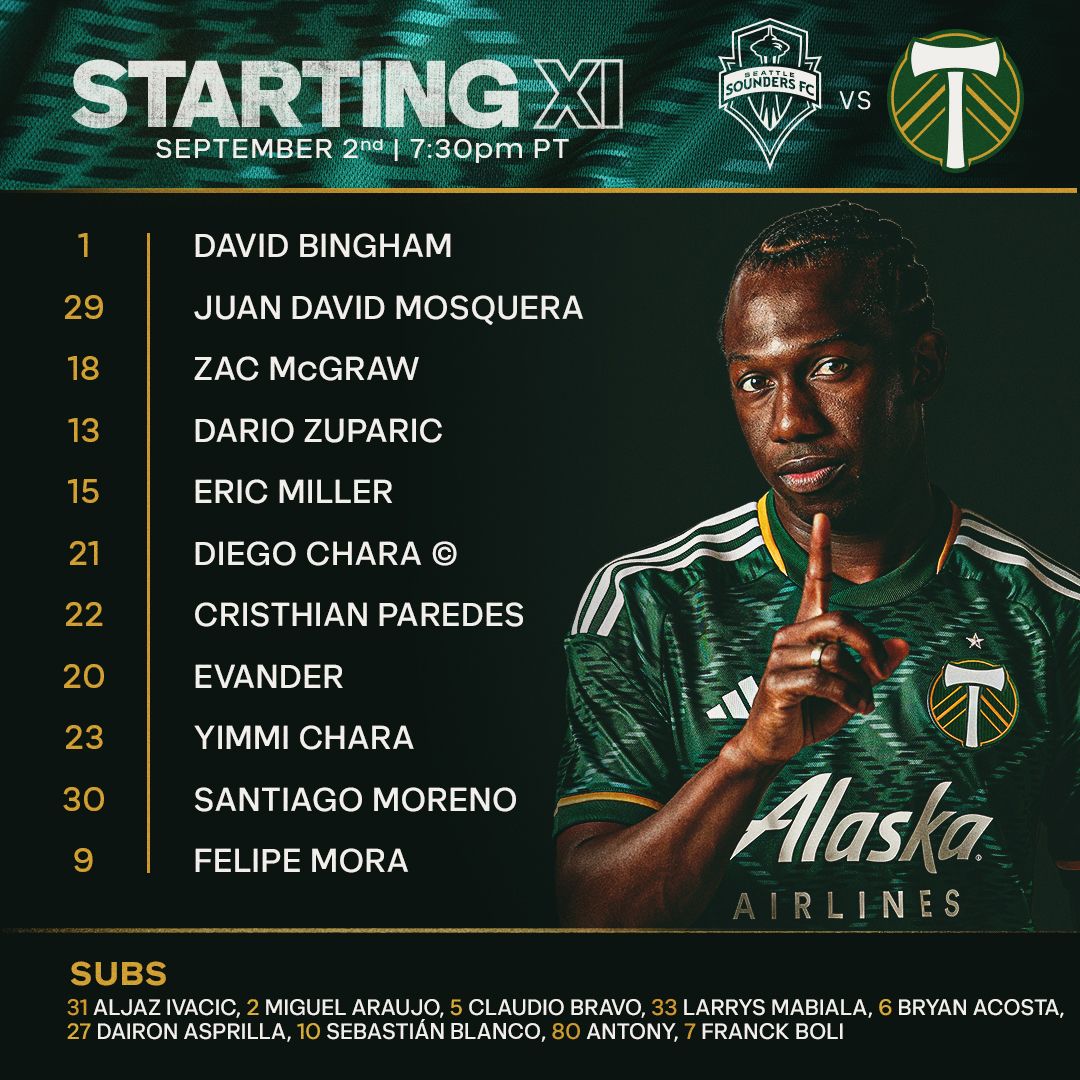 Highlights will be posted as the match progresses.
This is Seattle Sounders at/vs Timbers; watch with us
Comments