When Ballard FC's 2024 season kicks off in May, the team will be playing at the iconic Memorial Stadium in Seattle Center, while their usual home at Interbay Stadium undergoes extensive ADA upgrades and refurbishment.
This is a temporary, if potentially exciting, move. Ballard FC officials say they will resume playing at Interbay after the 2024 season.
"We see Interbay Stadium as our long-term home, but we are thrilled to have the opportunity to play at historic Memorial Stadium before it changes forever," Ballard FC's Sam Zisette said.
When pressed, Zisette emphasized that they fully intend to return to the refurbished Interbay Stadium in 2025. "We have no plans to move away from Interbay permanently."
The changes at Interbay will not add capacity, but they will address lagging ADA compliance issues throughout the Seattle-owned and operated facility. According to the city, the upgrades will include ADA barrier removal and improvements to general accessibility throughout the entire complex, which includes the 1,000-seat soccer stadium, little league baseball and softball facilities, a 9-hole golf course, and a driving range. The $1.3 million project includes adding accessible parking stalls, new pathways from parking areas to various facilities, interior improvements to locker rooms, bathroom facilities, and concessions areas, and more. The improvements are required by law and have been planned for some time, according to the city.
Soon after the 2024 season ends, Memorial Stadium is slated to undergo a massive, $150 million public/private redevelopment that will transform the storied but tired facility into a modern sports and entertainment venue. While the timeline seems aggressive, one stated goal of the project is to have it ready for use as a practice facility for the 2026 World Cup. Memorial Stadium is owned and operated by Seattle Public Schools.
In the window before that redevelopment starts, the Ballard FC leadership team is excited to defend their USL2 title in a historic building that is home to so much of Seattle's soccer history. Ballard also intends to compete in the U.S. Open Cup next season, and it is reasonable to assume that any cup matches they host could also be at Memorial, though at this time no details are available.
The NASL Sounders called Memorial Stadium home in 1974-1975 before moving to the Kingdome; the A-League/USL Sounders played there from 1994-1998 and again from 2000-2003; and the Reign played there from 2014-2018. And if you ask just about anyone who grew up playing soccer in Seattle, they will have a story to tell about playing on the old Astroturf surface.

Defending a championship is one of the hardest things to do in sports, and certainly this move will add complexity to the challenge for the Ballard front office. But it is also a tremendous opportunity. Zisette says there will be numerous exciting fan engagements and events surrounding their home matches. The team is working on transportation options from Ballard to Seattle Center, as well, and will work to bring the personal fan experience from Interbay to Seattle Center.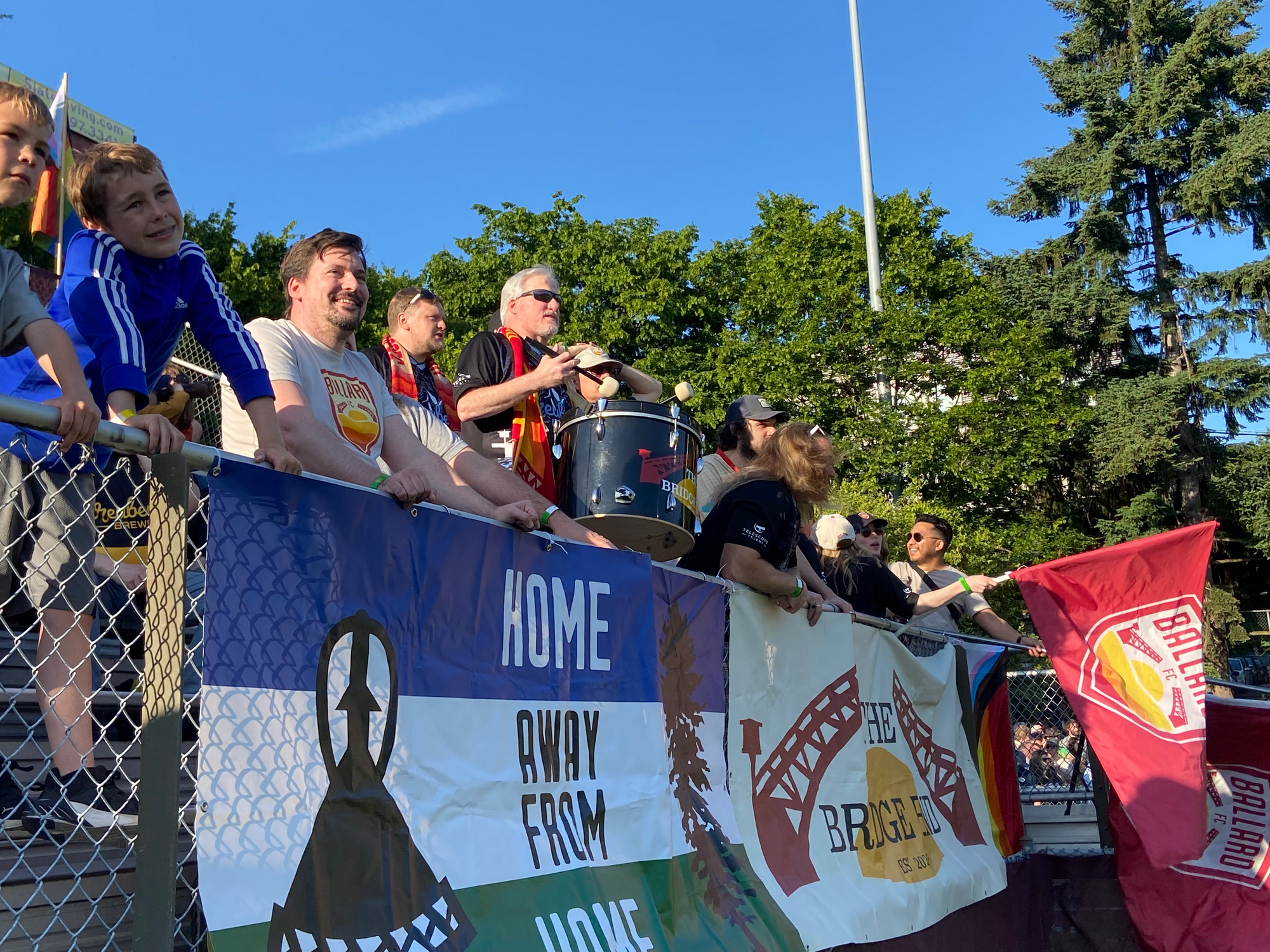 The expanded capacity – Memorial can fit upwards of 10,000 fans – will be an opportunity for Ballard FC to test the market for ticket sales and attendance and to grow their fan base within the greater Seattle market. While no specific events or engagements have been officially announced, Seattle soccer fans should anticipate some interesting promotions and crossovers throughout the summer.
"It's exciting and a little daunting," Zisette said. "But that's been true of everything about this club from the very beginning."
Tickets for the 2024 season at Memorial Stadium are on sale at goballardfc.com/tickets. The $99 season ticket price includes six regular season matches and two friendlies.
Fans are invited to Reuben's Brews Taproom on Oct. 18 at 5:30 pm for a post-Championship party and 2024 season Q&A, where they can meet with club leaders, have a photo with the championship trophy, and learn more about the move to Memorial for the coming season.
Comments