The Seattle Sounders will head into the final week of the MLS season with everything from playoff seeding to a backdoor to the Concacaf Champions Cup still in play. Let's take a closer look at what's at stake when they visit St. Louis City on Saturday:
Standings
The Sounders can finish anywhere from second to sixth in the Western Conference. As a reminder the order of tiebreakers in MLS goes like this: Total points, wins, goal-difference and goals-scored. They go deeper than that, but there's no scenario where any Western Conference tiebreakers will go deeper. This is what the table looks like with relevant tiebreakers: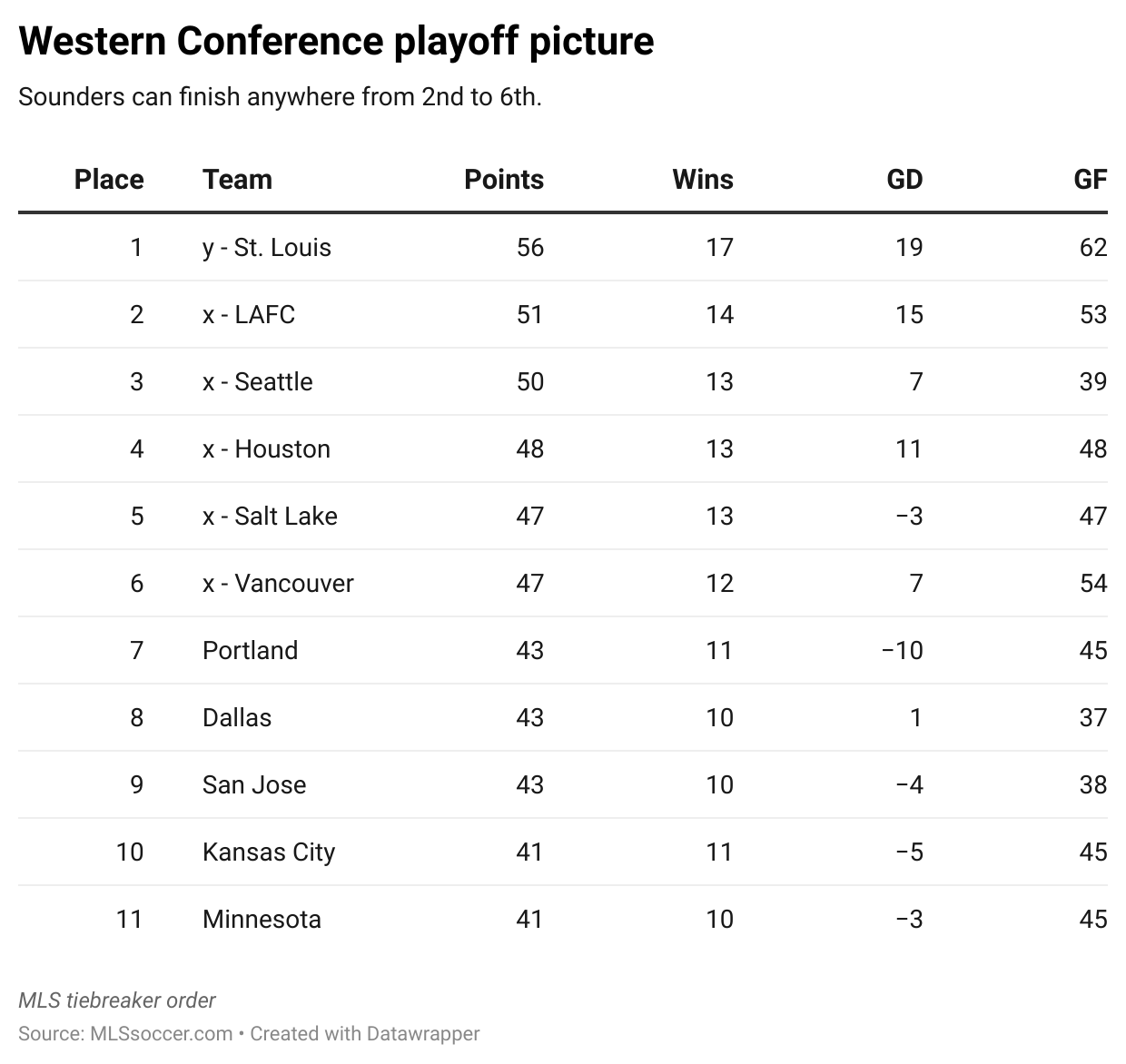 Playoff seeding
A win over St. Louis guarantees the Sounders can finish no lower than third and opens the door to finish as high as second if LAFC drop points on the road against the Vancouver Whitecaps.
A tie would guarantee the Sounders finish no lower than fourth – which means they'd have home-field advantage for the first round of the playoffs – and would keep them in third as long as the Houston Dynamo don't beat the Portland Timbers.
A loss opens the door to drop as low as sixth, but that would also require the Dynamo, RSL (at Rapids) and Whitecaps to all win. They could theoretically stay in third even if they lose, but that would require all three of those teams to also drop points. All three of those teams need to win to have any chance to pass the Sounders.
Concacaf Champions Cup qualification
The only way for the Sounders to automatically qualify for the 2024 Concacaf Champions Cup is to win MLS Cup. There is, however, a backdoor into the tournament even if the Sounders fall short. For that door to remain open, however, the Sounders must move up to sixth in the Supporters' Shield standings.
Here's how the Shield standings look now: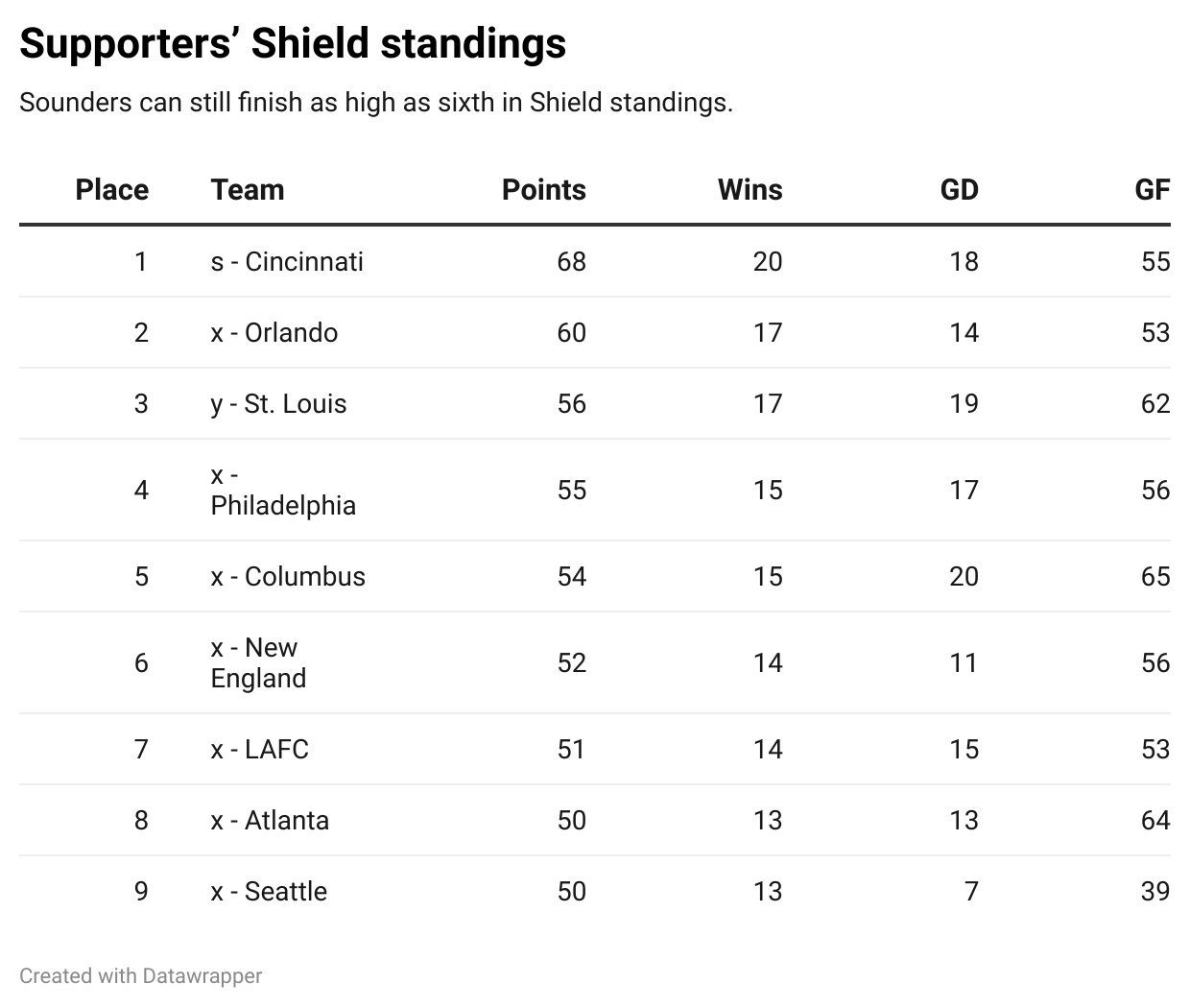 To further explain: FC Cincinnati (Shield), St. Louis City (other conference winner), Inter Miami (Leagues Cup winner), Nashville SC (Leagues Cup runners-up), Philadelphia Union (Leagues Cup third-place) and Houston Dynamo (Open Cup winner) have already qualified for the CCC. There are three remaining MLS qualification spots open: the MLS Cup winner and the two best regular-season teams who haven't already qualified. Orlando City has already clinched one spot and the Columbus Crew will the other qualifying spot if nothing else changes. If any one of the seven teams still in the running wins MLS Cup, the next team in the standings will earn qualification. That spot currently belongs to the New England Revolution, but the Sounders can theoretically jump ahead of them with a win. The Sounders will also need better weekend results than LAFC and Atlanta United to do that.
Schedule
Here are the matches that have relevance to the Sounders and the desired result:
FC Cincinnati vs. Atlanta United (Atlanta worse result than Sounders): Allows Sounders to pull ahead for CCC qualification
New England Revolutions vs. Philadelphia Union (Philadelphia win): Allows Sounders to pull ahead for CCC qualification
Colorado Rapids vs. RSL (Rapids win or tie): RSL needs to win in order to pass Sounders
Portland Timbers vs. Houston Dynamo (tie): Dynamo need a win to pass Sounders, would also keep Timbers from clinching playoff spot
Vancouver Whitecaps vs. LAFC (tie): Would allow Sounders to pass LAFC while also guaranteeing Whitecaps can't pass Sounders. If Sounders win, a Whitecaps win would be fine.
Schadenfreude desires
These results aren't important, per se, but they potentially keep the Timbers out of playoffs if they drop points:
Sporting KC vs. Minnesota United (Sporting KC win)
LA Galaxy vs. FC Dallas (Dallas win)
Earthquakes vs. Austin FC (Quakes win)
The TL;DR
If all of that was a little confusing, here's a simplified version: If the Sounders win they can move up as high as second in the Western Conference and will potentially put themselves in a position to qualify for the 2024 Concacaf Champions Cup without having to win MLS Cup. That's the main outcome you should be focusing on.
Comments