On Friday night, OL Reign hosts the Washington Spirit in a match that has layers and layers of importance. In addition to needing points to keep pushing for the playoffs in a tight table, OL Reign will be hosting around 32,000 fans at Lumen Field for Megan Rapinoe's final regular-season home match before retirement. In the process, the Reign could also send a standalone NWSL attendance record.
The game will kick off at 5 p.m. PT and air on CBS.
Fans attending in person are encouraged to be in their seats by 4:45 PM to take part in a special gameday surprise planned for Rapinoe (hopefully, she doesn't read this preview).
It is kind of fitting that Rapinoe's last home match is against the Spirit. Former Spirit owner Bill Lynch made the decision to play the national anthem before teams came out to prevent Rapinoe from kneeling back in 2016. Today, current Spirit owner Michele Kang is purchasing OL Féminin – which in turn is forcing OL Groupe to put the Reign up for sale.
The Reign will have to rise to the big occasion without three key players. Alana Cook is out after picking up a red card last week, and Sofia Huerta and Rose Lavelle are still out with injuries – although both are starting to train again.
Here's everything you need to know ahead of the match.
Recent Results
The Spirit came from behind last weekend to earn a 2-1 win at home against Kansas City. Trinity Rodman scored in the 91st minute to give the club its first win since August 4. Washington is 1-2-2 in its last five games.
OL Reign is coming off a hard-fought 1-1 draw at home against the North Carolina Courage after playing with 10 for the second half. The Reign are 1-3-1 in their last five regular-season matches.
Standings
Washington sits in fifth place with a 7-5-8 record (29 points). OL Reign is just a point behind them in sixth with an 8-8-4 record (28 points). The Reign are 6-2-2 at home, while the Spirit are 3-3-4 on the road.
Head to Head
Despite the fact that the Spirit have had OL Reign's number in recent years – the Reign haven't defeated Washington since 2018 – the Reign are 13-9-7 all-time against them.
The two sides faced off in the season opener in March. Despite the Reign outplaying the Spirit for most of the match and creating numerous chances, the game ended in a 1-0 road loss for the Reign.
Quick Stats
After 20 games, just two points separate third and seventh place.
The Spirit have scored 26 goals while conceding 28. The Reign have scored 26 and conceded 24.
Ashley Hatch has nine goals for the Spirit; five of those are from the penalty spot.
Bethany Balcer has six goals and leads the NWSL in headed goals (4) this season; she holds the top mark in the league in headed goals (13) since 2019.
Megan Rapinoe has 49 regular-season goals. If she scores her 50th goal, she will become just the second player to score 50 goals for one club, joining Christine Sinclair.
What to Watch
Quick pressure from the Spirit
While the Spirit aren't a high-pressing team at all times, with their forwards sometimes dropping deeper out of possession, they are a team that will close down on opponents quickly.
After 20 games, the Spirit have the second-lowest PPDA (passes per defensive action) score at 9.2 – just behind Gotham. What does that mean? PPDA is a measure of the intensity of a team's press. The lower the number, the more a team closes down quickly on their opponent.
On average, the Spirit allows their opponents about nine passes before they apply direct pressure on the ball. That pressure can come in the form of a forced turnover like an interception or tackle. For comparison, OL Reign's PPDA is 11.1.
Look how quickly that pressure in the middle third of the field can turn into a shot for the Spirit: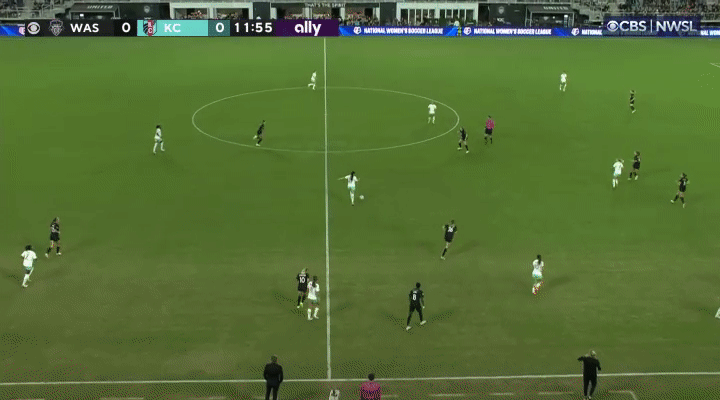 That pressure can also come in the form of a foul – and Washington leads the league in fouls committed. Their 239 fouls in 20 games is 19 more than any other team.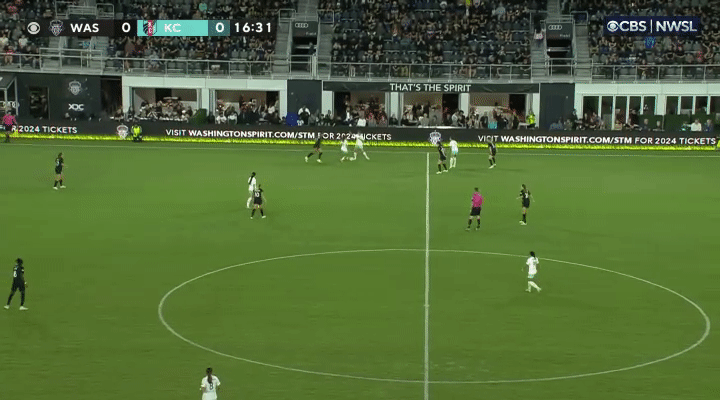 Expect the Spirit to close down quickly and apply pressure to disrupt the Reign's rhythm – especially on the wings in the middle third and when the Reign try to play balls into their frontline.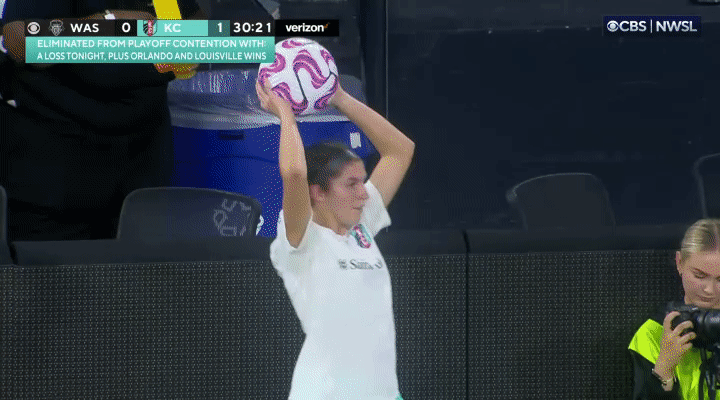 Quick passing from the Reign, combined with movement to create and find space, will help prevent some of this disruption.
The Spirit don't want possession
Unlike the Reign's opponent last weekend, the Spirit don't want to dictate play by keeping the ball. The Spirit average 46.9% possession, which is second lowest in the league. They also attempt the fewest passes per game and have the lowest pass-completion rate in the league (68.9%).
Despite that, the Spirit are second in the league in expected goals – they still create plenty of chances. They make riskier passes, which often pay off for them. And if a pass isn't on, players like Trinity Rodman can progress the ball up the field, creating chances with her speed.
Look for OL Reign to try to cut off those passing lanes, which often start a little deeper. Like the Reign, the Spirit start with two more defensive-minded midfielders in Andi Sullivan and Paige Metayer. Those two are disruptors who look to shuttle the ball quickly to teammates when they win it.
The Reign will need to ensure that centerback Sam Staab doesn't have time to find her teammates with long balls from the backline. Staab – who often takes set pieces and corner kicks – has a lethal left foot, in addition to a dangerous long throw. As you can see from these clips, she's especially dangerous when she has time to carry the ball up the field and send a long ball to her forwards.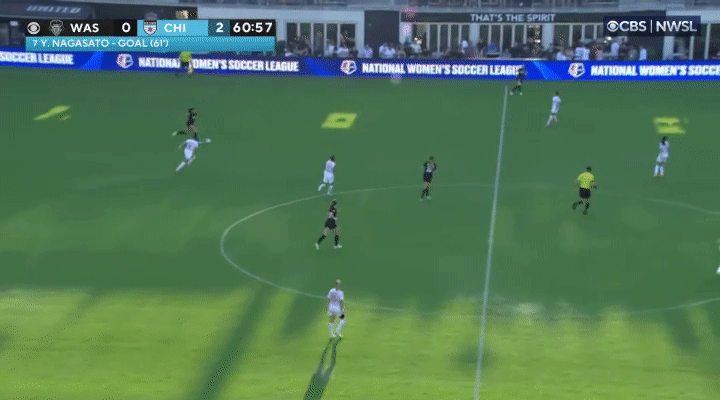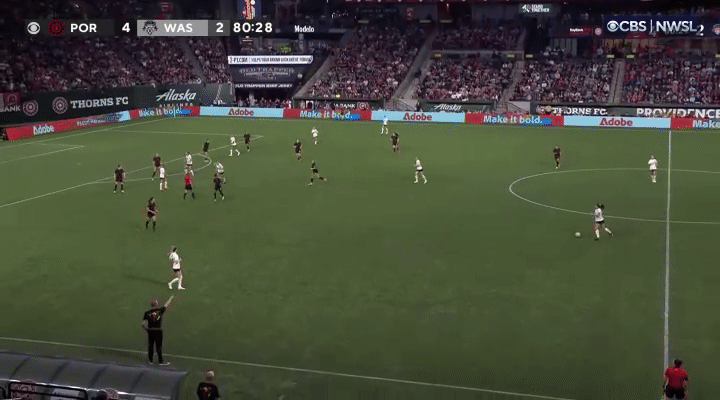 As a result of Staab's great set-piece service, Washington leads the league in shots from set plays and expected goals from set plays.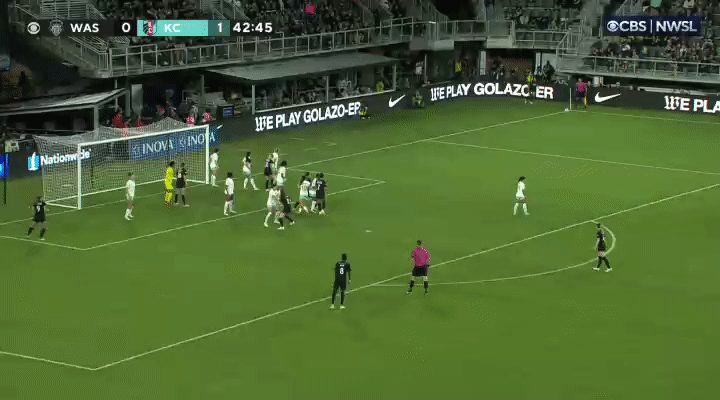 As head coach Laura Harvey likes to say, prevention is always better than cure. The Reign will need to prevent Staab from having a chance to influence the game. A lot of that starts with how they defend from the frontline.
They can strike in big moments
The Spirit have stayed in the playoff hunt because they've shown grit throughout the season – a hallmark of how head coach Mark Parsons likes to play. Just last week, they went down 1-0 to the Current and came from behind to earn a 2-1 win thanks to this stoppage-time winner from Rodman.
Washington has come from behind twice to earn a draw and twice to get a win this year. Only Racing Louisville has earned more points via comeback efforts this season. Just one of those Spirit comebacks was on the road, however.
The Reign have their own big-time players as well, and they have yet to lose or draw a game when they are leading at halftime. Goals change games, and this match may very well come down to the player who makes the most of that one opportunity.
---
Injury / Availability Report
OL Reign
OUT: Alana Cook (suspension), Sofia Huerta (leg), Rose Lavelle (leg), Nikki Stanton (suspension)
Washington Spirit
OUT: Anna Heilferty (SEI – knee), Civana Kuhlmann (SEI – knee), Inès Jaurena (foot)
---
How to Watch
OL Reign kicks off against the Washington Spirit at 5 p.m. PT on Friday, October 6. The match will air on CBS. It will also stream on CBSSports.com, and the NWSL website for international viewers.
Comments