There is one game left in the regular-season, but I went ahead and filled out my MLS Awards ballot already. Since I went through the process, I may as well share my results.
First, a little bit about my thinking. I definitely leaned on some analytics here. I referenced American Soccer Analysis' g+, as well as things like non-penalty xG for attackers and post-shot xG for goalkeepers. I then added some of my own subjectivity to the equation and came up with what I feel is a pretty fair list.
Spoiler alert: Two Sounders end up making it on my ballot.
Here's how my votes went:
Defender of the Year
Rodrigues, San Jose: First I should state that I consider this, effectively, a centerback award. They do the heavy lifting on defense and I feel like this award is theirs barring some outstanding fullback performance. With that in mind, Rodrigues edges out a solid field. He grades out as the second-best centerback in terms of g+ (2.13) and is particularly good on the "interrupting" component where he scores a 1.24. He also led all centerbacks with 46 successful tackles, while getting a positive g+ grade in every category except fouling.
Others who warranted consideration: Steven Morreira (Columbus), Jackson Ragen (Seattle), Robin Jansson (Orlando) and Walker Zimmerman (Nashville).
Goalkeeper of the Year
Roman Bürki, St. Louis: If I went purely with the numbers, I'd have given this to the Earthquakes' Daniel, but Bürki gets the nod in part because I see this a bit like the MVP award. Bürki was just so important to everything St. Louis did that I was willing to overlook that he was "only" second in post-shot xGA. He was also active in the passing game, as well as doing a lot of "sweeper-keeper" stuff.
Others who warranted consideration: Daniel (San Jose), Stefan Frei (Seattle)
Newcomer of the Year
Giorgos Giakoumakis, Atlanta: There were a lot of good candidates in this award and most sort of assumed that Lionel Messi would win it (and he might) but to me it's hard to ignore the Greek God of Goals (I just made that up, I think). Giakoumakis has already scored 15 goals in just 26 appearances and his .79 non-penalty goals per 90 leads MLS. For comparison, Messi has 1 goal and 2 assists in his five MLS games.
Others who warranted consideration: Eduard Löwen (St. Louis), Daniel (San Jose)
Young Player of the Year
Thiago Almada, Atlanta: There was a time when it looked like Almada was going to run away with the MVP. He cooled off after a blazing start, but still finished with 28 goals+assists. Even more impressive, only two of his goals were penalties and all but two of his assists were primaries.
Others who warranted consideration: Duncan McGuire (Orlando).
Comeback Player of the Year
João Paulo, Seattle: One of the best compliments you can give a player who is coming off a season-ending injury is that you kinda forgot they missed the previous year because of how seamlessly they returned. João Paulo didn't quite achieve the heights of his MVP-worthy 2021 campaign, but he came pretty close. His passing and defensive stats were all pretty much in line, all that was missing were the goals.
Others who warranted consideration: Miles Robinson (Atlanta), Robin Jansson (Orlando), Alan Pulido (Kansas City).
Coach of the Year
Bradley Carnell, St. Louis: This award is routinely given to the coach who is perceived to have directed his team to the highest degree of "over-performance" and while I find that to be a little much, in this case I don't think you can argue. On paper, there's really nothing special about this roster and yet St. Louis became the first expansion team to win conference. That's remarkable.
Others who warranted consideration: Pat Noonan (Cincinnati), Wilfred Nancy (Columbus), Oscar Pareja (Orlando).
MVP
Luciano Acosta, Cincinnati: Truth to be told, I don't really love this pick. I'm a stats guy and frankly, Acosta's numbers aren't as impressive as they might look at quick glance (there's a lot of penalties and secondary assists propping up his 29 g+a). But I gravitated toward him mainly because he was the best player on the best team and came up big when they needed him.
Others worthy of consideration: Ryan Gauld (Vancouver), Denis Bouanga (LAFC), Thiago Almada (Atlanta), Hector Herrera (Houston).
Best XI
4-<diamond>-2: MLS makes us pick a formation with the hope that voters will actually attempt to put together something like a coherent team. I'm not sure I fully accomplished that, but I do think I did better than a lot of folks will.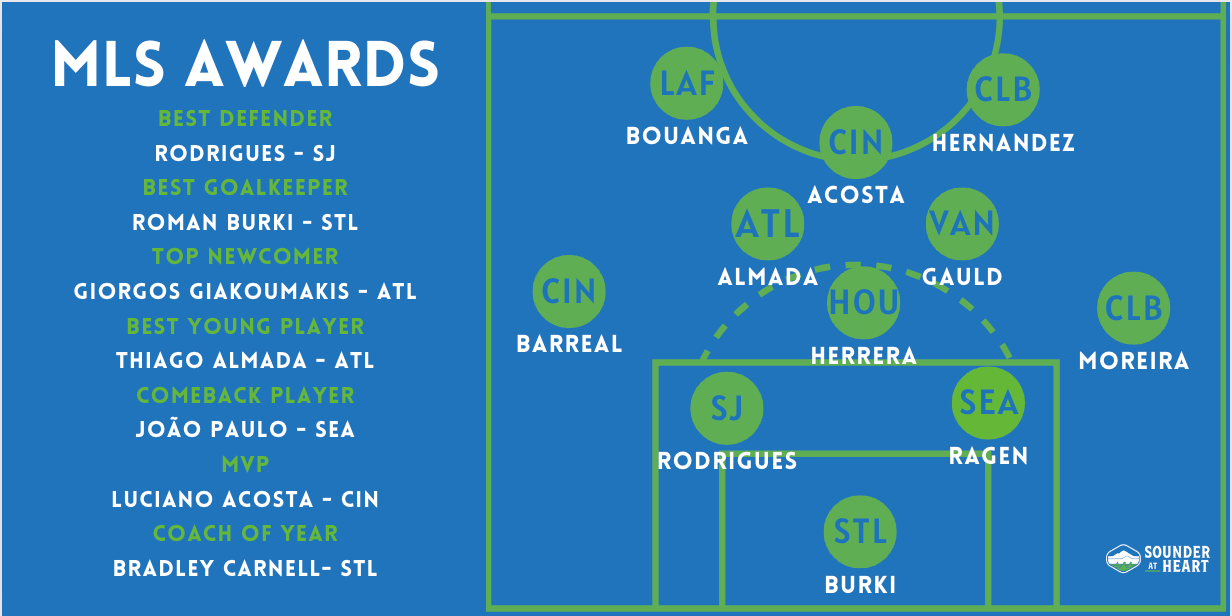 Burki: I am sure there are years where I hedged and picked a different goalkeeper for Best XI than I did for Goalkeeper of the Year, but those weren't years where I had to explain myself.
Alvaro Barreal: It's not every year that you feel compelled to get a left back onto the Best XI but this year there were two great candidates in Barreal and Kai Wagner. I went with Barreal in part because he had better counting stats (5 goals, 8 assists), but also because there needs to be solid Supporters' Shield representation on this team.
Rodrigues: I'll be completely honest and admit that I'm somewhat going off numbers more than my lived experience on this one. But Rodrigues really stood out in statistical categories.
Jackson Ragen: I felt pretty strongly that the Sounders needed at least one defender on this team and I supsect a lot of Sounders fans are probably thinking, "he wasn't even the best centerback on the team!" and to them I say please dig a little deeper. Ragen was the better passer by far, was better at "interrupting" and was even better at dribbling.
Steven Moreira: Admittedly a little bit of a cheat since he played centerback for the Crew, but since he has historically played right back I feel OK about putting him there on this team. Morreira was the best ball-progressing defender in the league and gives this squad some added dynamism from the back.
Hector Herrera: I'm a big believer that Best XI's need a defensive midfielder and for my money Herrera was the best in the league this year. I suspect that may surprise some folks, but coming off a very disappointing 2022, Herrera was everything Houston could have asked. He grades out as the fifth best player in G+ at any position, positively influencing the game in all six categories. He also filled up the counting stats with 4 goals and 15 assists. Just an absolute joy to watch.
Ryan Gauld: Yes, I realize he was effectively playing as a second forward but you make these kinds of compromises when you're trying to fit all your MVP candidates onto a squad. Gauld had 11 goals and 12 assists, all of them primary, and was the main reason Vancouver enjoyed one of its best-ever seasons.
Almada: The hype around his start died down, but the production remained steady. Almada finished with 11 goals and 17 assists, which make him impossible to ignore. He also had the third-best G+ rating of any player and topped MLS with the best passing grade.
Acosta: The MVP makes the Best XI, that's just how it goes.
Cucho Hernandez: This was a tough one because as usual there were quite a few worthy candidates, with Vancouver's Brian White probably being the biggest snub. But Hernandez nosed past thanks to his 11 assists that complemented his 15 goals. That's a lot of playmaking for a No. 9!
Denis Bouanga: The likely double-Golden Boot winner is going to finish with at least 32 goals across all competitions. Just five of those goals came from the penalty spot and he also has 14 primary assists. But this is a primarily MLS award, so he makes the squad based on his 19 goals and 7 assists in league play.
-- Jeremiah
Looking back at the week's news
Grant Wahl recognized by United Soccer Coaches; US U-23s with Obed Vargas beat Mexico 2-1
United Soccer Coaches are posthumously honoring Grant Wahl for his service to the sports. Wahl joins other legends of American soccer media Paul Gardner (Soccer America), Paul Kennedy (Soccer America) and J.P. Dellacamera (broadcasting).
Obed Vargas scored in the United States Men's Olympic Team's 2-1 win over Mexico. It was briefly dos a cero, but the legendary result couldn't hold.
Notes
Puget Sound Soccer
Your focus should be on OL Reign this weekend, they can finish between third and ninth. We're watching a few other matches too.
Friday
Senegal vs Cameroon (Nouhou) play at 11:30 am PT. This is not available on U.S. TV services.
New Mexico United vs Memphis 901 at 6 pm PT on ESPN+ will determine if Sounders on-loan keeper Andrew Thomas gets action in the playoffs. With a win they're in. A draw and they need help.
Saturday
There are two relevant MLS matches during the international break. At 5:30 pm PT root for Colorado over Dallas and at 7:30 pm PT root for the Galaxy over Real Salt Lake. Those results will help the Sounders' potential playoff seeding.
Sunday
It's NWSL Decision Day! Every match is at 2pm PT with all on Paramount+.
Reign are at Chicago Red Stars on Paramount+. Winning is awesome. Here's what you should have on your second and third screens.
1 - In Washington Spirit vs North Carolina Courage on Paramount+ you want a draw.
2 - In NJ/NY Gotham FC vs Kansas City Current you want Current to pick up a victory.
3 - If you don't have P+ you can watch Angel City vs Portland Thorns on CBS Sports Golazo and should expect frequent updates on the rest of the league's action.
Comments