Fare thee well NWSL "Stencilball" trophy, you have served us for the first 11 (technically 12) years of the league, but it's past time for a glow up. Today, the NWSL, along with famed and iconic luxury brand Tiffany & Co., announced a brand new NWSL Championship Trophy, which will be awarded to the winner of this year's NWSL Championship game, to be played at San Diego Wave FC's Snapdragon Stadium on Saturday, November 11.
"This new partnership with Tiffany & Co. is significant not just for our league, but for women's sports as a whole," said NWSL Chief Marketing & Commercial Officer Julie Haddon in a league press release. "Our ability to partner with iconic brands like Tiffany reinforces the remarkable athletes who play in the NWSL. Their influence both on and off the field is deserving of a top-tier trophy and we're grateful to our partners at Tiffany & Co. for their invaluable collaboration in creating a prize befitting the best women's soccer league in the world."
The new NWSL Championship trophy prominently features four pillars stylized in an air current-shaped motif, designed to evoke a ball in motion, while the ball that sits at the top has panels which form the shape of the NWSL Shield. The trophy is accentuated with 24K gold vermeil and sterling silver.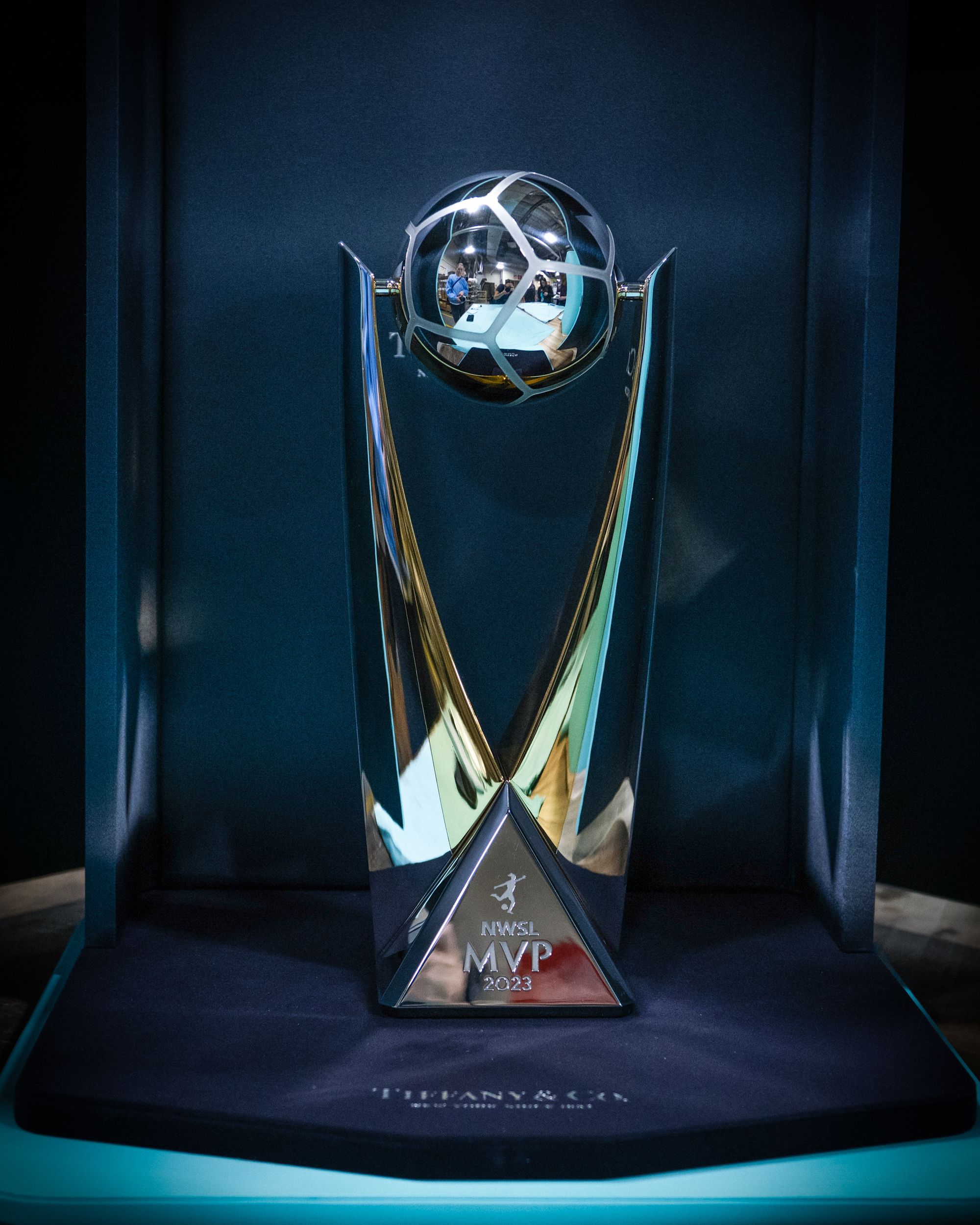 The overhaul of the NWSL MVP Award brings to a close a parade of random, generic trophies to acknowledge and celebrate the top player in the league in a given season. In 2018, Lindsey Horan was presented with something that looked like a bootleg Emmy award. When Sam Kerr won the award for the second time in her career in 2019, it was a crystal vase. Last year, Sophia Smith received a pointy hunk of glass. There now is a proper, elegant trophy to acknowledge and celebrate the player in the NWSL who had the best individual season and it very much looks the part.
The NWSL joins other US sports leagues who have long commissioned Tiffany & Co. to design their trophies. You can see their portfolio of work here, but pretty much every major sports trophy is done by Tiffany's – the NFL's Vince Lombardi Trophy, the NBA's Larry O' Brien Trophy, and Major League Soccer's Philip F. Anschutz Trophy, to name a few.
The collaboration with Tiffany & Co. will continue next year with a redesign of the rest of the league's year-end awards, including the NWSL Shield, awarded to the team with the best regular-season record, and whose generic design is something you can literally order online if you want to declare yourself the NWSL Shield winner, or to let everyone know you just had a really good September.
"We look forward to our continued partnership as we collaborate on reimagining the rest of our end-of-year awards, including the NWSL Shield," Haddon said.
Comments