Look, we know it's been awhile since the Seattle Sounders were in the MLS Playoffs (a franchise-worst one-year postseason hiatus) and things have changed a bit since the last time they were there (actually this format is new this year). There's also a good chance some of you may have tuned out during the summer when it looked like this team was circling the drain.
If you're one of those people – or just want an easy guide to the postseason – this post is for you.
Can we start with a quick recap?
The Sounders opened the season by playing in the Club World Cup where they lost their only game to Egypt's Al Ahly, 1-0.
Disappointing as that was, it did give them a bit of a headstart on the season and they rode that momentum to a 5-1-1 start that was punctuated by a 3-0 win over expansion-side St. Louis City, who had gone 5-1-0 at that point.
We didn't know it at the time, but Cristian Roldan suffered a concussion in that match and would then miss the next nine games. The Sounders went 3-5-1 in those matches.
Roldan returned on June 3, played two matches and then joined the United States national team, missing five more matches in which the Sounders went 2-2-1.
Roldan returned on July 15, played in one league game (a tie) and then picked up another concussion in the Sounders' first Leagues Cup game (a 3-0 loss).
Although Roldan was out for nearly two more months, the early exit from the Leagues Cup meant Roldan only missed three more league games. The Sounders went 1-1-1 in those matches.
Roldan returned, again, on Sept. 16 when he came off the bench. The Sounders were forced to settle for a 1-1 tie at FC Dallas. He started the next game, a 2-1 Sounders win on the road against the Colorado Rapids. They ended up going 3-0-2 in their final five, outscoring their opponents 6-2 in those matches. That included a 2-0 win over St. Louis in the regular-season finale, putting the cherry on top of a nine-game unbeaten run to close out the season.
I take it Roldan is important?
If you're noticing a trend in there, you wouldn't be wrong. The Sounders went 8-1-7 in Roldan's appearances in league play, which includes an 8-1-5 record when he starts. The difference is even more apparent on offense, where the Sounders scored an average of 1.79 goals per game when he starts as opposed to just .80 when he doesn't.
Simply put, the Sounders are a different team when Cristian Roldan is fully fit, maybe even a MLS Cup contender. But if he's hurt, well, no reason to really focus too much on that.
Seems like a roller-coaster season...
It definitely was, but for all the struggles they had in the middle part – they went 4-7-4 and only scored 11 goals from May 7-Aug. 20 – the Sounders never actually dipped below fourth in the Western Conference standings. But if you look at the stretch before (6-2-2, 17 goals scored) and after (4-0-5, 12 goals scored) those 15 matches, the outlook is much better. That they finished second in the Western Conference with 53 points is definitely a little flattering, but I think it fairly illustrates how mediocre their half of the league has been this year.
Any big lineup changes?
One thing that has been consistent this year has been a constantly evolving lineup. The Sounders have used 30 different groupings during the 34 games and haven't used the same lineup twice in a row since returning from Leagues Cup.
As you might imagine, there have been some notable developments since summer. The two biggest ones are that Nicolás Lodeiro and Raúl Ruidíaz (consistently the team's two most important players during this era of recent success) are no longer automatic starters. Lodeiro seems to have been supplanted by Albert Rusnák as the team's preferred No. 10, while injuries have put Ruidíaz behind Jordan Morris at the No. 9 spot.
The other big changes have been with youngsters who have risen to the new challenges. Josh Atencio has seemingly emerged as João Paulo's preferred partner in the defensive midfield, while Reed Baker-Whiting is making a serious challenge for Nouhou's spot at left back.
Atencio has now started 4 of 5 games, with the Sounders going 3-0-1 in his starts. Baker-Whiting has started 4 of 8 games and shown the kind of two-way play that the Sounders have long been missing at left back, but probably hasn't fully supplanted Nouhou yet. Based on what we know now, this is the lineup I'd expect to see: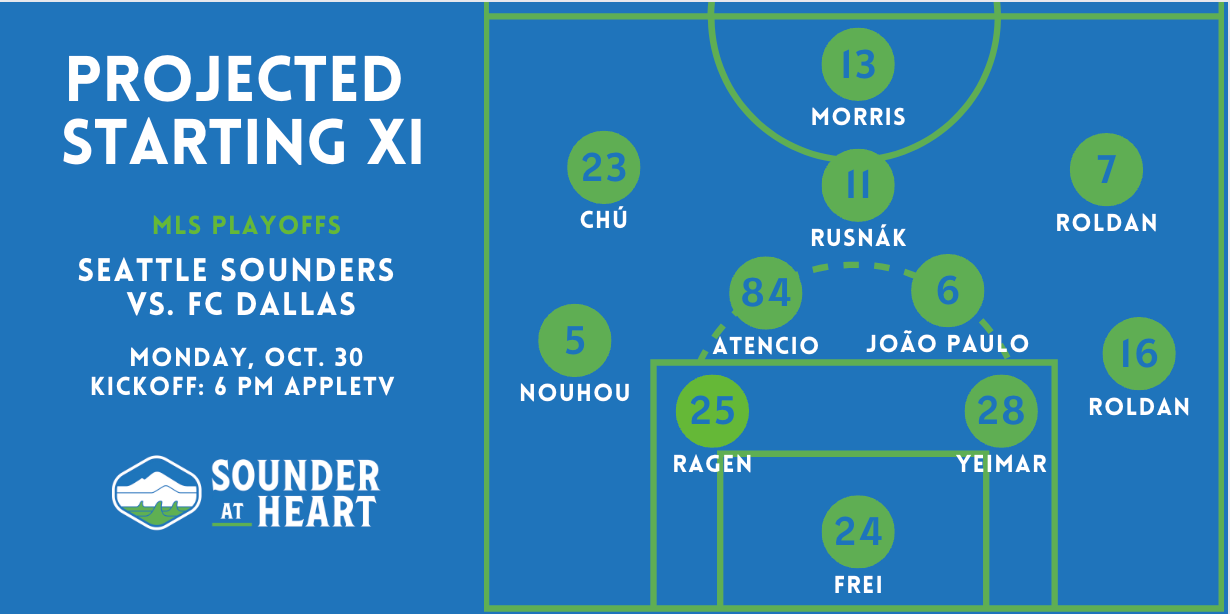 How are the playoffs shaping up?
The big change to the playoffs this year is that they introduced a best-of-3 first-round, with a bit of a twist. Unlike the old best-of-3 format MLS used from 1996-2000 where it was first the first team to claim five points, it's now a race to two wins. To help facilitate that, there are no more ties. If the score is tied at the end of regulation, the game goes directly to penalties and the winner gets all the spoils. After the first round, it reverts to the single-elimination format you know and probably love.
The Sounders will play No. 7 seed FC Dallas in the first round. This is the sixth time the Sounders have faced FC Dallas in the playoffs, with the Sounders winning the last three (2016, 2019, 2020). Coincidentally, the Sounders made it to MLS Cup all three of those years.
The Sounders tied each of their two meetings with FC Dallas this year (1-1, both times) but neither featured a fully integrated Cristian Roldan, who was playing his first game back from extended international duty in the first meeting and came off the bench in the second.
Here's the schedule:
Monday, Oct. 30, 6 PM PST, Lumen Field
Saturday, Nov. 4, 6 PM PST, Toyota Stadium
Friday, Nov. 10, 7 PM PST, Lumen Field (if necessary)
How's it look after that?
If the Sounders advance, they'll host the winner of the LAFC-Vancouver Whitecaps series sometime around Nov. 25-26 (yes, potentially three weeks after the first-round ends). LAFC will surely be considered the heavy favorites mainly because they have a very talented roster – led by Golden Boot winner Denis Bouanga – but it's notable that they were winless in two matches against the Whitecaps this year (0-1-1). That includes a 1-1 tie in the regular-season finale where the Whitecaps missed two penalties.
For all of LAFC's obvious talent, though, their league results have been pretty pedestrian ever since they became the first MLS team in history to lose both legs of the Concacaf Champions League final in early June. In the 22 games they've played since, LAFC are just 7-9-6. Their points per game of 1.23 during that time is 11th best in the Western Conference.
The Whitecaps have been kinda sneaky good, too. Although they finished sixth in the West, they scored the second most goals (55) and finished on a 6-3-5 run. They also had two borderline MVP candidates in Ryan Gauld (11 goals, 12 assists) and Brian White (15 goals, 5 assists).
What's the outlook for the conference finals?
St. Louis City is the No. 1 seed and would be the only team that would force the Sounders onto the road for the conference final (which is scheduled for Dec. 2-3). The Sounders are the only team that beat St. Louis City twice this year (by a cumulative score of 5-0).
St. Louis face Sporting KC – who beat the San Jose Earthquakes in the play-in game – in the first round. The other teams on that side of the bracket are No. 4 seed Houston Dynamo and No. 5 seed Real Salt Lake. Those have actually been the two best teams in the West since June, with the Dynamo going 9-4-6 with a +19 goal-difference over their past 19 regular-season games and winning the U.S. Open Cup along the way. The Sounders won both of their matches against the Dynamo, but they were both 1-0 and included a Dynamo player getting a red card.
RSL are 10-5-4 since the start of June and have made several notable changes since they last played the Sounders in the regular season way back on April 29. The big move was acquiring forward Chicho Arrango. He had six goals and two assists in 11 regular-season matches and added two more goals in Leagues Cup play. Unfortunately, he seems to be dealing with an injury, which makes his impact hard to predict. In any case, the Sounders went 1-0-1 against RSL during the regular season, but got smacked with a 3-0 loss in Leagues Cup.
Is there any chance of Sounders hosting MLS Cup?
Not to get too far ahead of ourselves, but there is an outside chance of the Sounders hosting MLS Cup on Dec. 9. It would require a lot of upsets, though.
The Sounders finished seventh in the Supporters' Shield standings, and five of the teams ahead of them are in the Eastern Conference. Their best hope of getting to host MLS Cup is probably for one of Atlanta United or Nashville SC to get hot and go on a run. That wouldn't be the strangest thing as both teams have looked like genuine contenders at various points this season, but have been struggling a bit more of late. Atlanta's last win came on Sept. 23 and their best player is suspended for the first playoff game, while Nashville goes into the playoffs having gone just 2-4-5 since their run to the Leagues Cup final.
FC Cincinnati and Orlando City look to be the class of the league right now and have to be considered favorites to win MLS Cup.
What are Sounders' chances of making this sort of run?
Let me pull back and share a bit of a history lesson. In 2016, the Sounders finished on 48 points but rode a 8-2-4 closing stretch to the season to win their first-ever MLS Cup. In 2017, they went 3-1-0 down the stretch to finish on 53 points and make a run to the final. In 2019, they went 5-1-1 to close out the regular season, finished second in the West with 56 points and won another MLS Cup.
All three of those teams had pretty significant flaws, got hot at the right time and figured out how to win their biggest games.
This team shares a lot of the same attributes, as well as quite a few of the same players. By my count, the Sounders have 14 players on their roster who have played significant roles in MLS Cup- or CCL-winning teams. They also have a very good defense that was tied for the fewest goals allowed and also gave up the fewest high-quality chances. They've been especially good down the stretch, having allowed just two goals in their last five and seven goals over their last nine.
There's a very good chance that this will be the last hurrah with this core group of players, but there are definitely reasons to believe they have one more run in them.
Comments