LINEUPS: The Sounders are using the same starting lineup in consecutive weeks for the first time since Leagues Cup and for just the third time this year. The only change in the gameday roster is Paul Rothrock replacing the injured Reed Baker-Whiting off the bench.
---
After a roller-coaster season that featured a dire stretch of play during the summer, the Seattle Sounders now head into the MLS Playoffs on a nine-game unbeaten streak (4-0-5). The Sounders also come into the first leg in their best-of-3 series against FC Dallas riding a 17-game home unbeaten streak in the playoffs (the Soundres have lost two shootouts in that time, however).
Of course, the one team that can match the Sounders' unbeaten stretch is FC Dallas (2-0-7), and they've only lost once since the start of Leagues Cup (5-1-9).
The Sounders should be considered the prohibitive favorite, however. They have the league's best defense (tied for a league-best 32 goals allowed and the lowest xGA 32.6). They also should be close to full health, most notably including Cristian Roldan. With Roldan in the starting lineup, the Sounders have gone 8-1-5 this season.
Notes
This is the sixth time the Sounders have faced FC Dallas in the MLS playoffs, their most common opponent. The Sounders have won 4 of the previous 5 meetings and three straight. Dallas' only playoff win over the Sounders as in 2015.
The Sounders are unbeaten in 17 straight MLS home games, including playoffs, against FC Dallas, that dates back to 2012.
Dallas had not won consecutive road games in five years but won their last two road games and are 2-0-2 in their last four.
Raúl Ruidíaz has nine goals and six assists in 11 career playoff appearances. No one in MLS history with at least 500 playoff minutes averages has averaged better than his 1.31 goal-contributions per 90 minutes.
Absences: Injury, international duty and suspension
Seattle
OUT: Reed Baker-Whiting (L Hamstring Strain)
Dallas
OUT: Geovane Jesus (right knee), Tarik Scott (season ending knee injury), Facundo Quignon
QUESTIONABLE: Bernard Kamungo (ankle), Sebastian Lletget (hamstring)
Officials
REF: Joe Dickerson: ARs: Jeremy Hanson, Jeffrey Greeson; 4TH: Nima Saghafi; VAR: Jorge Gonzalez; AVAR: Mike Kampmeinert
How to Watch
Match date/kickoff time: Monday, 6 PM PST
Venue: Lumen Field, Seattle
Global Streaming English: MLS Season Pass (Max Bretos & Brian Dunseth)
Global Streaming Spanish: MLS Season Pass (Rodolfo Landeros & Mariano Trujilo)
National TV: FS1 (Tyler Terens & Devon Kerr)
Local Radio: 950 KJR-AM Seattle, iHeartMedia (Danny Jackson, Michelle Ludtka-Furbush & Steve Zakuani)
National radio: SiriusXM FC 157
Local Spanish Radio: El Rey 1360 AM (Rodriguez, Maqueda, Tapia)
Is this game available to stream for free? Yes
Will Sounders radio be available as an alternate feed? Yes
Lineups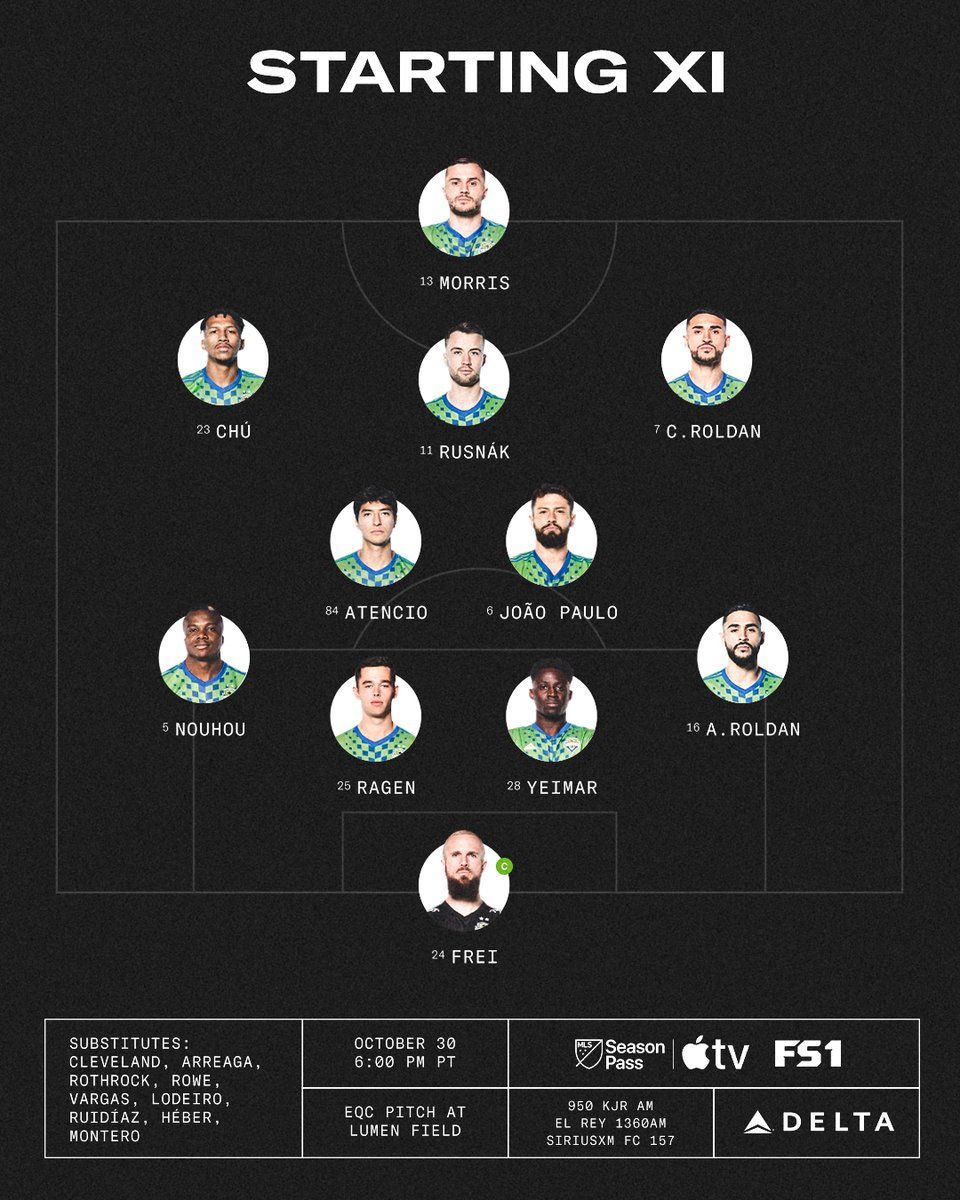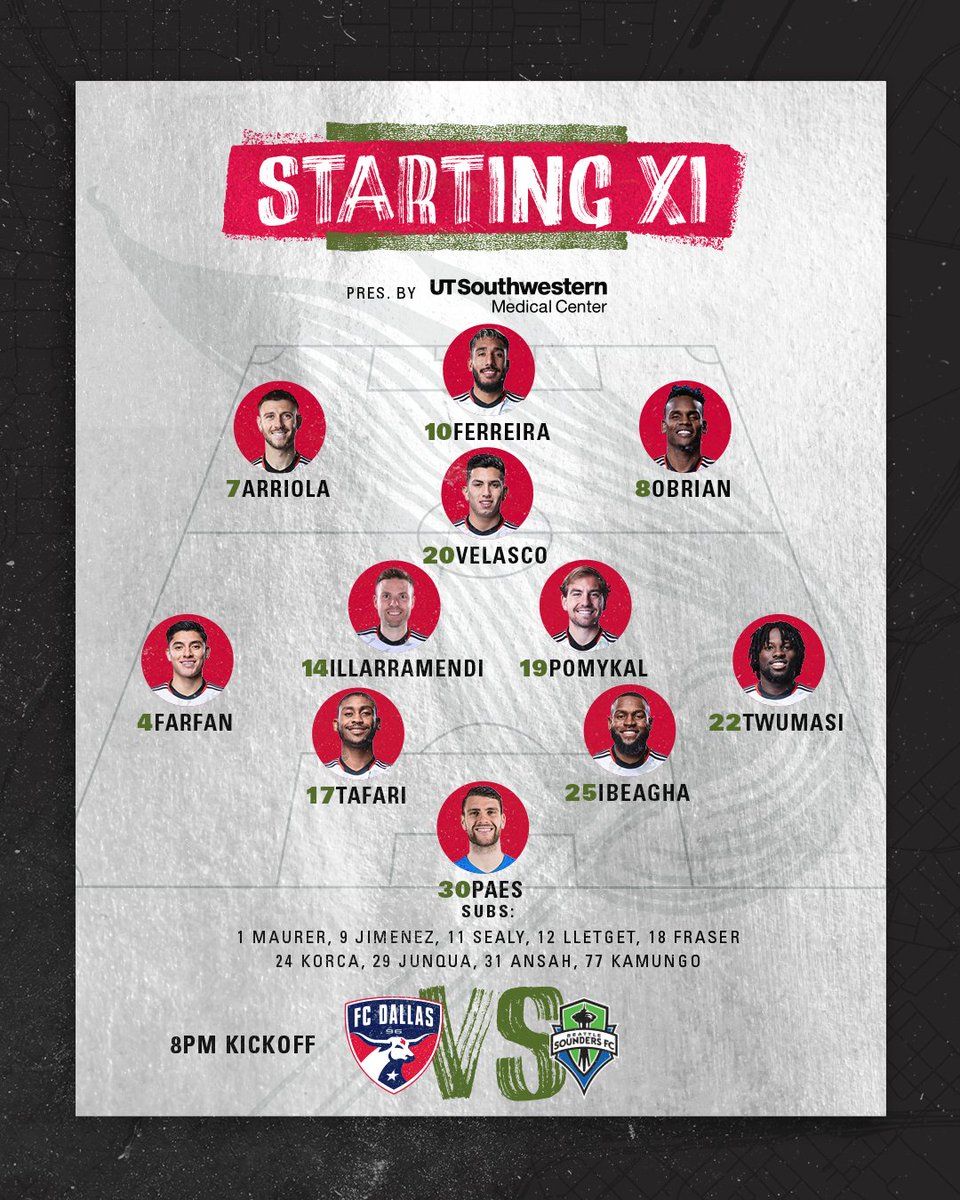 Highlights will be posted as the match progresses.
This is Seattle Sounders vs. FC Dallas; watch with us
Comments