TIFO: In what could turn out to be Nicolás Lodeiro's final regular-season home game, ECS featured him in their tifo along with the phrase "Eternal Blue, Forever Green."
LINEUPS: The Sounders made two changes from Wednesday's win over the LA Galaxy, replacing Albert Rusnák with Nicolás Lodeiro and installing Josh Atencio for Obed Vargas.
---
With both teams having already clinched playoff spots, tonight's match between the Seattle Sounders and Vancouver Whitecaps is all about positioning. The winner of this game will be in very good position to gain home-field advantage in the first round of the playoffs and maybe even beyond that.
The Sounders enter on a season-best seven-game unbeaten run (3-0-4), while the Whitecaps recently concluded a seven-game road trip in which they went a very respectable 2-2-3 to leave themselves in strong position.
The Whitecaps have been among the league's best offensive teams with 54 goals scored, second most in the Western Conference. Leading the way for them has been the dynamic duo of Ryan Gauld (11 goals, 12 assists) and Brian White (15 goals, 5 assists), who have combined for 43 goals and assists.
On the Sounders' side, Nicolás Lodeiro is expected to return to the starting lineup. He has historically been very good against the Whitecaps, with 7 goals and 5 assists in 16 career appearances against them.
Notes
The Sounders have a nine-game home unbeaten run against the Whitecaps (8-0-1) that dates to 2016. During that stretch they have outscored their northern neighbors 22-4.
After scoring multiple goals in 3 of their previous 20 games, the Sounders have now scored multiple goals in 4 of 6 games, including the 2-1 win over the Galaxy on Wednesday.
With two games left to play, the Whitecaps have already tied their franchise record for goals scored in a season (54).
Whitecaps forward Brian White has scored in four consecutive games, one shy of the franchise record set by Camilo Sanvezzo in 2015.
Absences: Injury, international duty and suspension
Seattle
QUESTIONABLE: Raúl Ruidíaz (back pain)
OUT: Sota Kitahara (L quad strain)
Vancouver
OUT: Andres Cubas (R shoulder); Thomas Hasal (patellar tendinopathy)
Officials
REF: Nima Saghafi; ARs: Mike Rottersman; Lyes Arfa; 4TH: Thomas Snyder; VAR: Sorin Stoica; AVAR: Jozef Batko
How to Watch
Match date/kickoff time: Sunday, October 7, 7:39 PM PT
Venue: Lumen Field, Seattle
Global Streaming English: MLS Season Pass (Chris Wittyngham & Lori Lindsey)
Global Streaming Spanish: MLS Season Pass (Juan Arango & Claudio Suarez)
Local Radio: 950 KJR-AM Seattle, iHeartMedia (Danny Jackson & Steve Zakuani)
Local Spanish Radio: El Rey 1360 AM (Rodriguez, Maqueda, Tapia)
Is this game available to stream for free? Yes
Will Sounders radio be available as an alternate feed? Yes
Lineups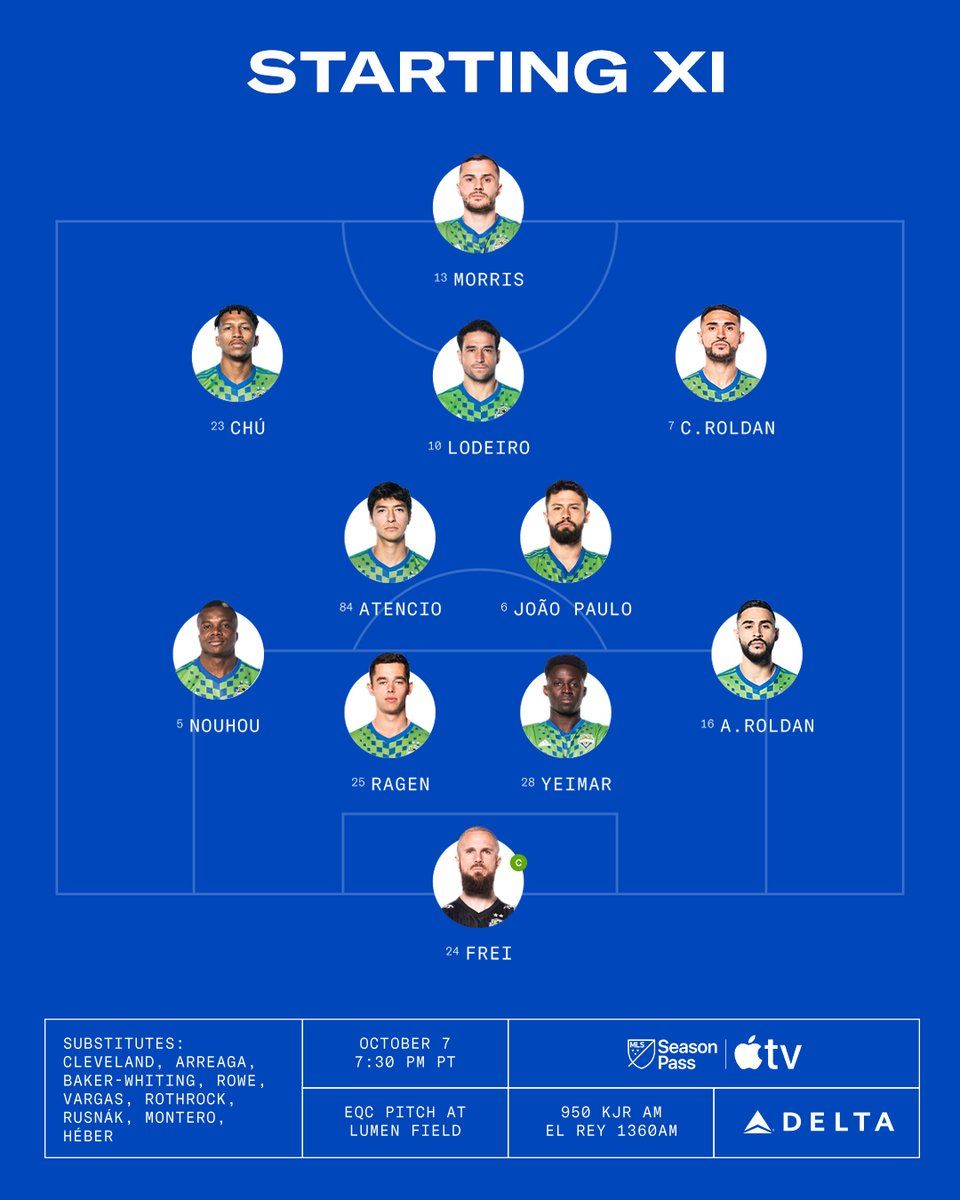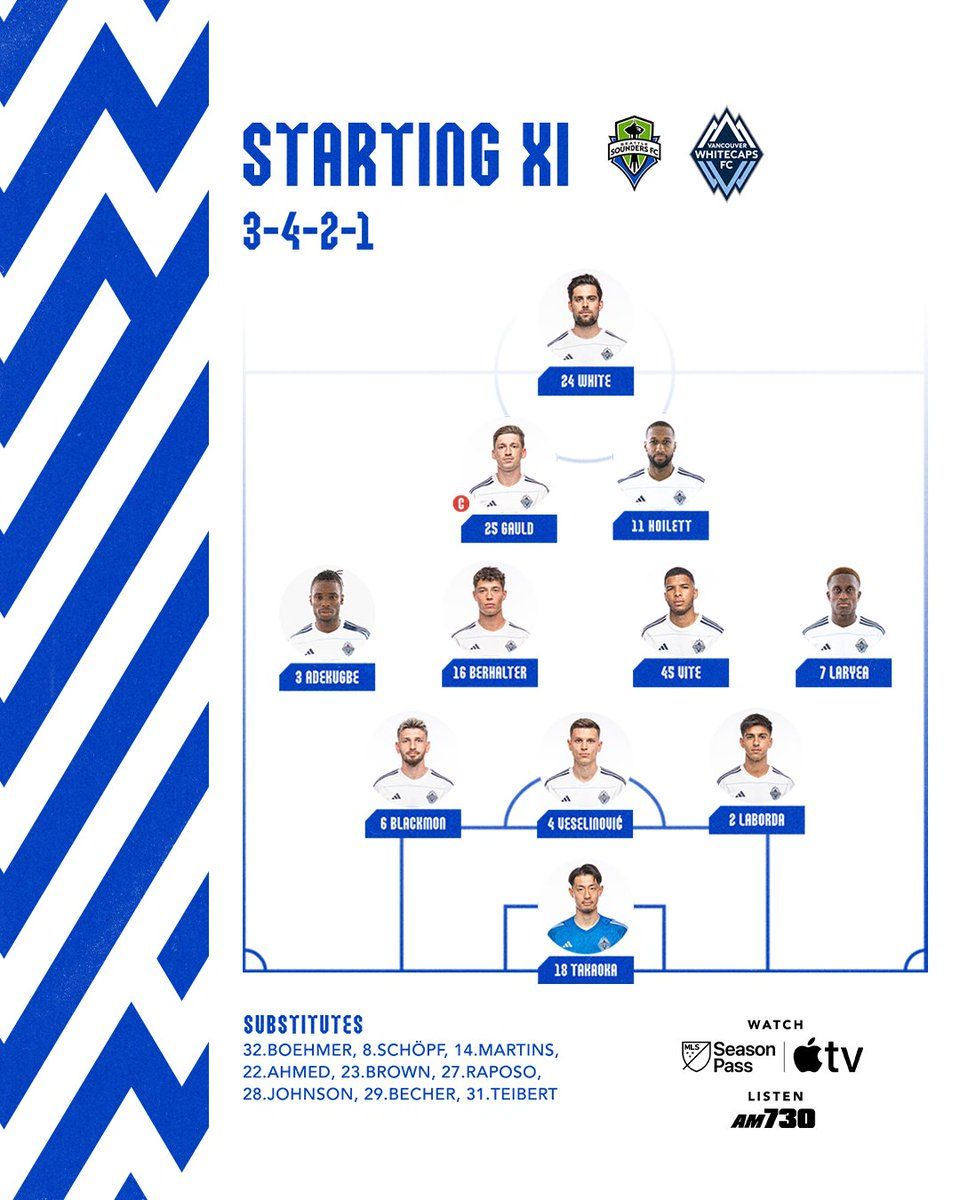 Highlights will be posted as the match progresses.
This is Seattle Sounders vs. Whitecaps; watch with us
Comments