FULLTIME: The Sounders beat St. Louis City 2-0 on Saturday, allowing them to clinch second place in the Western Conference after LAFC dropped points against the Vancouver Whitecaps. They will face FC Dallas in the first round of the playoffs.
The Sounders started strong with two first-half goals, one from Albert Rusnák and another an own-goal from a Reed Baker-Whiting cross.
ST. LOUIS CITY 0, SOUNDERS 2: Reed Baker-Whiting made a nice interception at midfield, drove forward and then collected a pass from Léo Chú. Baker-Whiting put in a cross that deflected off defender Tim Parker and went into the goal.
ST. LOUIS CITY 0, SOUNDERS 1: Albert Rusnák finished off a well-placed Cristian Roldan cross to give the Sounders a lead in the 23rd minute.
LINEUPS: Reed Baker-Whiting and Albert Rusnák were the two changes to the Sounders' lineup with Nicolas Lodeiro, Raúl Ruidíaz and Nouhou on the bench.
---
The Seattle Sounders can finish as high as second or as low as sixth in the Western Conference heading into today's regular-season finale against St. Louis City.
The Sounders can lock up home-field advantage in the first-round of the playoffs if they can get a point, but a win would guarantee them no worse than third and potentially put them as high as second if LAFC were to drop points in their match at the Vancouver Whitecaps.
The worst-case scenario is for the Sounders to lose, while the Houston Dynamo (at Portland), Real Salt Lake (at Colorado) and Whitecaps (vs. LAFC) all win. In that scenario, the Sounders would drop all the way to sixth and have to play the Dynamo in the first round.
The good news is that the Sounders are fully fit for one of the first times all season. No one is suspended, on international duty or listed on the injury report meaning Brian Schmetzer will have a full roster to choose from.
St. Louis City is in a similar situation, albeit with slightly lower stakes. Their mainly playing for an improved chance to host MLS Cup, as the Philadelphia Union and Columbus Crew can potentially pass them in the Supporters' Shield standings.
Notes
St. Louis City currently sits on 56 points, tied for the second most by an expansion team in MLS history. They can tie LAFC's record of 57 points with a tie or pass them with a win.
The Sounders are trying to become the only team to beat St. Louis City twice in a season.
The Sounders' eight-game unbeaten streak is tied with the Philadelphia Union and FC Dallas for the longest active streak. It's also the Sounders' longest unbeaten run since starting the 2021 season with 13 straight.
The Sounders have scored 39 goals this season. They'll need at least three in order to avoid setting a franchise low for goals scored in a 34-game season.
Absences: Injury, international duty and suspension
Seattle
none
St. Louis
none
Officials
REF: Jair Marrufo; ARs: Corey Rockwell, Jeffrey Swartzel; 4th: Jon Freemon; VAR: Edvin Jurisevic; AVAR: Peter Balciunas.
How to Watch
Match date/kickoff time: Saturday, 6:09 PM
Venue: CITYPARK, St. Louis, Mo.
Global Streaming English: MLS Season Pass (Max Bretos & Brian Dunseth)
Global Streaming Spanish: MLS Season Pass (Bruno Vain & Andrés Aguila)
Local Radio: iHeartMedia (Danny Jackson & Steve Zakuani)
Local Spanish Radio: El Rey 1360 AM (Rodriguez, Maqueda, Tapia)
Is this game available to stream for free? Yes
Will Sounders radio be available as an alternate feed? No
Lineups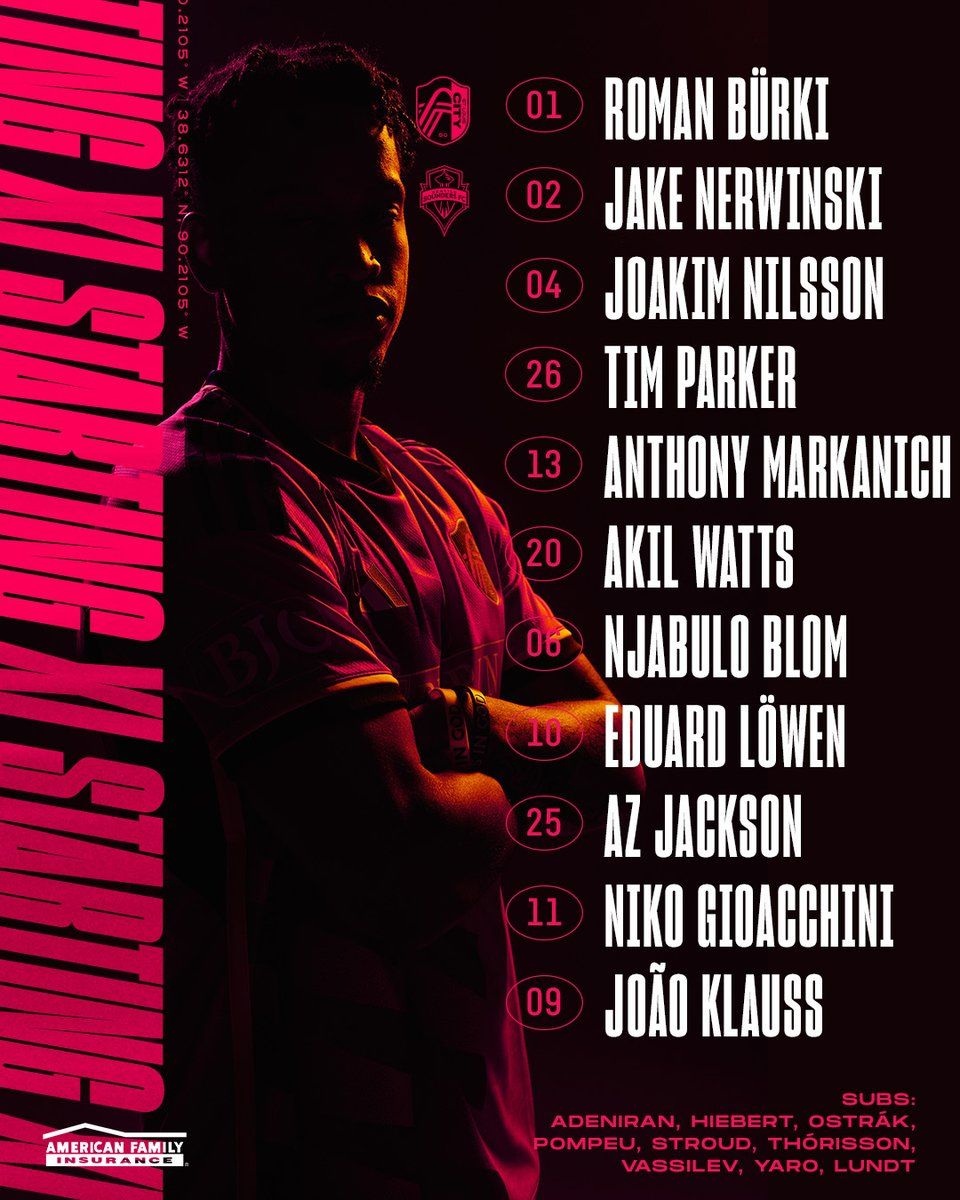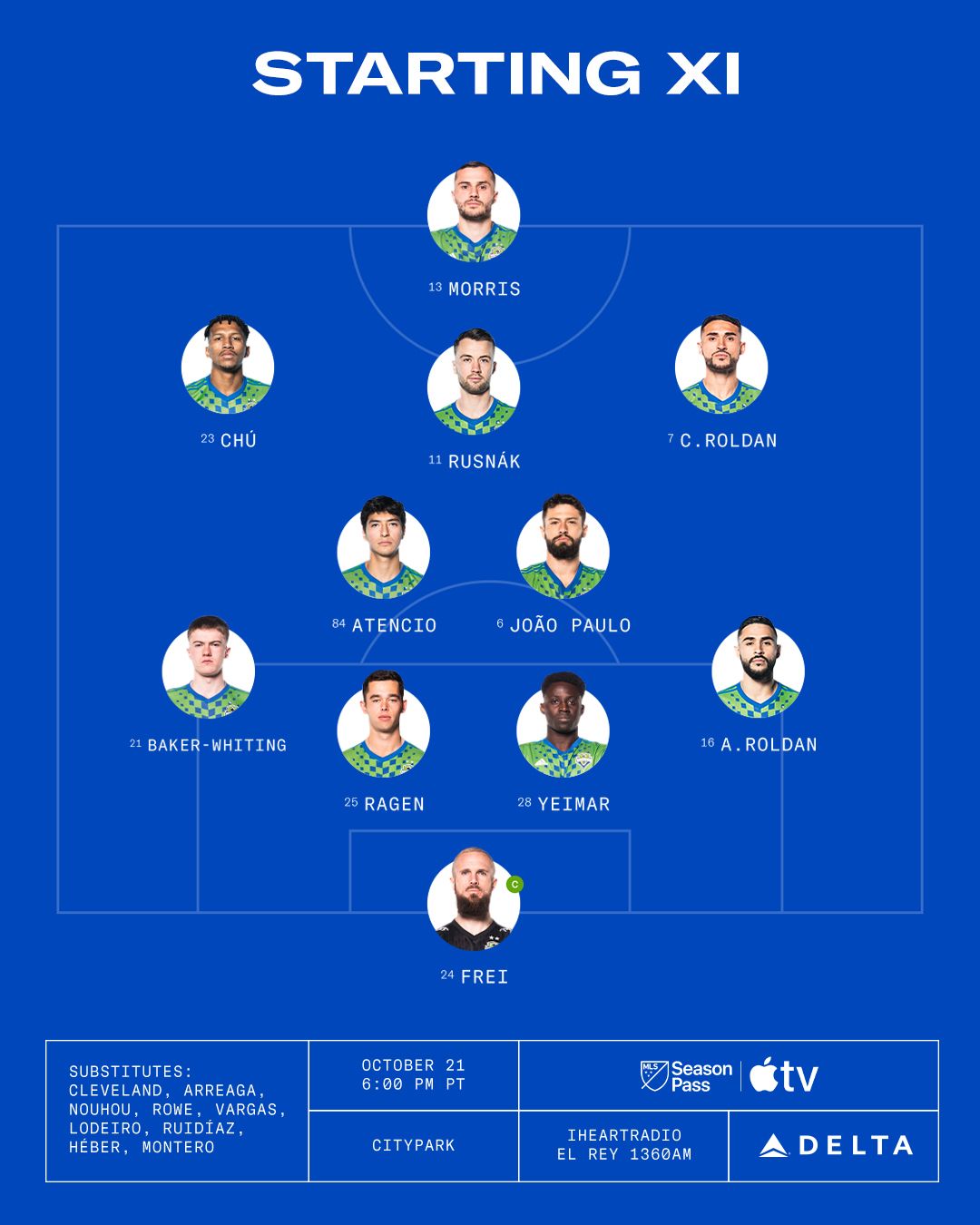 Highlights will be posted as the match progresses.
This is Seattle Sounders at St. Louis City; watch with us
Comments