FULLTIME: The Sounders fell 3-1 to FC Dallas on Saturday, tying the best-of-3 series 1-1 and forcing a decisive Game 3 on Friday in Seattle. FC Dallas jumped out to a 2-0 lead behind a Paul Arriola goal and a Jesus Ferreira penalty. Jordan Morris pulled one back early in the second half and appeared to equalize a few minutes later, but the goal was disallowed for a very tight offside call. VAR also recommended for the Sounders to be given a penalty that would have given them another chance to equalize, but the referee decided that Ferreira's tug of Raúl Ruidíaz's jersey did not keep him from getting to the ball.
LINEUPS: The Sounders are running back the lineup they used in Game 1, albeit with quite a few changes on the bench to give Brian Schmetzer more offensive options. Dallas' big change is bringing in Bernard Kumongo at right wing, effectively in place of the injured Alan Velasco.
---
The Seattle Sounders can clinch a spot in the Western Conference semifinals with a win tonight against FC Dallas, either in regulation or through a shootout. If they do, it will mark the sixth time they've advanced at least that far in Brian Schmetzer's eight seasons.
Most likely, the Sounders will lean on a lineup identical to the one that won Game 1 2-0. After some tinkering, Schmetzer seems to have settled on a central midfield of Albert Rusnák, Josh Atencio and João Paulo and seems to prefer Jordan Morris as the No. 9.
The Sounders will also be trying to continue an impressive run of road form in which they've gone 3-0-3 in their last six. That includes a 1-1 tie at Dallas. The Sounders had a slightly different lineup in that game, with Reed Baker-Whiting starting in place of Nouhou; Obed Vargas in place of Josh Atencio; and Nicolás Lodeiro starting at the No. 10 spot. That game also featured Jordan Morris starting at right midfield with Albert Rusnák on the left, which turned out to be quite a mess. The game turned around after they switched sides.
Notes
Dallas have not exactly been dominant at home this year (7-3-7) but they don't lose there very often. In fact, they've lost just three times in their last 24 regular-season games at Toyota Stadium (12-3-9) dating to last season. They are 11-1-8 against Western Conference opponents at home since July 2022, which includes Leagues Cup.
The Sounders have just won just once in Dallas since late 2014, going 1-8-4 there ever since. That includes a record of 0-2-1 in the playoffs. The win was in 2021.
The Sounders finished the regular season going 3-0-3 in their first six road games. That's one shy of tying the club record for longest road unbeaten streak.
Dallas has used 34 different lineups in its 35 league games this year.
With his goal in Game 1, Jordan Morris now has 10 career playoff goal contributions (7 goals, 3 assists), which is third on the team behind Nicolás Lodeiro (19) and Raúl Ruidíaz (15). Seattle is just the second team in MLS history to have three players with at least 10 goal contributions (the LA Galaxy have five).
Absences: Injury, international duty and suspension
Seattle
OUT: Reed Baker-Whiting (L Hamstring Strain)
Dallas
OUT: Geovane Jesus (knee), Tarik Scott (knee), Alan Velasco (knee)
QUESTIONABLE: José Martínez (foot), Facundo Quignon (upper leg)
Officials
REF: Rosendo Mendoza; ARs: Logan Brown, Brooke Mayo; 4TH: Jon Freemon; VAR: Kevin Stott; AVAR: Kyle Atkins
How to Watch
Match date/kickoff time: Saturday, November 3, 6:09 PM PT
Venue: Toyota Stadium, Frisco, Texas
Global Streaming English: MLS Season Pass (Max Bretos & Brian Dunseth)
Global Streaming Spanish: MLS Season Pass (Sergio Ruiz, Miguel Gallardo)
Local Radio: iHeartMedia (Danny Jackson, Brad Evans & Michelle Ludtka-Furbush)
National Radio: SiriusXM FC 157
Local Spanish Radio: El Rey 1360 AM (Rodriguez, Maqueda, Tapia)
Is this game available to stream for free? No
Will Sounders radio be available as an alternate feed? No
Lineups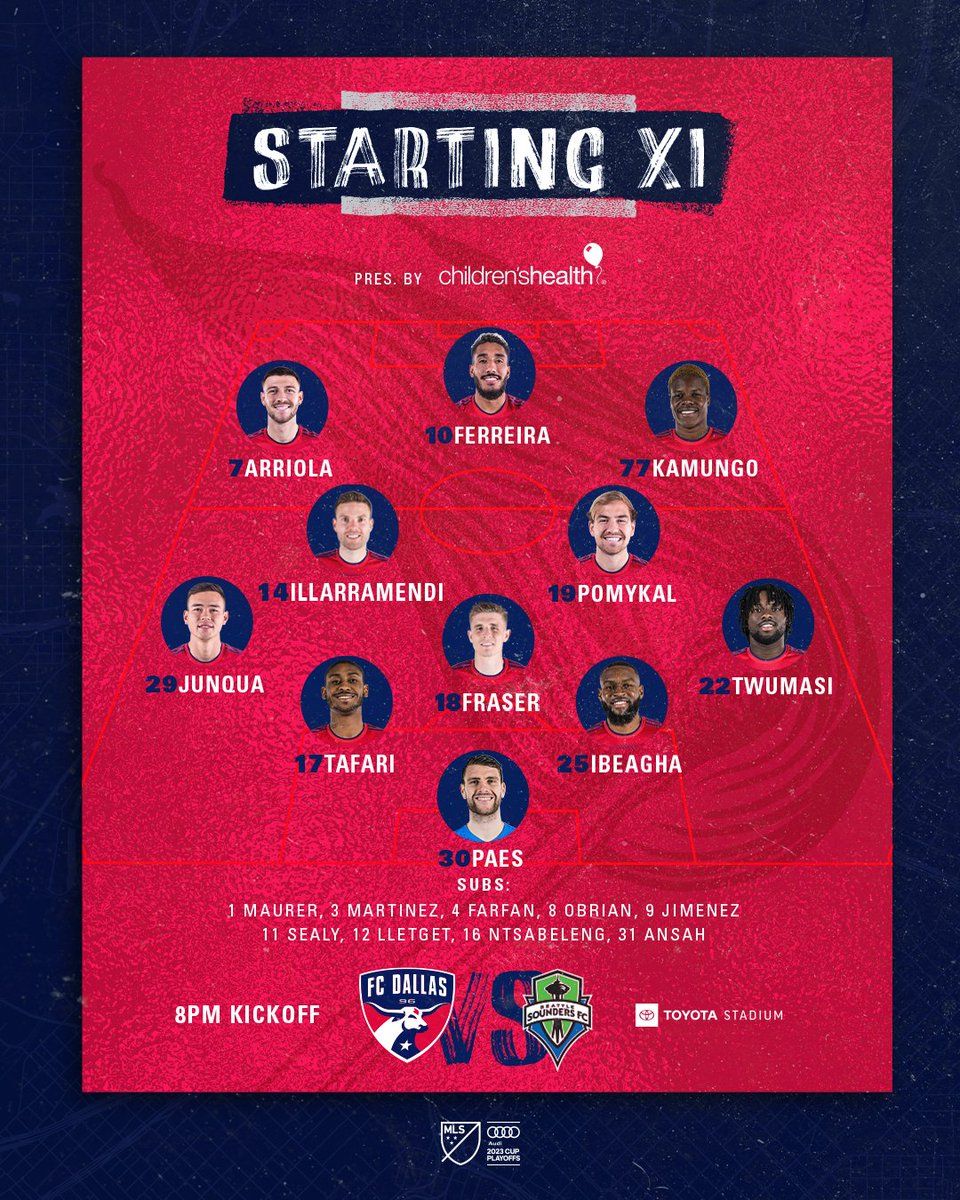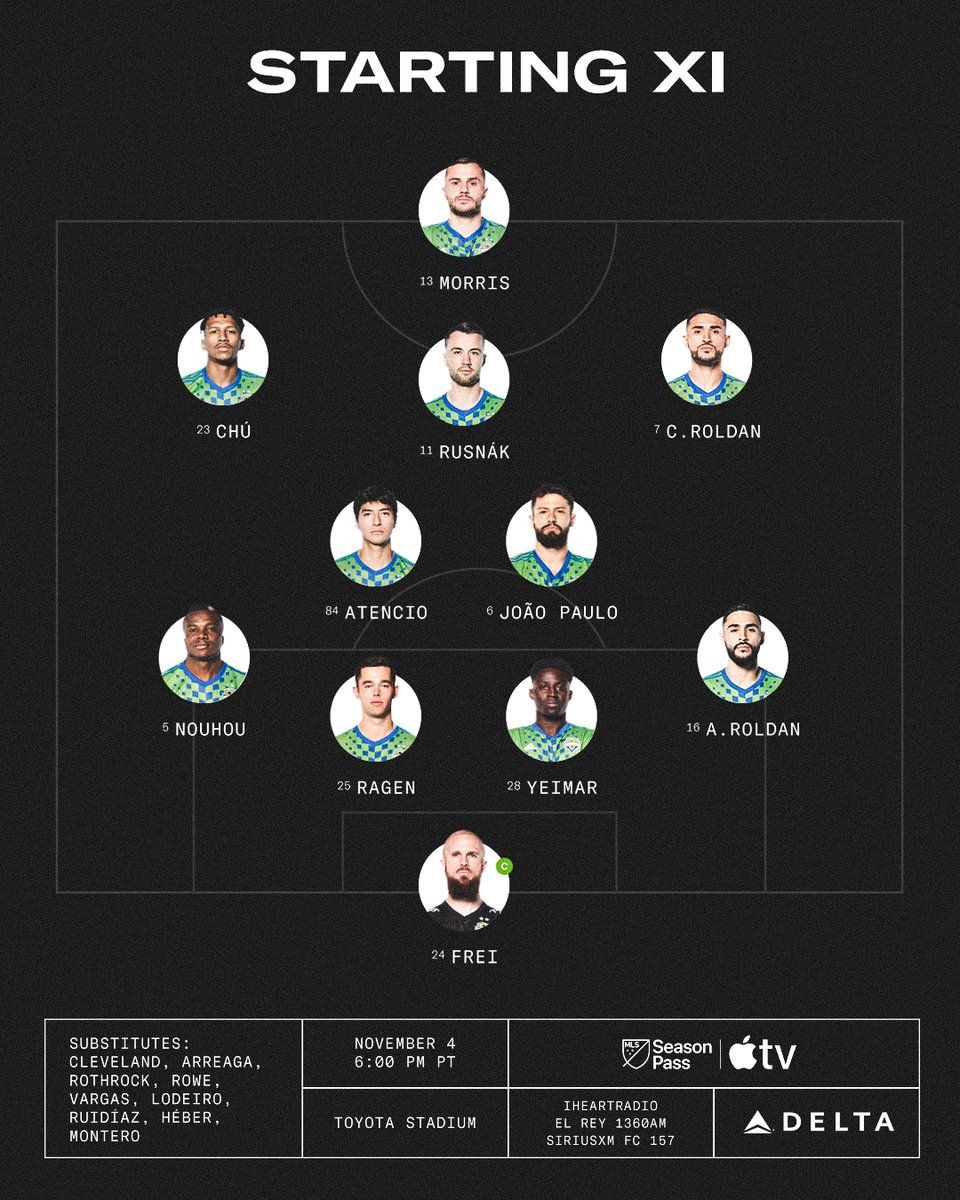 Highlights will be posted as the match progresses.
This is Seattle Sounders at FC Dallas; watch with us
Comments