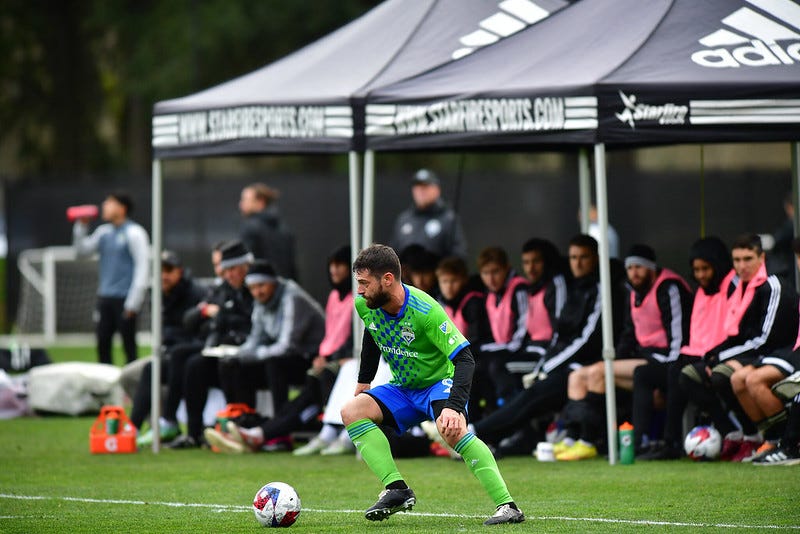 Looking around at the various MLS predictions, most seem to feel as though the Seattle Sounders are due for a bounceback. The predictions range everywhere from a roughly mid-table playoff team to a Supporters' Shield contender, but almost no one seems to think we'll see a repeat of last year when they fell all the way to 11th in the Western Conference. Not only was it the first time the Sounders had finished outside the playoffs in their 14 MLS seasons, but it was 7!!!! spots lower in the table than they'd EVER finished.
It's not hard to understand why MLS observers are expecting a bounceback. As much as people seem to be tired of hearing it, this team was still good enough to win Conacaf Champions League last May and virtually all the key players from that team are back in 2022.
Yet if you spend anytime reading Twitter or the comments on someplace like Sounder at Heart, you'll find plenty of pessimism in the fanbase. I'm not going to say that's completely unfounded, either. The reality is that this is basically the same roster that went 4-10-3 during the second half of the season and has several key starters on the wrong side of 30. If you were someone who felt the time to start rebuilding was this past offseason, I can definitely understand why you might be frustrated.
That said, pessimism has never really been my thing. So here are a few reasons I'm inclined to side with the punditry in terms of my outlook for 2023:
Sounders should be able to hit the ground running: As much as we talked about the disadvantage of being in mid-preseason form for the Club World Cup, that preparation should now be an advantage. The Sounders were forced to come into camp more fit than in previous preseasons and have already played a competitive match. No, they didn't get as many preseason games as they wanted, but I don't think they've ever been more physically and mentally ready for the season opener than they are this year. I like their chances to open strong and then to be able to carry that momentum into the Leagues Cup break.
The Leagues Cup sets up well for them: There's been a lot of talk about how the new summer tournament is going to tax teams and test their depth, but I think that might be a bit overblown. What makes the CCL such a tough tournament is that it happens concurrently with the MLS season and involves a rather ridiculous amount of travel. The Leagues Cup, on the other hand, will be the only competition teams are playing in and the road trips are all standard MLS fare. The Sounders also have a ton of experience against Liga MX opponents, having played seven competitive games against them over the past two years. I like their chances in this tournament and if they go out early, they'll just be that much better rested when the regular season picks up.
There's real potential for Sounders Revenge Tour stuff: Say what you will about the age of Nicolás Lodeiro, Raúl Ruidíaz, Stefan Frei, etc., but these are proud players who are not used to losing and not particularly fond of being told their best days are behind them. In regards to Lodeiro, specifically, I think his decline was probably a bit overstated last year. As much as his top-line numbers dropped off (3 non-penalty goals and 7 primary assists), he was still an elite passer who covered a ton of ground. I'm skeptical there's any scenario where Lodeiro returns in 2024, but I think he's going to be very motivated to show he's not done yet. I also think we're going to see strong bounceback seasons from Jordan Morris and Cristian Roldan, both of whom faded pretty badly last year but signed long extensions this offseason.
João Paulo is back: Maybe burying the lede here a bit, but a full season of João Paulo is enough to probably get this team back into the upper half of the Western Conference all by itself. Let's not forget that João Paulo was arguably the best player in the league in 2021 and is one of the best tackling passers or passing tacklers MLS has ever seen. If he plays 2,000 minutes, the Sounders will finish no worse than top 4, book it.
The forward situation: The Sounders got just 16 goals in MLS play from forwards Raúl Ruidíaz (9), Fredy Montero (4) and Will Bruin (3). Maybe even more damning: they collectively only scored one goal off the bench. A big reason for that was injuries limiting Ruidíaz to just about 1,300 minutes, which meant that Montero and Bruin were starting a lot more than was ideal. My expectation is that Ruidíaz will be a bit healthier, but also that the forwards will collectively be more productive in part because Héber is now in the mix. People don't seem to be particularly high on Héber, but I've been impressed with what I've seen and everyone around the club seems to be too. He's scored at a clip of .60 goals per 90 minutes during his four MLS seasons, which is about double what Bruin and Montero combined for last year.
The tactical tweaks: In case you missed it, the Sounders have spent a lot time this preseason talking about some of the tactical tweaks they implemented. The TL;DR is that they'll still mostly defend out of a 4-4-2, but that will morph into something like a 3-2-2-3 when they're building up through possession. I'll let someone else explain exactly what this will look like, but the idea is that it attempts to highlight various players' strengths while masking their weaknesses. More importantly, players seem to be buying in.
Everything else you need to know
Comments