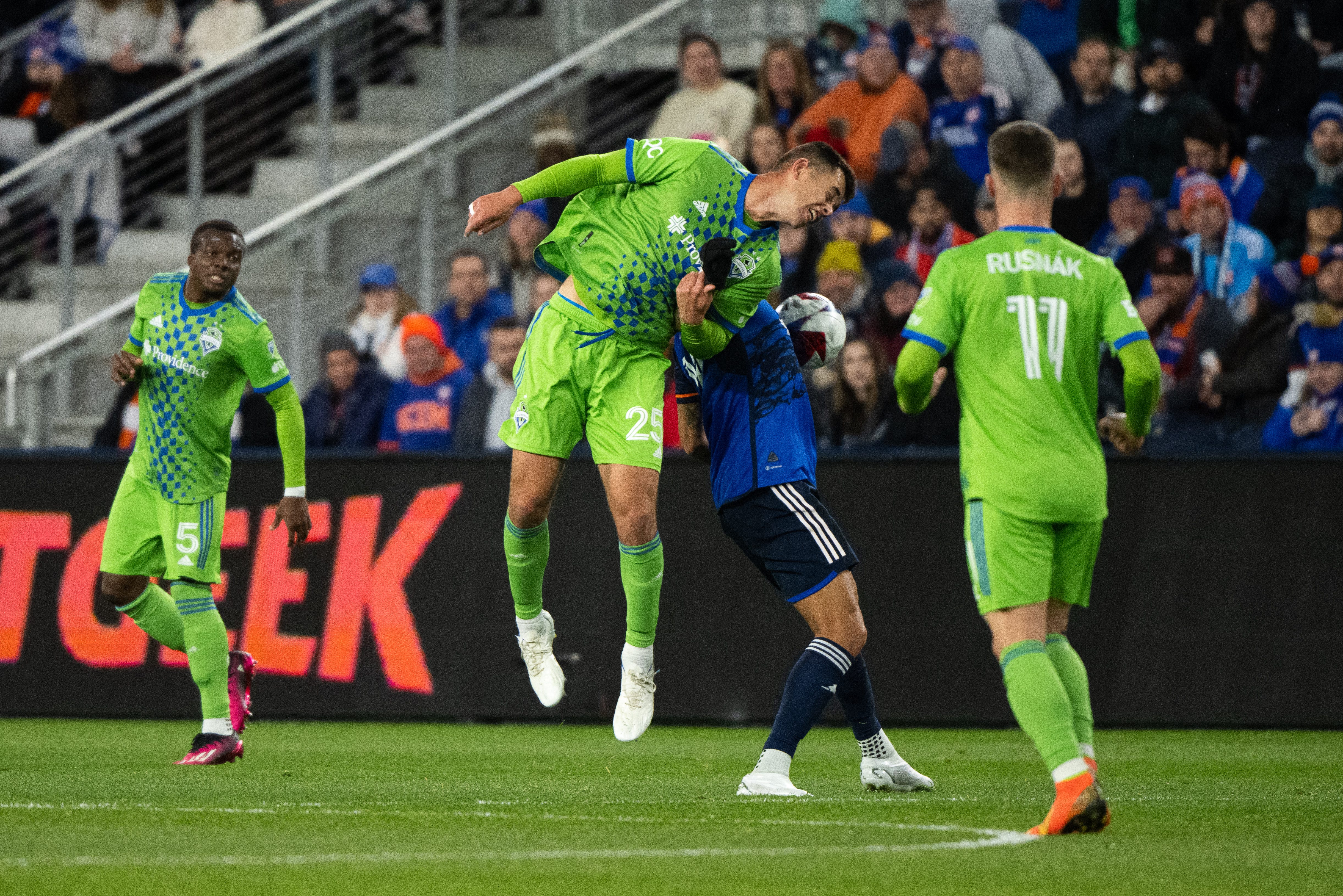 Coming off two impressive performances at home, I was honestly looking forward to seeing how the Sounders would look in their first road game of the MLS season. That FC Cincinnati looks like they could be a Supporters' Shield contender only added to my intrigue.
That the Sounders ended up losing 1-0 was definitely a frustrating result, but I still think there were good learning experiences to be gained.
Here are some of my observations:
Struggling with the press
FC Cincinnati was not the first team to try to press the Sounders — both the Rapids and RSL did some of that too — but they did it with a different look. This was the first time anyone had tried to press the Sounders out of a 5-3-2 formation, with the wingbacks pressing high. This put more emphasis on Jordan Morris and Cristian Roldan to be more active in their press-breaking role and they seemed to struggle a bit, especially in the first half.
Still, they nearly combined on what could have been a game-changing goal. In the 15th minute, Roldan played Morris down the right channel. Morris beat defender Ray Gaddis to the ball and then rounded goalkeeper Roman Celentano. But Gaddis managed to keep tight to Morris, forcing him to shoot from an awkward angle. His shot at an empty net went just wide.
It's impossible to know for sure, but I suspect the match would have played out very differently if Morris had been able to bend that in. As it was, the Sounders were able to do a better job handling the press in the second half — the sequence around the goal they conceded notwithstanding — but always seemed to be just a hair away from a game-breaking play.
Missing Héber
Watching Héber repeatedly get on the end of chances in the first two games, just about everyone agreed he looked very good. But what the Sounders missed from him against Cincinnati was something that was probably a bit under-appreciated against the Rapids and RSL: his hold-up play. Fredy Montero is probably going to score at least a handful of goals this year and can be a very useful player off the bench. He's not going to provide the type of hold-up play that helps relieve pressure. That was something the Sounders needed badly in the first half and it was nowhere to be found.
Jackson Ragen was really good, again
I don't want to make it sound all doom and gloom in this game, because I don't think it was. One obvious bright spot, though, was the play of Jackson Ragen who is now stringing together the kind of performances that are going to make it very hard to dislodge him from the lineup. Around the 12th minute, I clocked him getting burned a bit on a play that led to a corner. In the 35th minute, he was maybe a little guilty of allowing Brandon Vazquez to squeeze off a backheeled shot that Nouhou ultimately cleared off the line. Other than that? I'm not sure he really put a foot wrong. Aside from playing the type of defense that mostly held the explosive Cincinnati attack mostly in check, what really stood out again was Ragen's passing. He was 44 for 49 overall, which included 10 for 12 on long balls. Without him, the Sounders would have been in even more trouble.
Big calls change games
Let me first say that I think VAR worked exactly how it was designed to in this game and that all three of the "big" calls were effectively right. The video of the possible handball on Nick Hagglund was inconclusive at best and the referees absolutely made the right call when they determined Hagglund's tackle of Ruidíaz was DOGSO. I even think they were correct in overturning Yeimar's goal because he absolutely connected with Yerson Masquera's head during the buildup.
The only thing annoying about that last one is I don't think Yeimar actually needed to do that in order to gain an advantage. Masquera is very clearly trying to cut Yeimar off from going near post, which is why he cuts in front. But if Yeimar had used a less physical method to cut to the far post, he'd probably have been just as open. Either way, it was a great ball from Morris…
Going back to the Club World Cup
Yes, you read that right: The Sounders have already qualified for the 2025 Club World Cup. Concacaf made the news official on Tuesday, shortly after FIFA unveiled the qualification process for what is planned to be the first of a new quadrennial format that features a whopping 32 teams. Those teams mostly qualify through their respective champions leagues with the winners from 2021-24 earning automatic spots.
The Sounders, as you may remember, won the 2022 edition of the CCL and now get a second shot at this tournament.
Unlike the Club World Cup in which they just played that felt like a preseason tournament, this one will apparently have all the trappings of a proper competition. The expectation is that there will be eight groups of four teams and one or two teams will advance from each group and then go onto the knockout stage. There's probably going to be 6-8 representatives from Europe in this thing and that means the Sounders will likely have at least one world power in that group.
They've already said this tournament will be held during the June-July international window and my hope is that it runs concurrently with Leagues Cup, with the Sounders and any other MLS or Liga MX team simply being excused.
It also seems like there's a pretty decent chance that this new Club World Cup is used as a sort of dry run for the 2026 World Cup, maybe even concentrating it in an area with several host cities. I'd like to humbly suggest just staging the entire thing on the West Coast with Vancouver, the Bay Area, Los Angeles, Guadalajara and, say, Seattle hosting games.
Everything else you need to know
Comments