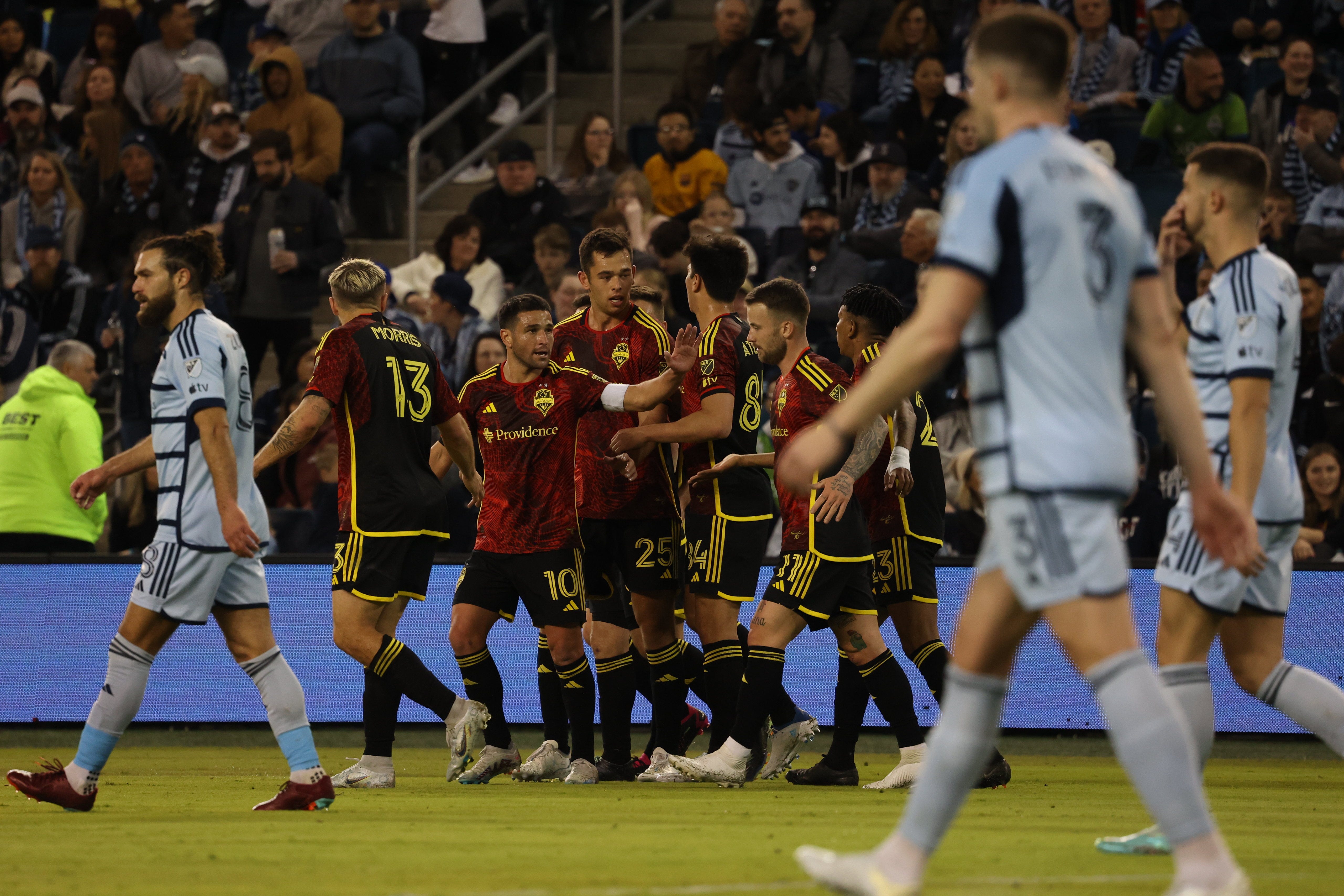 It had been nearly nine months since the Seattle Sounders last won a road game, a stretch in which they lost nine games all but just one goal. I wouldn't say they've been awful in all of those games, but they did have a knack for finding new and creative ways to ensure that they didn't really deserve to win any of them. Four times, the Sounders led at some point. Three times they allowed the decisive goal in stoppage time. In none of them did they dominate large stretches.
The 4-1 win over Sporting KC was just the palate cleanser we needed.
Sure, the Sounders conceded an early goal, but they almost immediately turned it around and dominated the final 85 minutes of the match. By the time Jordan Morris scored his second goal to make it 2-1 early in the second half, the Sounders had fully turned the tide. When they went up a man a few minutes later, they were absolutely ruthless in the way they kept the ball and found the insurance goal.
Yes, it came against a depleted Sporting KC opponent that now has just two goals and two points through five games. But it's also effectively the same team that beat the Sounders 1-0 in the penultimate game of 2022. The Sounders were literally playing for their postseason lives in that game and had group of players even closer to first-choice than they had in this one, and barely mustered a fight.
Here are my main observations from the game:
Jordan Morris can play as a 9
This was, by orders of magnitude, Morris' best performance as a No. 9, but it didn't exactly come out of nowhere either. Morris has enjoyed some success as a striker, most notably in 2016 when he was a rookie. But his scoring rate is almost identical — about .35 per game — no matter where he plays. What I really liked in this game wasn't just the scoring, though, it was all the other stuff he did. In addition to well-timed runs, Morris had several nice hold-up plays that helped the Sounders regain control in the first half  and even set up a few good chances for teammates. I'm not ready to permanently move him, but he's a good option, especially against opponents who might not have particularly fleet-footed defenders.
My favorite part of Morris' performance, though, was his reaction to the fourth goal. The normally unflappable Morris seemed to be responding to someone in particular and counted off his goals, 1, 2, 3, 4 and then gave a thumbs up with a huge smile.
"I feel a little bad about the celebration," he sheepishly admitted afterward. "That's not really me, but they're a tough fanbase. They were jeering us all game. That sort of just came out of me."
Léo Chú finally has his breakout moment
Somewhat related to the decision on where to best deploy Morris is the emergence of Léo Chú. It really can't be overstated how much better he looked in this game than in any previous appearances. Most remarkable about Chú's performance was that it wasn't concentrated on a few moments of brilliance, but rather the consistent threat he provided. That was in multiple ways, stretching defenses, setting up opponents — he had the primary assist on three of Morris' goals and a secondary assist on the other — and even taking a couple dangerous shots of his own. This was the whole package. Also similar to Morris, though, I'm a little reluctant to read too much into this as Graham Zusi was a particularly good matchup for him, but this has to do wonders for his confidence and I'm hopeful we see more of him.
"It was a good game but this was just the beginning," Chú said in impressive English. "I have more things coming."
Versatility on display
This lineup featured three new starters as well as three players in new positions. I think you'd be hard-pressed to suggest any of them looked out of place. Joining Chú among the starters getting their first start this year were Josh Atencio and Kelyn Rowe. Both looked like they belonged, at the very least, with Atencio completing 57 of 62 passes, winning his two tackles, going 3-for-5 on duels and making nine recoveries. Rowe did a pretty serviceable impression of Nouhou at left back, mostly staying back but picking his spots well and breaking pressure with both dribbles and passes when needed.
Albert Rusnák and Cristian Roldan were the others who were in new positions and while both were serviceable, I don't think anyone should be clamoring for them to make their position changes permanent. Roldan got beaten pretty badly on the KC goal, and seemed to learn from that, but is considerably more useful farther up the pitch. Rusnák also had some decent moments but mostly in possession when he was drifting into the middle (where he normally plays).
Killer instinct
I think the biggest improvement in this game from road games a year ago was the way the Sounders reacted to adversity. But related to that was how they reacted to their opportunity to put the game away. When Ben Sweat was sent off, the Sounders were already leading 2-1. But they wasted almost no time in putting Sporting KC to the sword. Almost immediately after the ejection, the Sounders went through a nearly four-minute spell where they completed 55 passes to KC's 1. That spell ended when Nicolás Lodeiro found Morris for his third goal. Here's what that dominance looked like on WhoScored's action map (Sounders are blue):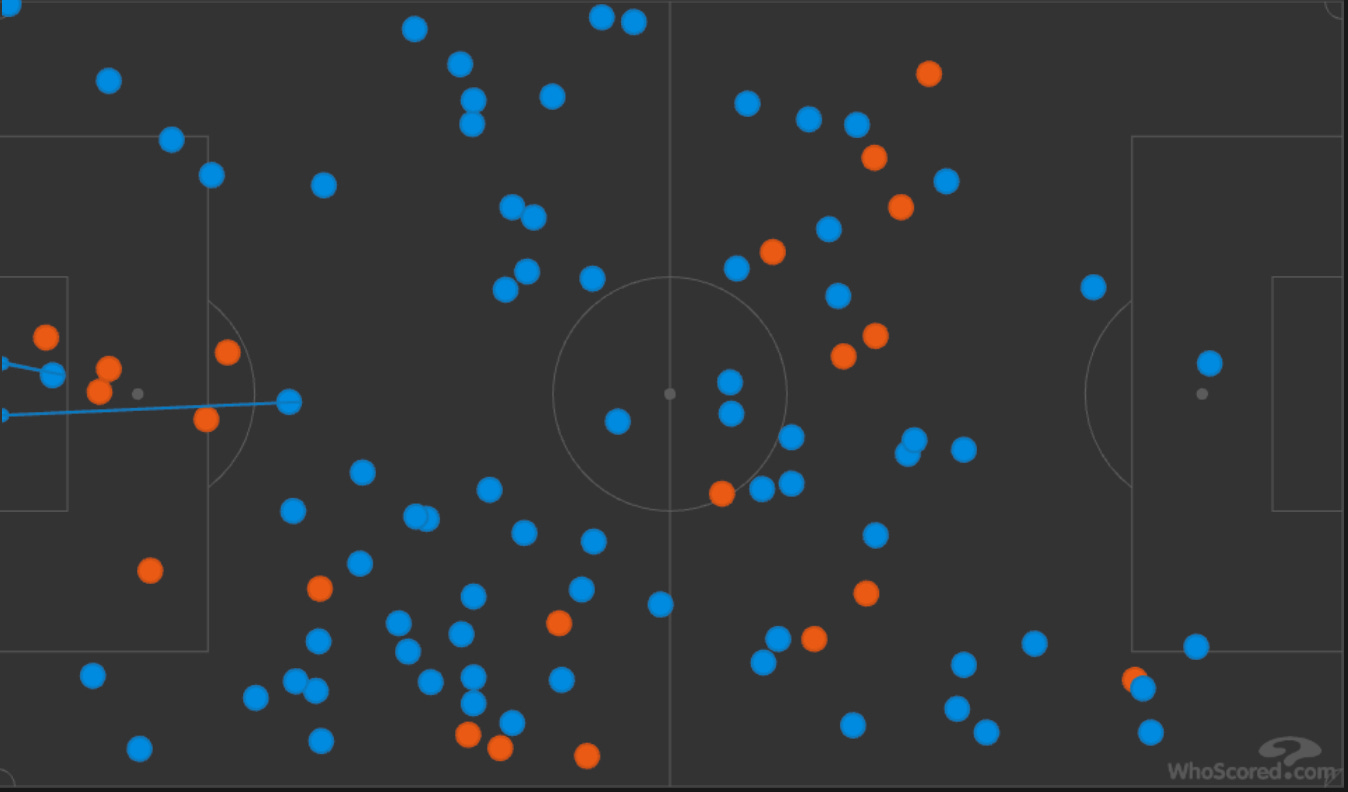 Good problems to have
After a performance like this, I understand why a lot of people are asking if this is basically how the Sounders should line up going forward. By that, I think they mostly mean Morris at forward and Chú on the left. I've also seen the suggestion that Morris could move to the right with Cristian Roldan displacing his brother at right back. I think it's possible we could see one of these looks against the Galaxy on Saturday, but I don't think either is the best use of the Sounders' talent. I still think Raúl Ruidíaz is the best option at No. 9, and Alex Roldán is almost certainly a better right back. But these are both looks I hope the Sounders continue to look at, especially later in games when they need a goal or when they're missing players. At the very least, I hope games like this encourage Schmetzer to be more aggressive and creative with how he utilizes his bench.
Everything else you need to know
Tacoma Defiance won their season-opener in a shootout. They looked to have all three points locked up but surrendered a 94th minute equalizer but earned back a point by going 5-for-5 from the spot. Hal Uderitz scored the Sounders' goal and delivered the game-winner in the shootout.
The Sounders' next game is on Saturday at the LA Galaxy. The game is being broadcast on Fox and will be available for free on AppleTV.
Comments