Are FC Cincinnati the most fun team in the Eastern Conference? They have a deadly striker duo, a diminutive No. 10 with massive panache, and intriguing talent all over the field. They also have some MLS pundits picking them to win the Supporters' Shield. This Cincy team has come a long way since the Sounders humbled them in their inaugural match in 2019.
While Cincinnati was stymied in a 0-0 draw with Orlando City, Seattle spent Saturday night dazzling MLS. Let's look at how the Sounders dismantled Real Salt Lake, and how they might tackle their first road game of the season against an upstart Cincinnati side.
Sussing out Seattle
What fun it is to cheer for a team that is always a step ahead. Jordan Morris and Nicolás Lodeiro looked like they were both channeling Clint Dempsey with all their backheel flicks against Real Salt Lake. RSL tried to slow the game and frustrate the Sounders in the final third, but Seattle's build-up play was just too effective.
The team's initial build-up alternated between three and four at the back, with João Paulo occupying the space in front of the centerbacks. In a back three, Alex Roldan tucked inside at times while his brother Cristian stayed more high along the touchline.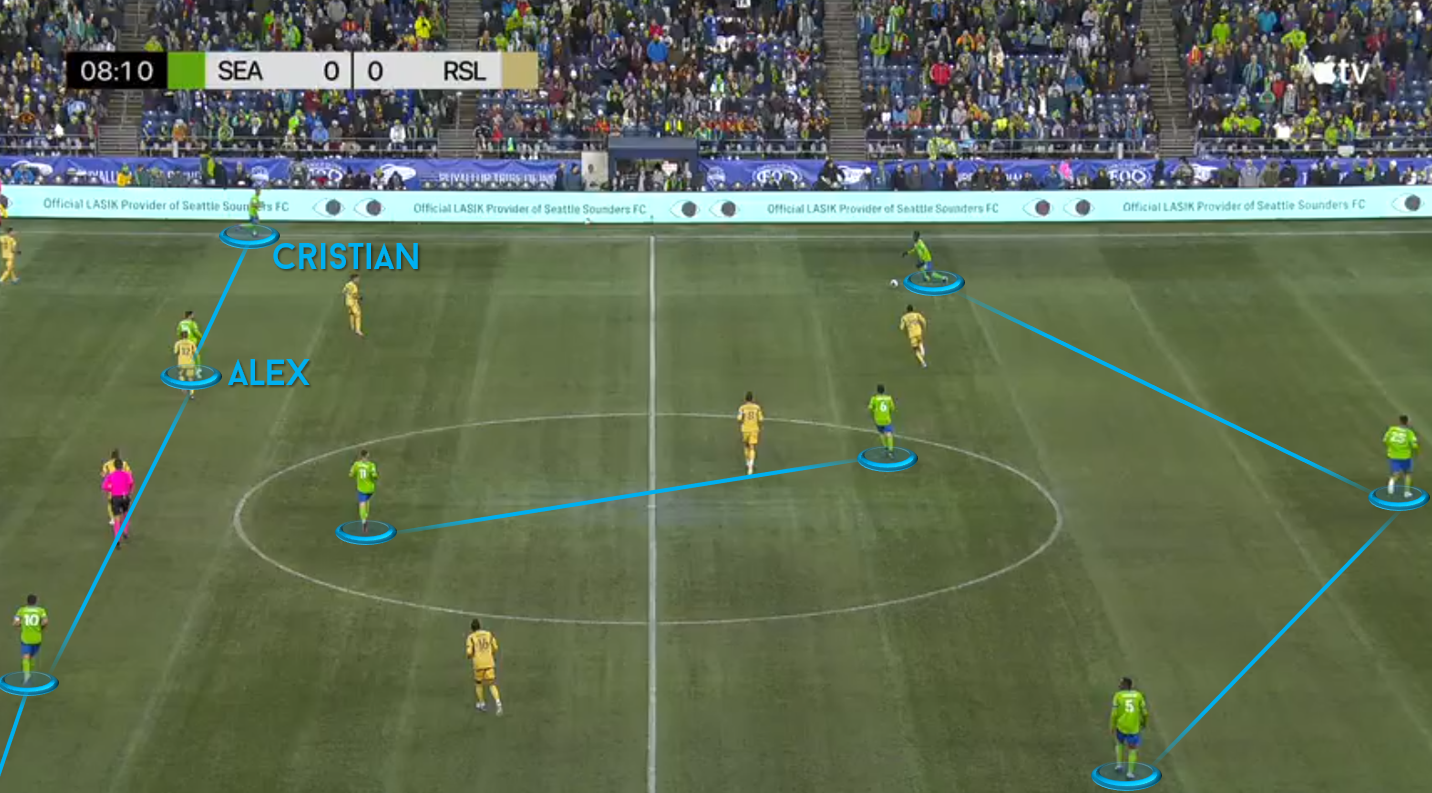 The Sounders' back four setup looked familiar to years past, but Nouhou was still more likely to stay back while Alex Roldan pushed forward once the ball progressed into midfield. João Paulo once again tracked back to receive the ball in front of the centerbacks.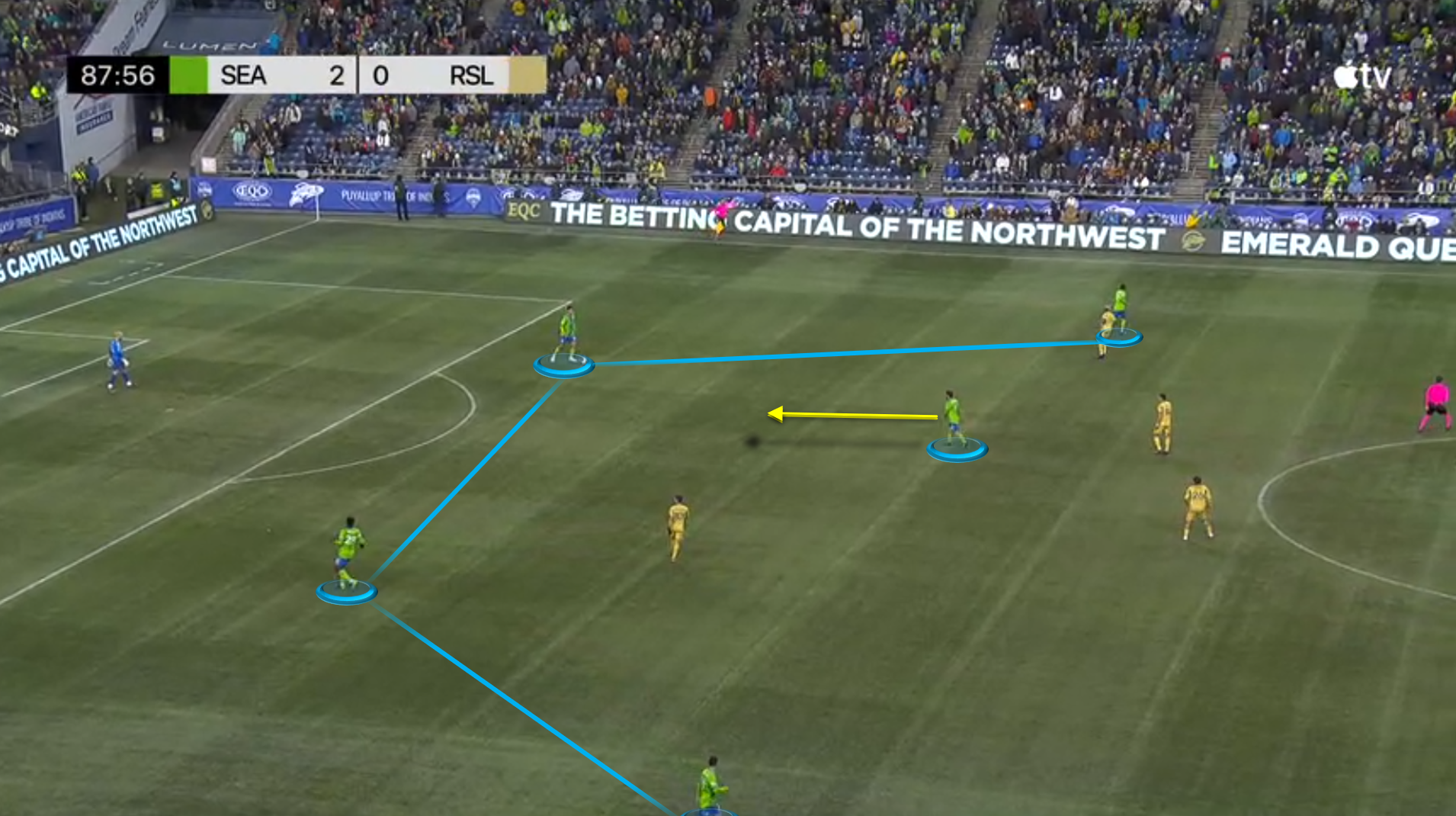 While the entirety of the Sounders' midfield impressed, forward Héber brought a new dimension to Seattle's attack. His ability to track back and play one-touch combinations, even off of hard-hit passes, was key to breaking RSL's defensive lines: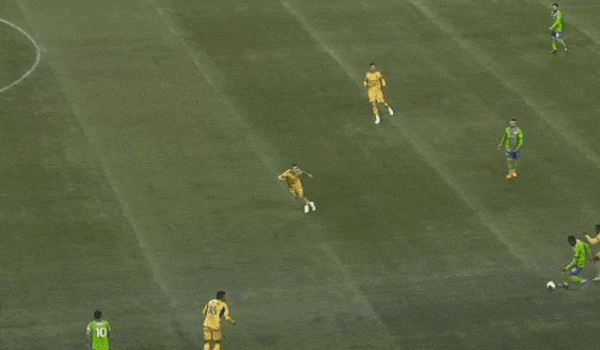 The Sounders' build-up was precise, yet varied. They used their rich pool of creative midfielders to find line-breaking passes to the wing. They relied on Héber to drag defenders up-field and play one-touch with his back to goal when the wing areas became too crowded.
They could then attack vertically, using spaces opened up as defenders were pulled away from goal by Héber's movement. Or, they could work the ball quickly across the field in order to find space around RSL's shifting defense: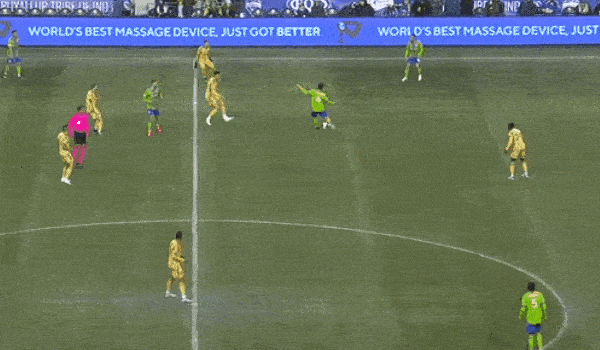 The movement of Seattle's entire front seven was quick and constant, opening passing lanes and keeping RSL's defenders chasing shadows. While Raúl Ruidíaz brings an ability to score from anywhere on the field, Héber's play with his back to goal gives the team a different option when breaking down set defenses.
Defensively, the Sounders were able to prevent counterattacks out wide with ruthless counter-pressing. Seattle found it much more efficient to converge on the ball in the middle of the field rather than to chase RSL's wing talent. In the rare moments when RSL broke free, João Paulo showed his quality: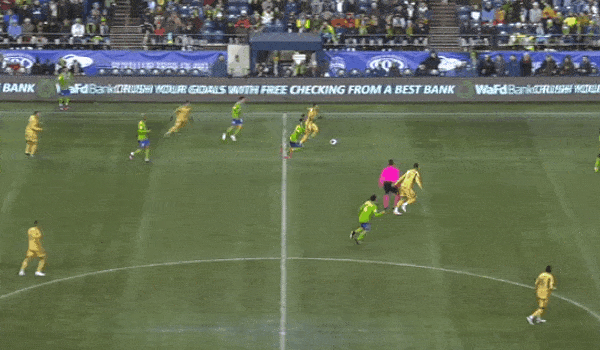 ---
Making Sense of Cincinnati
Orlando's looming Concacaf Champions League match made for a strange encounter with Cincinnati on the weekend. Content to preserve their energy, Orlando sat back for most of the game. FC Cincinnati responded with a solid road performance that created a few chances, but lacked the quickness in possession to put Orlando under consistent pressure.
Cincinnati played with three at the back — call it a 3-2-3-2 in the attacking phase. Their wingbacks stayed high and wide to both touchlines. Middle centerback Matt Miazga had license to start the attack with a pass or to dribble up the gut into the midfield.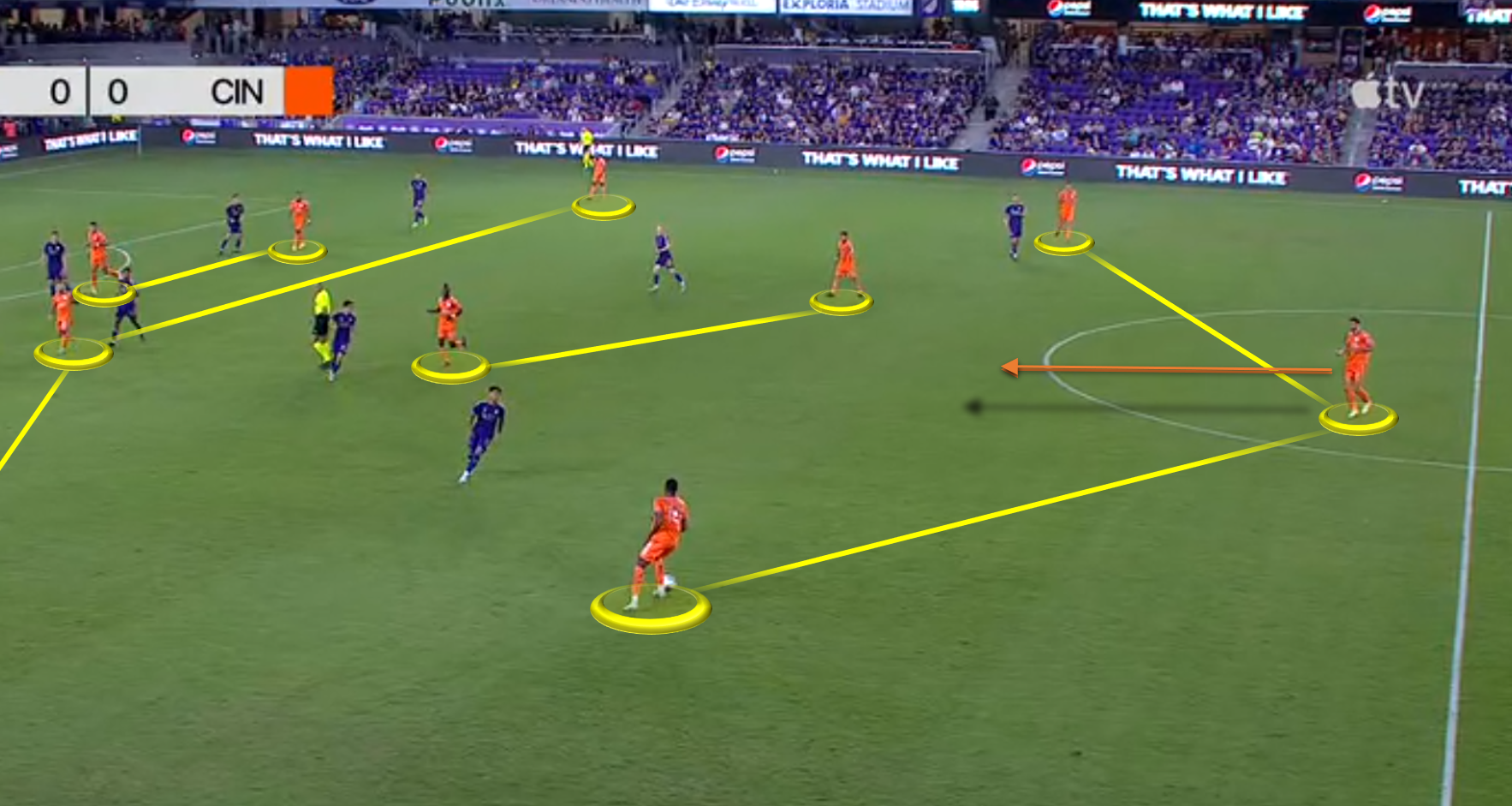 In defense, Cincinnati resembled a 5-2-3, with midfielder Luciano Acosta moving up to join the two forwards in pressuring Orlando's centerbacks. Forwards Brenner and Brandon Vazquez were both active in possession, dropping deep on their respective sides and playing long switches. Brenner especially was a creative force, forming a formidable trio with Acosta and wingback Álvaro Barreal on the left side.
---
Keys to success against FC Cincinnati
Corner kick confusion
FC Cincinnati have a curious problem with set pieces. Despite fielding three imposing centerbacks and two tall forwards, the squad struggles to control their 18-yard box on corners. In their 2-1 loss on Matchday 1, the Houston Dynamo racked up 1.09 expected goals off of set pieces against Cincinnati, and were perhaps a bit unlucky to not find a tying goal. This is a good opportunity for Yeimar and Jackson Ragen to win some aerial duels, and for a Sounder to stab in a goal in the ensuing chaos.
Respond with subs
The new FC Cincinnati does not just have top-tier talent. Off the bench, attacking options like forward Sergio Santos and midfielder Yuya Kubo are capable of injecting new life into a match.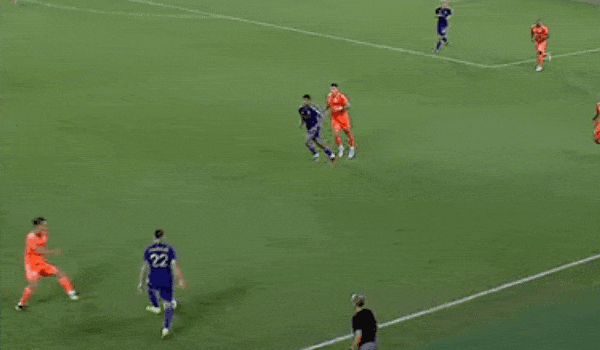 With the Sounders' full roster now healthy, Seattle can be proactive with substitutions. Héber's hot start, and promising performances early on from Léo Chú and Josh Atencio, mean Schmetzer can have confidence in his subs.
Get behind the wingbacks
Cincinnati's wingbacks like to get forward and stay forward. While left wingback Álvaro Barreal was one of Cincinnati's best offensive threats, he left plenty of space in behind, which Orlando was able to exploit with balls over the top. If Cincinnati's wingbacks push too far forward, Jordan Morris and the Roldan brothers will be able to get in behind.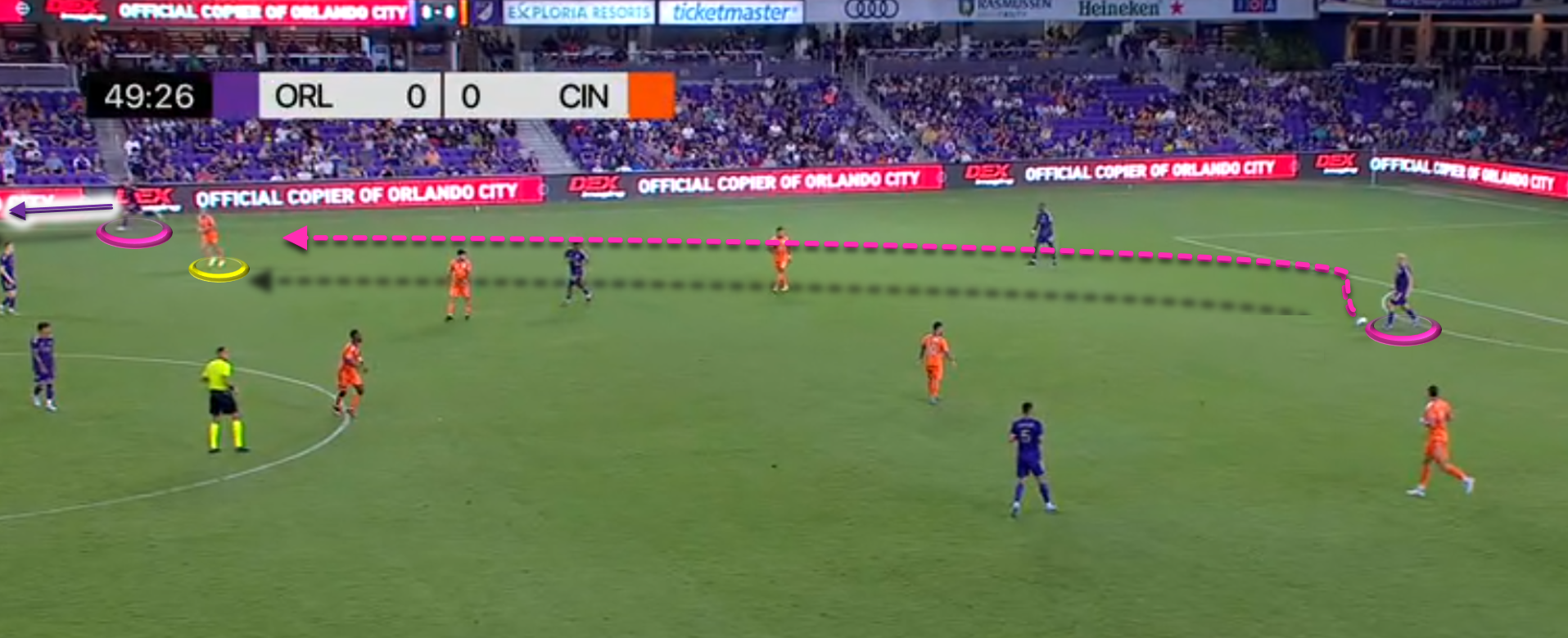 Be alert to Acosta
Luciano Acosta's exploits are well known to MLS fans, but he is surrounded with more attacking talent than ever. His movement is clever and lightning quick: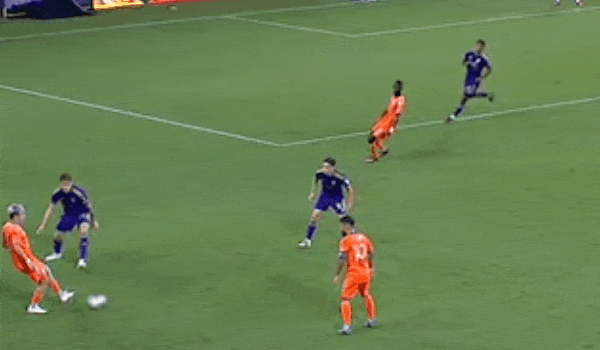 One way or another, the Sounders need to keep a man on him. The midfield pairing of João Paulo and Albert Rusnák has been very effective thus far, but tracking Acosta will be a tough test.
This match will feature two of the most talented teams in MLS, and could even give us an early picture of the Supporters Shield chase. With Cincinnati's attacking flair and the Sounders firing on all cylinders, be ready for fireworks this weekend.
Comments