LAFC are flying as high as ever. Still enjoying the glow of their MLS Cup victory, the black and gold have remained hot early in regular season and Concacaf Champions League play despite significant roster change this offseason. But now, with some extra minutes on their legs over the last two weeks, LAFC will meet a Sounders team that is eager to put a disappointing result at Cincinnati behind them. Let's look at how the two sides are performing, and how to win this marquee Western Conference matchup.
Sussing out Seattle
Let's focus in on the one area of positional churn for the Sounders in this early season: forward play. Fredy Montero has had plenty of success functioning as an additional midfield playmaker and scorer in his forward appearances for the Sounders. This has come in handy when missing one or more creative midfielders. But, facing a clogged midfield and building from deeper positions on the field, Seattle needed a passing option more than another creator. While it is unfair to pin too much blame on any one player, Montero was ineffective up top against Cincinnati.

Obvious caveats aside — Cincinnati and RSL are not the same level of opponent right now — the difference in the passing maps of Héber against Real Salt Lake and Montero against Cincinnati is quite stark. Héber's passing was almost uniformly with his back to goal, as he constantly pulled off the forward line, displaced defenders, and played one-touch passes in order to give Seattle's playmakers space and time to operate.
In a midfield that includes Nicolás Lodeiro, João Paulo, and Albert Rusnák, lack of creativity is not a problem. But lack of numbers and passing options stifles creativity. Montero found a couple moments to distribute the ball wide, but did little to influence the match in 58 minutes of playing time.
Raúl Ruidíaz is a different type of forward than Héber or Montero. While he is not going to be able to hold off a large defender in the same way that Héber can, Ruidíaz is more agile and able to turn more quickly. Certainly, Ruidíaz can play quick passes with his back to goal, and attempted to do so against Cincinnati. Coming back from injury, he might be missing that little bit of sharpness that would turn this turnover into continued possession: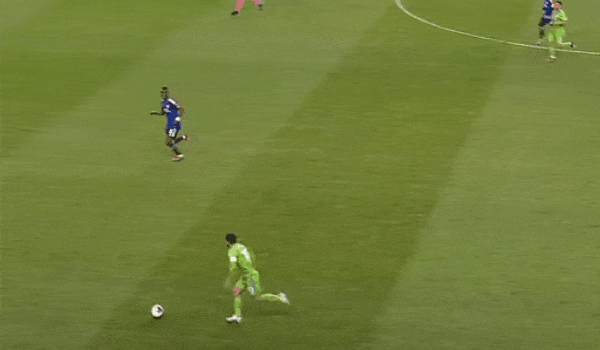 Even so, whether Seattle will stick to the possession style that worked so well against Colorado and Real Salt Lake against opponents like LAFC remains to be seen. Does it make sense to cede more possession and rely on transition opportunities when Ruidíaz is on the field rather than Héber, and when facing a team in LAFC that presses so effectively and thrives on turning teams over in dangerous areas? Brian Schmetzer's stylistic choices this weekend will be fascinating to watch.
---
LAFC Intelligence
In their match against the New England Revolution on the weekend, LAFC took advantage of their depth across position groups and maintained a talented starting eleven despite squad rotation. LAFC's signature 4-3-3 formation has embraced a free-flowing style up top this season. The front three of Carlos Vela, Kwadwo Opoku, and Denis Bouanga have the freedom to switch sides, stretch the defense, or drop back into midfield and the game dictates.
While Stipe Biuk played this match as Carlos Vela rested, any of LAFC's attacking options have the pace to stretch out a defense in transition. And LAFC is all about transition. They press intelligently and continuously, then play quickly once they gain possession.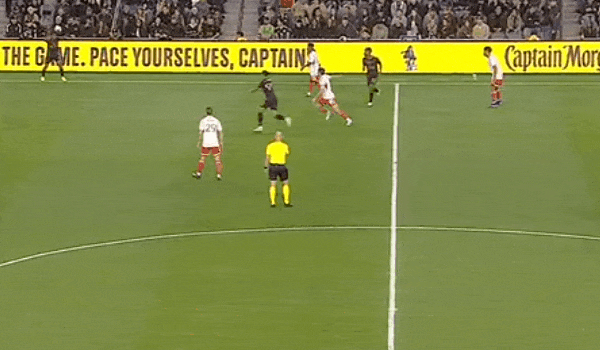 In the back, Aaron Long was particularly physical with New England's forwards, frustrating Bobby Wood with repeated fouls and body checks. Newcomer Timothy Tillman showed great instincts in the LAFC midfield alongside savvy veterans Ilie Sánchez and Kellyn Acosta. He consistently pressed at dangerous moments, and was rewarded with a goal.
---
Keys to Success Against LAFC
Beat the press, then go wide
While LAFC have not given up many goals this season, their defense is still susceptible if teams can escape their midfield press. As LAFC collapsed centrally to pressure the ball, New England found space out wide, but were wasteful. This is an opportunity for a skilled dribbler like Albert Rusnák to carry the ball through midfield and distribute it wide.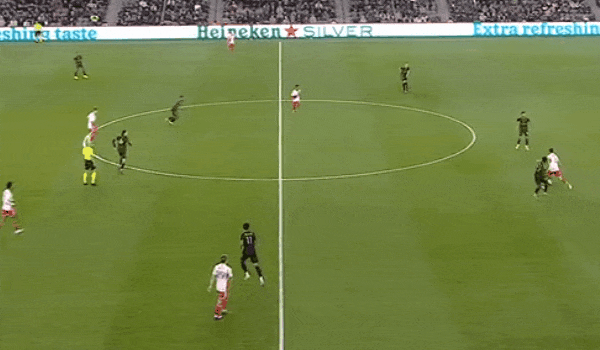 Stay organized vertically
Counterintuitively, the game only unraveled for New England once their star chance creator Carlos Gil subbed on in the second half. While his ball skill made it easier to beat LAFC's pressure, the Revs lines became increasingly spread out as they searched for a goal. That space was all LAFC needed to turn occasional turnovers into prime scoring chances.
Seattle will need to be crisper than they were at times against Cincinnati, who were able to get the ball up the field rapidly when the Sounders were a step late to pressure them. LAFC will want to duplicate Cincinnati's sequence below: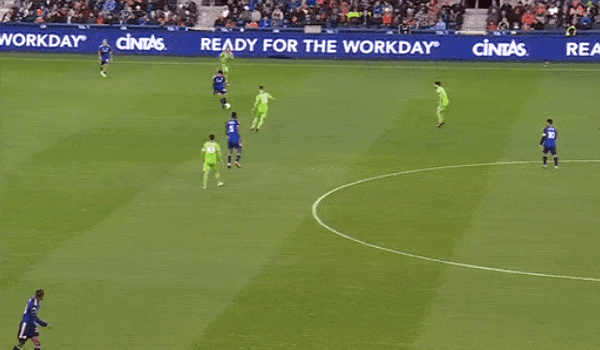 Work smarter, and harder
Teams cannot switch off against LAFC. Give them a reprieve deep in midfield, and they are happy to let their forwards run with a ball over the top. Seattle has an advantage in rested legs as LAFC navigates Champions League play. In the last half hour of the match, the Sounders need to be the ones on the front foot, pressuring the ball. Opportunities to survey the field while leaving space behind the defense, such as this one New England allowed, should not happen: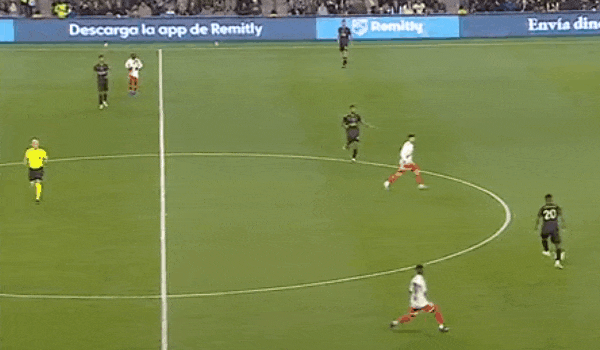 LAFC are following in the Sounders' footsteps of success, and they are doing it with a rapid style of roster building and attacking play. It is up to Seattle's veterans to show that the Sounders are still the toughest team in the West.
Comments