Sporting Kansas City has long been a contentious foe for Sounders fans, with a history of controversial matches and the occasional suplex by a goalkeeper. But the behavior that is most Un-Sporting so far in the 2023 MLS season is goal scoring. SKC has managed to find the back of the net just once in four matches.
Meanwhile, the Sounders are on a bit of a scoring drought themselves, having been blanked in their last 212 minutes. Still, they are stout defensively, with just one goal conceded. As international call-ups force changes to Seattle's starting XI, let's look at how they might get a road win in Kansas City.
Sussing out Seattle
In their home draw with LAFC, the Sounders did almost everything right from minutes 8-88. They contained LAFC's counter attack, held the ball in the attacking third, and had good attacking ideas even after subbing out a couple key players. But the final ball, run, or shot was lacking.
Even so, Raul Ruidiaz is close to hitting his stride. He was occasionally dropping into midfield to combine with teammates and tried a spectacular scissor kick. The last bit of sharpness, however, is still lacking. On this play, his alternating movement with Cristian Roldan opens up space for Alex Roldan, but Ruidiaz is a moment late to recognize the flick from Cristian and LAFC recover: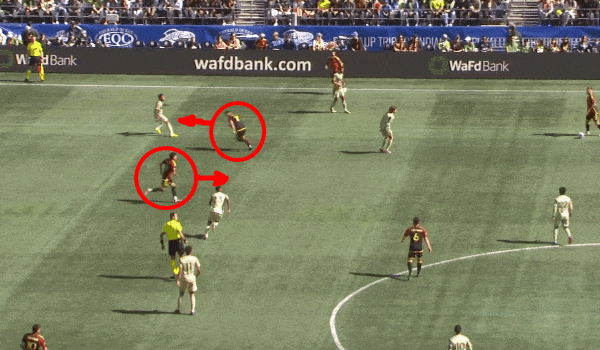 As a substitute, Léo Chú provided a bit of direct running that earned the Sounders a couple of half chances. He showed good patience on this sequence, waiting for Morris to find the open space before chipping his cutback pass into a dangerous area: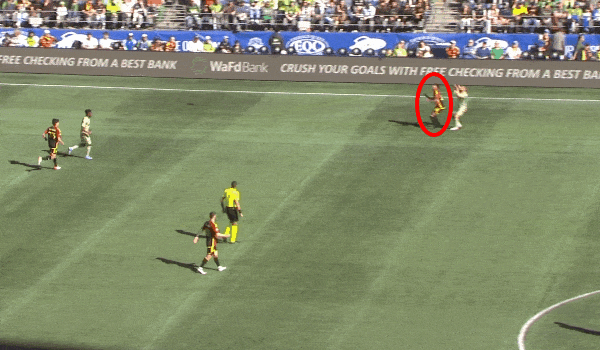 Chú still struggles to pass in tight spaces, but when his game gets simplified down to 1-2 combinations and direct runs to the end line, he can start having more success and winning more playing time.
---
Understanding Sporting
SKC is all about quick and direct attacking play. They rely on their back line, especially right back Graham Zusi, to distribute the ball, bypass the opponent's midfield if possible, and reward vertical runs. The team is able to progress the ball into the final third quite effectively; they lead the league in passes into the final third, and are second in progressive passes and completed long passes.
Once they reach the final third, they love to cross. SKC are in rather dubious company with Real Salt Lake and Charlotte FC in the top three of crosses per 90. Despite scoring just one goal in MLS play, SKC is generating plenty of shots. But with attackers Johnny Russell and Alan Pulido struggling to return from injury, Sporting has lacked the composure needed to finish off those chances.
This clip exemplifies an SKC attacking sequence: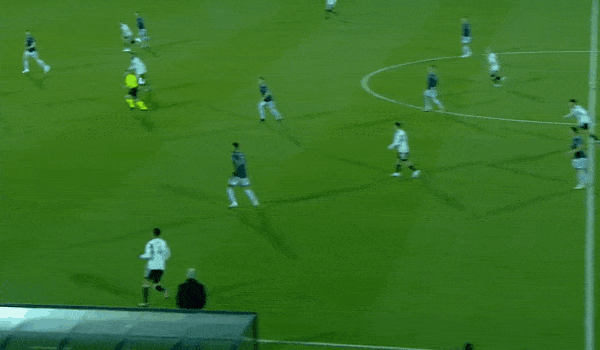 Zusi defends a pass and immediately looks to play a ball over the midfield. Forward Willy Agada quickly distributes to the wing, and SKC line up a cross.
Sporting's 4-3-3 attacking shape melds into a 4-5-1 in their defensive half, with the midfield line stepping up to pressure the ball: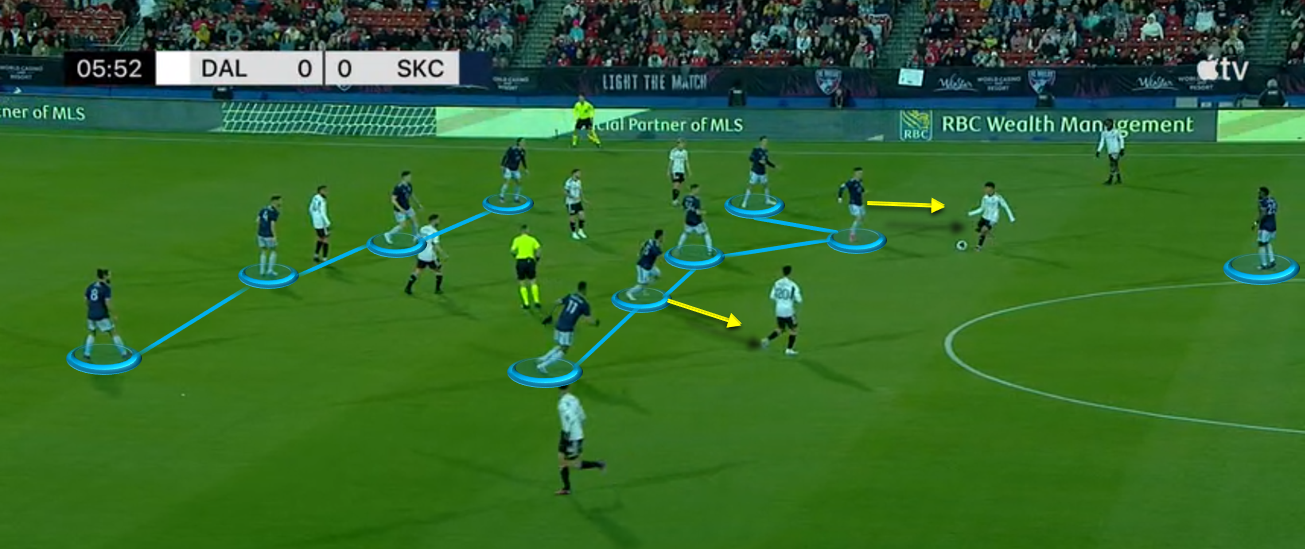 When FC Dallas was building out of the back, Sporting pressed high to force the opposing centerbacks into long balls or errant passes. FC Dallas relied on the skill of winger Alan Velasco to drift centrally, beat SKC's midfield press, and find attackers Paul Arriola and Sebastian Lletget between defensive lines.
Late in the match, when Sporting had tired somewhat, FC Dallas were able to be more methodical in possession and attack down the wings. This exposed the defensive ability of SKC's fullbacks, and left back Ben Sweat was eventually beaten on a cross that FC Dallas forward Jesus Ferreira buried for the winning goal: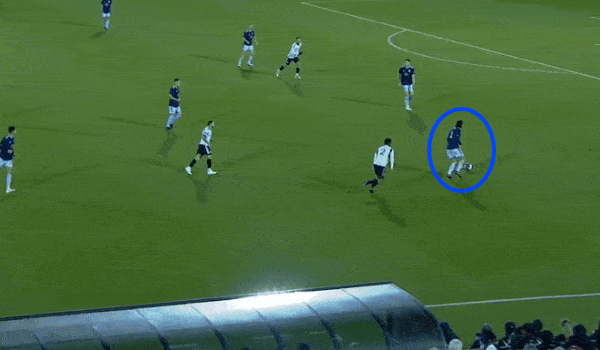 ---
Keys to victory against SKC
Escape the back line pressure
SKC loves to press the opposing back line, looking to force errant long balls. With both Nouhou and Alex Roldan away on international duty, Seattle's replacement fullbacks will undoubtedly be targets for SKC's pressure. Sometimes, the best option will be to target Jordan Morris with a long ball. Look for the Sounders to rely on centerbacks Jackson Ragen and Yeimar to step up with a dribble and pass in these scenarios.
Léo Chú's big chance?
If Léo Chú gets a rare start against Sporting, he will be up against fullback Graham Zusi on the Sounders' left. As Zusi is Sporting's primary back-line distributor, and the starting point for many of their quick, vertical attacking movements, Chú has an opportunity to impress coach Brian Schmetzer with defensive pressure. Both fullbacks Zusi and Sweat are lacking top speed at this point in their careers, and the Sounders' wingers should look forward to some one-on-one battles if they start.
Sit deep when necessary
The easiest way to negate SKC's long balls and vertical runs is to sit deeper and force them to break down a defense with possession. FC Dallas sat deep at times in the second half of their match to regain some control, and SKC found it much more difficult to threaten the goal with crosses. Sitting deep should give the Sounders' rotated back line a better chance against SKC's wingers while letting Morris and Chú play direct.
While the Sounders' struggles on the road stretch well back into the 2022 season, the team has a proud history of young players stepping up to get surprising results when veterans are away. Against a SKC side facing an early season injury crisis, Seattle has an opportunity to write a new road narrative for 2023.
Note: all statistics via FBref.com
Comments