While previous Portland squads have been known for defensive bite and transition play, the current Timbers team probably wishes everyone could forget about their play the last six weeks. A plague of injuries and uninspired performances has left Portland desperate for hope in this young MLS season.
Meanwhile, the Sounders are coming off a triumphant victory against a strong expansion side that has thrown MLS for a loop. Let's look at how Seattle defeated St. Louis City's press, and how they match up against their biggest rival, the Portland Timbers.
Sussing out Seattle
St. Louis' strategy in this match was to make the middle of the pitch inaccessible for the Sounders while funneling possession to the wings. Out wide, City's wingbacks and shifting front line sprung pressing traps, pinning the Sounders to the sideline and forcing turnovers. City's hard-working 5-2-3 formation performed well in the first half, as Seattle often became bogged down on the wings in their defensive half as soon as the ball went wide: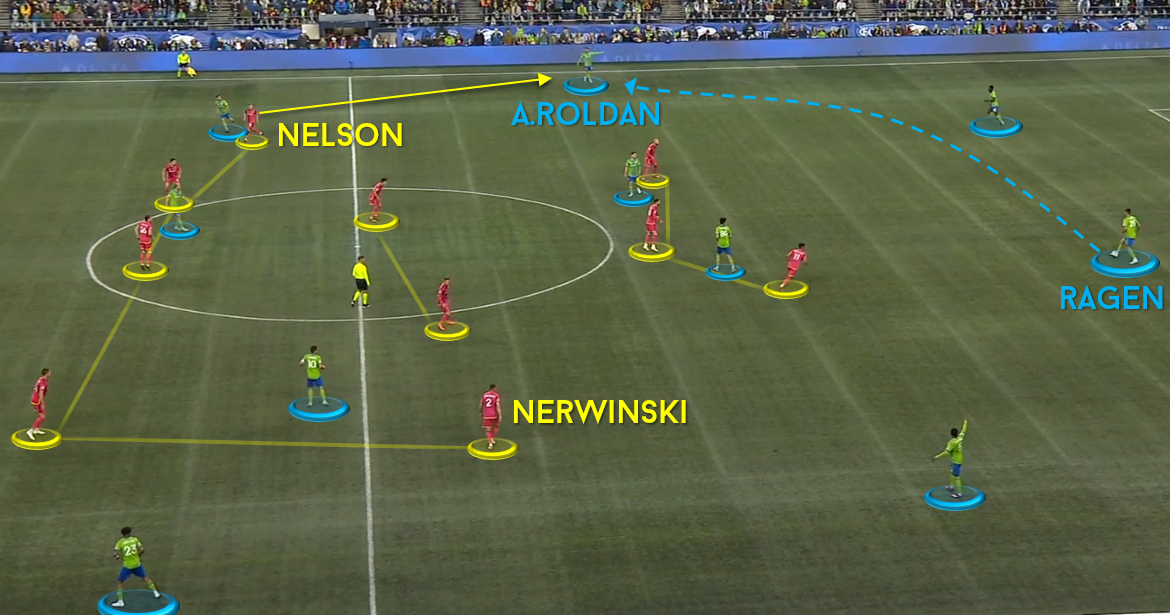 In the image above, Jackson Ragen prepares a pass on the Sounders' left side while City's front three provide a numerical advantage against Atencio and Rusnák in the middle. City's right wingback, Jake Nerwinski, has advanced into the midfield to cover Nouhou or Léo Chú should Ragen play the ball to his left. The instant that Ragen decides to switch play out to Alex Roldan on the Sounders' right, City's left wingback John Nelson is prepared to make a hard run to press Alex while the St. Louis midfield shifts left to force a turnover.
While this setup confounded the Sounders' attack for much of the first half, it relied on intense running from both of City's wingbacks and their defensive midfield pair. While their front three effectively blocked vertical passing lanes, their defensive midfielders had to run a considerable distance laterally in order to press the Sounders once the ball moved to the wings: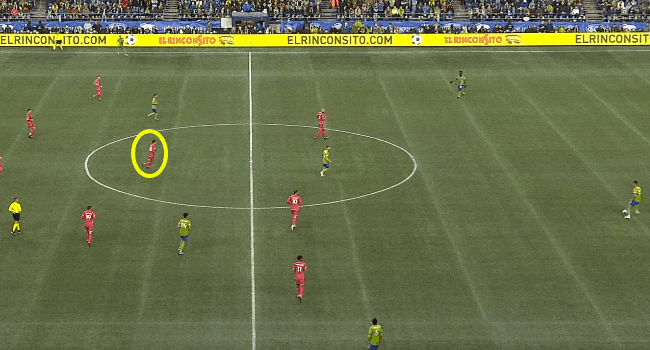 In the sequence above, St. Louis midfielder Miguel Perez steps up to force a back pass from Rusnák to Ragen. Once the ball goes wide, City spring their pressing trap, with wingback Nelson sprinting forward to confront Cristian Roldan while Perez and forward João Klauss obstruct his passing options, leading to a turnover.
Some of Seattle's best opportunities early on came from dribbles through City's pressure, especially from Atencio, Chú, and Nouhou. Long switches from Seattle's centerbacks helped pull City from side to side, but the defense was quick to recover: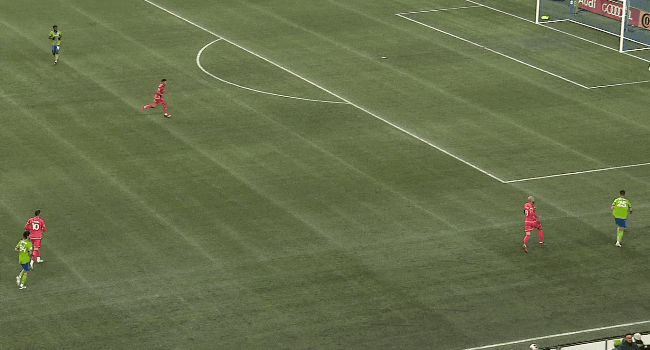 Long passes over City's midfield also found little success, as Jordan Morris was the only big target against three centerbacks. Still, St. Louis' wingbacks had acres of space to cover in order to both press Seattle's fullbacks and track Seattle's wingers when the Sounders played long balls out wide.
Cracks begin to form
By the start of the second half, Rusnák and Atencio had begun to manipulate St. Louis' press more effectively in order to find gaps in the midfield: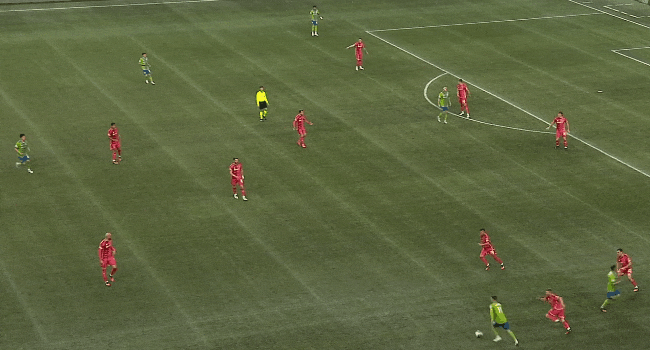 Atencio receives the ball in front of Seattle's centerbacks, while Rusnák drifts between St. Louis' lines. Atencio glances left at Lodeiro, prompting City's right midfielder to shift towards Nico on the wing. As Atencio turns, St. Louis' Löwen steps up to press him, leaving a large gap between their lines. A quick pass to Rusnák allows Atencio to bypass Löwen and attack the space. City's defensive midfielders are left too far apart, as one steps up to press Rusnák while the other has shifted wide left to cover Lodeiro.
Even before the Sounders' first goal, the team had begun to find ways around City's front three in order to attack their midfielders, who were tasked with covering a large amount of ground while also dealing with the itinerant movement of Nicolás Lodeiro.
The dam breaks
As St. Louis' press began to tire, the Sounders' possession grew stronger. City's wingbacks, who had done an admirable job covering ground in order to press Seattle's fullbacks and wingers, began to waver. In the following sequence, City have become too slow in their rotations, and Alex Roldan and Yeimar bait the St. Louis wingback and centerback with the threat of a pass to the sideline. When the ball goes over the top instead, City's defense cannot recover, and Ruidiaz bags his goal: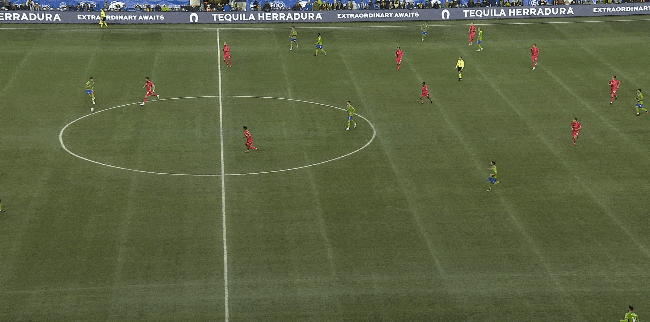 In my opinion, this was the most fun clash of styles we have seen in this early season. St. Louis came in with a good plan and executed it well for a half. But the Sounders' adjustments and City's fatigue led to a convincing win for the home side.
---
Problems in Portland
If you thought the Sounders held a lot of possession against St. Louis, get ready for the Portland Timbers. Only the New York Red Bulls have taken fewer touches per game in MLS this year. Portland have managed the fewest progressive passes and shots in the league and rank last in expected goals per match. On the defensive side, they have often been trapped in their own half while their opponents have racked up the third most expected goals per match, behind only CF Montréal and Real Salt Lake.
To sum up, Portland do not score much, concede goals frequently, and their more advanced stats say they are as bad as they look. Add a rash of injuries, including the loss of midfielder Eryk Williamson to a season-ending ACL tear, and the vibes are down in Stumptown.
In a 1-0 loss at Vancouver last weekend, Portland lined up in a 4-3-3 formation with the ball, but spent more time in a defensive 4-1-4-1 with Diego Chará protecting the back line: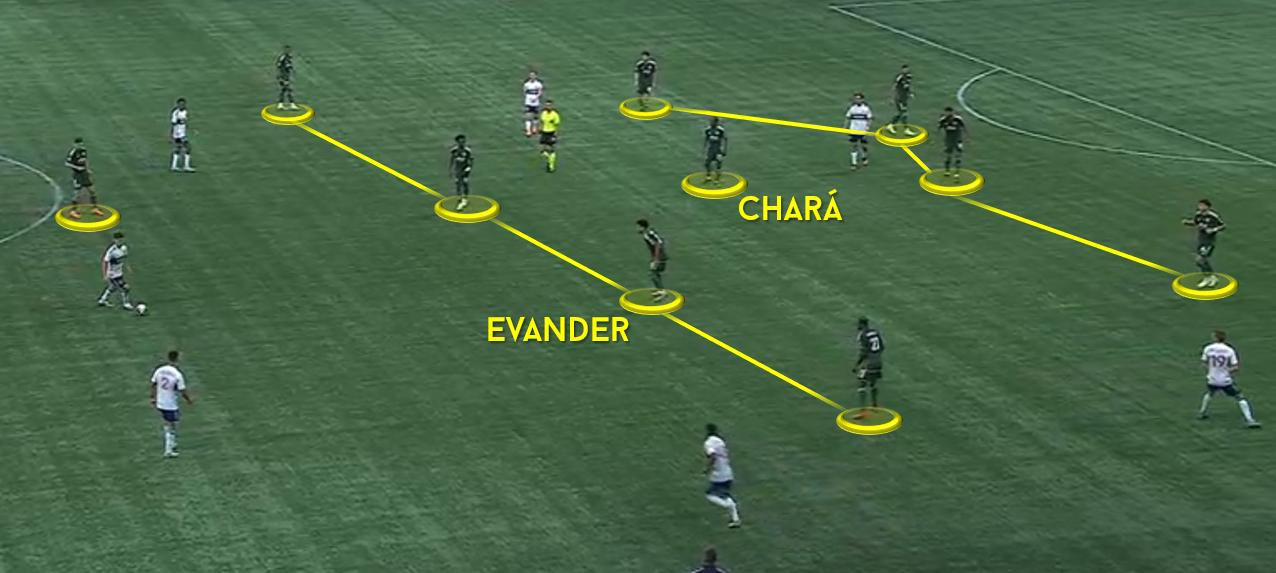 If Portland is going to get their season on track, they will need their new designated player, Evander, to start producing how the club expects given his $10 million transfer fee. The central midfielder missed three weeks with a hip injury, but returned against Vancouver. Legends are born in rivalry games, and Timbers fans will be looking to Evander to be their new hero.
Another candidate for heroism may be new forward Franck Boli, signed last month. While Boli has played few minutes as he gains fitness, he has shown signs of being a crafty attacker: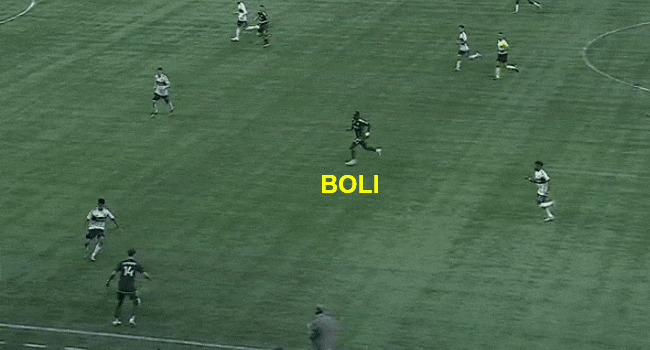 ---
Keys to victory against the Timbers
Cool heads prevail
Portland are in the top third of the league in fouls committed per match, and we can only expect the number and severity of those fouls to increase in a rivalry match. The last thing the Sounders need in a winnable match is to be baited into unnecessary cards or sloppy challenges.
Corner kick kings
Portland concedes the most corners in MLS, and the Sounders should have Lodeiro, Rusnák, and João Paulo on the field to provide service. Ragen came close to scoring last weekend when he forced an own goal. Maybe it is Ragen's time to channel Chad Marshall and head in a corner against the Timbers.
Dominate central midfield
With Williamson out, the Timbers will have to turn to less preferred options in the middle. Against Vancouver, youngsters David Ayala and Santiago Moreno both spent some time in midfield, and both picked up yellow cards.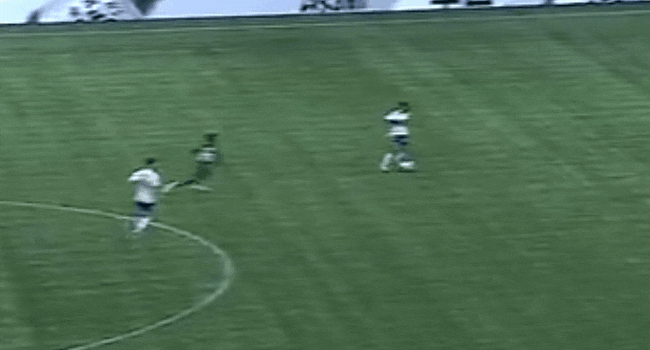 Bunker busters
If Portland manage to set up an effective bunker, it is comforting to know that Héber will be an option to bolster Seattle's possession in tight spaces. We only saw a few minutes of the 4-2-3-1 (or was it a 4-3-3?) with Héber, Ruidiaz, and Morris all on the field together against St. Louis. With Lodeiro, Rusnák, and João Paulo in support, that is a formidable front six with enough talent to dissect just about any MLS defense. It has been a while since the Sounders have had a backup forward with casual plays like this in his bag of tricks: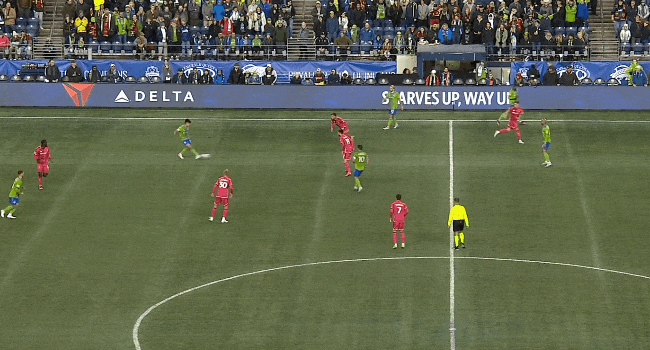 Nothing can be taken for granted in MLS play, where any team can beat any other on a given day. But with the Timbers struggling, Seattle have the talent to dominate at Providence Park if they play to their potential.
Note: all statistics via FBRef.com
Comments