SEATTLE — Stefan Frei has often said that there's no such thing as a "must-win" game this early in a season, but he admitted there is a growing sense of urgency around the Seattle Sounders as they get ready to open a three-game homestand on Saturday against the New York Red Bulls.
"We view this as a huge opportunity," he said following Friday's training session at Lumen Field. "It's three home games to not only find the confidence again but strive to get some points and get back on that train.
Nos Audietis Newsletter is a reader-supported publication. To receive new posts and support my work, consider becoming a free or paid subscriber.
"I always try to look at it in a positive way. There's always pressure. But if you look at it as an opportunity that's the right way to look at it. It doesn't make it any easier. We have to earn it."
As recently as five weeks ago, the Sounders seemed to be cruising. They had just beaten St. Louis City 3-0 to improve to 5-1-1 on the season and were in the midst of a season-opening home shutout streak that extended to five games. We were calling it "High-Life Soccer" because it was blending some hard-nosed defensive work with some impressive buildup play that was as fun to watch as any Sounders squad before them.
After a bruising month of May, though, they head into Saturday's game looking far less confident at 7-5-2. That includes two straight losses at home — both to bottom-dwelling Western Conference opponents — and a loss last week that was as flat of a performance as any from last year.
The Sounders took advantage of their full week of training to remind themselves they aren't very far removed from much better play.
"We watched some video today and went a little further back to games where we did things really, really well," Frei said. "It proves we have it in this locker room, we have the quality. We have shown that when we have high energy we can make opponents really uncomfortable. That's what has been lacking at times. We've been possessing the ball but not making opponents uncomfortable. That was really nice to see. You have to believe in the way you want to play."
The Sounders should get a slight boost in terms of personnel, too. Nouhou and Léo Chú didn't quite look themselves last week while possibly returning a little quicker from injury than was ideal. They've both been training in full this week and should look closer to their complete selves, even if I don't expect both to start. The Sounders will also have Raúl Ruidíaz available off the bench. Ruidíaz hasn't played since April 15 and the Sounders could definitely use his offensive spark.
Perhaps more important than any of their performances, though, is getting guys like Jordan Morris, Nicolás Lodeiro and Héber back in the form that saw them leading the line in those early games. Morris has now gone eight straight without a goal, Lodeiro hasn't had an assist in his last seven games and Héber last scored on March 4.
If the Sounders can get those three contributing to goals again, this three-game homestand has the potential to get the season going back in the right direction. It starts with tonight's game.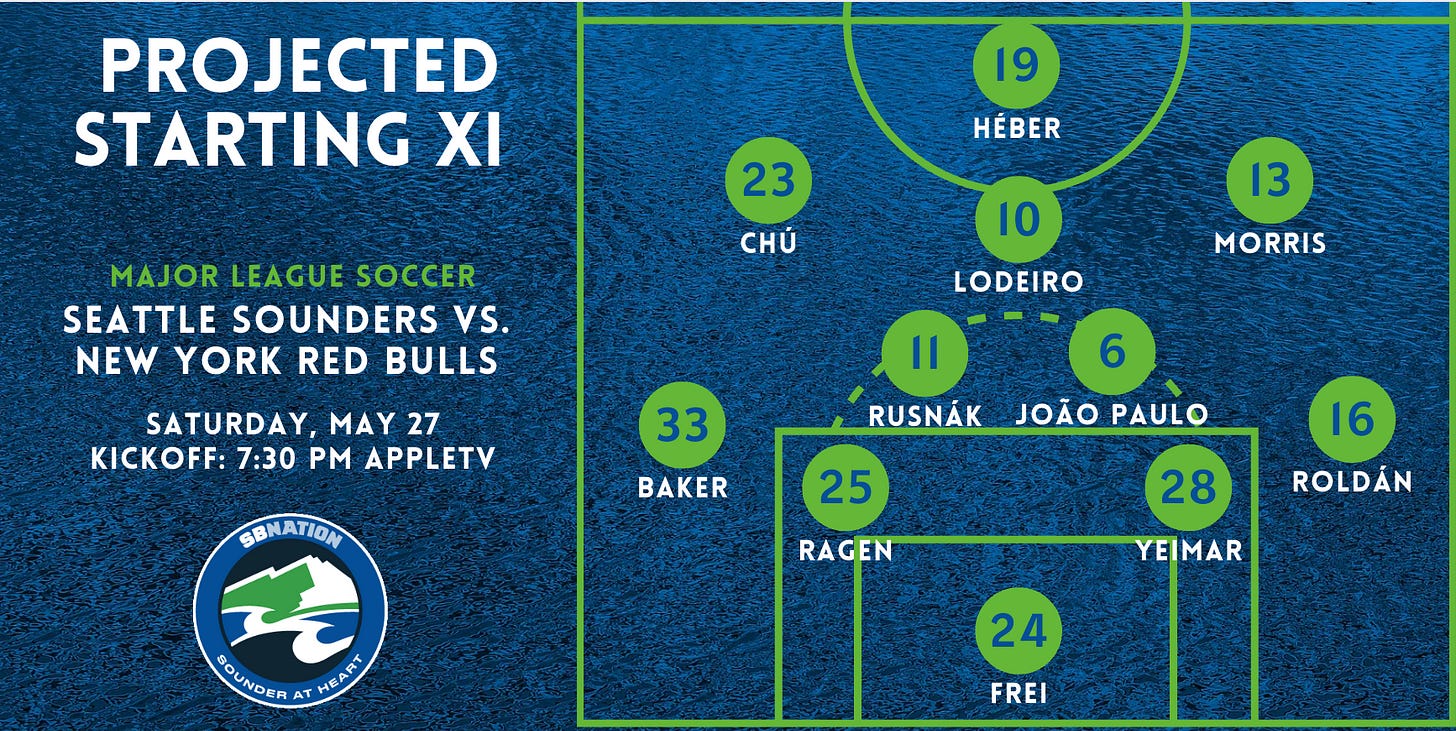 Everything else you need to know
Comments