After a strong start, San Jose is in a bit of a slump. The Earthquakes have one win and three losses in their last six matches, and have developed a bad habit of dropping points late. The Quakes keep the ball deep in their half, but more dangerous possession has been hard to come by.
Meanwhile in Seattle, the Sounders found their fight once again. Fatigue and injury threaten to derail that progress, but Seattle's young talent may step up to save the day. Let's look at how Seattle took control against the Red Bulls, and how a shorthanded side can best the Quakes midweek.
Sussing Out Seattle
João Paulo said the team needed to "be more brave, more aggressive," and he clearly took his own advice against the Red Bulls. He led the team in tackles and duels, and was bested in completed passes only by young Cody Baker, who continues to raise his game with each start. Against New York's press, Baker showcased his ability to split defenders, as in this sequence where a through ball to Léo Chú and a curved run from Nicolas Lodeiro nearly earned a goal: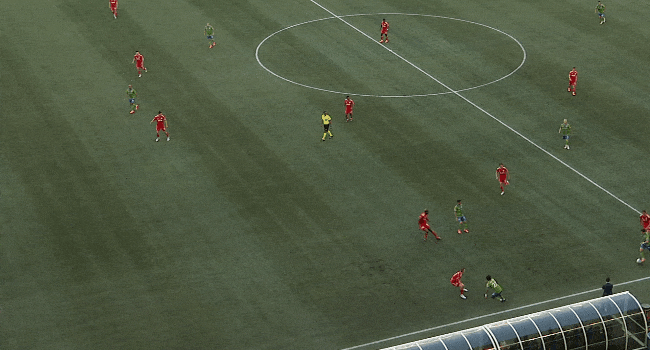 New York's defensive shape shaded closer to the Sounders' right side, daring Seattle to play through Baker at times in the first half: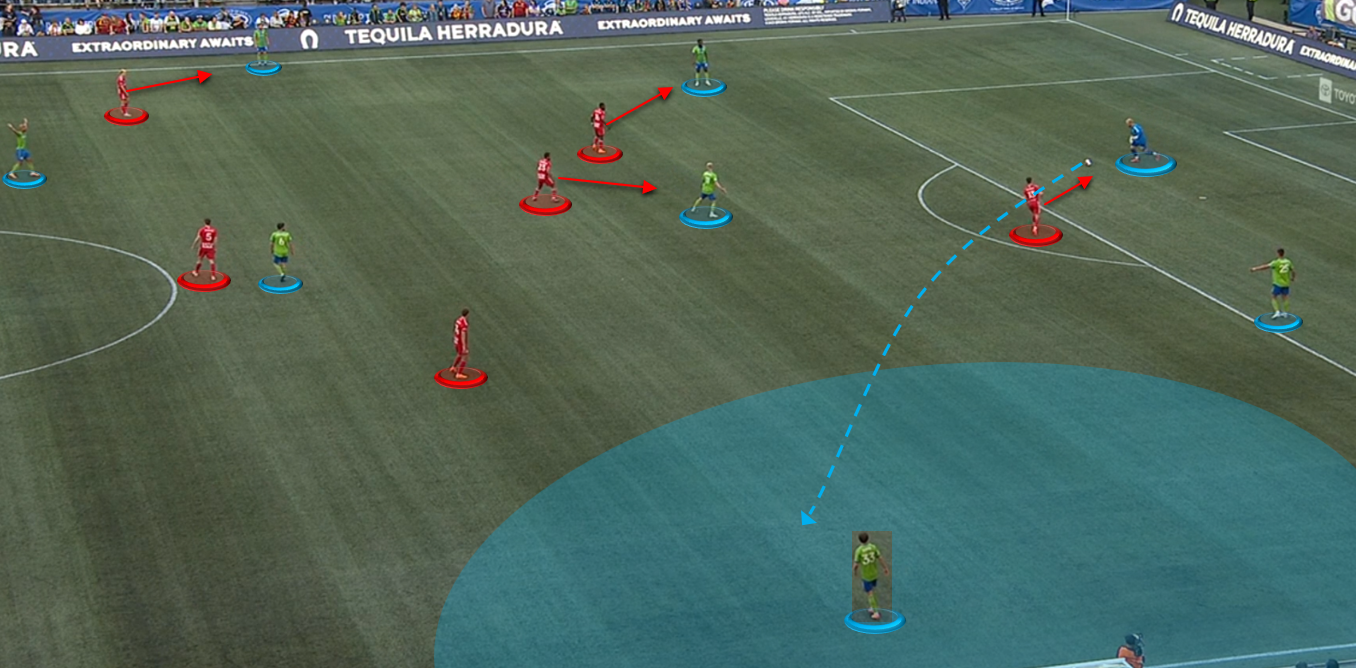 Baker responded with his best showing to date, playing calmly under pressure and picking out productive passes. It is truly remarkable how he has stepped into the first team so seamlessly.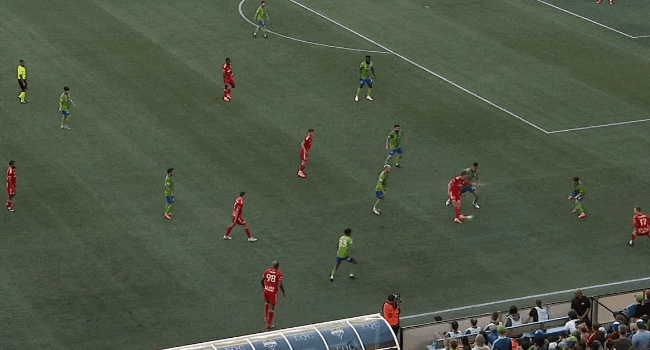 A week after an anemic showing against Vancouver, the defensive pressure and crisp passing in this match was a delight to watch. In this sequence, Seattle recovers the ball and distract New York's defenders with vertical passes long enough for Albert Rusnák to make a deep attacking run: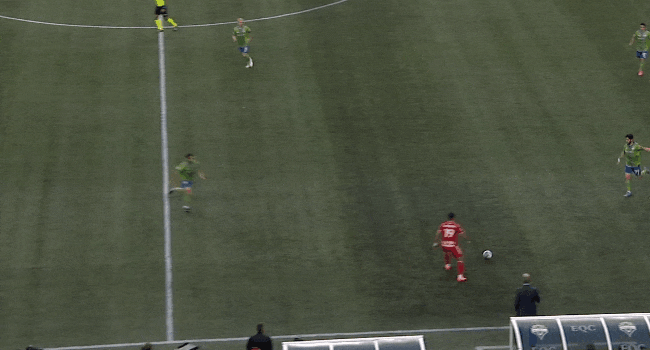 Jordan Morris' unfortunate injury aside, Seattle's only disappointment was in finishing their opportunities. I am reluctant to be too hard on Héber. While he is absolutely missing some big chances, his hold-up play and distribution keep creating chances. Have enough near misses stripped him of confidence?
Looking forward to the San Jose match, it is an encouraging fact that the Sounders continued to create quality chances after Morris left the pitch. Dylan Teves does not have the speed to shed defenders, but makes hard runs and displayed a clever touch, as he did in this sequence: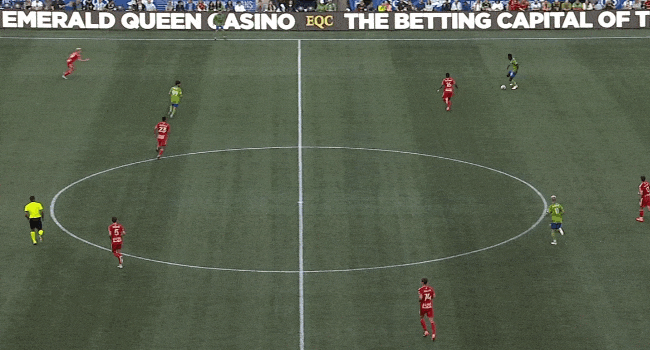 ---
Scouting San Jose
Head coach Luchi Gonzalez has steadied a volatile Earthquakes team with a more robust defensive style. Proven MLS performers including Jeremy Ebobisse, Carlos Gruezo, and Jamiro Monteiro have stabilized the team with consistent quality. The Quakes do not stand out in many metrics, but have become tough to break down in their 4-3-3 shape.
The shapes of FC Dallas and San Jose on the weekend may be very similar to what we see in Seattle, as Dallas possessed with a back three and pushed a fullback high while the Quakes attempted to apply pressure with their front three: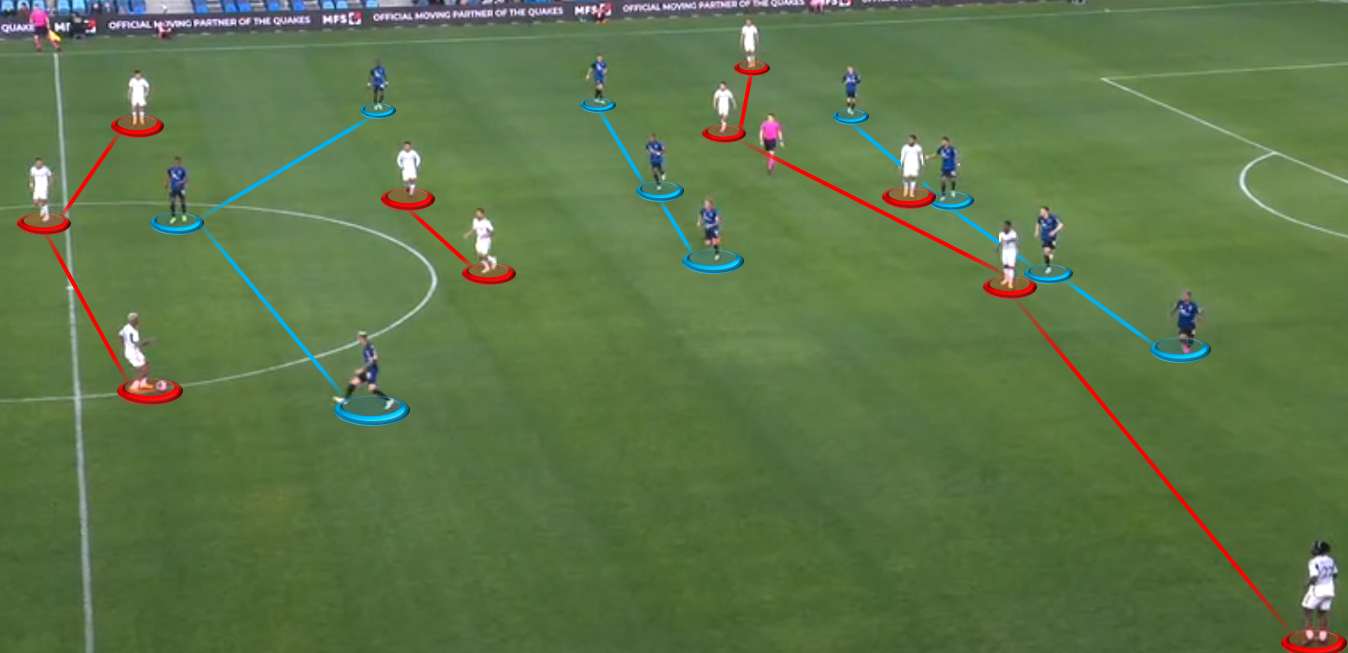 While San Jose has a host of stable MLS veterans, right midfielder Cristian Espinoza is the player who makes defenders tremble. With 11 goals+assists on the season, his offensive output is sustaining San Jose. His underlying numbers are similarly impressive, as he leads the league in expected assists and progressive passes received. He trails only Atlanta United wünderkind Thiago Almada in key passes, and is tied with SKC winger Dániel Sallói for the most progressive carries. In short, San Jose's attack starts and ends with Espinoza, who also leads his team in minutes.
On the left wing, youngster Cade Cowell has been a reliable source of danger. With Cowell currently away with Sounder Obed Vargas at the U-20 World Cup, the Quakes' offense has sputtered. On Saturday, both FC Dallas and San Jose looked painfully in their decision-making with few ideas to progress the ball into dangerous areas. In the end, a 1-1 draw was a fair result.
---
Keys to victory against the Earthquakes
Youthful exuberance
It seems to be one step forward, two steps back on the Sounders' injury front. While Cristian Roldan is nearing a return, and Kelyn Rowe may be ready to play, Cody Baker and Albert Rusnák were two surprise additions to the injured list Tuesday. With João Paulo suspended, Morris hurt, and a massive home match against Portland this weekend, the Sounders' lineup against San Jose might have strong 2021-Austin-away vibes. Seattle's youthful lineup will need to make up a gap in experience with energy.
Deny Espinoza's service from wide areas
Espinoza leads MLS in both crosses and crosses into the penalty area. Some combination of Kelyn Rowe and Nouhou at left back will be tasked with ensuring that those crosses are taken under pressure. Seattle's central defense has struggled with giving up dangerous headers in recent games. The Sounders will need a collective effort between their centerbacks and fullbacks to control San Jose's primary means of attacking the penalty area.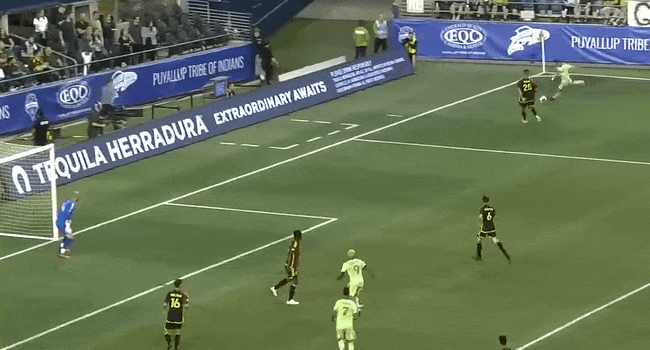 The Late Late Show
Defensively, San Jose has been shaken at the most inopportune times, having dropped eight points in the dying moments of matches.
If Raúl Ruidíaz is healthy enough to make a cameo appearance, this game is set up nicely for some late heroics.
Wednesday's match will feature two clubs with rising academies and young players who are making waves on the international level. The Sounders will need to dig deep into their youth ranks once again to grasp a win against San Jose.
Note: all statistics via FBref.com
Comments