Seattle faces a familiar heel this week in Sporting Kansas City, a team mired in an unfamiliar run of failures. Lowly CF Montréal pulled off a stunner on the road in Kansas City last week, defeating Sporting 2-0. Now winless in 10 matches with just three goals on the season, SKC's captain Johnny Russell is without answers and the Kansas City Cauldron is steaming.
The Sounders are coming off an unsatisfying, scoreless draw against Real Salt Lake. The team's purposeful possession created plenty of half chances, but the final product was lacking. Now, injury worries at the left back position have added a wrinkle to this week's home match against a troubled club. Can the Sounders hit SKC with a finisher?
Understanding Sporting
A couple of months ago, SKC was struggling to score with key attackers out injured, but were still an organized defensive team with some weaknesses at fullback. Now, they are a disordered defensive team that still struggles to score despite the return of key attackers.
SKC are stalling out once they reach the final third, often working the ball back outside of the box for a cross or low-percentage shot.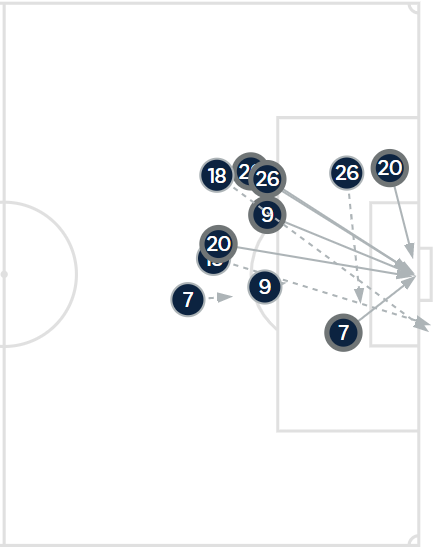 Forward Alan Pulido now has a few starts under his belt this season, but is still rusty. The danger in this team is on the wings, where Johnny Russell and Dániel Sallói have the ability to take players on, cut inside and shoot, or cross. Both wingers are happy to switch sides as play dictates.
Against Montréal, the connection between Sallói and Russell finally showed some signs of stirring in the second half: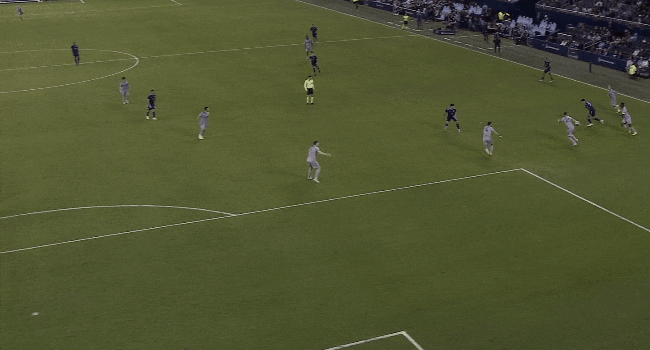 While SKC's attack has stayed toothless, their defense has deteriorated. Against Montréal, SKC's midfield looked disinterested as their opponent threw numbers forward. In the following sequence, a high line from SKC has left plenty of space on the wing. Montréal attacker Bryce Duke tracks back to provide a passing option, taking a defender with him. SKC's midfield is completely cleared out, and Montréal midfielder Mathieu Choinière is allowed to waltz to the top of the box for a shot without a defender within 10 yards: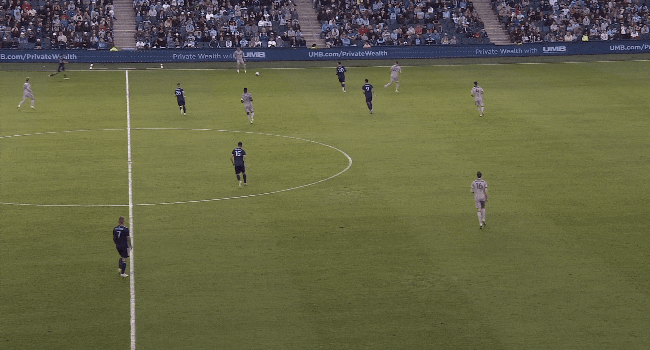 On Montréal's first goal, their front three and a midfielder have pushed up to outnumber SKC's two centerbacks on the front line. A fifth midfielder makes an attacking run through the heart of SKC's midfield. As SKC's Espinoza and Walter take a leisurely jog toward their goal, tracking no one, Montréal are able to pass freely down their attacking line for a wide-open shot: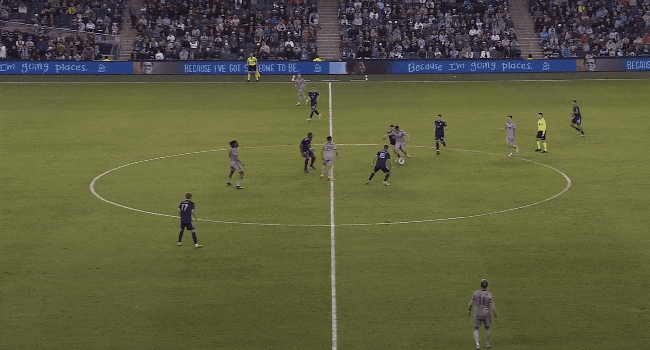 SKC's centerbacks have struggled enough this season without their midfield leaving them out to dry. A home team that looks so apathetic in defense must be a huge concern for coach Peter Vermes.
Speaking of Vermes, his substitution practices are as suspect as ever. Despite playing many starters mid-week in their U.S. Open Cup match, Vermes made just two substitutions against Montréal. SKC was unable to generate sustained pressure until the dying moments of the match when their opponent had retreated into a defensive shell. The team's confidence on both sides of the ball seems to be at rock bottom.
---
Sussing Out Seattle
Road points have historically been hard to come by in Utah, but the Sounders were quite close to taking all three in this match. Early in the first half, RSL repeatedly attempted to start their possessions through Jefferson Savarino, but the Sounders' press was prepared. Turnover after turnover in the first 15 minutes threatened the RSL goal and started a rain of yellow cards: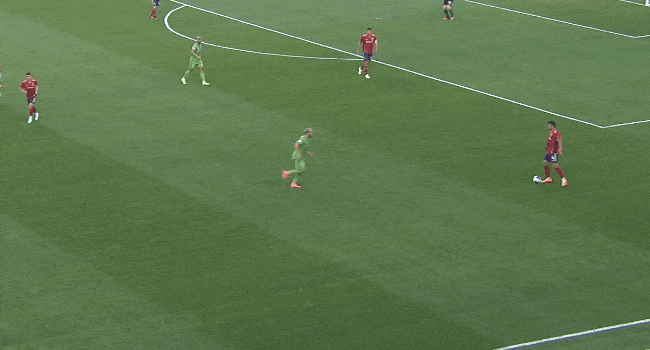 This was a match where the Sounders did 90% of the hard work in the attack, but the last 10% let them down. Their build-up was brilliant. A sequence like the one below is a good example of the team's dynamic use of space.
Albert Rusnák drifts wide right in the false wingback role to receive the ball from Stefan Frei and start the sequence. Alex Roldan makes an underlapping run that allows him to find Jordan Morris tracking back on the wing. Roldan's continued inside run draws RSL's midfield up, leaving a large gap between the lines where Lodeiro is lurking. Morris' backtracking has drawn RSL's fullback up field, and Jordan dusts him with an immediate run into the space on the wing. A classy touch from João Paulo finds Nico, and the Sounders are off to the races.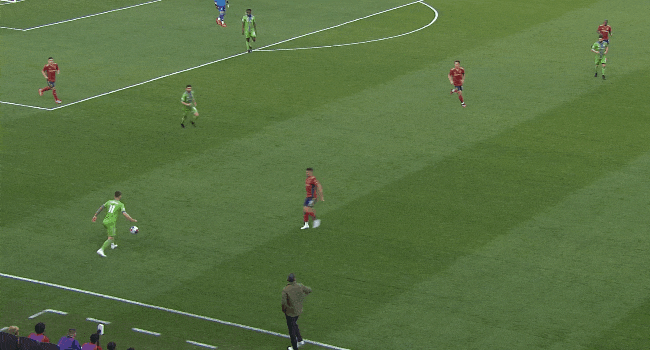 Seattle is showing a very smart use of space and positional flexibility that keeps defenses a step behind. The last bit of sharpness was missing when the ball made it to the final third.
On the defensive side, Kelyn Rowe's knee injury interrupts a very respectable run of appearances for the backup fullback. He has picked his moments well and limited his penchant for risky passing while in a deeper role. On this sequence, he reads the eyes of midfielder Pablo Ruiz and starts a quick counter attack: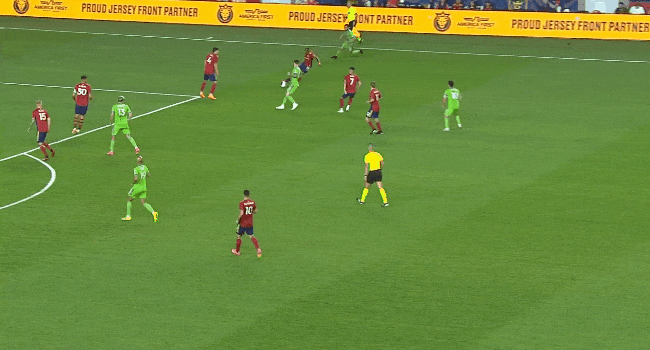 By the midpoint of the second half, the game had turned into a fitful mess of fouls and yellow cards, and the Sounders had to content themselves with a goalless draw.
---
Keys to Victory Against Sporting Kansas City
Who Starts at Left Back?
Brian Schmetzer has ruled out Nouhou for this weekend, and Kelyn Rowe's injury leaves the team without a clear substitute at left back. Cody Baker has been signed on a temporary contract from Tacoma Defiance, and could slot in directly. Reed Baker-Whiting could play at right back with Alex Roldan deployed on the left. A change of formation to a back three could keep more veterans on the field, but Schmetzer has hinted that he prefers to keep continuity with the 4-2-3-1. No one option sticks out as the obvious choice.
In the last meeting between Seattle and Kansas City, Sallói got the best of Josh Atencio and Cristian Roldan with quick cuts inside that resulted in the game's opening goal. If a young Sounder gets the call at fullback, look for them to stay home defensively and get plenty of help from defensive midfield in order to keep SKC's wingers from finding space inside.
Where do Léo and J-Mo go?
Héber was quite effective dropping into midfield against RSL, and could have easily finished the match with a goal and assist. Still, we have not seen the same direct connection between Morris and Chú when they play on opposite wings. Lining up the team's two speed demons next to one another makes a lot of sense, but leaves a Cristian Roldan-sized hole on the right wing. This is another tough choice for the head coach, but look for Morris to move up top if the game wears on and the Sounders need a goal.
Back to Attack the Fullback
Seattle have little reason to change what worked so well against SKC in March, and their opponent's defense is arguably less organized now than it was before their 4-1 drubbing. Attack fullback Graham Zusi on the left with Lodeiro feeding Léo Chú a feast of through balls.
Even though Sporting are a downtrodden side with little left to lose on the road, MLS is a league of chaos. Seattle do not want to allow Sporting's front three to find their first taste of confidence this season. This is an opportunity to land a knockout punch against a familiar villain, and perhaps see another breakout performance from a youngster.
Comments