After a drowsy start to the season with one win in their first 11 matches, the New York Red Bulls have finally found their wings. Since the firing of head coach Gerhard Struber, the energy drink spokes-team has two wins and a draw in MLS play. They will bring their vigorous pressing style to Seattle to face a slumping Sounders side that was perplexed by the Whitecaps last weekend.
Will a week of rest and training be enough to revitalize Seattle, or will they come out as flat as last night's Red Bull? Let's look deeper at this rejuvenated New York side and see how the Sounders might apply some lessons from a rough match in Vancouver.
Red Bull briefing
New York has a stingy defense, and a stingier offense. They are third in the league in goals conceded per match and allow the fewest shots on target. However, the Red Bulls have not been able to turn opportunities into goals. They have tallied only 10 goals this season, despite an expected goal total of 18. Only the LA Galaxy have had a tougher time converting their chances.
New York's characteristic "energy drink soccer" leaves them with the fewest completed passes and lowest passing distance per match in the league. They rely on dead ball situations and transition play to attack their opponent's goal. Even more than last weekend's adversary in Vancouver, New York love to press in the attacking half, hoping to gain possession close to goal and strike before their opponent has a chance to organize their defense. Only St. Louis blocks more passes per match. A week after a sloppy passing performance, the Sounders will need to be much more scrupulous in possession.
New York are comfortable morphing their formation to suit their opponent. Against the Chicago Fire's 4-2-3-1, the Red Bulls used a 3-4-1-2 formation. It would not be surprising if they use a similar approach on Saturday to counter the speed on Seattle's wings.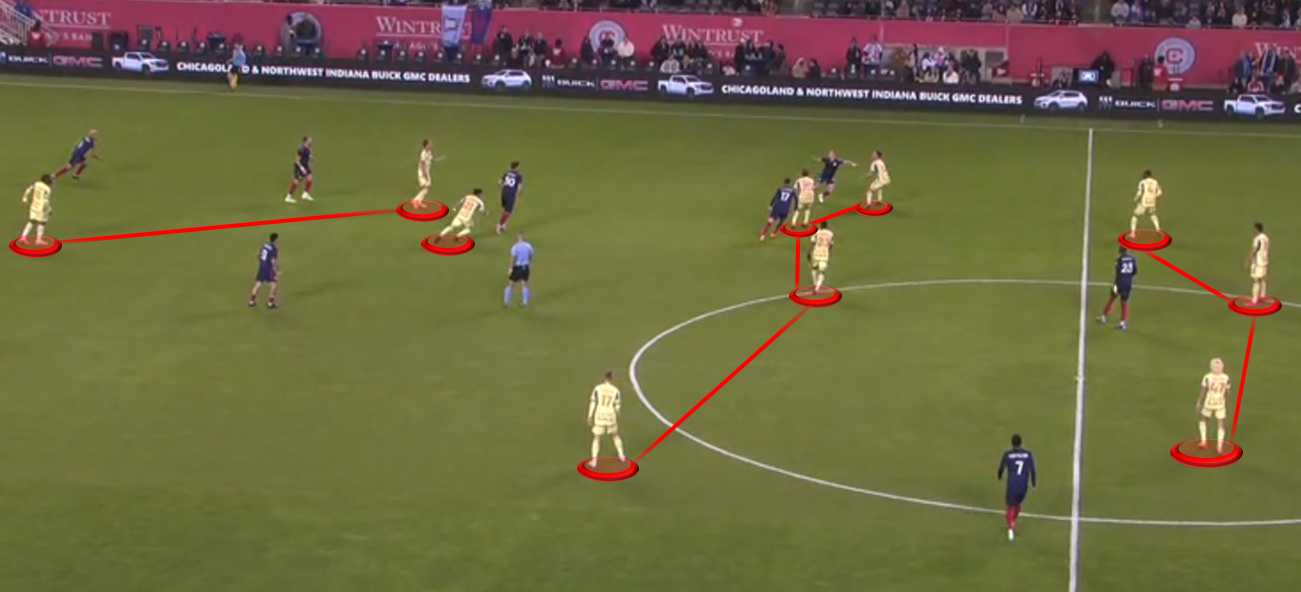 Designated Player and forward Dante Vanzeir is back from a six-match suspension for using racist language. In New York's U.S. Open Cup match on Tuesday, he was looking sharp with crosses and volleys galore: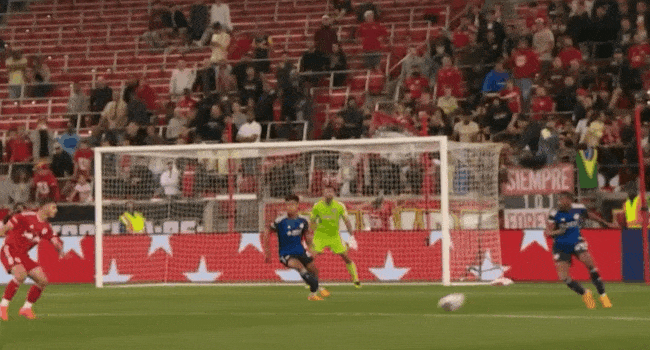 Despite a stoppage-time strike from Vanzeir that tied the match at 1-1, FC Cincinnati advanced on penalties. New York played several starters, giving the Sounders an advantage in rest and travel on Saturday.
Much like Vancouver, New York's midfield pressure can leave their team vulnerable at the back. In the following sequence, the Red Bulls rush to get 3 vs. 2 advantages on Montréal's midfield. They rely on physical defending to disrupt their opponent. An attacking midfielder drops back into the middle to press, then the right fullback strays far from the back line in order to pin Montréal along the sideline.
This pressing puzzle is very difficult to solve. Montréal uses a couple of nutmegs and a 1-2 combination on the wing to escape. Once these pressing traps are broken, New York is left exposed at the back. Montréal has a 3 vs. 2 advantage, and a better final pass would have made the Red Bulls pay for amassing so many numbers in midfield.
---
Sussing out Seattle
I wish their last match had more obvious tactical issues I could point to, but the Sounders' struggle was mostly in execution. Their left side of Nouhou and Léo Chú looked physically unprepared for the match. The midfield struggled to complete passes. Alex Roldan had a defensive performance to forget. Seattle actually started both halves on the front foot. As each half wore on, the Sounders became slower to apply pressure and sloppier with the ball.
Vancouver's formation in possession featured three at the back, but their defensive setup resembled their familiar 4-3-2-1 with the fullbacks occasionally stepping up to join the midfield press:

When Seattle did the hard work of playing through Vancouver's pressure and opening up space behind their defense, they elected to play slowly. In the following sequence, Seattle does well to pass through pressure on their left side, drawing Vancouver's fullback upfield and allowing Chú and Lodeiro to attack the space behind him. But instead of playing a direct ball, Albert Rusnák takes a touch and passes horizontally. Seattle recycle possession, and the opportunity goes begging: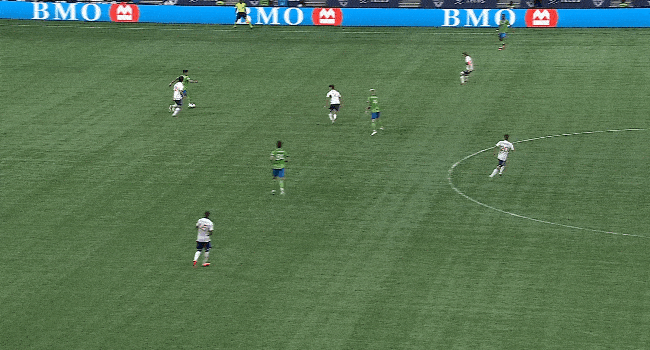 This was a match full of wrong decisions. After conceding the second goal, the Sounders became less disciplined and more sluggish. In the sequence below, Atencio steps to the ball, leaving a large void in the midfield. The pressure comes too late, as a vertical pass finds forward Brian White. Yeimar tries to run with White, but ends up clearing himself out of the play, leading to a 5 vs. 3 break for Vancouver.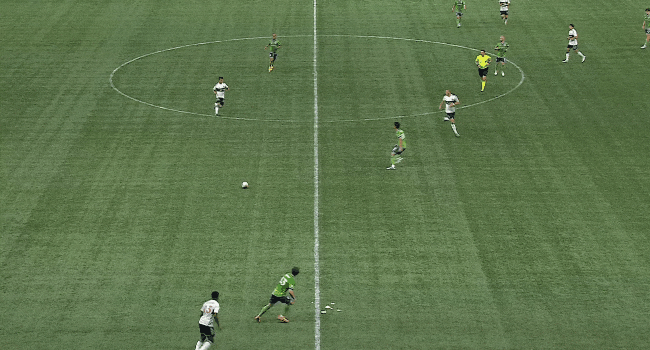 It was sequences like this, with late pressure to the ball and defenders dragged out of position, that fed Vancouver far too many chances.
---
Keys to victory against the New York Red Bulls
Either press promptly, or don't bother
What happens when the front six all step up to press, but all are late to arrive? You end up with massive gaps and a defense on the run. Seattle must either get on the backs of the Red Bulls when they press or stay defensively compact. Half-measures, as in this sequence against Vancouver, will lead to more misery:
Be more direct
Even though Seattle love to hold possession at home, New York's high press will make building out of the back unwise at times. The Red Bulls ride the line of physical play and commit the second most fouls per game in MLS. The Sounders will need to rely on accurate long balls from Stefan Frei and the centerbacks while avoiding deep turnovers like the one Montréal committed in this sequence: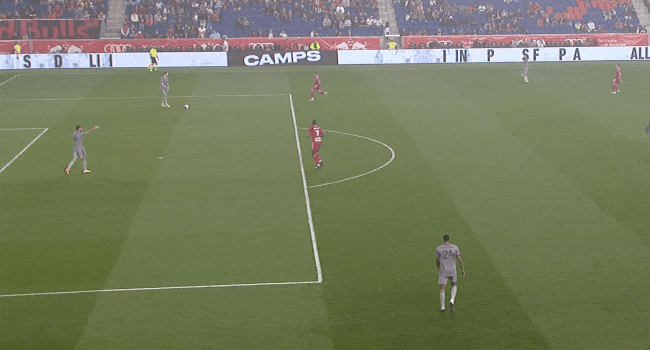 Mentality matters
Joao Paulo talked about it this week. Steve Zakuani and Brad Evans discussed it on the Side x Side podcast. The team's tactics, home-field advantage, and talent will not matter if the Sounders do not play with a comprehensive, competitive mentality. The Red Bulls are among the most aggressive teams in MLS. The Sounders must expect themselves to meet and exceed that energy.
Aside from three points, that renewed mentality is the thing we should hope to see on Saturday. The industrious Red Bulls will provide the Sounders with an opportunity to kick this season into a new gear.
Note: all statistics via FBref.com
Comments