The Sounders' slump rolls on. Goal-scoring at home seems like a distant memory, and Seattle attackers are showing signs of frustration. Rested and facing the Houston Dynamo at home, there is a sense that if the Sounders cannot get this game right, they may not figure out how to score until their internationals return from the Gold Cup.
Meanwhile, the Dynamo had an impressive stretch in the month of June, scoring nine goals and defeating LAFC and San Jose by big margins. However, a humbling loss to rival Austin FC last weekend sets up a nervous match in Seattle where Houston have never won. Let's look at why the Sounders attack is struggling, and how they might find their scoring boots against Houston.
Sussing out Seattle
After 15 minutes of attacking fury against Orlando, Seattle settled into a frustrating scoreless performance. There were good signs early on. Léo Chú and Albert Rusnák were both options to get behind the defense on the left side. Nicolás Lodeiro struck the crossbar twice. But the Sounders, as a whole, seemed to be overplaying on offense as their home goalless streak dragged on.
Obed Vargas' defensive growing pains are noteworthy. When paired with Lodeiro's central drift, the right side of Seattle's defense was porous, and Orlando hit the Sounders in that open space. Without a wide attacking threat on the right from a winger or fullback, Seattle did not have an effective means to punch back.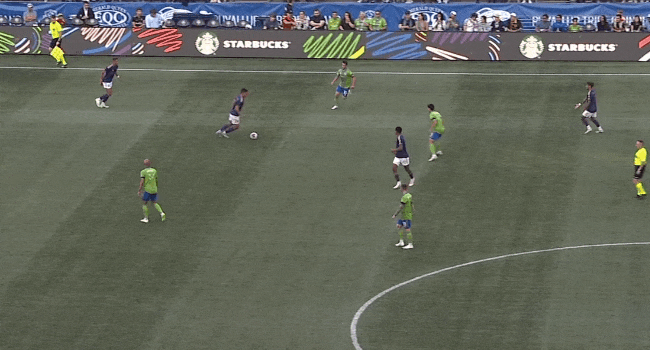 Substitute Reed Baker-Whiting struggled to get into the game at right back, but getting an attacking threat out wide was a step in the right direction. The good news for Seattle? Raúl Ruidíaz is back, and the Peruvian magician still has the ability to craft goals out of nowhere.
---
Dynamo Details
At home against Houston, Austin FC used a very asymmetric attack, with Ethan Finlay (No. 13) high upfield and isolated on the right wing, while Austin overloaded the left side.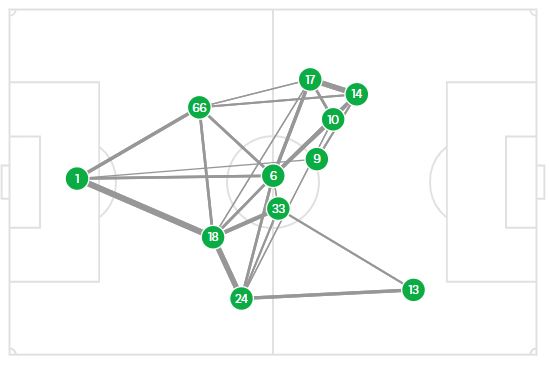 Austin was able to pin Houston in for large portions of the match by counter-pressing effectively in midfield. Set up in a 4-4-2 defensive shape, Houston struggled to deal with Gyasi Zardes, as Austin sent in dangerous crosses from wide positions.
Since their last meeting in May, Houston has shuffled their attacking players around. Amine Bassi has settled in as a central playmaker. While ineffective against Austin, Bassi is a player to watch after good performances against LAFC and San Jose. Houston's main strength, however, is still in the center of the field with midfielders Héctor Herrera and Artur. And the forward position is still a big question mark: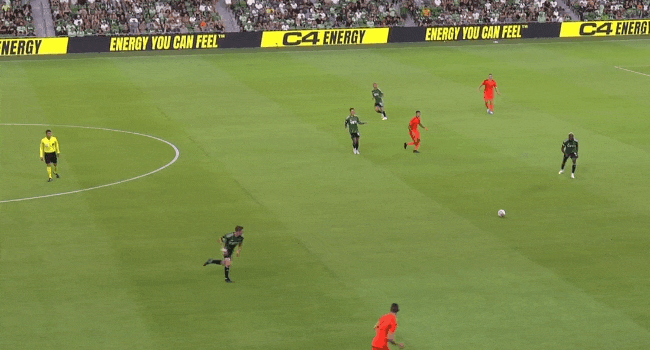 ---
Keys to victory against the Dynamo
Find width on the right
Austin's strategy of possessing on the left and isolating an attacker on the right is not too different from Seattle's current offensive look. Seattle's big problem, however, is finding their own version of Ethan Finlay on the right wing to make direct attacking runs and provide width.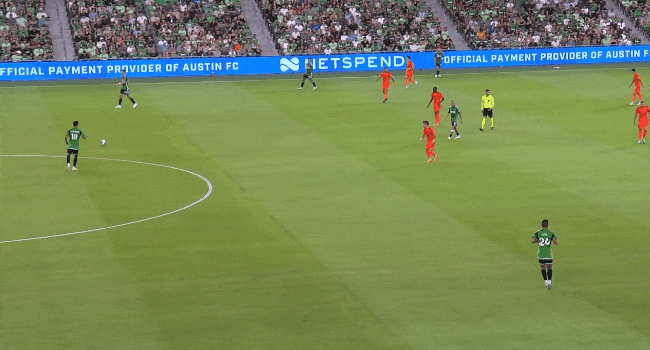 Houston's Daniel Steres, who has been starting at left back in recent weeks, is not known as the fastest guy. Can Seattle find someone to exploit the right wing? There is no easy answer with Jordan Morris and the Roldan brothers at the Gold Cup, but the team may need to give more playing time to Dylan Teves or Reed Baker-Whiting on the right in order to challenge Steres and use that space.
Better on set pieces
It's no secret that Seattle has struggled at times on set pieces this season. Offensively, the goals have dried up.
Defensively, Seattle looked very shaky on set pieces against LAFC, giving up multiple open looks in the box. Now Houston comes to town, are the Dynamo are 5th in the league in set play expected goals.
With Abdoulaye Cissoko poised to replace the suspended Jackson Ragen in the starting XI for his first MLS minutes this season, the organization of the Sounders' back line is sure to be tested. Cissoko has chipped in three goals with the Tacoma Defiance this season (two of them penalties). He just might get a crack at contributing with his size and scoring boots in the attacking penalty area for the Sounders.
Midfield pressure
Austin's control of the match against Houston, and their eventual 3-0 win, came most of all from midfield control. Austin counter-pressed voraciously in midfield, denying Herrera time to distribute the ball and spring Houston's attack. Seattle has plenty of room for improvement with the state of their counter-pressing lately. It would be especially encouraging to see the team avoid the 60th minute drop-off in intensity that has been noticeable in the last few games.
With international absences and a new test of depth at centerback, the road ahead for Seattle does not appear to get easier any time soon. But with frustration growing and confidence waning among Seattle's veteran attackers, perhaps it will only take one moment of fortune to grab a goal and relieve the tension.
Comments