The boys from the Emerald City head to the Queen City this weekend, hoping to start a new chapter in the 2023 season. Charlotte is treading water in the Eastern Conference, clinging to the final playoff spot and dealing with some key absences in their attack. Seattle is coming off perhaps the most boring game played in MLS this season, but their front four are finally getting back to good health. Let's look at what led to such a drab stalemate against Portland, and how the Sounders' feeble attack might have a revolution against the Eastern Conference's most leaky defense.
Sussing out Seattle
The 90 minutes of soccer between the Sounders and Timbers on Saturday produced only 0.6 expected goals — tied for the lowest total in a MLS match this season. The Timbers were quite happy to dictate the style of play by fouling frequently and waiting for sparse counterattacking opportunities. Seattle did very little to change the status quo.
Nico Lodeiro was clearly a step slow this match: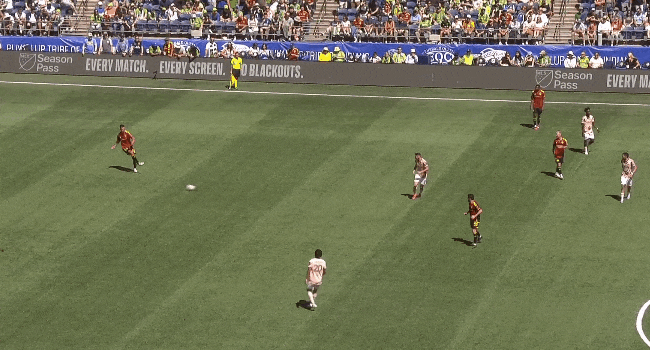 Nico's game is slower than it used to be, but fatigue makes everything worse.
While youngsters Cody Baker and Reed Baker-Whiting have earned valuable minutes, they struggled to find the speed of play necessary to affect the match on the attacking end. There were far too many poor passes and unhurried decisions.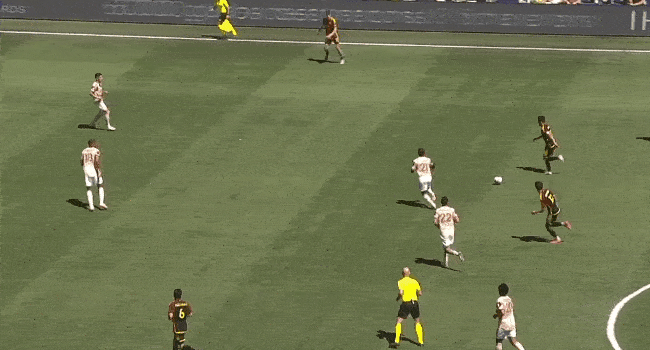 Already listless movement off the ball was not supplemented with attacking numbers. João Paulo could only shrug his shoulders after this sequence where the static Sounders in front of him are encircled by defenders and no supporting run arrives from the right side to attack the open space: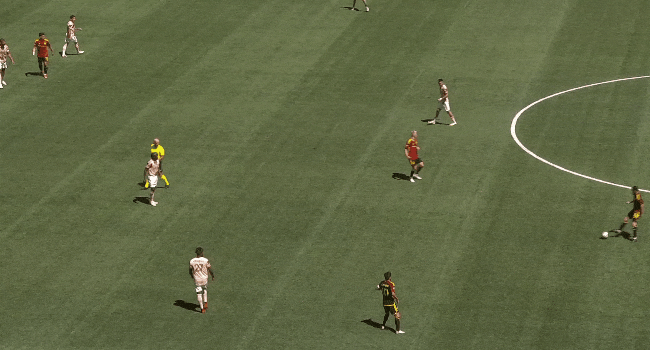 It was not until the second half subs arrived that the Sounders finally attacked with width and numbers, but that burst of energy lasted barely 10 minutes.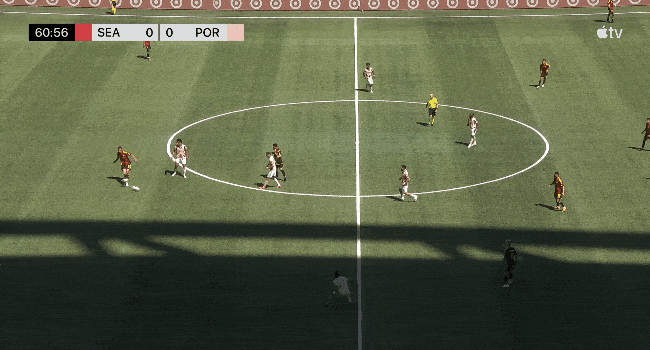 That shot of adrenaline into the attack is a hopeful sign of things to come, but it is hard to take away any other positives from yet another soulless performance against Portland.
---
Scrutinizing Charlotte
Last weekend's 4-2 loss to the Columbus Crew was an eye-cleanser after too much boring soccer. Charlotte took a defense-optional approach while Columbus gifted them enough chances with sloppy play out of the back to keep the game interesting.
Charlotte's build-up is another example of a back four resembling a back three in practice. Rather than sending one fullback high, as the Sounders do, Charlotte often send left back Harris Afful inside, ahead of the centerbacks to act as a second pivot with Brandt Bronico while opening up passing lanes to the left wing: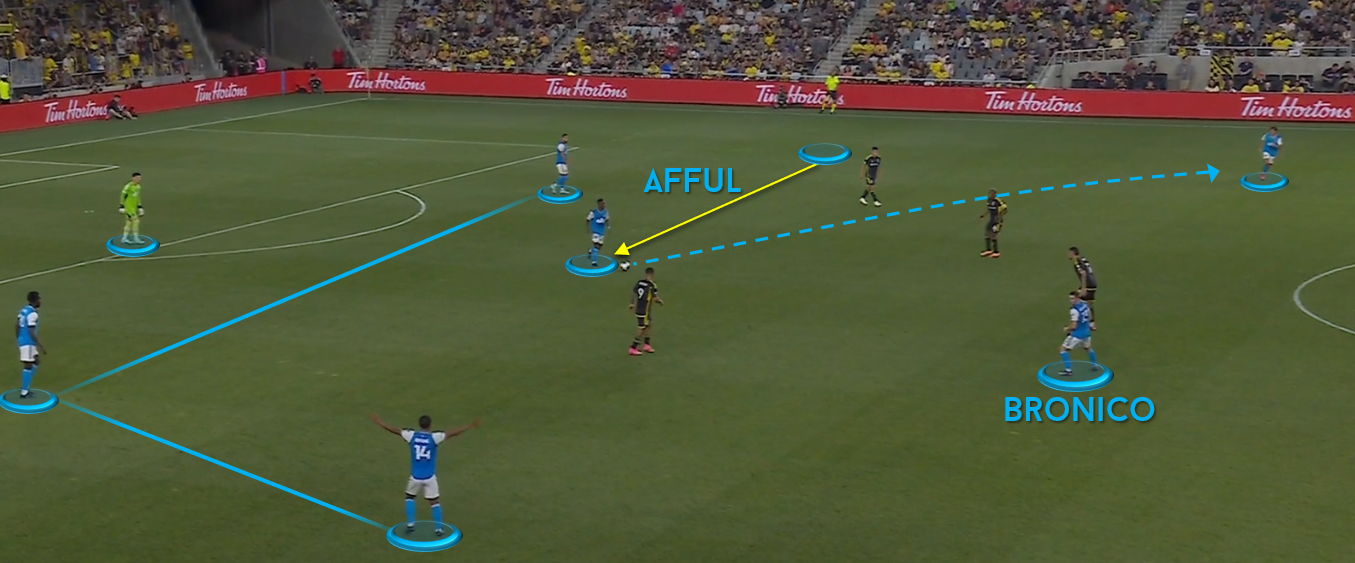 On the offensive side, Charlotte is dealing with a pair of troubling injuries. Attackers Kamil Jozwiak and Enzo Copetti, who are third and fourth on the team in goal contributions, respectively, are listed as injured for Saturday.
Veteran journeyman Justin Meram was Charlotte's most dangerous player against Columbus, but asking Meram and forward Karol Swiderski to shoulder the attacking burden is a tough assignment given Charlotte's leaky defense. Columbus found endless space in midfield to release their wingers and forwards: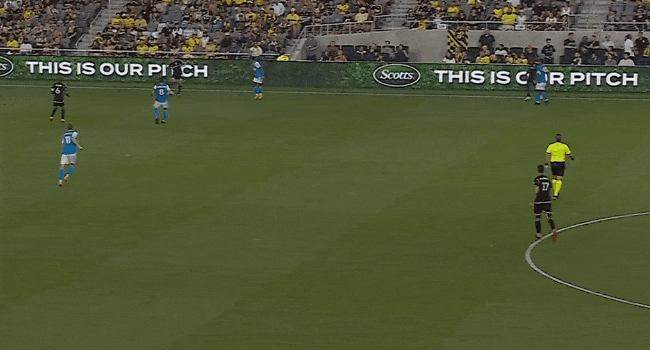 ---
Keys to victory against Charlotte FC
Burn Byrne
Charlotte right fullback Nathan Byrne got picked on by Columbus. Winger Yaw Yeboah was able to beat Byrne for pace and on the dribble, even as Charlotte brought numbers over to clog the wing. In this sequence, Yeboah beats Byrne with a dribble and finds forward Christian Ramírez in acres of space, leading to a goal from the right wing: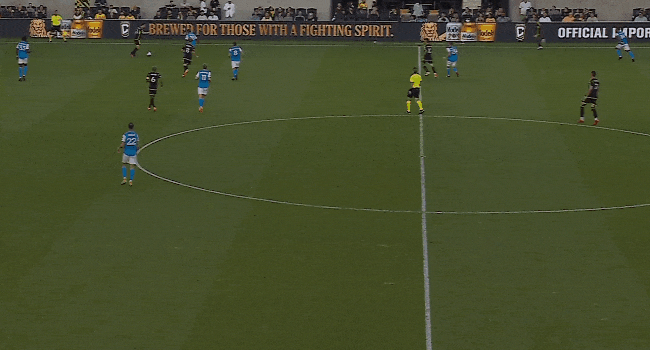 This match sets up nicely for Léo Chú on the left wing, especially if Jordan Morris is able to play significant minutes and make central runs. If Chú can burn Byrne on the left, he will just need some fleet-footed attackers to finish off those chances.
Take advantage of central spaces
Time and again, Charlotte left gaping spaces between their forward and defensive lines for Crew designated players Lucas Zelarayán and Cucho Hernández to drop into. All the Crew needed was to find the right passing lane for their centerbacks into midfield, and Columbus could release their wide players in behind the defense: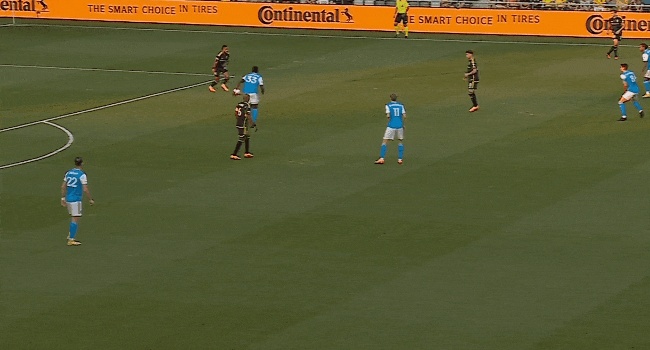 Lodeiro, Ruidíaz, and Héber should all expect to drop back into the gaps in midfield and provide dangerous service to Chú, Morris, and Roldan.
Combine and attack space on the right
Oh how we've missed you, Cristian Roldan. This kind of attacking movement has been missing for two months, and the team desperately needs his dynamism and direct attacking runs from the right side: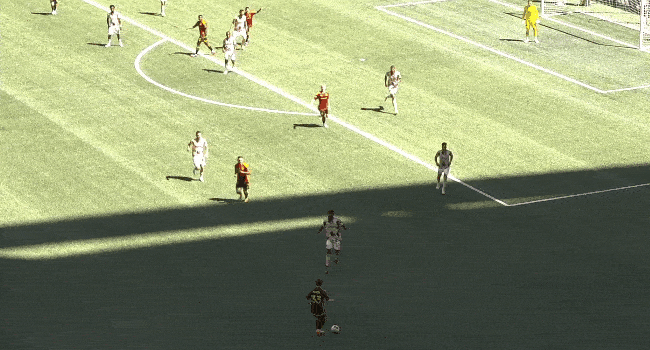 The Sounders have not scored multiple goals in a game in over two months, but a match against the league's leakiest defense may be just what they need to turn that form around. With starters finally returning from injury, now is the time to kickstart the second half of the 2023 season.
Note: all statistics via FBref.com
Comments