They say that history does not repeat, but it does rhyme. The Seattle Sounders have faced elimination after a 3-0 loss at Real Salt Lake before — in 2011, coincidentally the year they last faced CF Monterrey. That 2011 Sounders team fell one goal short of a heroic comeback, but the 2023 Sounders will need a similarly dominant effort Sunday to advance to the next stage of the Leagues Cup. Monterrey stunned RSL with a 3-0 win on Wednesday with swift attacking sequences. Now the Sounders will need to risk ruin to Monterrey's counter-attacks if they wish to gain a three-goal victory and advance.
Sussing out Seattle
Against RSL, the Sounders were timid, slow, and second to every one of RSL's movements. Against an energetic press, Sounders were not moving off the ball to open passing options for their teammates. Look how static the Sounders appear compared to RSL's alert midfielders: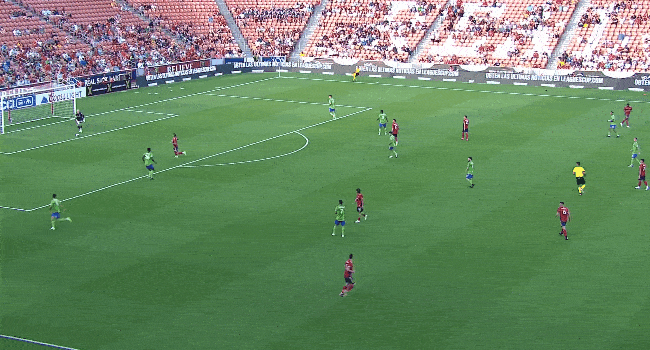 Cristian Roldan was clearly not himself after a head injury in the opening minutes. He missed passes and reacted slowly to move into open space, and it led to repetitive turnovers. Yeimar and Obed Vargas, who both subbed out of the match, struggled to connect their passes as well. RSL's forwards worked hard to provide a numerical advantage on the flanks and create turnovers: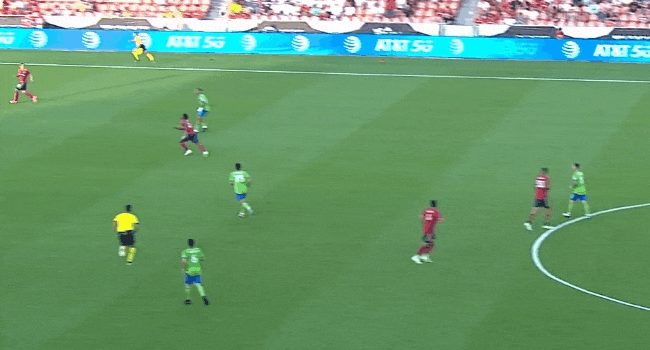 On a day where the team was clearly not moving quickly enough to play through RSL's pressure, Seattle still tried to build out of the back: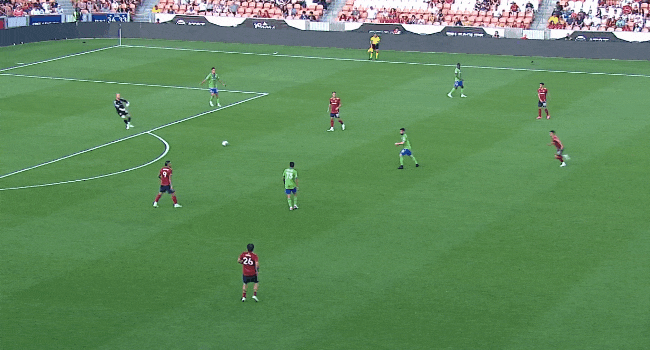 This match was crying out for Jordan Morris and Léo Chú to give the team an outlet and punish RSL's aggressiveness. Seattle was fortunate to make it to half time unscathed, but Chú (whose effort clearly faded as the first half progressed) was pulled at the break for Morris. Morris' recent knee issues and appearance at the MLS All-Star Game complicated matters, but I would have loved to see 20 minutes of Seattle playing direct with their two speedsters. Certainly RSL had no issues counterattacking when Seattle moved their lines up, and were effective with long balls over the midfield as well: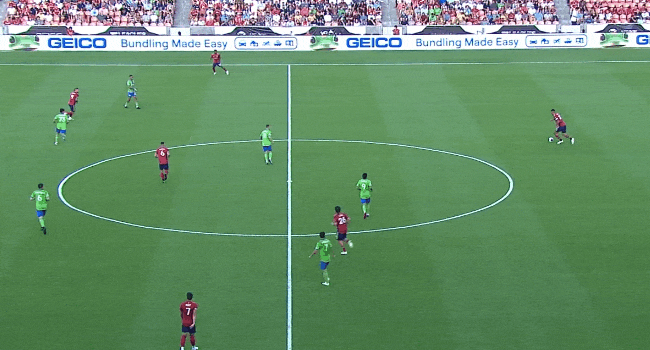 After RSL's red card, Schmetzer was left with only one substitute to change the game. Bringing on a second forward was reasonable, but the left side became the same ineffective attacking pairing of Nouhou and Morris that was so frustrating in the latter half of 2022. Without Chú to attempt duels on the left or Cristian Roldan to work close passing combinations on the right, any renewed hope fizzled out.
All of this reminded me of General Manager Craig Waibel's comments prior to the match on the Side by Side podcast with Steve Zakuani and Brad Evans. Speaking about the team's approach to road games the rest of this season, Waibel said:
"One of the things we need to also teach ourselves over the late part of the season is it's OK to not lose on the road. There's a lot of teams that come [to Lumen Field], and we've seen it now for two years straight including our last home match, where teams don't even come here to play. They just sit in and we have to break them down. We did really well against Dallas to get the goal that would have forced them to open up, but then we have one defensive lapse in the half and it allows them to pack it in. I think we have to be willing to do that on the road as well- go in and just grab a point down the stretch here."
Playing away in the heat of Sandy, Utah, a place where the Sounders last won in 2012, the team had the opportunity to employ a more conservative approach. Perhaps that would mean defending deep, avoiding the urge to play out of the back under RSL's press, and relying on Chú or Morris to steal a goal. Instead, the Sounders were humbled. Some teams like RSL are gaining talent and hitting their stride this summer. For a veteran squad that is unlikely to enjoy significant additions this window, guile may be as important as skill for road games going forward.
---
Monterrey mean business
Facing RSL midweek, Monterrey showed why they are a dominant team in Liga MX. The Rayados started in a 4-4-2, mirroring RSL, and played with quick, vertical attacking sequences. Pushing both their fullbacks wide and into the attack, Monterrey's shape in possession appeared as a 2-4-4: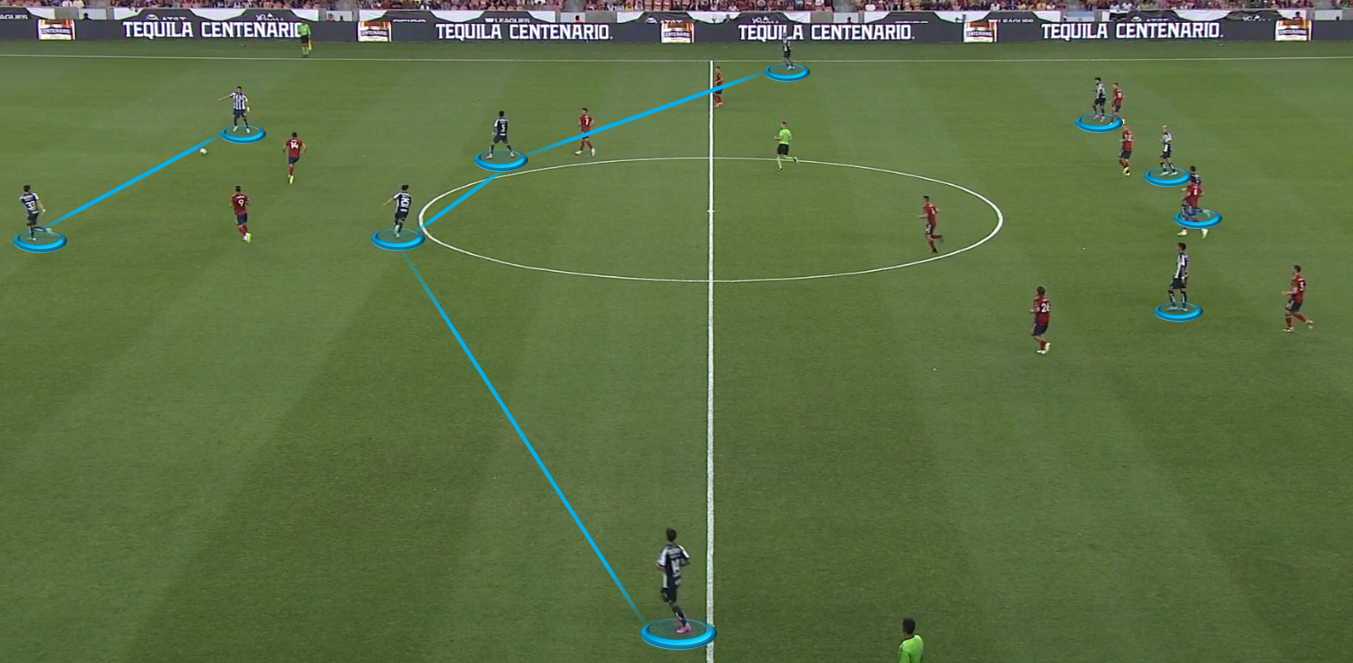 Monterrey's attacking movements were ruthless. While RSL held a possession advantage, and did their fair share of pressing, the Rayados were decisive in their attacking movements. In this sequence, RSL forward Cristian Arango hurries out wide to put pressure on Monterrey's back line, but the Rayados winger finds a perfect bit of space between the defensive lines and sets his overlapping fullback free: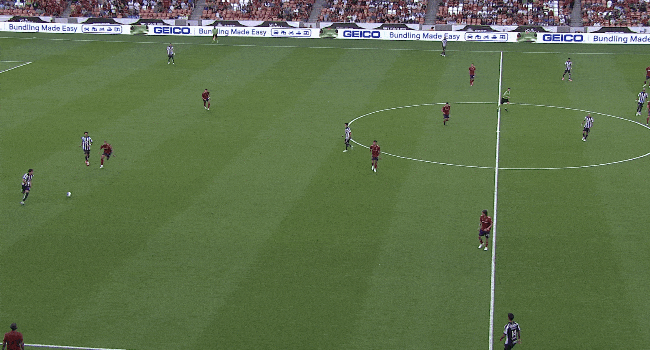 One-touch passes and perfect placement gave forward Germán Berterame a straight-forward finish.
---
Keys to victory against CF Monterrey
Play fearlessly
The Sounders need at least three goals in this match, so a measured approach is probably good for nothing. While Monterrey only need to avoid a catastrophic result to advance, they showed little sign of packing themselves in defensively when up multiple goals against RSL: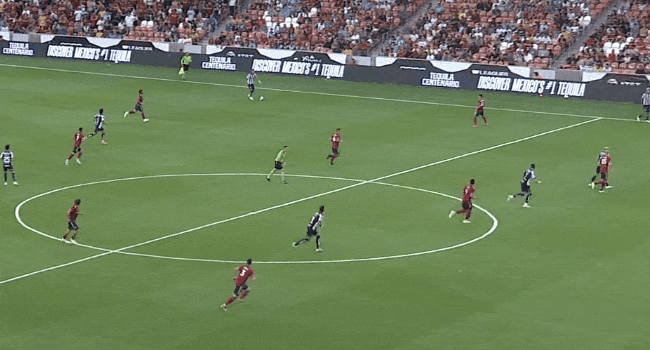 The Sounders can certainly hope that both sides will be willing to play an open match. That strategy will undoubtedly require heroics from Stefan Cleveland, but Seattle need to play fearlessly. The probabilities for this match are very low, so let's see what this team can do when they are set free from expectations.
The Chú and Morris show
If the Sounders are fortunate in that Monterrey will play an open style to entertain their away fans, Seattle must rely on the connection between Chú and Morris that was so productive months ago. In terms of formation, Jordan Morris prefers playing up top right now by his own admission. While we are likely to see a nominal 4-2-3-1 with Raúl Ruidíaz at striker, I imagine that the formation may look more like a 3-5-2 in practice, with Nicolás Lodeiro drifting wide right to combine with an overlapping Alex Roldan while Morris plays a more central role like a second striker.
RSL's winger Diego Luna was able to take advantage of Monterrey's aggressive defending by winning one-on-one battles: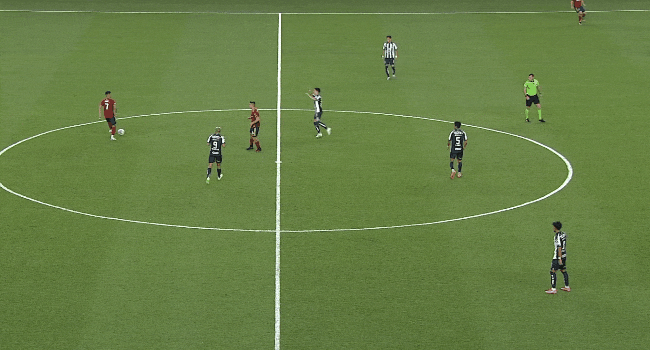 We can hope to see the same from Chú with Morris and Ruidiaz waiting in the box.
Some luck, or Brazilliance
A win of this magnitude will inevitably require luck, and perhaps a goal contribution from an unlikely source. Will that mean a moment of Brazilliance from João Paulo? Perhaps Héber will break his scoring drought. Maybe we will see another Jackson Ragen master class on set pieces. Someone needs to step up and be the hero.
While the coaching staff and front office made it clear that winning the Leagues Cup was the goal, the tournament has been a bit of a disaster so far. But the veterans on this Sounders team know what it takes to win against big Mexican clubs, and if a Sounder wants to become a hero, this seemingly hopeless match might be their finest hour.
Comments