The Seattle Sounders returned to Lumen Field and promptly picked up where they left off. The droll, lifeless team that stumbled through Leagues Cup was again on display in the 2-0 loss to previously struggling Atlanta United. While the away team came out with new ideas and a rejuvenated team spirit, Seattle recycled the same lineup, used the same scripted system, and got the same results. Repeating previous mistakes with a sprinkling of "just try harder" led to a little excitement as the Sounders attempted to press more than usual; however this pressing was disjointed and porous, leading to massive holes centrally that Atlanta eagerly exploited. Somehow the Sounders both failed to keep possession of the ball and were repeatedly victimized on the counter attack. It looked like a bunch of individuals chasing the ball without cohesion, and not anything like a team which had three weeks to prepare, as the season continues its downward trajectory.
---
Goalkeeper
Stefan Frei – 6 (MOTM) | Community – 5.6
Frei was hung out to dry on multiple occasions, as the defense failed to make Atlanta's opportunities predictable. Seven of nine shots against were on target, and Stef was only able to prevent five of them from going in. Conspicuously absent: any blocked shots from defenders.
One thing I liked: A 36th minute save briefly kept Seattle competitive, as Frei leapt to the side and used strong hand strength to parry a shot during a confusing scramble sequence.
One thing I didn't like: As the team captain, Frei didn't have a great game. The players in front of him were losing their cool and their positioning, and Frei didn't help much with some bad distribution, starting with a 3rd minute kick directly out of bounds.
Going forward: It's time to talk about the defense.
Defense
Nouhou – 4 | Community – 4.0 (off 73' for Baker-Whiting)
Nouhou came back from break and was terribad. With Seattle awkwardly pressing full speed into the advanced corners, it admittedly left the defense with a lot of work to do, but it looked like the left back had zero coaching or idea where to be. When presented with moments to shine, Nouhou was instead summarily beaten in contests he normally wins.
One thing I liked: A nice 50th minute dribble central showed a desire to attack the open space where a typical central attacking midfielder might be. His 40 yard stroll through the gaping hole led to a corner kick.
One thing I didn't like: Nouhou was just owned on the first goal, in a physical battle where he looked silly. On the second goal he was isolated and soundly beaten at the back post on a header.
Going forward: Nouhou has played well this season, but he doesn't appear able to defend headers currently, which is a problem.
Jackson Ragen – 6 | Community – 5.5
Ragen was again tasked with defending centrally, and that's where much of the effective counter attacking from Atlanta came. Seattle's defense seemed ill-prepared to support the attacking group's constant ball chasing and high press, and Ragen and company didn't cover the holes left in the middle of the field.
One thing I liked: A nice 42nd minute step forward and dribble again showcased the lack of a dedicated Sounders midfielder, which left space that a defender (in this case Ragen) took advantage of to push high.
One thing I didn't like: This defense is a mess, as illustrated by how Thiago Almada's movement befuddled the entire team. In the 65th minute Almada (checks notes: took three steps away from Ragen who was "tracking" him) turned and found all the time in the world to pick out Giorgos Giakoumakis on the back post.
Going forward: Ragen was fine, but since when is a fine Sounders defense, well, fine?
Yeimar – 5 | Community – 5.0
Yeimar had some solid defensive contributions, leading the team with four clearances and being a constant presence disrupting Atlanta's counter attacks. He added two interceptions and two tackles but was often at odds with teammates in transition as Seattle struggled to deal with central movement and the center back taking poor angles to support.
One thing I liked: A great header attempt in the 48th minute off a corner kick was one of Seattle's only two shots managed on target all night.
One thing I didn't like: Yeimar started out awful, with a terrible 5th minute central pass giving an early chance and then earning a yellow card two minutes later, putting him in a tough situation for nearly the whole match. His frustration built all evening, and an 85th minute elbow could have seen him sent off.
Going forward: Yeimar has now shown visible frustration in multiple matches. At some point the team must address the way he physically acts out when struggling.
Alex Roldan – 5 | Community – 4.9
Roldan started on the right as a defensive midfielder but spent much of his time either pushing up high to support Jordan Morris' diagonal movement or pushing inside to do the same when Nicolás Lodeiro ran around. None of these movements were utilized effectively by Seattle, as Alex only completed a single pass toward goal despite having the second-most touches on the team.
One thing I liked: Alex's 54th minute pass forward nearly found Raúl Ruidíaz for one of the few Sounders chances, but it was Roldan's 61st minute recovery defense that briefly kept the match within reach.
One thing I didn't like: The right-side cohesion between Morris and Roldan was negative, and neither was an effective presence on either end of the field. This meant Alex left gaps behind him that Yeimar struggled to cover, yet he concurrently wasn't adding anything tangible to the offense.
Going forward: Often the team depends on Alex Roldan to balance the offense and be an integral part of moving forward. That disappearing is a big part of the creation and scoring problem. It seems it hasn't been addressed, even though they had weeks to do so.
Defensive Midfield
João Paulo – 6 | Community – 5.8 (MOTM) (off 68' for Vargas)
JP was paired centrally with Albert Rusnák in a grouping that worked well earlier in the year, but they struggled in this match. Unable to both push high to support a toothless offense and hang back to stop attacks through the middle, Seattle's defensive midfielders tried to do both but did neither. Offensively, Seattle lacked third man runs centrally, and defensively they missed central tracking.
One thing I liked: A beautiful ball to release Léo Chú in the 30th was some of the deep-lying playmaking that Seattle needs, and JP had another nice cross in the 41st. These moments almost created game-tying goals.
One thing I didn't like: A miscommunication with Morris open in the 45th minute encapsulated JP's night. He was trying hard to do so much that nothing great happened.
Going forward: Finding someone that can work with JP effectively may be the biggest crisis in choosing lineups.
Albert Rusnák – 6 | Community – 5.2
Rusnák joined João in the middle of the field and they struggled to reproduce the success they had earlier in the year. Seattle forfeited possession for long stretches of time, and these two failed to combine coherently to build attacks. Defensively, the midfield was overrun, often taken advantage of as either of these two players tried to support outside of the midfield.
One thing I liked: Albert hustled into the attacking third time and time again to be an option in linkup and led the team with six shots including a 58th minute volley.
One thing I didn't like: Rusnák was credited with zero shots on goal, which included multiple blocked shots. He doesn't get his attempts off quickly enough to test opponents, who recover in time.
Going forward: A 20th minute defensive "attempt" was evidence that defensive midfielder might not be Albert's best position.
Attacking Midfield
Léo Chú – 5 | Community – 5.1 (off 68' for Rothrock)
Chú started on the left and was active when he had the chance, but with Seattle often conceding possession, it was hard for Léo to get involved. He made the most of his 24 touches, creating some of the best opportunities on the way to a two shot, one key pass, multiple-chances-created evening. Outside of a few big moments, however, Léo struggled to integrate with the team.
One thing I liked: Seattle's best chances came from the left and Chú, including a 30th minute cross to Morris and a 47th minute cross that nearly forced an own goal.
One thing I didn't like: Chú completed a dismal 37 percent of his passes, and his lack of defensive support both left Nouhou on an island and failed to help the press at all. His 19th minute attempt at defense cannot be described as anything but terrible.
Going forward: Seattle played a system that doesn't fit Chú at all, and he returned the favor by proving it.
Nico Lodeiro – 5 | Community – 4.2 (off 68' for Montero)
Ex-Captain Nico Lodeiro started in the middle and was below average. He had a single shot and two key passes but was most noticeable for being unable to run the team centrally as designed. On multiple occasions he struggled to find the right pass and although he got into good positions, couldn't execute with the precision the moment required.
One thing I liked: Nico's service on corners was solid, including a 48th minute pass to Yeimar that offered up the kind of ball other teams seem to score with all the time.
One thing I didn't like: With the game still in doubt in the first 10 minutes, Lodeiro and Seattle had a great opportunity. On a counter attack through the middle, Nico got the ball with space and time. Instead of holding and finding a streaking Morris right up the gut for a 1v1 and hopeful Sounders lead, he rushed a pass wide and stunted the entire attack. In the 68th minute he brutally missed an open shot that might have allowed Seattle some hope.
Going forward: Lodeiro isn't showing the execution needed in big moments, and asking him to run harder by pressing forward constantly did not work.
Jordan Morris – 5 | Community – 4.8
It's hard to rate Morris in this match, as much of what he was asked to do was run off the erratic movement of Lodeiro and support a press that was haphazard at best and focused on the left. He did this fairly well, but was almost completely forgotten as part of the offense. Jordan had a measly 18 touches, as the Sounders had no ability to get him the ball whatsoever. He managed two shots and a key pass in spite of this.
One thing I liked: The runs Morris makes are great, if Seattle had people to find them (see above). A beautiful hustle play in the 35th minute saw Jordan steal a ball, dash into the box, and get a cross off that nearly found Raúl.
One thing I didn't like: Similar to other Sounders, Jordan did have a number of half chances, the best being a 30th minute cross from Chú that hit his shoulder instead of the back of the net.
Going forward: Jordan was completely ignored on the right, and likely should be somewhere else. I can think of two other options.
Forward
Raúl Ruidíaz – 5 | Community – 3.9
Ruidíaz somehow earned a full 90 minutes in this match, staying in while putting up dismal numbers: two shots (none on target), one key pass on 65 percent completion, and only 28 touches.
One thing I liked: He was there as an option on Morris's 35th minute cross, and he had a nice sequence between a 54th minute shot and 60th minute over the top attempt.
One thing I didn't like: There were a few moments where Raúl struggled, but more than anything else he looked non-impactful. It was more notable that he didn't create anything, didn't attack the goal or combine dangerously and didn't force Atlanta to defend him in any special way.
Going forward: This was an uninspired effort. While he isn't a pressing player and is someone who needs effective setup to find opportunity, the expectation for Raúl should be much higher than this performance.
Substitutes
Fredy Montero – 5 | Community – 4.8 (on 68' for Lodeiro)
Fredy subbed for the struggling Lodeiro and played mostly on the left, which didn't fix many of the Sounders' problems.
One thing I liked: In the 71st minute Montero had a big chance.
One thing I didn't like: In the 71st minute Montero missed a big chance.
Going forward: The cupboard is bare if the opponent pulling the strings is Thiago Almada and our guy is Fredy Montero.
Obed Vargas – 5 | Community – 4.6 (on 68' for JP)
Vargas for João Paulo was a puzzling substitution. Obed came in and got some minutes, had two tackles and 18 touches.
One thing I liked: Clean on the ball, Vargas completed 91 percent of his passes and did well to earn a 76th minute corner kick after pushing forward.
One thing I didn't like: Vargas didn't do much that explained why he was subbed in, playing conservatively and holding on to the 2-0 loss.
Going forward: Apparently it's written into his contract Obed plays every game.
Paul Rothrock – 5 | Community – 4.5 (on 68' for Chú)
New signing Paul Rothrock got his first runout as a full member of the Seattle Sounders first team and didn't save the team. He worked hard, but looked out of his depth during a 23 touch, 22 minute outing.
One thing I liked: In the 73rd and 76th minutes he showed some hustle, earning a corner on the first and possession on the second.
One thing I didn't like: Rothrock had a terrible time crossing the ball, failing in the 76th and 81st minutes, each with targets available in the box.
Going forward: Any hopes for the lone midseason signing to be the difference maker should be quashed.
Reed Baker-Whiting – 5 | Community – 4.5 (on 73' for Nouhou)
Replacing an ineffective Nouhou was Baker-Whiting, who looked comfortable in the back. His mostly stellar passing (93 percent) and stand up defense (one tackle, one interception, one recovery) were welcome additions to the field.
One thing I liked: A won tackle in minute 88 was a tidy piece of effort.
One thing I didn't like: RBW followed up his nice play in minute 88 by missing Montero with a pass.
Going forward: Reed looked better than the rest of the subs, which isn't saying much.
Referee
Allen Chapman – 5 | Community – 4.9
Chapman had an average match for him, which is below average for most MLS referees. While he did a solid job for periods of time, his decision making on fouls and cards was suspect. Atlanta had the ball for 70 percent of the time and committed 15 fouls and Seattle committed 11 which speaks to which team was more aggressive. Each team probably felt lucky that Chapman didn't give out harsher penalties for their team and vexed he didn't for the opponent.
One thing I liked: A yellow card to Almada in the 26th minute for dissent was an excellent one and rarely shown by MLS referees.
One thing I didn't like: After a soft yellow card on Yeimar in the first 10 minutes, Chapman let the teams beat on each other. Harder fouls in the 25th, 44th, and 49th from Atlanta players were all ignored.
Going forward: Chapman may have had a sporadic match calling fouls, but he did manage to call a bad throw-in. Priorities.
Atlanta United MOTM
Goalscorer Giakoumakis beats out actual Man of the Match Thiago Almada for this one. The big guy did well to use his big guy head and score, once via a corner delivered by Brooks Lennon, and once via a perfect ball from (oh, no!) Thiago Almada. When Almada wasn't providing actual assists, he was ripping through all that midfield space thanks to Seattle's disjointed pressure, and in the process, creating a host of chances.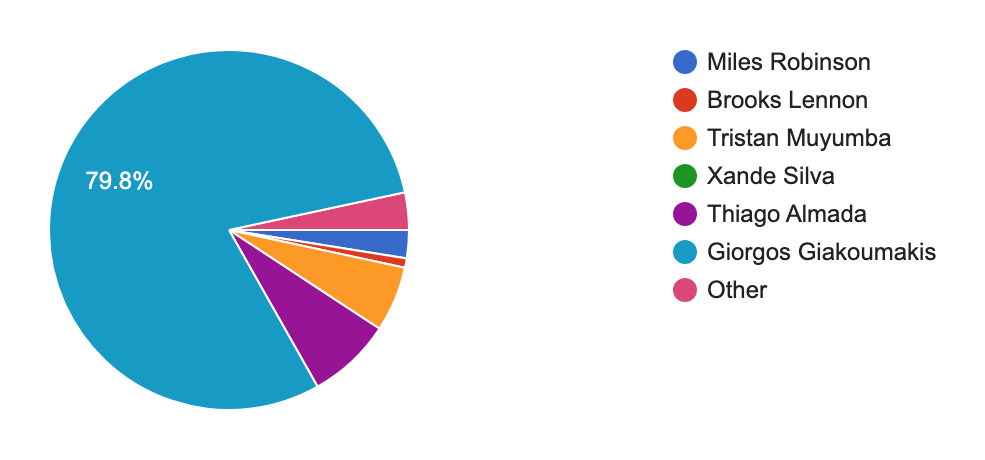 ---
Next up: Another week, another chance to do something different. Maybe away in Minnesota is the time!
Comments