Editor's note: While all our content will be free for the first week after the move, deeper analysis pieces like this one will likely only be available to paid subscribers in the future. You can access those for as little as $19/year while also doing your part to make Sounder at Heart and independent soccer journalism sustainable.
---
After humbling results in Leagues Cup, the Seattle Sounders and Atlanta United have had weeks to prepare for the stretch run in MLS play. Seattle must rely on its veterans to come alive in crunch time. Atlanta is hoping that new faces will vault them into MLS Cup contention. Tactically, it is a juicy matchup pitting coach Brian Schmetzer against his old apprentice, Gonzalo Pineda. Let's look at how both teams looked in their last competitive matches, and how the Sounders will try to start their final ten games with a crucial home win.
Sussing out Seattle
After enjoying a glorious first five minutes against Monterrey, Seattle fell back to earth. They traded opportunities with Monterrey in the first half, but the team needed a near perfect outing on a day where they committed far too many mistakes. When the Sounders stayed patient, they were able to craft dangerous opportunities in the box. On this occasion, Nouhou steps into the midfield, drawing a defender centrally and freeing space for Nico Lodeiro. The Sounders have a 3 vs. 2 advantage and another good run from Nico earns a dangerous cross: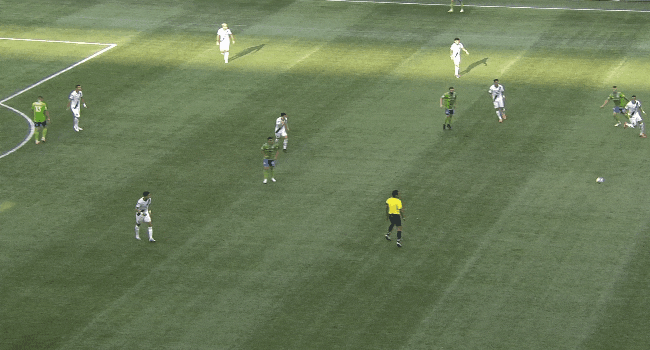 Contrast this with an example of impatient build-up. Flanked by three defenders, and receiving the ball with his back to goal, Nico tries to turn and dribble rather than pass out of the disadvantaged position: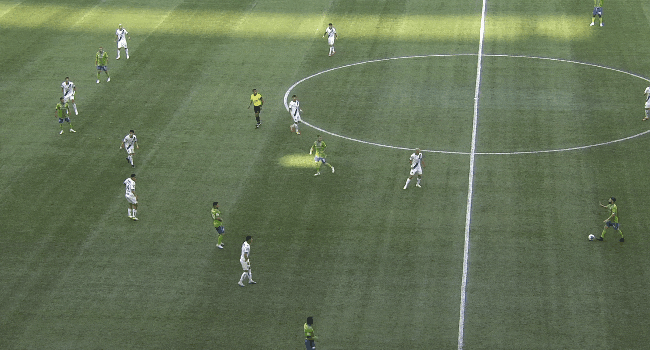 Against a team as talented as Monterrey, there were far too many mistakes. Seattle's corner routines were often less dangerous than the counterattacks conceded thereafter. Alex Roldan was uncharacteristically sloppy with his passing. João Paulo, Albert Rusnák, and Yeimar will all want to move on from their defensive performances as soon as possible.
In the following sequence, João Paulo tries to work the ball down the left side, but his options are tightly marked. Rusnák has open space to support the move, but elects to stay centrally. All for naught, however, as the ball is quickly turned over and Rusnák unsuccessfully attempts to chase down Monterrey's counter. João Paulo fails to keep up with his opponent's attacking run, and the game is done and dusted early in the second half.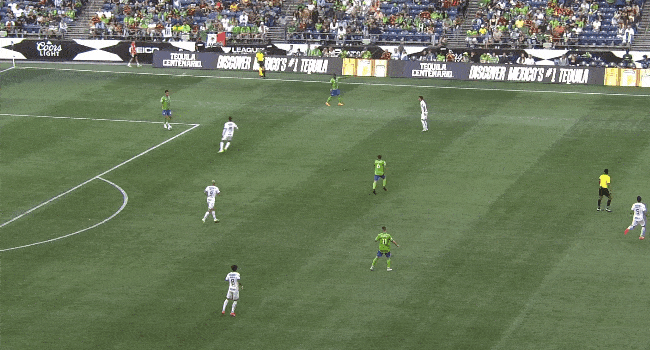 Analyzing Atlanta
The 2023 Sounders may have more in common with this Atlanta United side than any other team in MLS. Sounders exports Garth Lagerwey, Gonzalo Pineda, and Osvaldo Alonso are making their marks down south after years of success in the northwest. It should be no surprise, then, that the teams' styles and results have been so comparable. Just one point separates the two sides in the Supporters' Shield standings. According to Opta, their playing styles are quite similar, tending toward slow buildup play over fast attacks and extended passing sequences rather than direct play. Like the Sounders, Atlanta defend with a back four, start their press with a front two, and morph into a back three in possession: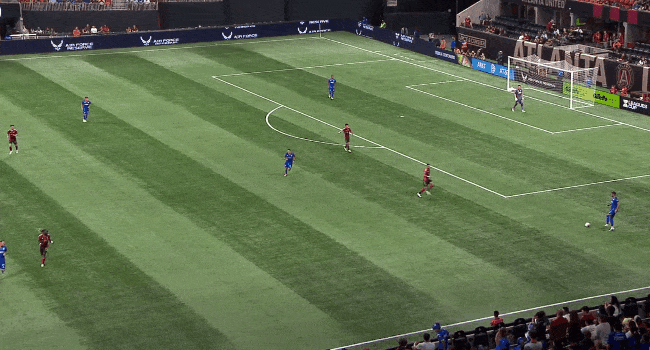 While you would never know it from Atlanta's lackadaisical treatment of Sergio Busquets, the Five Stripes are among the most vigorous pressing teams in the league, trailing only the Red Bulls and St. Louis City in defensive actions per opposition pass. But while St. Louis or New York eschew possession in order to catch their opponents with counterattacks, Atlanta presses to quickly regain and keep possession.
The usual suspects for Atlanta are dangerous as ever. Midfielder Thiago Almada does it all in the attack, and is a set-piece threat if the Sounders foul anywhere near their box. Forward Giorgos Giakoumakis has an impressive 10 goals in less than 1,000 minutes. Versatile attacker Brooks Lennon sprints up and down the right side, leading the team in progressive passes received and crosses.
While some of Atlanta's new faces are still waiting on their visa paperwork to clear, midfielder Tristan Muyumba debuted against Cruz Azul and looked like a revelation for the Five Stripes. When outnumbered in possession, Muyumba showed great awareness to find teammates and space, allowing Atlanta to escape Cruz Azul's overload and switch the field: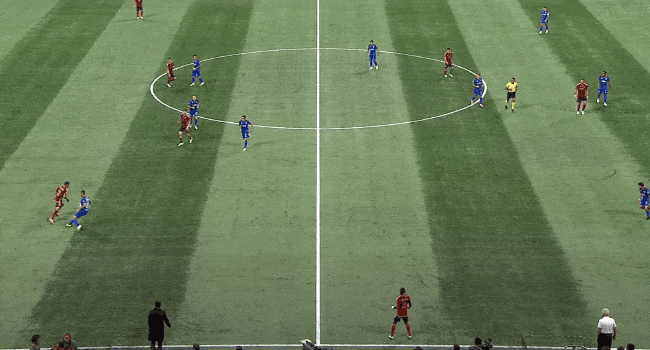 Atlanta may finally have the midfield connector they have needed to turn their ample possession into dangerous opportunities.
Keys to victory against Atlanta
Down with defensive lapses
Both teams are struggling with uncharacteristic defensive lapses. Against Cruz Azul, Atlanta's typically dominant set-piece defense just forgot to mark forward Moisés on the back post: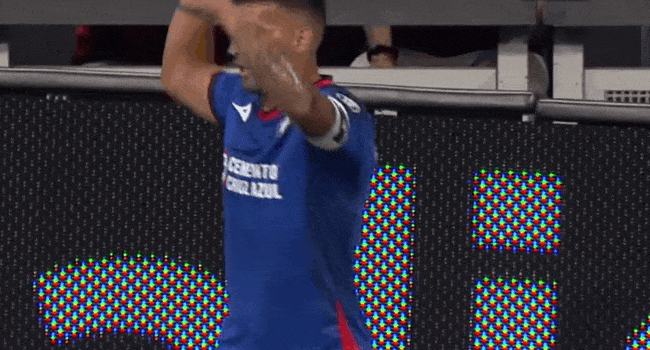 Seattle will hope that the return of Stefan Frei will help stabilize their defensive unit that looked too chaotic with Stefan Cleveland in goal. Yeimar and João Paulo both need to bounce back after their performances against Monterrey.
That Atlanta right wing
The Muyumba-Lennon connection on Atlanta's right will be a handful for the Sounders. Monterrey were able to isolate attackers on Seattle's left and play around Nouhou, as on this play: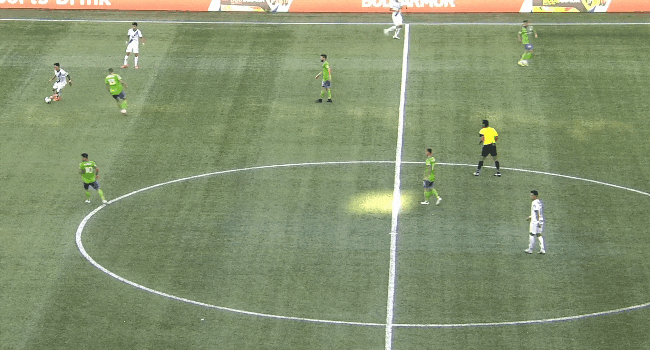 Atlanta will look to do the same, using Muyumba to attack spaces vacated by Léo Chú and Lennon's speed to challenge Nouhou.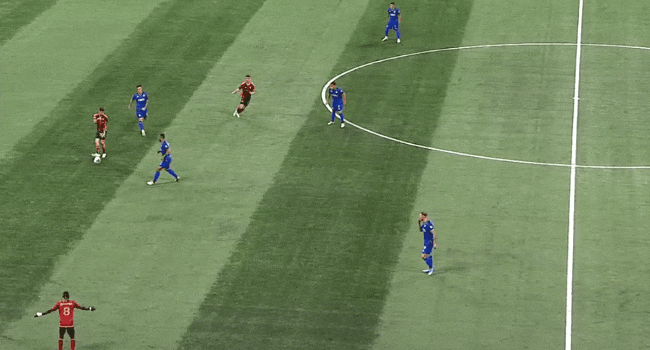 Seattle's midfielders will need to chip in defensively on the left wing.
Ruidíaz Resurgence
Ruidíaz has two goals in two starts against Atlanta, including that one goal. But he has played in only about one-third of available minutes this season, and has not scored in well over two months. It is probably not too hyperbolic to say that as Ruidíaz goes, so goes Seattle in the rest of 2023. The Sounders must rely on Ruidíaz to produce in a possession-heavy home game against Atlanta.
The Sounders' leadership has been adamant that the team has the talent they need to win MLS Cup when healthy, and that theory will be soundly tested against teams that boosted their talent in the summer transfer window. With just ten matches remaining to reach top form, it is time for Seattle to show that their veterans still have what it takes to win when the chips are down.
Note: all statistics via https://theanalyst.com/
Comments