Note: We are making this article free to everyone this week, but in the future this is one of the features that will only be available to paid subscribers.
The Sounders are quickly running out of time to find their footing. Winless in their last five matches in all competitions, Seattle has shipped 12 goals and scored only three. A road game in a busy week of matches may be all the more reason for head coach Brian Schmetzer to make changes.
Minnesota, however, found some life in a 2-0 win at New York City FC and an attacking trio revitalized in the transfer window. Let's look at what doomed the Sounders against Atlanta and how they might find a way past the Loons' compact defense.
Sussing out Seattle
After weeks of training, the Sounders came out against Atlanta intent on applying pressure high up the field and getting the ball to their goal scorers in dangerous areas. The result, however, was a team too disorganized to pin Atlanta in their own end. As soon as the Five Stripes escaped their defensive third, they had acres of space to run at Seattle's back line. In the end, as has grown common over the last few months, Seattle was doomed by a set-piece goal and another moment of casual defending.
Especially in the first half, there were so many moments of Atlanta running free that it was difficult to pick the best ones to analyze. In the following sequence, Raúl Ruidíaz makes a curved pressing run, which can be quite effective in forcing the opposing 'keeper to play the ball quickly with limited options. If successful, a curved run would eliminate Guzan's options to his left and force a launched ball or a quick pass to the right centerback, who would then be subjected to combined pressure from Lodeiro and Ruidíaz continuing his run. But Ruidíaz's pressure is not nearly quick enough, and Guzan has a passing option right in front of him. Movement by Atlanta's Tristan Muyumba out of the midfield drags Albert Rusnák forward, leaving World Cup winner Thiago Almada with room to run in midfield.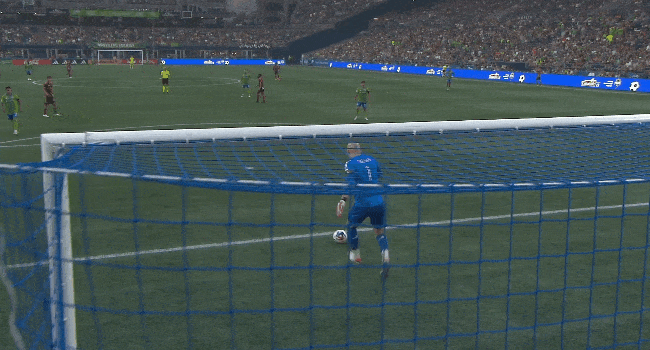 Time and again, Atlanta played through Seattle's pressure, leaving the defense scrambling with too much space to cover. In this next sequence, Rusnák ventures out of the midfield to press Atlanta's fullback, leaving Léo Chú next to Muyumba. As Atlanta switch the ball to the opposite wing, Muyumba runs free across the field to provide the vital outlet for Atlanta to escape Alex Roldan's pressure. João Paulo must step up to Muyumba, but a nifty flick exposes Seattle's lack of defensive cover. Almada once again gets the ball in space, while Chú and Rusnák trail the play. If the Sounders are going to continue with this pressing style, they need to be better about covering vacated space for teammates.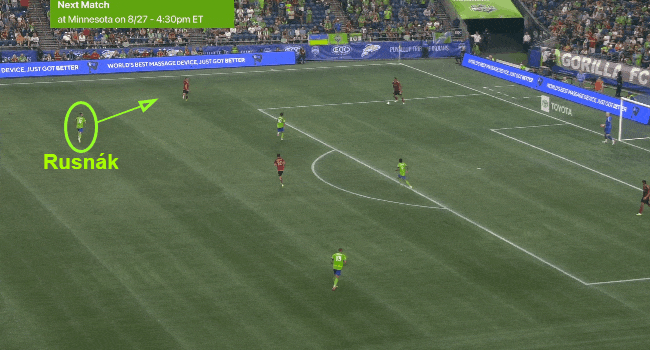 In this next sequence, Seattle has elected not to press, but then leave an expanse between their defensive line and midfield. Almada has plenty of room to escape from Rusnák, and the Five Stripes are set loose. Sending five players into the final third without actually getting pressure on the ball? That's a disaster waiting to happen.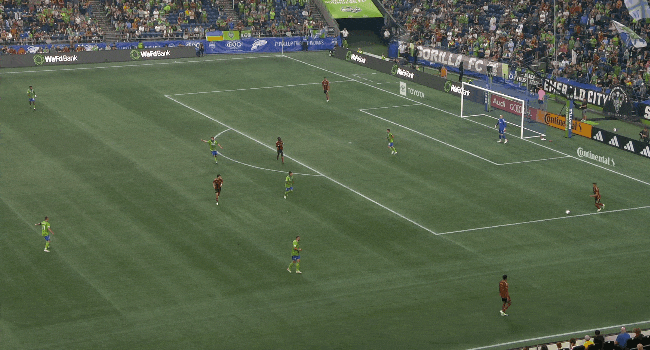 Here is one last sequence, where the Sounders' high press finally works as intended. Lodeiro and Chú force a back pass from the left wing to the 'keeper, who must distribute the ball quickly to avoid an oncoming Ruidíaz. The ensuing pass ends up right on the head of Alex Roldan, who has Jordan Morris open at the top of the box. Alas, Roldan's header is right to the feet of Atlanta's Muyumba.
This is the moment that an effective counter-press becomes vital. With the ball turned over and Seattle's left side stranded high up field after their pressing runs, Rusnák and Morris need to do whatever they can to slow Atlanta down, including with a foul if necessary. Instead, Muyumba is allowed to collect the ball and dribble forward, sending Atlanta on a dangerous counterattack.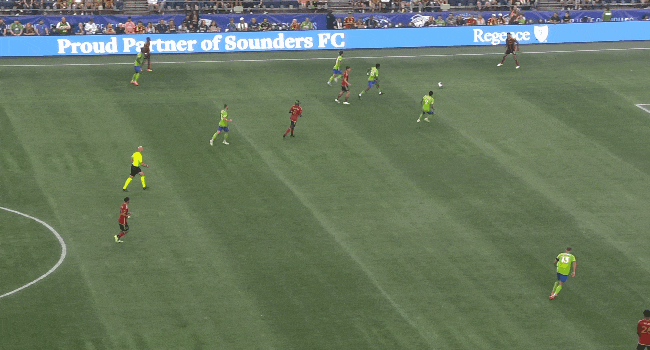 If the Sounders are going to keep creating chaos by sending players forward to press, they need to accept the subsequent task of hard-nosed counter-pressing to prevent these dangerous transition moments. If players like Ruidíaz, Morris, and Rusnák are not well-suited for that style, it might be best to avoid such high pressing altogether.
After that performance, Seattle was left with more questions than answers. Does Ruidíaz have the legs and willingness to effectively cut off passing lanes? Does Rusnák have enough bite in midfield to disrupt counterattacks? Does Chú have the awareness and willingness to cover for teammates when they leave their positions? Brian Schmetzer must decide, and soon.
The rejuvenated Loons
Minnesota is much changed from the side that lost 1-0 at Lumen field back in April. Regulars Robin Lod and Kervin Arriaga are both out with long-term knee injuries. But Emanuel Reynoso is back, and is already averaging an impressive 1.05 combined expected goals and assists per 90. Winger Bongokuhle Hlongwane went on a scoring tear in Leagues Cup, and summer signing Teemu Pukki gives the Loons an experienced option at forward.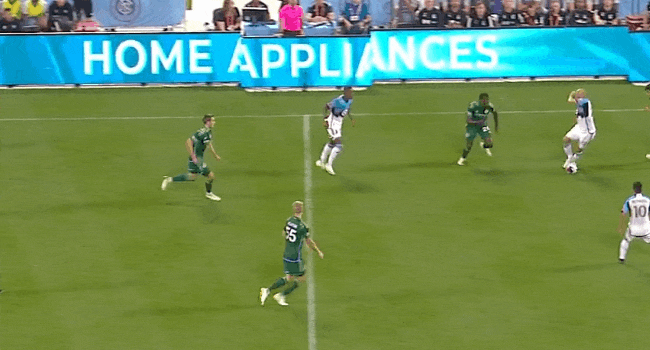 Keys to victory against Minnesota United
Swarm Reynoso
A week after giving Thiago Almada free real estate in midfield, the Sounders must do better with Minnesota's No. 10. NYCFC did an admirable job containing Reynoso by swarming him with defenders – albeit with the help of their tiny pitch.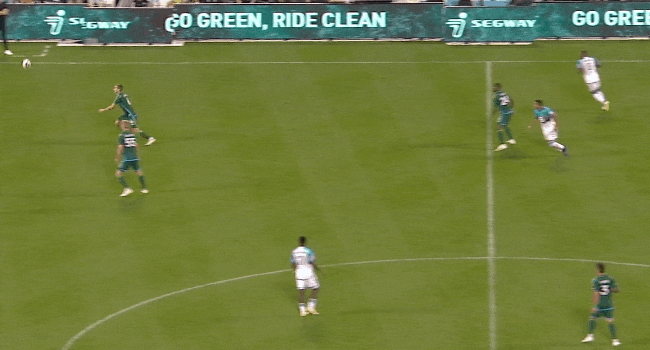 Play over the midfield
Minnesota's modest midfield pairing of Will Trapp and Hassani Dotson may not turn many heads, but the Loons find defensive rigidity with a 4-4-2 defending in a compact mid-block. As such, it is often much easier to pass over and around their set defense, as NYCFC did in this sequence: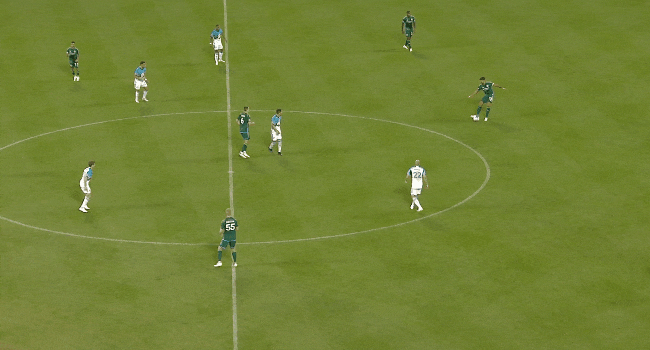 Jackson Ragen's distribution to the wings will be key in this match.
We gotta start makin' changes
Brian Schmetzer teased some lineup changes in practice this week. Craig Waibel mentioned that the team needs to play a more resilient style on the road. Will the Sounders go for a more pragmatic approach, perhaps sitting deeper and using Jordan Morris at forward? Will Cristian Roldan make his return from injury? The Sounders undoubtedly want to show that their old style, and veteran players, can still win in MLS. But things change, and that's the way it is.
Note: all statistics via FBref.com
Comments