FULLTIME: The Seattle Sounders dominated the first 75 minutes or so and then had to hold on to claim a 2-1 win over the Colorado Rapids on Wednesday. Léo Chú and Albert Rusnák provided the goals as the Sounders moved back into second place in the Western Conference, five points behind first-place St. Louis City.
RAPIDS 1, SOUNDERS 2: Cole Bassett struck from just inside the penalty area, picking up a poorly cleared header to cut the deficit in the 80th minute.
RAPIDS 0, SOUNDERS 2: Albert Rusnák scored his fourth goal of the season off an assist from Cristian Roldan, his first of the season. João Paulo had made a marauding run up the sidelin to set up the chance.
RAPIDS 0, SOUNDERS 1: Léo Chú scored his fifth goal of the season, cutting on his right foot to beat the goalkeeper to the far post.
LINEUPS: Cristian Roldan makes his return to the starting lineup for the first time since July 22 and Brian Schmetzer uses a lineup that many have been clamoring for with Josh Atencio, João Paulo and Albert Rusnák all starting in the midfield.
---
The Seattle Sounders are not necessarily playing great soccer right now, but they do come into tonight's road match against the Colorado Rapids on about as good of a run as they've enjoyed all year. Their four-game unbeaten run is tied for their longest of the season (they went 3-0-1 in March-April) and they are attempting to put together their first five-match unbeaten run since 2021.
They should also get a boost from the return of Léo Chú and Cristian Roldan to the starting lineup. Chú missed the previous game while serving his red-card suspension and Roldan is expected to be back in the lineup for the first time in nearly two months after coming off the bench on Saturday.
There is expected one particularly notable absence, however, as Raúl Ruidíaz did not train on Tuesday after apparently straining his hamstring.
The Rapids, meanwhile, come into this game tied for the fewest points in MLS, with just four wins all season. They did win their last game, however, with interim head coach Chris Little getting a victory in his first match in charge following the dismissal of Robin Fraser.
Notes
Since the Sounders joined MLS in 2009, no team has beaten another MLS opponent as many times as they've beaten the Rapids. They are 24-8-6 against the Rapids all time.
The Rapids won just their second home game of the season on Saturday against the New England Revolution. It was just their second home win in their last 16 games dating to last year.
Connor Ronan has scored or assisted on 8 of the Rapids' 12 goals since his arrival in May.
The only team against whom Jordan Morris has scored more goals than the seven he has against the Rapids is the LA Galaxy (8).
Absences: Injury, international duty and suspension
Colorado
OUT: Alex Gersbach (lower body injury); Aboubacar Keita (lower body injury); Jack Price (Achilles); William Yarbrough (lower body injury); Max (removed from team activities)
Seattle
QUESTIONABLE: Cody Baker (concussion protocol), Kelyn Rowe (R quad strain)
OUT: Sota Kitahara (L quad strain)
Officials
REF: Filip Dujic; ARs: Jeremy Hanson, Jeffrey Greeson; 4TH: Malik Badawi; VAR: Jose Carlos Rivero; AVAR: Robert Schaap
How to Watch
Match date/kickoff time: Wednesday, September 20, 6:39 PM PT
Venue: Dicks Sporting Goods Park, Commerce City, Colo.
Global Streaming English: MLS Season Pass (Neil Sika & Cobi Jones)
Global Streaming Spanish: MLS Season Pass (Juan Arango & Carlos Suarez)
Local Radio: 950 KJR-AM Seattle, iHeartMedia (Danny Jackson & Pete Fewing)
Local Spanish Radio: El Rey 1360 AM (Rodriguez, Maqueda, Tapia)
Is this game available to stream for free? No
Will Sounders radio be available as an alternate feed? No
Lineups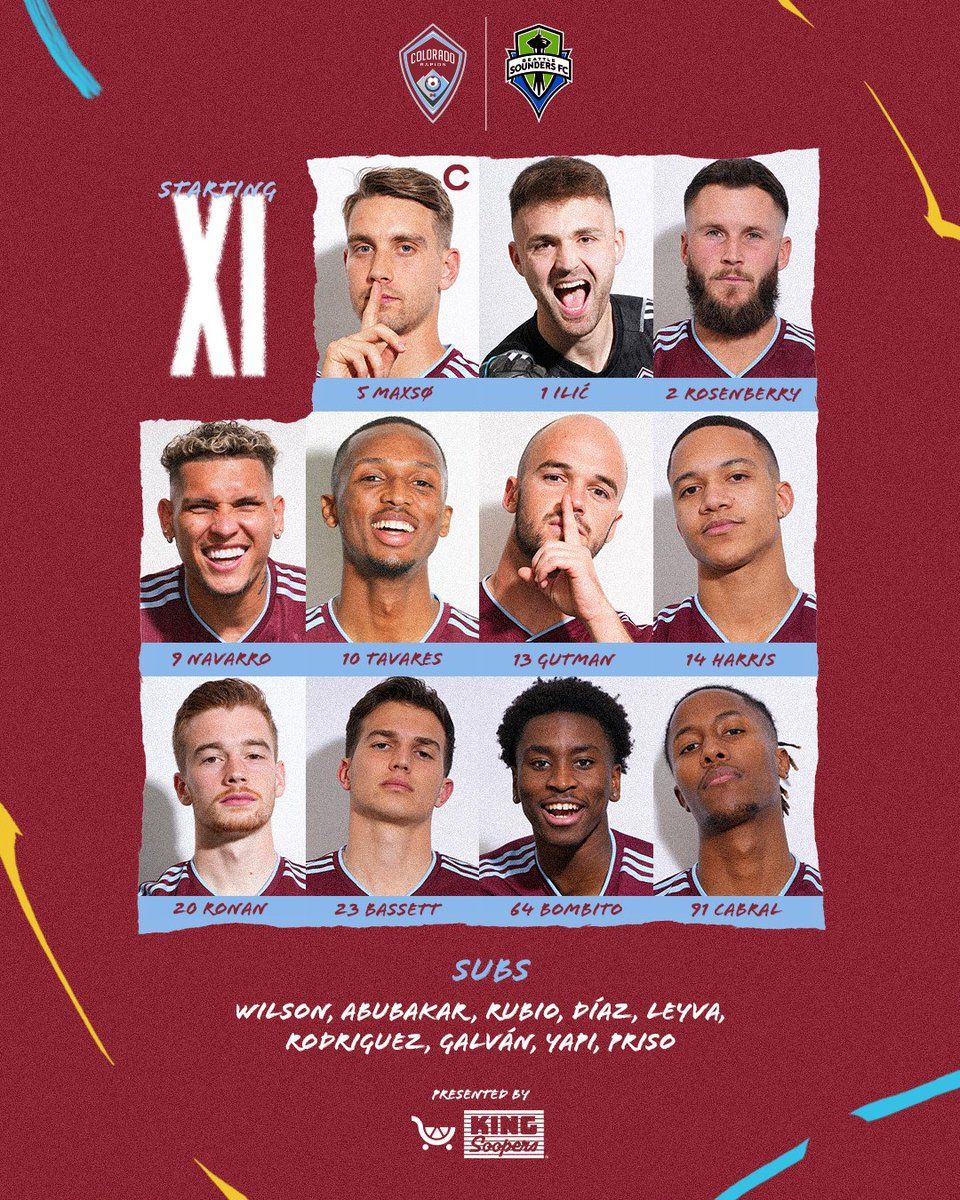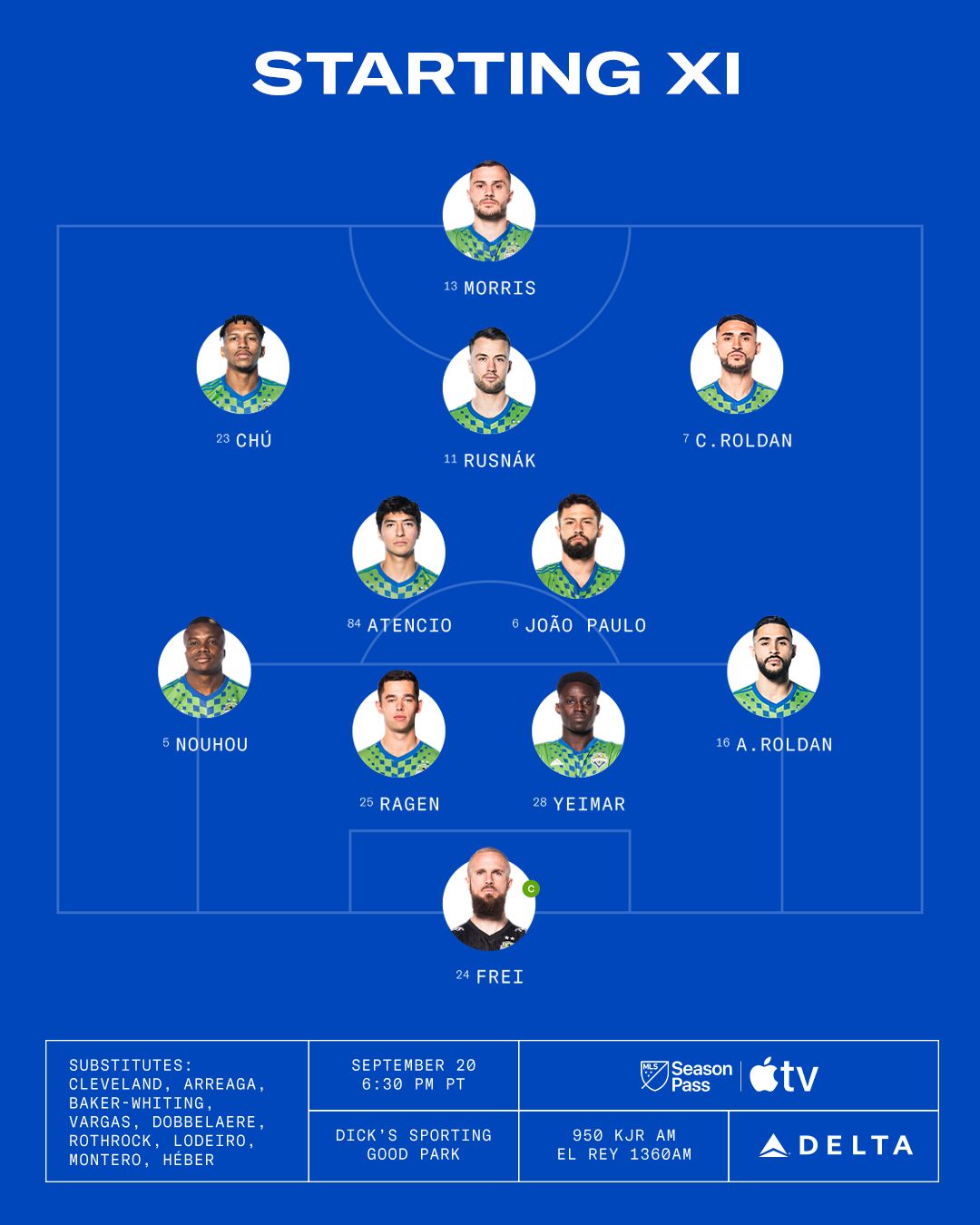 Highlights will be posted as the match progresses.
This is Seattle Sounders at Rapids; watch with us
Comments