FULLTIME: The Sounders got their first shutout in 11 games, but it was only enough to secure a 0-0 tie with Nashville SC on Saturday. Héber seemed to give the Sounders the lead in the 59th minute, but VAR correctly judged that he was offside on the play.
RUIDÍAZ LATE SCRATCH: Shortly after warming up, Raúl Ruidíaz was pulled from the starting lineup and replaced by Héber. Ruidíaz apparently felt some back pain.
LINEUPS: With Jordan Morris and Albert Rusnák remaining in Seattle and Nouhou suspended, Raúl Ruidíaz, Nicolás Lodeiro and Reed Baker-Whiting came into the lineup.
---
The Seattle Sounders are currently riding their longest unbeaten streak since starting the 2021 season by going 13 straight without a loss. Still, it doesn't feel like they're playing their best as they head into the final four games of the regular season.
Today's match against Nashville SC could go a long way to calming – or heightening – concerns about the Sounders' ability to compete for MLS Cup. Nashville has endured a season not so dissimilar from the Sounders, but have at least been very good at home. They also have some legitimate stars and should be close to full strength.
If the Sounders can get a result in this game, it sets them up to make a solid run that could even result in them playing for a chance to win the Western Conference in the season's final game. A win would actually clinch a playoff spot. A loss, however, creates a scenario where the Sounders almost certainly have to win their final two home games to ensure home-field advantage in the first round.
Notes
The Sounders are 0-2-0 against Nashville SC all time, after a pair of 1-0 losses last year. It's the only MLS team the Sounders have played at least twice and never beaten.
Nashville are 6-1-3 in their last 10 matches at Geodis Park and have just nine home losses going all the way back to their inaugural MLS season in 2020. Only the Philadelphia Union (four) have fewer home losses in that time.
Hany Mukhtar has scored or assisted in 56 different games since the start of the 2021 season. That's four more than any other player in that time.
Absences: Injury, international duty and suspension
Seattle
QUESTIONABLE: Cody Baker (Concussion Protocol); Albert Rusnák (Illness)
OUT: Nouhou (suspension); Sota Kitahara (Left Quad Strain)
Nashville
QUESTIONABLE: Lukas MacNaughton (lower body injury)
OUT: Nick DePuy (lower body injury)
Officials
REF: Chris Penso; ARs: Cameron Blanchard, Meghan Mullen; 4TH: Marcos Deoliveira; VAR: Alejandro Mariscal; AVAR: Fabio Tovar
How to Watch
Match date/kickoff time: Saturday, September 30, 5:39 PM PT
Venue: Geodis Park, Nashville, Tenn.
Global Streaming English: MLS Season Pass (Callum Williams & Ross Smith)
Global Streaming Spanish: MLS Season Pass (Jose Hernandez & Pablo Marino)
Local Radio: 93.3 KJR-FM/950 KJR-AM Seattle, iHeartMedia (Danny Jackson & Steve Zakuani)
Local Spanish Radio: El Rey 1360 AM (Rodriguez, Maqueda, Tapia)
Is this game available to stream for free? N
Will Sounders radio be available as an alternate feed? N
Lineups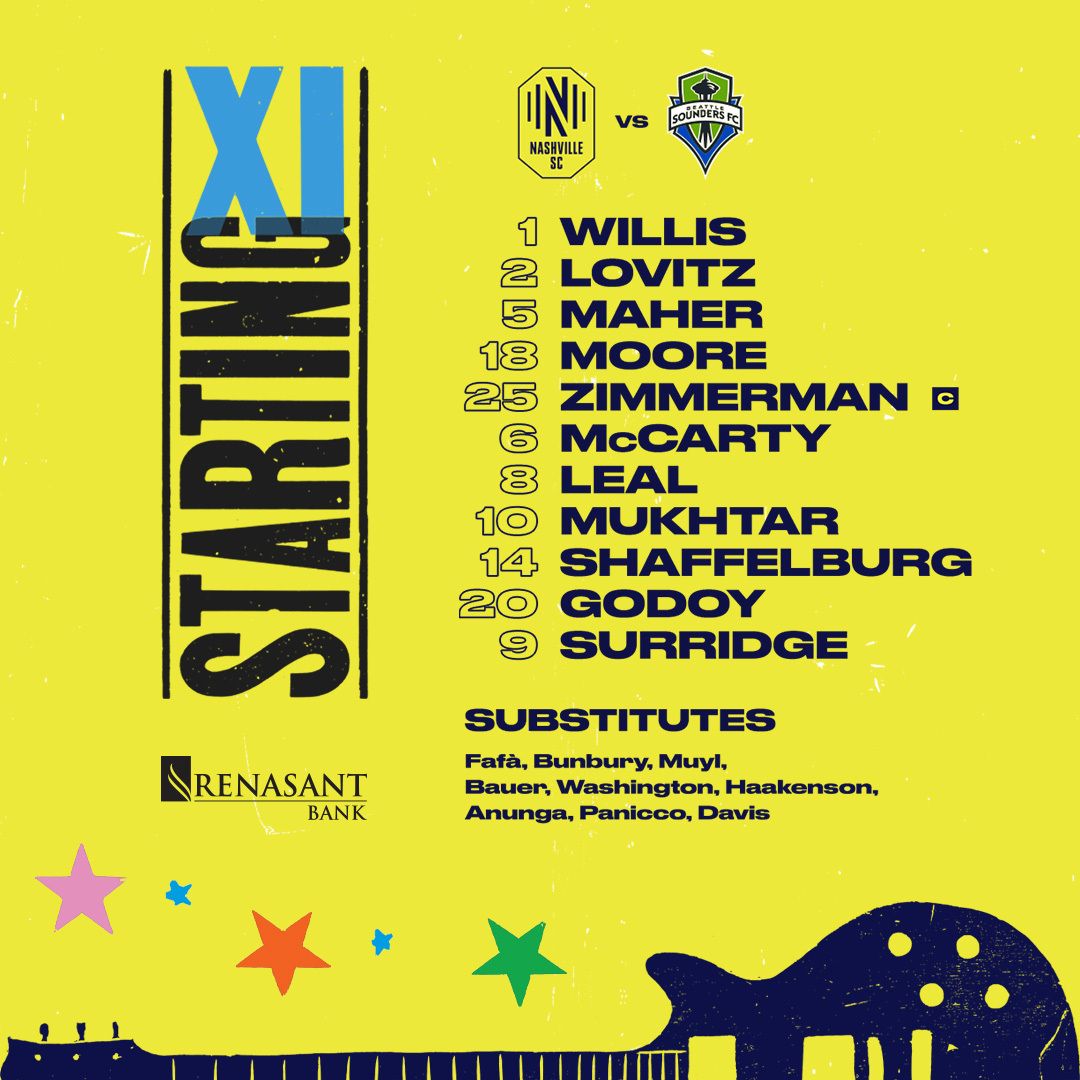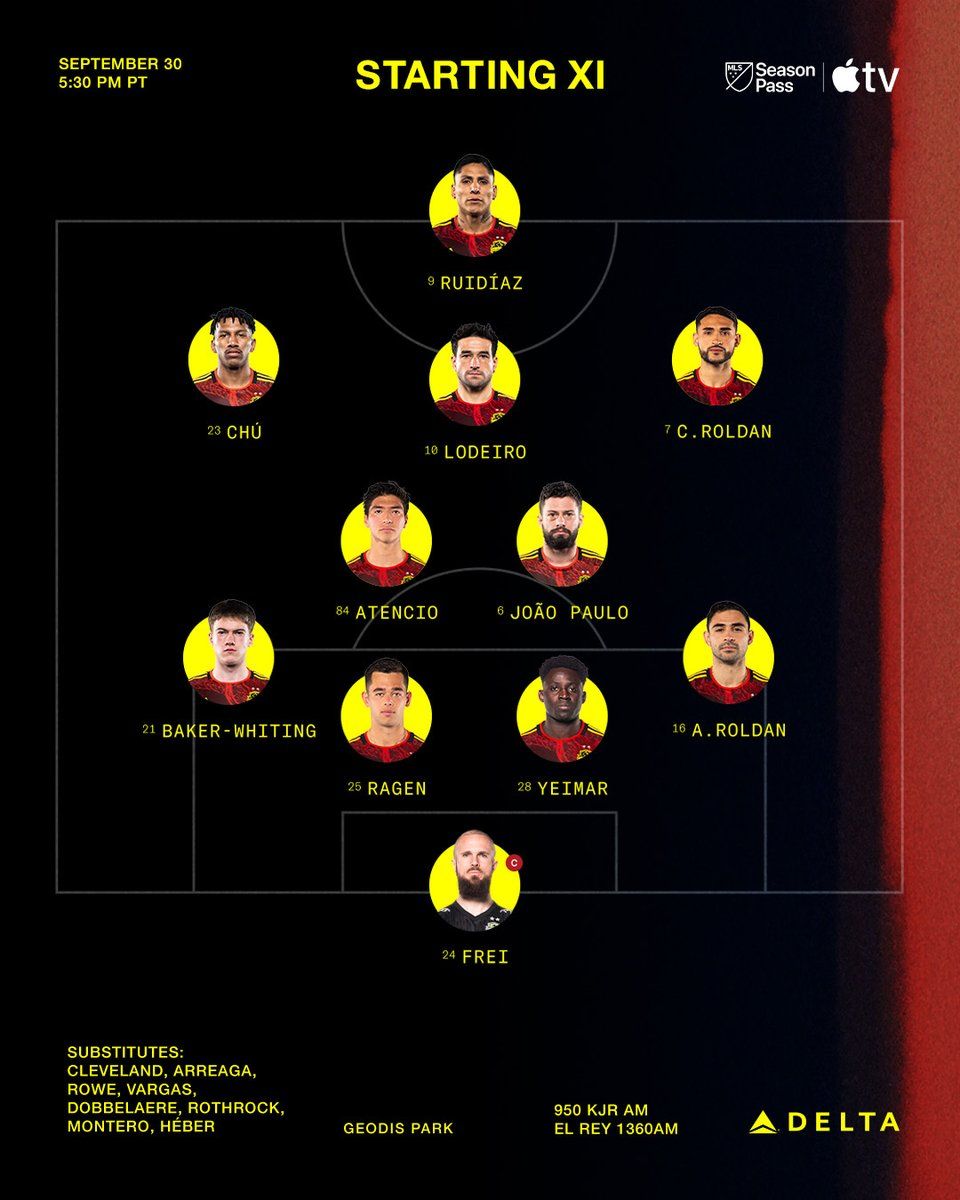 Highlights will be posted as the match progresses.
This is Seattle Sounders at Nashville SC; watch with us
Comments