On Wednesday evening, OL Reign hosts Racing Louisville in the NWSL Challenge Cup semifinal. The match kicks off at 7 PM PT and will air on CBS Sports Network, which means it won't stream simultaneously on Paramount+.
The winner will advance to the Challenge Cup final on Saturday, September 9 – facing the winner of the semifinal between the North Carolina Courage and Kansas City Current. Due to its kickoff at 9:30 AM PT, the final will be held at the home stadium of either the Courage or Current – despite the Reign earning the top seed.
A lot of money is on the line for the club and players. There's a $1.1 million prize pool to be split among all four semifinalists, with the largest portion going to the top two teams. That can make a huge difference for the players.
OL Reign will be looking to break a streak in knockout matches. They have been eliminated in each of their last seven knockout round matches in all competitions – unless you count their win against Racing Louisville last summer to win the Women's Cup. If their semifinal is tied after regulation, the game will head straight to penalty kicks to decide the winner.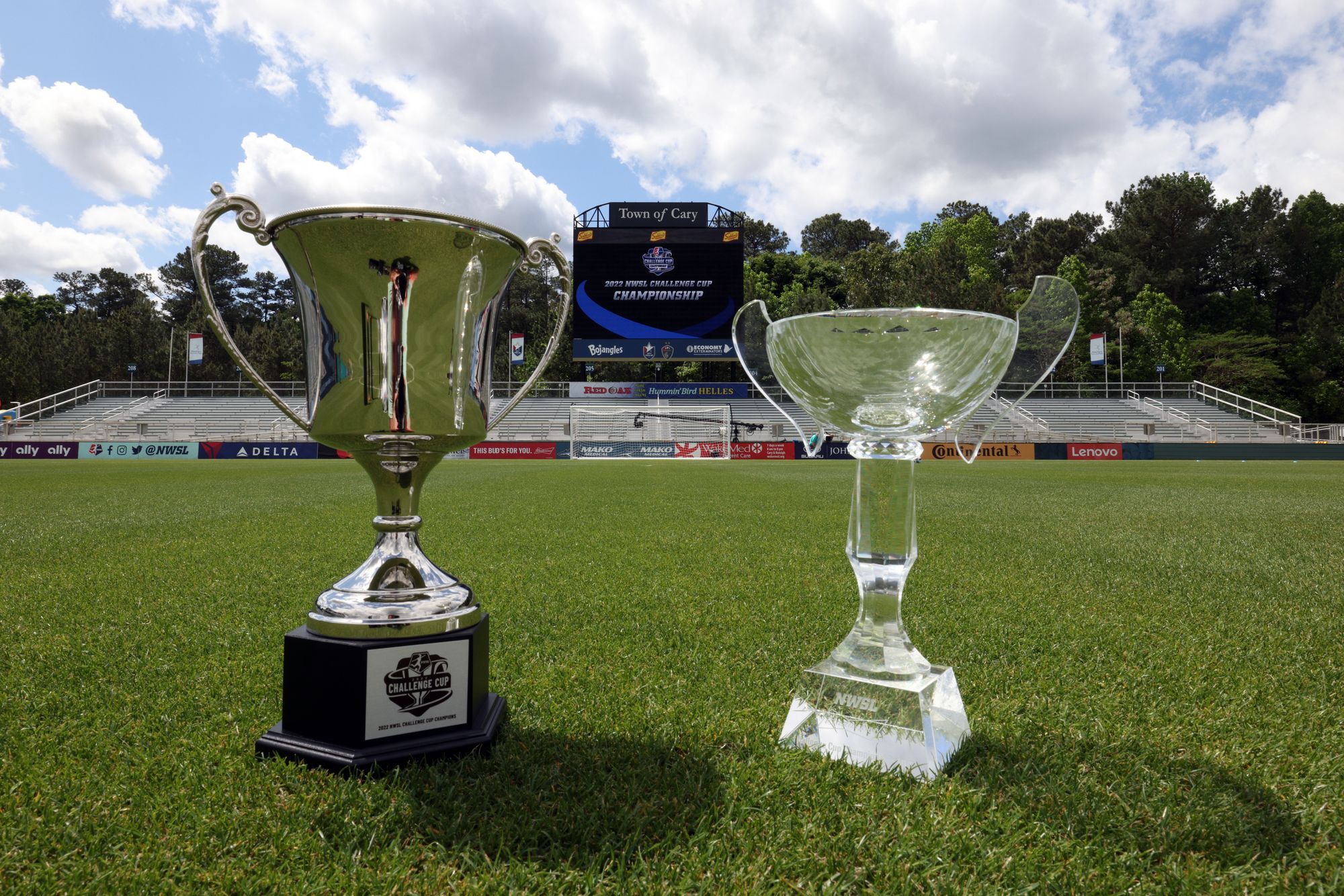 Expect a lot of rotation, as this week marks a tight turnaround for the Reign – who played Sunday afternoon and will travel across the country and play again on Saturday if they win. For the semifinal, the team will be without Bethany Balcer, who is still getting scans after getting injured last weekend, and Rose Lavelle, who has a leg injury of some kind.
Here's everything you need to know about Wednesday's semifinal.
Challenge Cup results
OL Reign earned the top seed in the Challenge Cup playoffs, going undefeated in their six matches in the West group. The Reign were 4-0-2, scoring seven goals and conceding zero. Zero!
Goalkeepers Claudia Dickey and Laurel Ivory each had three clean sheets, tying them with Louisville's Kate Lund for the most shutouts in this group stage – with Lund playing every minute so far in the tournament.
Louisville is the #4 seed, as they were the second-place team in the Central group – and more specifically, were the second-place team with the most points. Racing was 4-2-0, scoring 10 goals while conceding six.
Head to Head
The Reign and Racing Louisville really love to draw. OL Reign's all-time record against Louisville is 1-0-5.
The two times OL Reign has faced Racing Louisville this year, the Reign trailed 0-2 and came back late in the second half to earn a 2-2 draw.
What to Watch
Louisville's early pressure
Louisville has stunned OL Reign early in both of their matches this season, applying quick pressure out of the gates that the Reign struggled to handle.
"They come out of the blocks really quickly and they've done that in all the games we've played against them previously," OL Reign head coach Laura Harvey said.
In their match back in July, Racing Louisville collapsed on the Reign the second they played it into their midfield – closing down rapidly. Below are two examples.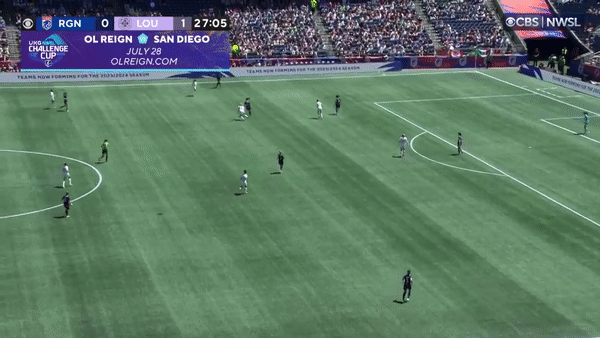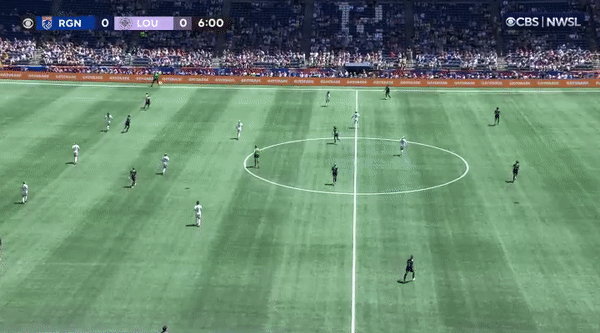 "Credit to them, I think they did really well with getting pressure on the ball and making it actual pressure, not passive," forward Veronica Latsko said after that July 1 match.
In a knockout match environment, and at home, OL Reign will want to flip that script and put Louisville under pressure early. And they need to show they're able to build around that pressure.
Balls in behind
The last time OL Reign faced Racing Louisville – July 1 – also marks the last time OL Reign has scored multiple goals in a match. When asked what the coaching staff is focused on to help the team be more dangerous in the final third, Harvey emphasized quick balls in behind Racing's defense.
"We haven't worked on anything because we haven't had time, but we've spoken a lot about things we need to get better at. Just being a threat in behind them early, not letting them get set. They're a good team when they get set, so trying to expose the spaces behind them quickly is a big opportunity for us."
That isn't just balls over the top, although hopefully Elyse Bennett starts and can be dangerous getting in behind. It's also about quick passing and decision-making so Racing can't get set and organized defensively.
On the flip side, Racing Louisville can get the ball into their final third at a rapid pace. They lead the league in Direct Speed, which Opta defines as attacks that start just inside the team's own half and have at least 50% of movement toward the opposition's goal – ending in a shot or a touch in the opposition box.
As you can see from their pass maps, Racing looks to their fullbacks to progress the ball quickly up the field – and then they have plenty of speed on the frontline to get the ball into the box. OL Reign will need to disrupt that wing play and put pressure on Louisville higher up the field.
Racing will be without their most effective progressive passer, as left back Carson Pickett is out with an injury.
Set pieces
With Savannah DeMelo's service and Abby Erceg's ability to win headers, Racing is a threat constantly on set pieces. They've taken the second most shots from set plays in the regular season (69 compared to 58 for the Reign), and have scored five times off those chances.
Louisville also scored twice on set pieces in the Challenge Cup:
Both teams have only conceded three set-piece goals this year, which will make this an interesting battle. Further adding to this tension, OL Reign was whistled for 14 fouls both times they've played Racing this year – just three away from their most across all competitions this season. They'll want to avoid fouls in dangerous spots on the field against Louisville.
---
Injury / Availability Report
OL Reign
OUT: Bethany Balcer (leg), Rose Lavelle (leg)
Racing Louisville
OUT: Taylor Alymer (suspension), Jordan Baggett (lower leg), Jordyn Bloomer (D45 – back), Jess McDonald (maternity leave), Carson Pickett (lower leg)
QUESTIONABLE: Jaelin Howell (hip)
INTERNATIONAL DUTY: Wang Shuang (CHN)
How to Watch
OL Reign hosts Racing Louisville at Lumen Field on Wednesday, September 6. The match kicks off at 7 PM PT and will air on CBS Sports Network. The game will also stream on the NWSL website for international viewers, but won't be on Paramount+ for fans in the U.S.
Comments