Ever since their earliest days in the NASL, the Seattle Sounders have always had a local flavor on their roster. With the Sounders' signing of Stuart Hawkins to a Homegrown Player contract earlier this week, I suspect we may be at a high-water mark.
At the very least, I'm sure it's the heaviest local flavor that the team has had during its 15 MLS seasons. But I also suspect no MLS team in history has had such a heavy local influence on its roster.
What's remarkable, I think, is that it's not just the 10 Homegrown Players the Sounders now have. It's that 15 of 29 players on the first-team roster either attended high school or college locally. This includes bonafide locals like Jackson Ragen, Paul Rothrock and Kelyn Rowe, but also players like Cristian and Alex Roldan who have effectively made this their adopted homes, who have now spent their entire adult lives in the region.
Theoretically, the Sounders could put together a starting lineup entirely made up of locals that doesn't even require anyone to really be out of position, something I seriously doubt any other MLS team could do: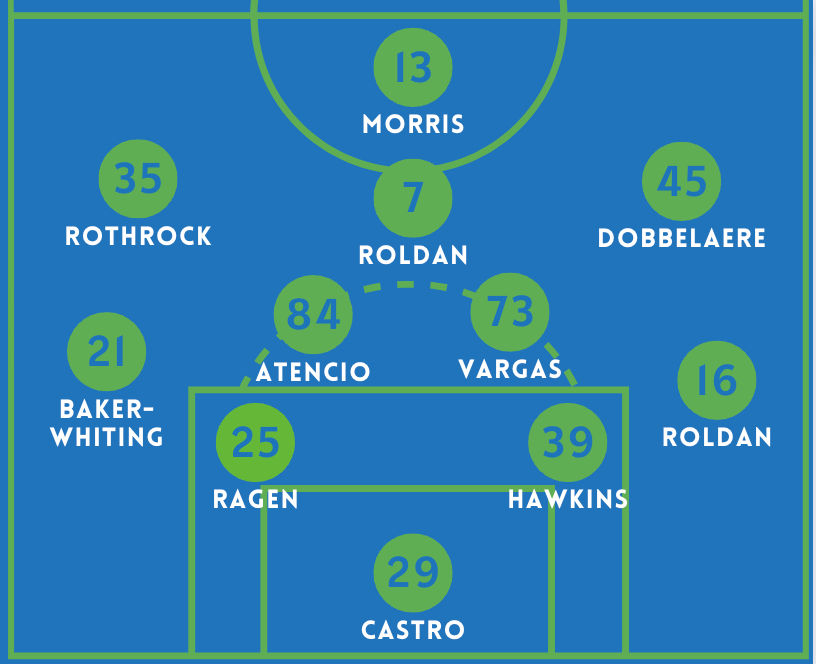 In addition to those 15, there are six additional Sounders who have been playing here for at least five years. Among that group is Stefan Frei, who recently built what he calls a "forever home" on Bainbridge Island, and Fredy Montero, who married a local woman, opened a local business, and has given every intention that he'll continue living here long after he retires.
While this might just seem like an interesting factoid, I think there's some general value in it. These players aren't just people with loose ties to the region, they are almost all players who have deep connections to the community. They are people who grew up here, created their most formative memories here, and/or established roots here. Combined with a good chunk of the coaching and front office staff, it's these kinds of connections that make the Sounders truly feel like a club.
Like most of you, I'm most interested in the Sounders filling their roster with players who will help them win, but throughout their history they've shown that stocking their roster this way is a feature of their special sauce.
- Jeremiah
Looking Back
Does anyone know what's going on in New England?
Bruce Arena resigned while under investigation. Player refused to train under the first interim coach, then there was a new interim coach, then the first interim coach was said to be the coach again, but this weekend the second interim coach is in charge for their game against Colorado. All the unanswered questions in New England may be good for former Defiance coach Chris Little, who is now the interim head coach for the Rapids. Colorado fans could use some good news.
Notes
Tonight is the MLS roster freeze. After 5 pm PT no team may add a player, not free agents nor domestic talents. Best I can tell, the Sounders will not be making any last-minute moves. Except in cases of extreme hardship, this is the roster that will be available for the stretch run and playoffs.
Sounders also have played the most Homegrown Players in 2023, and the sixth most minutes played by HGPs – and that doesn't count Jackson Ragen or Paul Rothrock, two players who came through the Academy and Defiance before entering the draft.
Matko Miljevic used to play for Montreal. Then they benched him. Then he started playing for an amateur side under a fake name. Then he punched an opponent, so now he can't play in that league either.
US Soccer revealed it's new strategic vision and is opening a new national training center in Atlanta.
Puget Sound Soccer
What are we watching this weekend?
Friday
Racing Louisville FC vs Houston Dash at 4 pm PT on CBS Golazo Network and Paramount+. Reign fans should root for Houston.
Real Monarchs vs Tacoma Defiance at 7pm PT on MLS Season Pass. Defiance have their last road match of the regular season. Monarchs are already eliminated from the playoffs, likely due to a meager two wins at home.
Saturday
FC Dallas vs Seattle Sounders FC at 5:30 pm PT on MLS Season Pass. The Toros have 4 points in their last three home games, while the Sounders have 4 points in their last three road games. FCD is injured and the fanbase is losing preseason expectations.
Portland Thorns vs OL Reign at 7:30 pm PT on CBS Golazo Network and Paramount+. It's Pinoe's last trip to Portland in the regular season. She played her college ball there, so the fans may be in a bit more of a welcoming spirit than typical for a Reign player.
Sunday
California men vs Washington at 2 pm PT on Pac-12 network. Might as well watch a match that's not going to happen again.
Comments