Looking at the 2023 Western Conference playoff race, you'd be excused for not really knowing what to make of things. Even after settling for a somewhat disappointing 1-1 tie with FC Dallas, the Sounders are still in third, one point behind second-place LAFC, one point ahead of the Vancouver Whitecaps, and two points ahead of the Houston Dynamo, Real Salt Lake and the San Jose Earthquakes.
Put another way, the Sounders are one game away from potentially moving into second or falling all the way to seventh. I think we can reasonably say that they are likely to make the playoffs and avoid the play-in round, but just about every other spot is pretty much in play.
If the season were to end today, the Sounders would be hosting 2 of 3 games against Real Salt Lake. In a near perfect encapsulation of the Western Conference, it's fitting that a month ago I'd have said this was a really rough matchup for the Sounders, but now I'm not so sure.
Heading into the Leagues Cup Round of 16 on Aug. 8, RSL was flying high. They had gone 6-0-3 in their past nine league games and were 8-1-3 overall, including dominant 3-0 win over the Sounders and a convincing win over defending Concacaf Champions League winners Léon. But in that day's game against LAFC, midfielder Pablo Ruiz tore his ACL and RSL lost 4-0 to bounce out of Leagues Cup. They've followed that up by going 1-3-0 in MLS play, with the only win coming over the last-place Colorado Rapids.
Looking at the Sounders' potential first-round opponents, I would say I'm reasonably close to agnostic about who they play. The one opponent I'd most want to avoid is probably LAFC, but that's more based on their upside than any recent performance. They're just 3-6-2 since beating the Sounders 1-0 on June 21, and that's only because they beat the LA Galaxy 4-2 on Saturday.
The hottest teams in the Western Conference, believe it or not, are the Houston Dynamo and Vancouver Whitecaps, two teams the Sounders have gone 3-1-0 against this year. The Dynamo are unbeaten in six (3-0-3), while the Whitecaps are 5-1-1 in their past seven.
The other likely first-round opponent is the San Jose Earthquakes, a team that has gone 2-0-0 against the Sounders. I wouldn't say they're a "good" matchup for the Sounders, but they're also struggling to put together anything like a consistent run.
Even the presumed top seed in the Western Conference – St. Louis City – has some significant flaws and are just 3-3-2 in their past eight.
I'm not going to try to convince you the Sounders currently look primed for a great run, but I'm not sure anyone in the West looks all that more convincing either.
- Jeremiah
---
Puget Sound Soccer
Defiance dominate while the top flight teams struggle
Defiance opened the weekend with a big win.
If you don't know the name Braudilio Rodrigues by now, you should. Kid is going places, whether with Seattle or not. He scored his 14th and 15th goals of the season in Defiance's 3-0 win over Real Monarchs.
Tacoma are fun, they pass and move smoothly, improving over the year. Defiance also score above the rate to be expected. Often getting a lead and then pouncing on the space offered to get another goal. Over their last nine games they've been held to only a single goal twice (PK win and a loss) and haven't been shut out since June 5 against San Jose Earthquakes II.
Wade Webber's side has one final match, against one of the better teams in the Pacific Division. Hosting Whitecaps2 at Starfire shouldn't be a challenge for Defiance. Now locked in at the second seed, Defiance will get the first pick of opponents in the first round of the playoffs.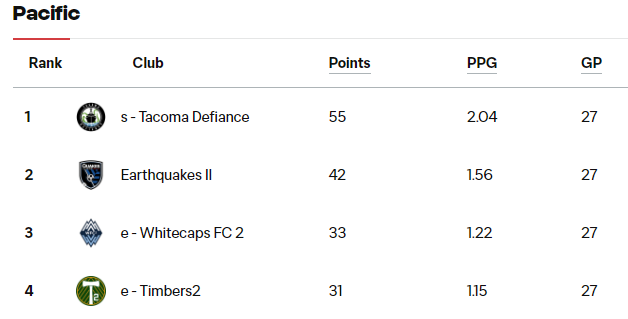 On the road, Sounders rescued a point.
Similar to the early part of the 2023 doldrums, Seattle was the better team in the loss. Much of that 'success' was due to gamestate. In the second half the Sounders created the chances necessary to rescue the point and unlike Dallas they attempted to win the game late (failing to do it, because that's the 2023 Sounders).
The MLS West continues to be quite tight. Seattle, even with its current performance could be the No. 2 team or even as low as 7th. They do have a gap over the play-in teams, but this week's two-match action on the road will set a lot of expectations.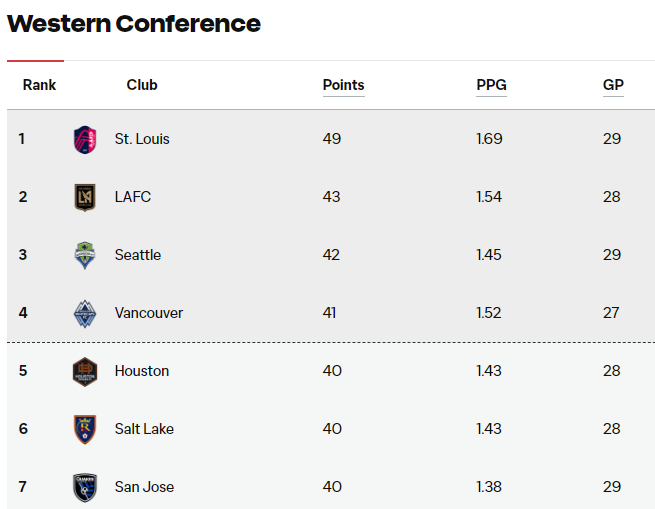 On loan keeper Andrew Thomas picked up a win with New Mexico United. He saved two shots and gave up two goals in the 3-2 win.
In Portland, Reign look poor in loss.
If someone could find OL Reign's offense that would be helpful. The group is struggling to generate chances and against their biggest rival gave up goals to former WSU Cougar Morgan Weaver.
With 166 touches in the attacking third you would think a team that started Rapinoe, Fishlock, Balcer and Huitema could get off more dangerous shots than they did.
"We've got to turn those moments where we could turn the screw into goals, or the season's gonna end the way we don't want it to." - Laura Harvey
The NWSL playoff race is tight. Pride, Angel City and Racing are within sight of the playoff line. Reign sit right in the middle of the teams that could get a bye and those that could watch the second season from home. They still control their own destiny. If they sweep the final three matches they probably skip the first round. If they lose all three they might still sneak into the playoffs. (Sports Club Stats)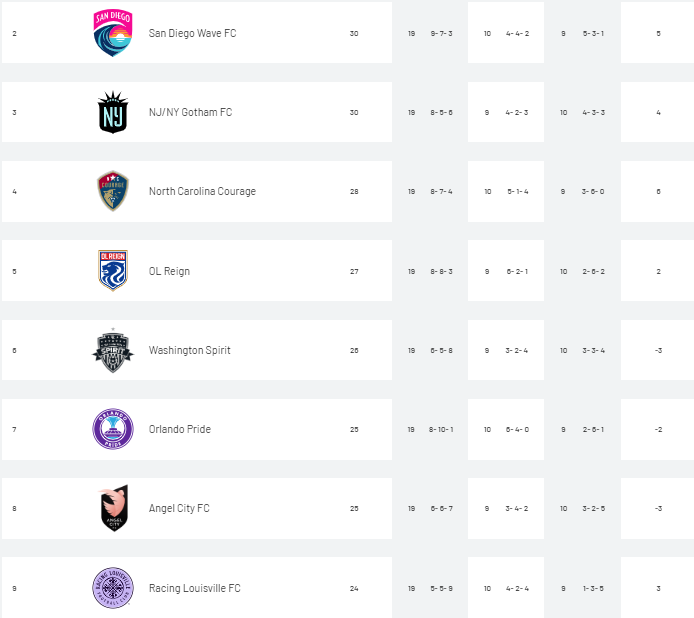 Looking Back
Sarah+Ravi= src ftbl; Vanni Sartini is so quotable; Reading fans protest with tennis balls
Once upon a time Sarah Rudd and Ravi Ramineni were soccer bloggers. Then they took different routes to working for soccer teams as professional stats nerds. Rudd with Arsenal and Ramineni with the Sounders. Now the two have formed their own company to help football teams around the world understand the data behind the game's magic.
Vancouver is charging up the standings while having one of the funnest quotes in coaching.
"It's not only playing Wednesday, Saturday, and traveling, it's also playing in Houston where it's going to be hot and humid, and then the next game is in altitude [at Real Salt Lake], and then the next game is even more in altitude [at Colorado Rapids]," concluded Sartini.
"So, it looks like we are in a video game and every game is a different level – it's more difficult, and more difficult and more difficult. I'm Italian, so I'm thinking about Mario, so let's arrive at the princess at the end; that's qualification of the playoffs and [finishing] top four."
Matt Doyle's recap of the week's action deserves your eyeballs too.
Reading fans threw 224 tennis balls on the pitch in protest of ownership. The match paused for two minutes. Reading won, but are in their second season being docked points for financial missteps. They are currently 21st in England's League One.
Will Bruin suffered a nasty concussion in Austin's 2-1 loss to the Portland Timbers.
Comments