Laura Harvey always likes to say that goals change games, but this weekend you could take that one step further back and say it was red cards that changed the narrative of both games at Lumen Field. Léo Chú's sending off, followed by five minutes of hell for the Sounders defense, undid a dominant first-half performance by the home side. The next day Orlando had the Reign pinned on their heels to start the game, only for Pride goalkeeper Anna Moorhouse to make an extremely ill-advised challenge on Bethany Balcer during the Reign's first foray into her end of the field. Narratives abruptly changed.
While the Sounders now have a week off to regroup, make adjustments and build on the positives from last week's three matches, the Reign have a quick turnaround to the Challenge Cup knockout rounds and a chance to win some silverware in the coming days. To accomplish that they must first figure out Racing Louisville in a semifinal match at Lumen Field on Wednesday (7 pm PT/CBS Sports Network).
Reign and Racing have a weird history, drawing their last five regular-season meetings. That won't be an option on Wednesday. The victor will head to either Kansas City or North Carolina for a very early Saturday kickoff for the final (9:30 am PT/CBS), while the loser will have a weekend off to rue their missed opportunity.
Wednesday also marks an opportunity to change the narrative about the Reign in knockout competition. We all remember them losing a heartbreaker at home to Kansas City in last year's playoff semifinal. And at the start of 2022, the Reign were forced on the road in the Challenge Cup semifinal due to the Sounders Champions League run, where they fell to the Washington Spirit in 10 rounds of penalties. Heartbreak.
Back to the 2021 season – the Spirit knocked the Reign out in the playoff semifinals on a last-minute Ashley Sanchez goal at Cheney Stadium. Heartbreak. The 2020 Challenge Cup – a heartbreaking penalty shootout loss to Chicago in the knockout round. 2019, a massively injury-depleted Reign squad traveled to North Carolina for the playoff semifinals and forced extra time thanks to an Ify Onumonu equalizer in the 3rd-minute of second-half stoppage time, but then ran out of gas and conceded three in the extra frame. Heartbreak. We won't speak of the 2014 and 2015 Championship games, except to say I'm glad Amy Rodriguez is now retired.
Wednesday is a chance to change all that. Tickets are available for as low as $10. -Steve
---
Puget Sound Soccer
A speed run through what happened with the local pro sides and occasional mentions of other teams.
Four-point week moves Sounders up to 2nd/4th - math is hard
At this time, whether you stare at the standings based on points earned or points per game, the Sounders are a team that will have homefield advantage in the first round of the playoffs. That means a home game, and possibly two in that round.
With the change to the playoffs for this year, because MLS changes playoff formats like colleges change athletic conferences in the 2020s, that first round is a three-game series with the higher seed hosting games 1 and 3. That's supposedly an advantage, because normally playing at home is.
But that's only barely an advantage for this version of the Sounders. When they take leads at Lumen Field they can't hold them. When they fall behind they struggle for the point. It's not that they lose a lot. The club has only one home loss in the past six played in SoDo. But they don't win a lot, either. They also have just one home win in their last six. Over their past six home games they are the 13th best team in the West. Only pre-Messi Miami, pre-Herdman Toronto and San Jose are worse at home.
All their issues with home performances and the dichotomy of what they can do on the road, showed up in their five-point week.
Against Austin they showed some brightness, flair. They felt like a club willing to win. Against Portland, in the second half, down a man too quickly, they felt like a club afraid of the ball. The game no longer flowed.
Now, there's plenty of reason for hope. The goals scored during the week were repeatable. The mistakes defensively uncommon in 2023. If the scoring trio of Jordan Morris, Léo Chú and Raúl Ruidíaz can turn the week's performance into their standard during the run-in Seattle should be able to turn their month-long road trip into confidence and hope for not just a decent seed, but the possibilities of a conference title, because the West remains beatable – all of it.

The Sounders are off this weekend, as there is an international break. Raúl, Nouhou and Alex Roldán are hanging out with their national teams while the rest of the club mixes time off and training into the two-week break.
Reign earned a 1-0 win Sunday
Up a player for 88 minutes plus stoppage time, OL Reign struggled to break through a solid Orlando Pride defense. They may also have lost Bethany Balcer, who was taken down by the Pride keeper in that second minute. Jordan Huitema entered for the injured Balcer and scored the winner early in the second half on Reign's best chance.
That win kept Reign inside the playoffs. San Diego's win puts them back on top of the table.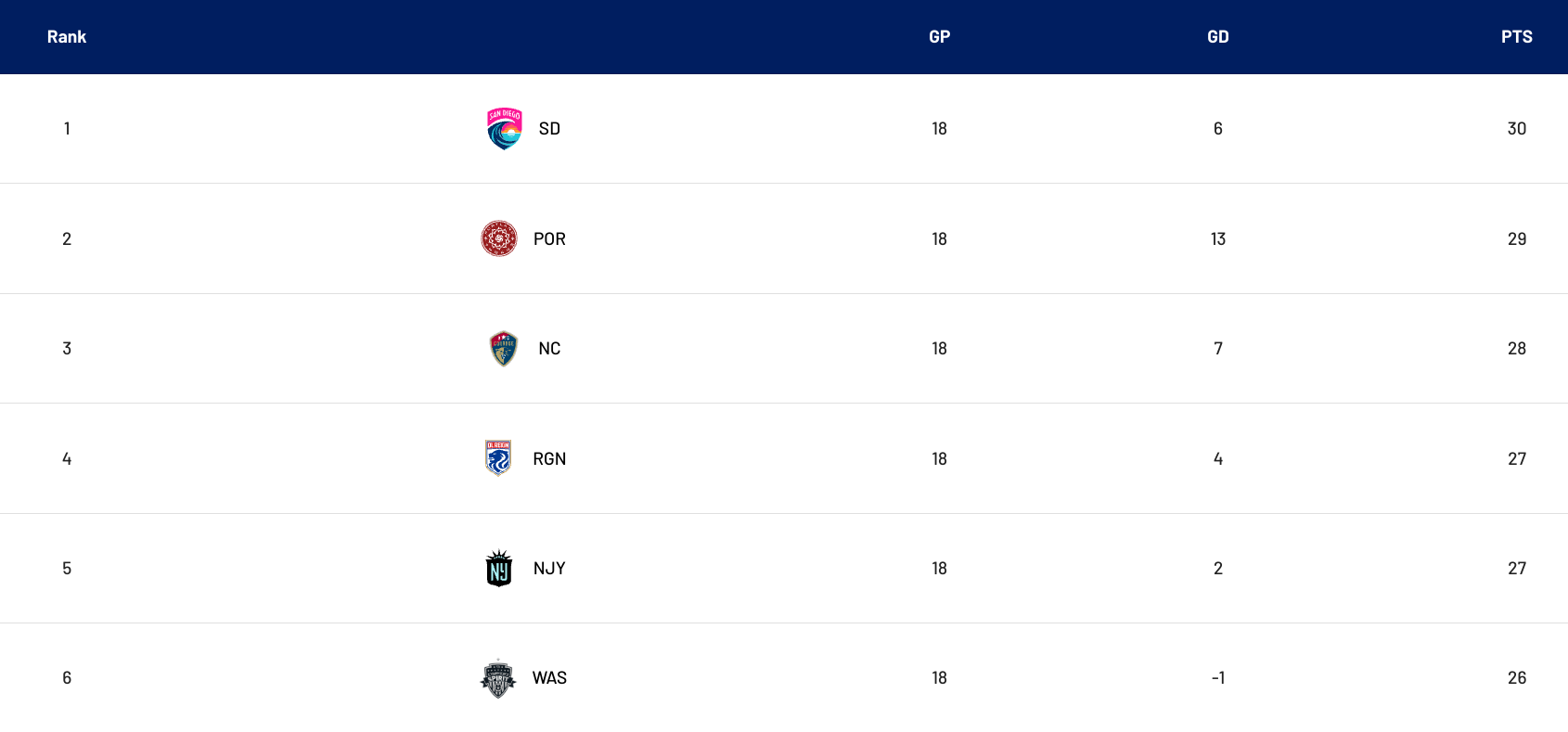 The World Cup attendance bump continues.
Reign play in the Challenge Cup semis Wednesday at 7 pm PT at Lumen Field (CBS Sports Network). If they win they play in the Cup final on the road on Saturday, otherwise they are then off for nine days.
Defiance play tonight
Hosting Timbers 2 at Starfire Stadium (MLS Season Pass) at 8 pm PT, Wade Webber's team will clinch a playoff spot with a victory. They should be supplemented by several first team players due to the gap since the Sounders 2-2 draw and the long MLS layoff.
Looking Back
Chicago Red Stars sell for $35.5 million and promises; Orlando City sells star forward, loses backup to injury; Andrew Thomas debuts for New Mexico United
Chicago Red Stars finally found a new owner, one with strong connections to Chicago. Part of the purchase was a commitment to spend $25.5 million on the team in the future – most of that will be toward training facilities and boosting the standard of off-field care the players receive. Portland Thorns and OL Reign remain up for sale, with OL Grup needing to hit a real number of $50+ million to be able to balance their own books. A hard bargain when the Red Stars sold for two-thirds of that. John Textor's debt-laden purchase of Lyon continues to go poorly on the field, too – Lyon men are 18th of 18 after four matches.
One curse of the non-interlocked transfer windows the world over is that when a club sells to a league with windows open, but their own window is closed, that makes replacing the loss quite difficult. Orlando City learned this the hard way when they sold Ercan Kara to Samsunpor. Duncan McGuire left the pitch in the 27th minute due to injury. Orlando lacks the depth to deal with an injury crisis.
Andrew Thomas started for New Mexico United just days after his loan began. Thomas faced off against former Sounder Trey Muse, who is now with the Charleston Battery. Muse earned his 10th shutout in the 1-0 win by the Battery. Thomas put up strong peripheral numbers as the Black & Yellow attempt to make the playoffs. NMU sits two points below the playoff line.
Media Cup side with most Sounder at Heart staff wins again
Congratulations to Jeremiah, Max and contributor Niko on their victory over Tim.
Comments