Megan Rapinoe's final regular season home game was one for the books as a brand new NWSL single-match attendance record of 34,130 was set as part of saying goodbye to a Seattle and global sports icon in a match which saw OL Reign and Washington Spirit play to a scoreless draw.
---
WHAT WORKED: THANK YOU, PINOE
Beyond the attendance, there has been no shortage of people giving Megan Rapinoe her due flowers on an accomplished and surreal playing career. The video tributes pre- and post-match were on point. The "Thank You Megan," choreo from the east stands was executed wonderfully.
We have said our own words of appreciation for the 11 years she has worn a Reign jersey, the countless insights about the beautiful game, and how she as inspired so many of us to become better, find our authentic versions of ourselves.
It was great to see the region show up and show out to collectively say, "Thank you, Pinoe."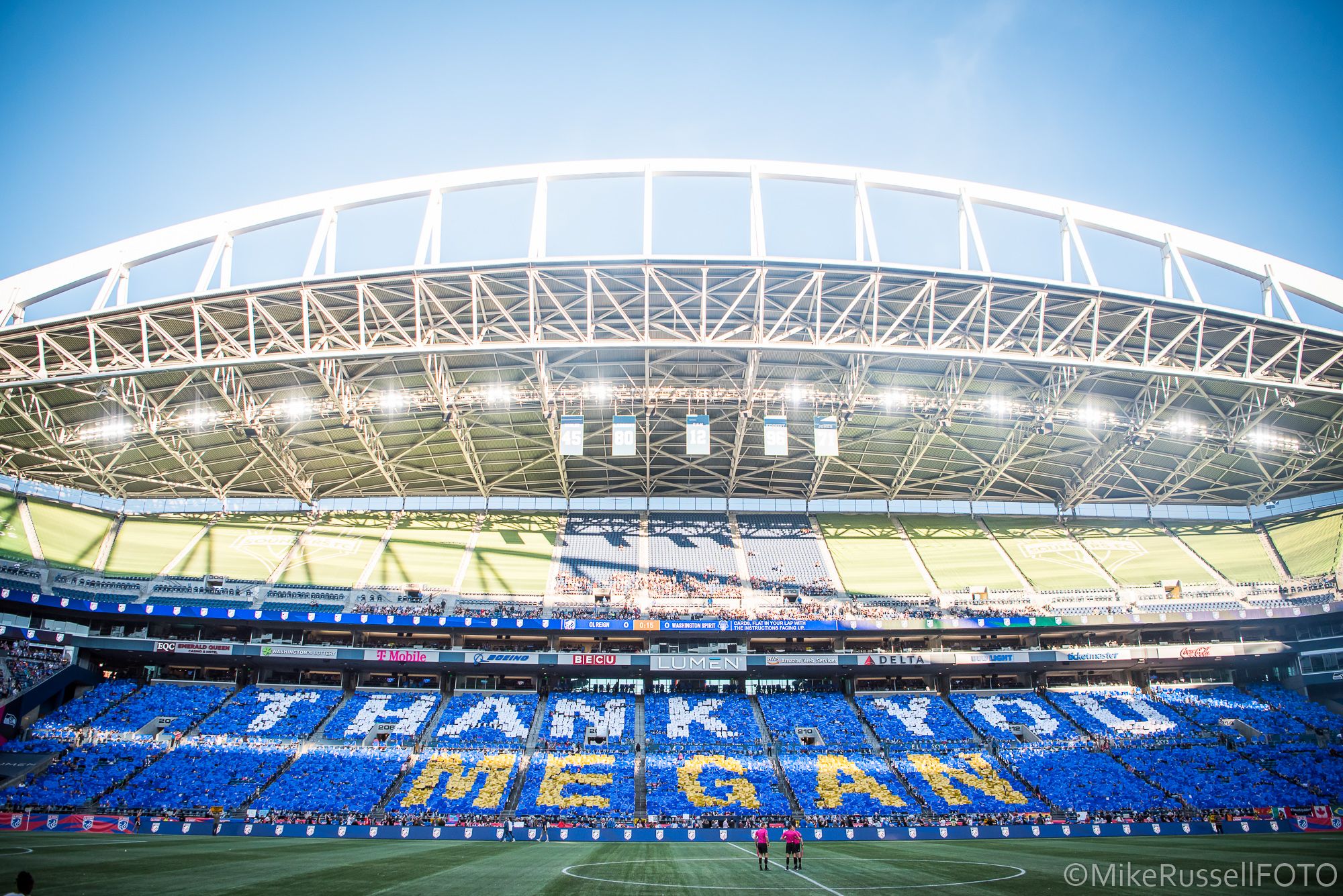 WHAT WORKED: 34,130
Speaking of showing up and showing out, 34,130 of you did exactly that!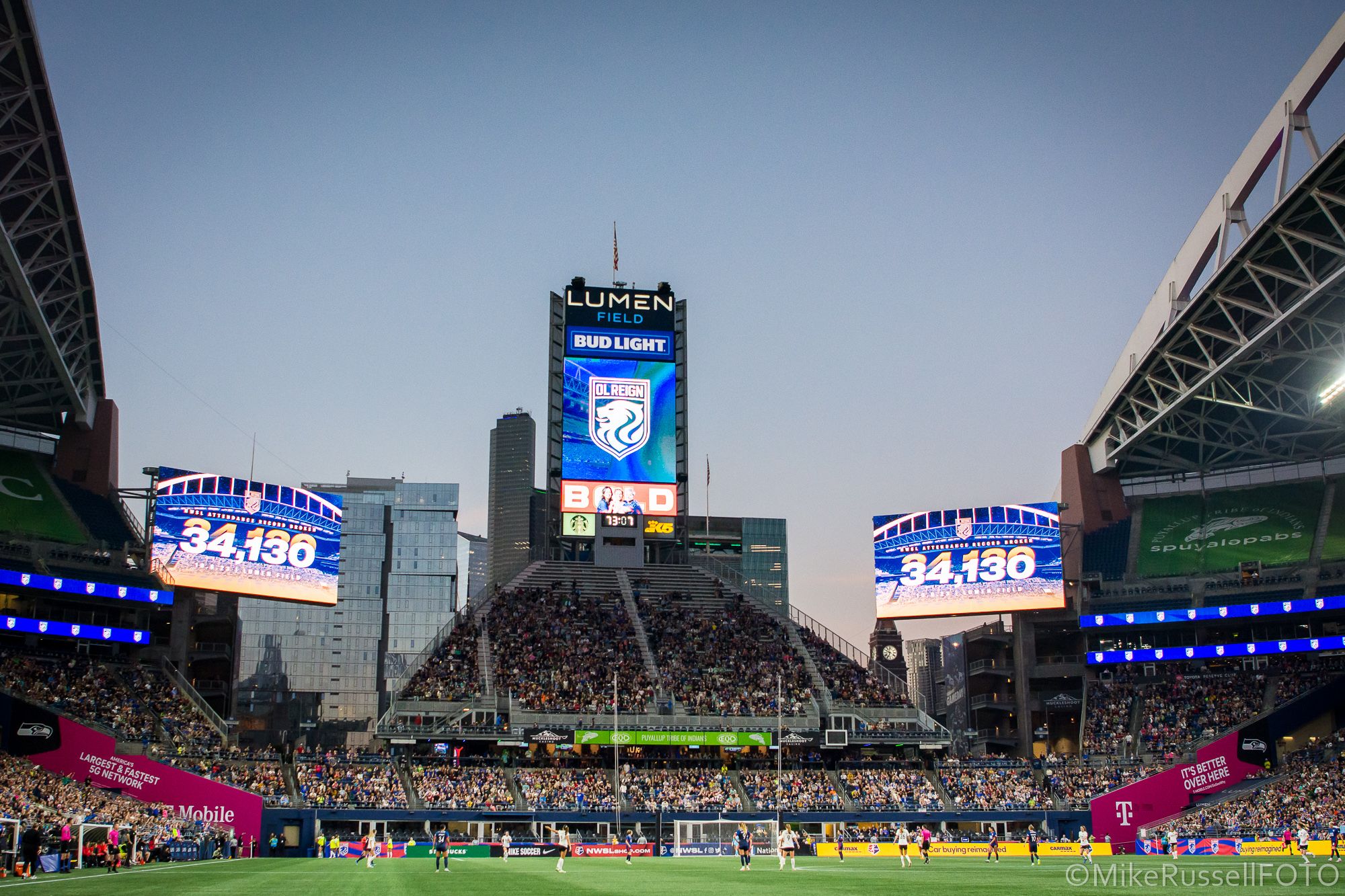 WHAT WORKED: DEFENSIVELY TIGHT
OL Reign preach about team defense as the real foundation of their attack, and unlike the past few matches where a slip led to a goal conceded, throughout this whole match their structure remained solid. From kickoff to full-time whistle, the team defended as a collective unit with clear communication and not a moment of panic.
Goalkeeper Claudia Dickey, who had a bad moment last week against North Carolina Courage, made some massive saves to keep it scoreless – especially in the final minutes of the match.
---
WHAT DIDN'T WORK: SCORING GOALS
"Goals change games," as OL Reign head coach Laura Harvey has made it her motto.
Yet, when it mattered the most to get closer to qualifying for the NWSL Playoffs, the Reign were not able to find the back of the net. The lack of quality on the final ball has been a problem for the club over the course of the season and it continued this night, meaning the Reign will have to wait until next weekend's decision day to know whether Megan Rapinoe's career will continue for at least one more playoff game.
---
"It's hard to put into words"
Always known to be loquacious, Rapinoe really could not find the words at her post-match ceremony, or in the post-match presser, about the magnitude of the occasion for so many people to see her one last time at an OL Reign home match.
"Spending so much of my life here and such an important part of my life here and just this one club with these people, I didn't even see it while it was happening today, there was so much going on, but to see the way that this city showed up and to express that... gratitude or love towards me is really special. It's really overwhelming and I don't really know how – it's like, I know that I'm a well-liked figure and an important person in this game – I'm not trying to minimize that or try to play to humble, I do know my impact – but it's one thing to know it and then another thing to really feel it and see it and see some of the signs and see pink wigs and just see what that means to people. So yeah, it's hard to put just this kind of deep sense of gratitude and joy and thankfulness for being able to have a moment like this into words, I think that's kind of the hardest part – who do you thank? Literally everybody, I couldn't look out in front of me; there was like 100 people, friends, family, former teammates, teammates, people that I've worked with, people that I love very much. So yeah, you either talk for like five minutes or like 105 minutes, so I tried to keep it at that today," she remarked.
"It epitomizes who are are to this group."
OL Reign last played on Sunday, five days ago. Yet with short turnaround between matches, the gravity of celebrating Rapinoe's career, and still chasing a playoff spot, there is still very much a standard that every Reign player has to meet and it should be no surprise that it starts with the Reign Originals in Rapinoe, Fishlock, and Barnes. Here's what Fishlock said after the match about creating and holding that standard for the younger players.
"I think we have to show out. It's really non-negotiable. We're trying to communicate and sometimes screaming to cause fear in those moments, and we didn't get the win today, but there was a lot of stuff today in our group specifically that I've been missing a little bit, we've been lacking in certain areas and I felt like today was the opposite of that and I'm not talking about a football perspective, I'm talking about togetherness, communication, work rate, working for each other, just doing what we've always done.
"This season has been so weird, it's been so stop start, so up and down, injuries left, right and center. So, it's important that we show up and specifically in these moments and I felt like – question sometimes how it is for Meg right now to have everything and then try to enjoy it, but also try and go out and not fail to perform whilst also knowing that everyone is here just to watch her play and also, we're still a team that needs her to play and to perform at a high, high level and she does. She's about to retire from one of the best careers I've ever seen and she still shows up, today, trying to drag us through these games. It epitomizes who we are to this group and how, I think, lucky people are to be able to watch this and feel it and see it. She still does it for us and we do it for the group and that's our job and I think that today really epitomized that, also, more than anything."
"This is a special place to be."
While OL Reign head coach Laura Harvey was proud of the team's collective defensive effort in keeping a clean sheet, praising the shifts put in by Phoebe McClernon, Ryanne Brown, and goalkeeper Claudia Dickey, Harvey did have some poignant words about the crowd, setting a new NWSL single-match attendance record and how it shouldn't take the retirement of an all-time star player like Megan Rapinoe to come out to a match, as much as she deserved her flowers tonight.
"If I'm not thinking about football, it was amazing. I'm trying not to be emotional about it, but it's hard when you think of what it means for the club – having [34,130 fans] here. It frustrates the hell out of me that it's taken Pinoe to retire for that to happen because we've had her for 10 years. But, I think it just shows people want to watch us play, they want to watch these players play and we have to capitalize on that – that's the biggest thing for me is, all of this means nothing if we don't capitalize it and that's something that Pinoe has lived by. She has wanted to make the places that she's a part of a better place for now and for the future and if we want this club to be where we want it to go and what we all believe it should be, we have to get these people back, and if we don't, we're letting Pinoe down, we're not letting anyone else down.
"If there's a message from it, that's my message it – we have to make sure people come out and watch this team play, because that's what's going to push us to the levels that we want to go to, and I will say until I'm blue in the face – this is a special place to be and I've always believed that when you get a taste of it and a lot of you have been on this journey with us, you don't want to let it go, you want to come back to it. So, I think that's my overall emotion about the whole day is, this is amazing, but let's not lose sight of what it can be in the bigger picture because we need to push this thing on. If we can have 34,000 on a night like tonight, why can't we get that all the time? Let's go out and make that happen," said Harvey.
---
The draw keeps OL Reign sixth in the standings, barely holding on to the final NWSL Playoff qualification spot. Results around the league the rest of this weekend will most certainly shape OL Reign's path to postseason play, as much as they still control their destiny. However that picture is going to look, it will come down to the final weekend at Chicago.
OL Reign close out the NWSL regular season on the road at Chicago Red Stars next Sunday. For the first time ever, all six games on the final weekend will be played simultaneously. Kickoff is scheduled for 2 PM PT and will be broadcast on Paramount+ in the US, while international viewers can watch on NWSLsoccer.com.
Comments