Ending the season on a high note, the Sounders traveled to Missouri to play Western Conference-leading St. Louis City SC. Like the match in Seattle between these teams, it was a one-sided affair, with Seattle dominating en route to a smooth 2-0 win. Showcasing some of their most complete soccer play all year, the visiting Sounders consistently had the best chances, and St. Louis earned more shots but fewer real opportunities. A well-worked early goal was followed by intense pressure creating a second goal before the half. Seattle was unable to add to the scoreline in the second half, but the stout defense held on for the team's record 14th shutout.
---
Goalkeeper
Stefan Frei – 8 | Community – 8.0 (MOTM)
FOURTEEN. Fourteen shutouts on the season to lead the league from a guy who has barely sniffed a GKOTY vote in all his years in MLS. St. Louis had 16 shots, but only five on goal. By the transitive property of goalkeeping, that means Frei had five saves.
One thing I liked: FOURTEEN shutouts! This one required a nice save through traffic in the 29th minute and a 49th minute dive to his right to ensure a shot didn't trickle through.
One thing I didn't like: Frei scarily fumbled the ball in the 2nd minute and nearly started the game off horribly. He had a similar mistake in the 35th.
Going forward: Overwriting his own name in the record books, Stefan is in a strong contract negotiating position.
Defense
Reed Baker-Whiting – 7 | Community – 7.3 (off 59' for Nouhou)
Reed did a little of everything in this match, showcasing strong defensive skills plus some excellent offensive patience, combining with teammates on both ends of the field. He had 77 percent passing on his 45 touches, added three tackles defensively and put pressure where it counted in creating a goal.
One thing I liked: In the 37th minute, Reed did it all. With great anticipation, he earned possession by intercepting a pass, drove forward in the attack, worked a give-and-go, and put a dangerous cross in from a hard-to-defend angle. The pass took a fortuitous deflection and gave Seattle the 2-0 lead they would hold until the final whistle.
One thing I didn't like: A 28th minute defensive turnover required some vigilance from Jackson Ragen and ended out of bounds for a corner kick against. Seeing RBW come off the field in tears was a gut-wrenching moment as he looked to have a hamstring injury. Let's hope it's a mild issue.
Going forward: Had he played only half as well, I'd be writing about how RBW is the future at left back, but at this rate he may not be in Seattle for long.
Jackson Ragen – 7 | Community – 7.5
Ragen was a steady presence in the back, playing almost perfectly with his positioning and distribution and making smart choices throughout the match. He mainly stayed home centrally, had 59 touches, and completed a sparkling 96 percent of his passes, including 6/7 on long balls.
One thing I liked: In the 74th minute, St. Louis broke out with pace and it was tremendous 1-v-1 defending from Ragen to single-handedly stop the break. His calmness in the back made it easier to deal with the up-tempo pressure that the opponents brought in their attacking third, and his four tackle, five clearance game was a big reason the team kept the shutout.
One thing I didn't like: Ragen had a few miscues, like letting a 37th minute cross dangerously bounce in the box, and getting beat in the 71st on defense.
Going forward: Ragen may have been passed over for some of the national awards, but he's been a complete player this year.
Yeimar – 7 | Community – 7.2
Yeimar had a similar outing to his central partner Ragen, with 46 touches and a lot of stellar defense (two tackles, five clearances). His passing remains just okay at 79 percent, as Seattle smartly fed the ball to others and let Yeimar cook on the defensive end. Using his superior size and speed, he broke up nearly everything STL wanted to do. Yeimar was the main player matched up with the imposing João Klauss, and he limited the striker to three off-the-mark shots all match and a dreary 67 percent passing when attempting hold up play.
One thing I liked: A 27th minute interaction was brilliant defense, as Yeimar single handedly thwarted St. Louis on three separate attempts by multiple players to attack in behind. They kept trying and he kept denying.
One thing I didn't like: Yeimar received a yellow card in the 18th minute; this was the direct result of his own poor pass being stolen, forcing a clumsy lunging attempt to regain possession.
Going forward: The combination of Yeimar and Jackson in the central defense limits other teams to chances few and far between.
Alex Roldan – 6 | Community – 6.7
Alex Roldan had a quiet game compared to his usual influence, although he still impacted the match on both ends of the field. He did have 73 touches as Seattle balanced the attack through the wings, but the younger Roldan stayed more defensive to offset the numbers that the home team was throwing forward in transition. He had two tackles, an interception and a clearance, while being a critical transitory piece in Seattle's possession.
One thing I liked: Having Seattle score twice and look dynamic all over the field without relying purely on Roldanery was a positive, as Alex played within himself. This meant he only attempted three crosses and instead of forcing the ball into the box, he combined with teammates to create high level opportunities.
One thing I didn't like: Alex struggled early, with some terrible passes including a 5th minute header to the middle of the field right into a dangerous St. Louis attack. Five minutes later he had another awful turnover as Alex did not play well for the first third of the match.
Going forward: The Broldans are so good at just soccering, letting the game come to them without forcing plays.
Defensive Midfield
João Paulo – 7 | Community – 7.3 (off 80' for Vargas)
João, as usual, did some of everything and did it all well. As we have come to expect, he had 62 touches, 84 percent passing, a shot, a key pass, and three tackles. He connected through the middle, brought defensive intensity to the center, and consistently filtered the ball to the attacking wings.
One thing I liked: Ever the complete game player, JP was a perfect 5/5 on long balls, constantly finding outlets to switch and stretch the field. At the same time, he led the match with a fantastic eight clearances defensively.
One thing I didn't like: JP seemed to play more defensively with Josh Atencio on the field, and against St. Louis he was often disconnected from the front group and forced deep near the defensive line.
Going forward: While neither JP nor Josh had mind boggling stats, the engine of this stellar all-around performance was the two-way play of the defensive midfielders.
Josh Atencio – 7 | Community – 6.9
Atencio returned to the starting lineup in what may finally be the preferred defensive midfield pairing, and the Sounders dominated on both ends of the field. With Josh pressing high to add attacking numbers, he earned a shot and a key pass to go with 56 touches. He didn't skip his defensive duties either, with three tackles and consistent pressure to deny central penetration by the opponents.
One thing I liked: So many little things he does add up to critical moments in Seattle's favor on both ends of the field. A great example was his 5th minute pressure that forced a turnover right to Cristian Roldan, who alertly first-timed Jordan Morris in behind.
One thing I didn't like: In the 13th minute, Josh was beaten to a ball in the box, and there were a number of occasions his reaction time was a hair slow. His 87th minute attempt to disrupt a counter attack was good in theory, but his rugby tackle didn't stop play and earned him a card anyways.
Going forward: This pairing lifts the Sounders' chances of winning matches by simultaneously improving the offense and the defense.
Attacking Midfield
Léo Chú – 6 | Community – 6.7 (off 80' for Lodeiro)
Earning three shots and two key passes from his 39 touches, Léo was a consistent vertical threat who linked up with Albert Rusnák and Morris to push Seattle forward and force St. Louis to adjust defensively. He smartly understood the movement of teammates, adjusting his positioning very wide to create the space for underlapping runs and connected movement of the central midfield players.
One thing I liked: Direct and dangerous, Léo looked to get in behind, cut to the middle, and everything in between. His constant threat spaced the field and provided gaps that Seattle attacked into. His unselfish pass in the 37th minute to an underlapping RBW helped facilitate the second goal. His goal-bound shot was saved off the line in the 48th minute.
One thing I didn't like: Chú struggled with his decision-making a few times, first passing instead of shooting in the 19th minute when presented with an open opportunity, and then missing an open Morris run in the 40th.
Going forward: It's commonplace now for him to create two or three big chances every match. That's a lot more rare in this league than you might think.
Albert Rusnák – 8 | Community – 7.5 (off 87' for Arreaga)
Rusnák started in the middle and showed how fantastic he is as a facilitator, constantly finding teammates, bringing others into the attack, and following up himself to overload the box and create opportunities. He had two shots and a key pass, scored a goal, and completed 86 percent of his passing attempts. His movement opened up spaces for the defensive midfielders (and the left back) to dash through, and he also got forward to overload the box with attacking options.
One thing I liked: After finding teammates for much of the match, it was Cristian Roldan who found him in the 23rd minute, and Rusnák made a tough finish look mundane. Allowing the ball across his body Albert first-timed a left footed shot into the lower far post in a perfect shot that gave Seattle the lead.
One thing I didn't like: An 8th minute corner kick was dreadful as Seattle continues to look for any consistency on set piece delivery.
Going forward: As everyone expected Rusnák to be a 10g10a guy, you wonder if playing this position more consistently may have earned him those marks.
Cristian Roldan – 8 (MOTM) | Community – 7.9
Cristian is back healthy and so the Sounders are rolling. Leading the team with both three shots and three key passes, Roldan assisted on the first goal and did a bit of everything on the offensive side. He added multiple dribbles and forced STL to foul him constantly (on three occasions, the ref actually used his whistle).
One thing I liked: Always looking to spring Morris, Cristian found space and success on the right which balanced the attack. After some Roldanery found Atencio in the 23rd minute, it was a brilliant vertical run off of Morris by Cristian Roldan to surge into the box and attack the goal. Patiently he waited, pulled the keeper to his side, and found Rusnák for a smooth finish and the opening goal.
One thing I didn't like: His 66th minute shot was hit like the ball called his mom a bad name, and it's a shame it didn't knock the keeper into the goal. His 59 percent passing was a struggle, as was his 1/5 crossing completion rate.
Going forward: Seattle goes as Cristian goes.
Forward
Jordan Morris – 6 | Community – 6.5
Morris again was in the striker role and constantly probed the St. Louis back line with vertical runs, mixing in some holdup and back-to-goal play when necessary. He had three shots and a won header in a 31-touch outing that saw him act as a big part of the offense through indirect play. Jordan had a hard time connecting passes, though, ending with an ineffective 54 percent completion rate as he wasn't able to find teammates with consistency.
One thing I liked: The defensive work from Jordan up front was integral in denying the home team breakouts, and his 56th minute defending and pressing was fantastic. He set up Cristian for a chance in the 73rd. His runs always made tactical sense and opened up the field for others, and his run and touch created the space Roldan used on the first goal.
One thing I didn't like: With a breakaway in the 5th minute after being put through by Cristian, Jordan was unable to finish as his left footed shot was blocked by a chasing defender. He missed Nico in the 82nd minute to put the game away.
Going forward: Someone other than Cristian has to find Morris.
Substitutes
Nouhou – 6 | Community – 6.2 (on 59' for Baker-Whiting)
With Reed getting injured, Nouhou joined the team early in the second half, and he continued the strong play up the left wing. His aggressive play on both ends of the field befuddled St. Louis at times.
One thing I liked: A surging run up the wing in the 75th minute earned Tim Parker an orange card, as Nouhou was away and racing toward goal before he was attacked with studs upturned.
One thing I didn't like: A 96th minute turnover was to the middle of the field and nearly gave St. Louis a chance to get back into the match.
Going forward: Nouhou is a great left back, but having the tactical flexibility with both him and RBW is even better.
Obed Vargas – 4 | Community – 5.9 (on 80' for JP)
Obed came in for the tiring JP, and was ostensibly tasked with Atencio to lock down the center of the midfield for the last portion of the match. He was invisible for nearly his entire time in the match and did a lot of passive defending.
One thing I liked: A very nice 90th minute tackle and effort play was exactly what was needed to help close out the match and ensure the shutout.
One thing I didn't like: In an amazing feat, somehow Obed played 17 minutes and touched the ball … three times. And attempted one pass, which he missed.
Going forward: Vargas may have been passed over for starting minutes, but he's worked hard to fit in as a sub and clearly is still a priority inclusion later in matches.
Nico Lodeiro – 5 | Community – 6.4 (on 80' for Chú)
Looking to ensure the full three points, coach Schmetzer dialed up a tactical change, this time slotting Nico Lodeiro on the left wing. Of course he transitioned centrally and supported all over the field as necessary, but combining him with Rusnák and Roldan across the midfield helped Seattle possess the ball through the final whistle.
One thing I liked: A very nice 85th minute free kick was dangerous, and an even better hustle play in the 89th was a lovely combination of defense to steal possession and break out on his own. He added perfect 5/5 passing.
One thing I didn't like: A high elbow situation with seconds left on the clock was completely unnecessary and the kind of risk rookies take, not decorated veterans.
Going forward: Seattle has the luxury of bringing on the best DP in the history of the league as a late sub to change tactics and give fresh, veteran legs a chance to press for goals or lock down a lead.
Xavier Arreaga – 5 | Community – 5.9 (on 87' for Rusnák)
Human victory cigar Arreaga joined the match for the last three minutes plus stoppage.
One thing I liked: Somehow he didn't touch the ball even though there were 10 minutes played after he subbed on!
One thing I didn't like: Somehow he didn't touch the ball even though there were a full 10 minutes played after he subbed on!
Going forward: Seattle's best rated defensive player last year is somehow an injury time sub to see out wins, yet he enters with a smile every time. It can't be easy to lose your position, and by all accounts Xavi seems to have taken it well.
Referee
Jair Marrufo – 3 | Community – 4.7
This was a mess of a refereeing job from Marrufo, who was very liberal in his definition of "foul" throughout. The ref's inconsistent calls created so much strife, resulting in 10 percent of the entire year's yellow cards for Seattle. Somehow the Sounders received a yellow for every third foul called all match; STL had a 1/8 ratio, for comparison.
One thing I liked: After gleefully pointing to the spot in the 66th minute, a gloomy Marrufo was called over to the monitor to discover he was wrong in awarding a penalty. Sad Jair was forced to overturn his call and was thwarted in his aim of impacting the scoreboard.
One thing I didn't like: As SaH discord member Squared put perfectly, "the reffing was not up to the intensity of the game." Dangerous play ignored with a number of studs-up challenges missed or discounted, tossing around yellow cards willy-nilly, a number of flat out missed calls, combined with some head scratching bad whistles: this was a mess.
Going forward: Jair Marrufo seemed to want to referee a close match where he could glare at people and assert his control, and he eventually got to glare at people and assert his control, so win for that guy.
St. Louis City SC MOTM
Aziel Jackson was active throughout this one. The diminutive mid started his night by getting his head to a set piece and drawing an early save out of Frei. He put another on frame in the 49th after initially pressuring Baker-Whiting to win possession in an advantageous position. Minutes later he found the crossbar as he continued to look for a path back into the match. Beyond his direct efforts on goal, he led his side in successful take-ons and finished second in progressive passes and shot-creating actions. That said, he also committed the turnover that led to Reed's goal, and ended up with a great view of both Seattle strikes.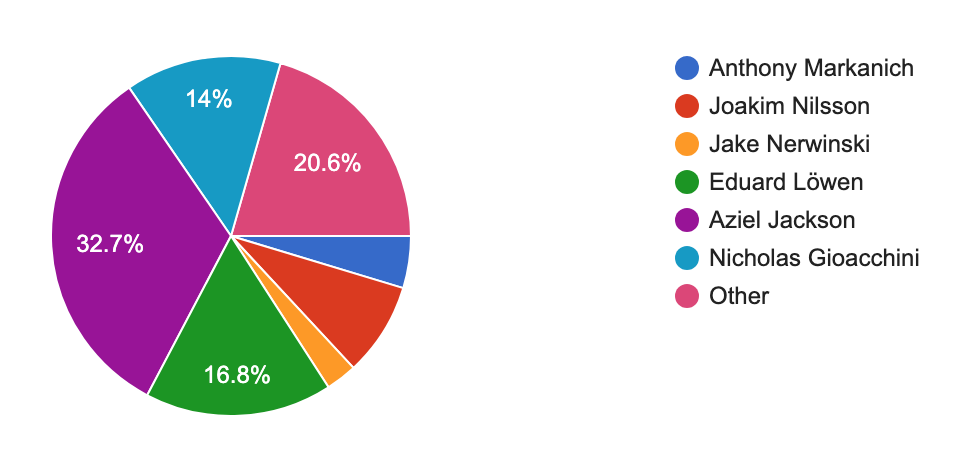 ---
Next up: Two quick games against Dallas!
Comments