SOUNDERS 2, GALAXY 1: Cristian Roldan scored in the 95th minute off throw-in from Alex Roldan than Josh Atencio flicked into his path.
SOUNDERS 1, GALAXY 1: Douglas Costa equalized for the Galaxy, deftly touching a pass from Julian Aude past Nouhou and slotting his shot beyond Stefan Frei.
SOUNDERS 1, GALAXY 0: Jordan Morris scored his 11th goal of the season, heading in a cross from João Paulo, who had won a couple tackles to keep the play alive.
---
The Seattle Sounders are unbeaten in six, seemingly having steadied their season after a rocky run of several months through the summer. But they still haven't put together the type of performance that demands their MLS Cup aspirations be taken seriously.
They have that chance today when facing an LA Galaxy team that has looked very suspect defensively, but has been impressive in the attack.
A win will officially put the Sounders in the playoffs and do wonders for their hopes of gaining home-field advantage in the first round of the playoffs. They can also clinch with as little as a tie, as long as Minnesota United drops points on the road to LAFC. They can even clinch with a loss if Minnesota loses, too.
But tonight's game isn't just about qualifying for the playoffs. More than anything, the Sounders need to finally win a home game. The last time they won at Lumen Field was on July 1, despite scoring first in 3 of 4 games they've played during that stretch.
Winning this game – as well as the Whitecaps game on the weekend – is probably the only way for Seattle to ensure themselves a Top 3 seed and they could otherwise risk losing home-field advantage in the first round.
Notes
The Sounders are winless in four straight at home, the first time that's happened within a single season. They've never gone five straight home games without a win.
The Galaxy are coming off consecutive 3-3 draws, which were preceded by a 4-3 win. It's the first time in MLS history that a team has played in three straight games in which both sides have scored at least three goals.
The Sounders will be without Raúl Ruidíaz, who has scored in 9 of 10 appearances against the Galaxy.
Former Sounder Eriq Zavaleta scored two goals and was also credited with an own-goal in LA's last game, the fourth time in MLS history that has happened to a player.
Absences: Injury, international duty and suspension
Seattle
QUESTIONABLE: Cody Baker (Concussion Protocol); Raúl Ruidíaz (Back Pain)
OUT: Sota Kitahara (Left Quad Strain)
LA
QUESTIONABLE: Riqui Puig (ankle)
OUT: Gastón Brugman (left meniscus), Calegari (left ACL),
Javier "Chicharito" Hernández (right ACL), Martín Cáceres (left knee
avulsion fracture), Jalen Neal (sports hernia surgery), Chris Mavinga (groin)
Officials
REF: Victor Rivas; ARs: Kathryn Nesbitt, Eric Weisbrod; 4TH: Sergii Boiko; VAR: Kevin Terry Jr; AVAR: Tom Supple
How to Watch
Match date/kickoff time: Wednesday, October 4, 7:39 PM
Venue: Lumen Field, Seattle
Global Streaming English: MLS Season Pass (Mark Rogondino & Heath Pearce)
Global Streaming Spanish: MLS Season Pass (Francisco X. Rivera & Diego Arrioja)
Local Radio: 93.3 KJR-FM Seattle, iHeartMedia (Danny Jackson, Pete Fewing & Michelle Ludtka-Furbush)
Local Spanish Radio: El Rey 1360 AM (Rodriguez, Maqueda, Tapia)
Is this game available to stream for free? Yes
Will Sounders radio be available as an alternate feed? Yes
Lineups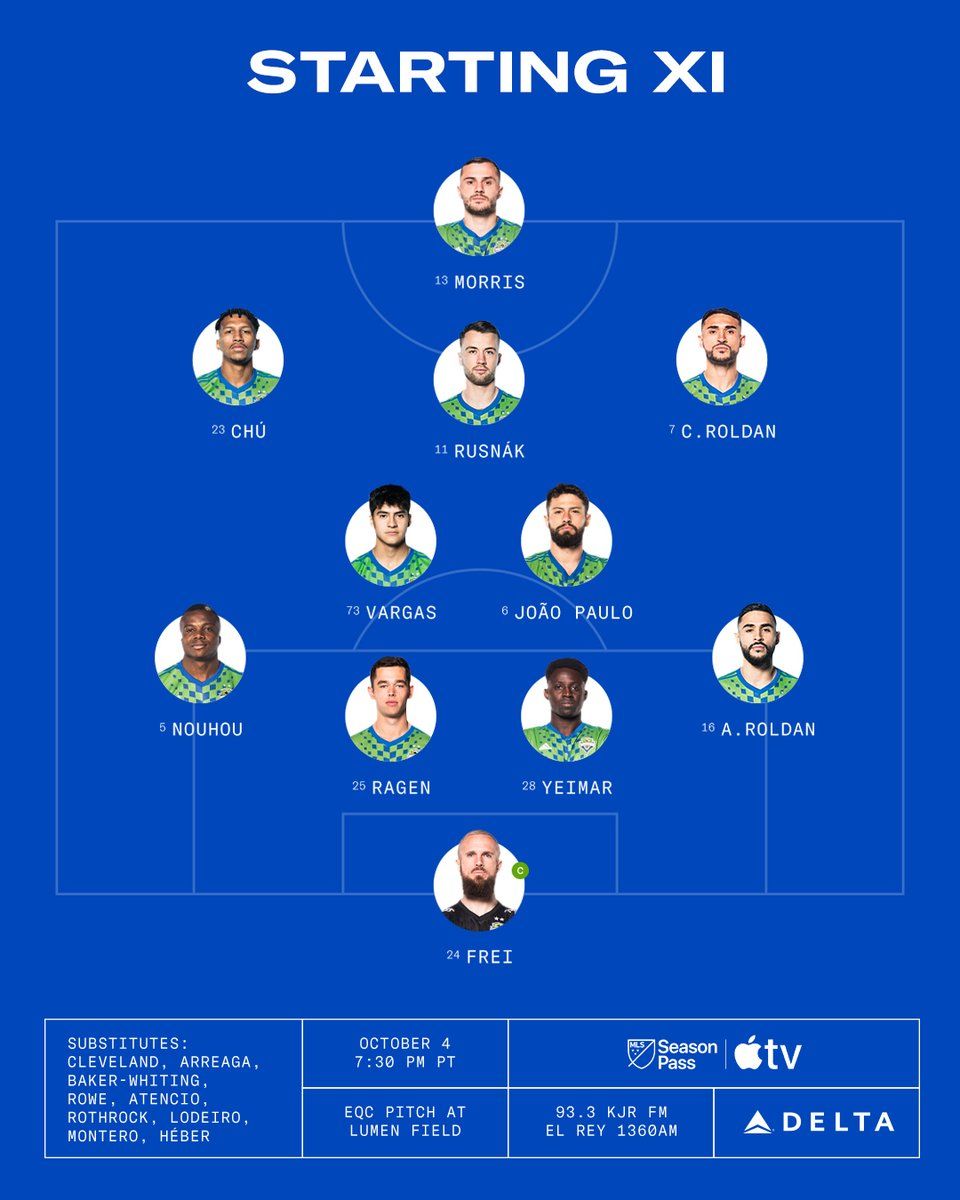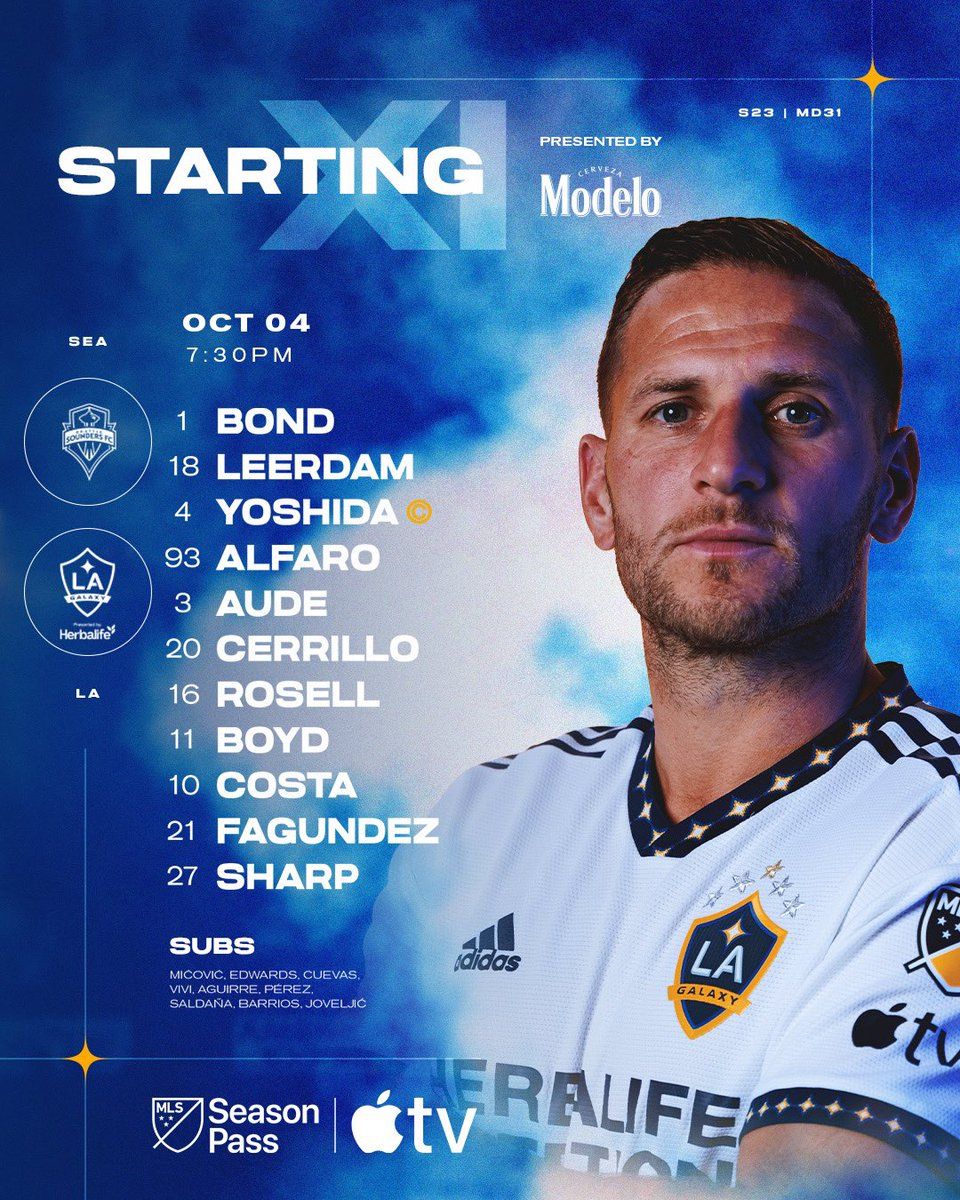 Highlights will be posted as the match progresses.
This is Seattle Sounders vs LA Galaxy; watch with us
Comments