Feeling great after a resounding victory at home, the Sounders looked poised to cruise into the next round. Unfortunately, they got off to a terrible start in Dallas, conceding twice in the first 20 minutes. Even though the team showed heart with a goal and resilient attempt to equalize, Seattle could never overcome that beginning and eventually succumbed 3-1. Both teams had a lot to learn from this match, with the Sounders once again giving up costly chances early, but also dominating for long stretches of time without quite being able to equalize. This forces a deciding game three in Seattle on Friday, and both teams likely feel capable of winning and moving on.
---
Goalkeeper
Stefan Frei – 5 | Community – 5.8
Gone almost immediately was that shutout feeling, as Dallas attacker Paul Arriola scored in the first six minutes. Compounding this outing was a penalty conceded 15 minutes later, and Seattle was playing catch-up for the rest of the match. Frei wasn't credited with a single save, as Dallas efficiently capitalized on each of their three big chances.
One thing I liked: Although not showing up on the stat-sheet, I thought Frei did well in the 85th minute to cut out a ball that looked dangerous, allowing Seattle a few more minutes to push for a late equalizer.
One thing I didn't like: A terrible 57th minute clearance didn't even get out of his own area and was nearly shoved right behind him into the net. Not sure what Frei was doing in the 89th, as he was beaten easily by a harmless looking shot from distance.
Going forward: Playoff Frei activation, please.
Defense
Nouhou – 4 | Community – 4.1 (off 84' for Rowe)
After a dominant standout performance in the last match, Nouhou had a bewilderingly bad outing in the second game of this series. From early on he struggled to defend, which tends to be a bad thing for a defender. This was a dreadful outing lowlighted by being present in both of the initial goals against, picking up fouls and an early card, and being unable to channel his clear emotion to the good side of the force. He settled down and made it through until he was subbed, but the early errors put the entire team on the back foot.
One thing I liked: Nouhou had a shot and again showed off his improved decision making going forward, joining the attack in a cohesive manner.
One thing I didn't like: He didn't close down the crosser on the first goal, fouled in the box for the penalty, earned one yellow card and likely deserved three, and frankly had a disastrous outing.
Going forward: Nouhou giveth, and Nouhou taketh away.
Jackson Ragen – 5 | Community – 5.1
Ragen had a few massive errors that overshadowed a decent match. He had 81 touches as Seattle controlled possession, but 79 percent passing shows how much Jackson struggled to find passes like the ones he completed the match prior. A number of poor decisions and team mistakes fell to Ragen to fix and he had much more of a struggle with cleaning up small errors than we are used to seeing.
One thing I liked: With Dallas dropping deep to protect a multi-goal lead, Jackson took the initiative to press his defensive line incredibly high, and in the 28th minute he created an important turnover in the attacking third, supporting the Roldan wing.
One thing I didn't like: Jackson had two massive errors and both led directly to Dallas goals. The first was being caught in no-man's land in minute six, stepping forward to innocuous space and missing the direct Arriola run in behind him that opened the scoring. The second giant mistake was a terrible pass forward in the vicinity of Kelyn Rowe in the 89th minute, which was stolen and transitioned into the game's final goal.
Going forward: Ragen has so much influence on the match that when he makes big errors they almost always get punished.
Yeimar – 6 | Community – 5.6
Yeimar was perhaps the best Seattle defender on a night where the defense had some massive mistakes which were capitalized upon. His 61 touches and 81 percent passing were just okay, as were his mundane defensive numbers, highlighted by four clearances.
One thing I liked: In the 4th minute it looked like Yeimar recognized the gaps forming behind Ragen and got across to cover, but unfortunately Seattle didn't learn from that. His defensive header in the 55th minute was important, as was his 73rd minute intervention versus Jesus Ferreira on a direct attempt.
One thing I didn't like: Although Nouhou and Ragen deserve most of the blame for the first goal, it's logical to wonder if Yeimar transitioned across late prior to the opening goal. Dribbling through the opponent in the 47th minute was unnecessarily risky.
Going forward: This entire defense was put under more pressure and adjusted too late.
Alex Roldan – 6 | Community – 5.8
Alex Roldan played the entire match and barely showed up in stats or notes, as Seattle had a harder time dealing on both ends of the field with Dallas' adjustments. Roldan was quiet, ending with a team-leading 81 touches but only translating those into a single key pass all evening, even while completing a tidy 91 percent.
One thing I liked: A nice 37th minute cut inside was a new wrinkle, as Alex attacked the central space and allowed others to fill the width while he searched for direct options.
One thing I didn't like: Only completing one of his four crosses, both the completion rate and number of attempts were low and indicated a severe lack of right side Roldanery. Alex spent a lot of time being invisible.
Going forward: Seattle needs the Roldan wing to create opportunity and it was lacking in this one.
Defensive Midfield
João Paulo – 6 | Community – 6.1 (off 69' for Vargas)
João started as the more defensive of the central midfielders but ended up with the better offensive stats, bursting into support of the attack with consistent energy. He ended with two shots, and his 79 percent passing was direct-minded and often looking to stretch the field over the top via Léo Chú and Jordan Morris.
One thing I liked: A 46th minute shot attempt at the top of the box was the kind of aggressive attitude lacking from the midfield up to that point. JP followed that up with a fantastic through ball to Morris ten minutes later as the Sounders dominated through consistent vertical pressure right out of halftime.
One thing I didn't like: His 0/5 crossing and a general lack of polish lowlighted this match as JP struggled to get impactful results from his efforts. Airmailing passes in the 23rd and 46th minutes, passing out of bounds in the 54th, and a crucial turnover in the 67th mid-attack were some of the uncharacteristic errors from the usually dependable JP.
Going forward: Dallas attacked in behind the midfielders and Seattle will need to adjust.
Josh Atencio – 7 | Community – 6.2 (off 69' for Ruidíaz)
Atencio was effective again against Dallas, this time doing a lot of off-ball work that made a difference in many small ways. With 55 touches and 79 percent passing, he had a lighter workload than the previous match, but his smart runs and positioning helped create space and opportunity for teammates. The range he showed also helped support deeper defensively, as Atencio earned four aerial wins, dominating the air centrally. Incredibly active, Josh covered much of the field, moving and combining more than any other Sounder.
One thing I liked: With some excellent hustle versus multiple opponents, Josh won possession in the 29th minute. He took a smart 52nd minute yellow to break up an urgent counter, and five minutes later was in the right spot to clean up after a dreadful Frei pass was stolen in the Seattle box.
One thing I didn't like: A 21st minute poor pass led directly to Yeimar having to take a yellow card against the ensuing opponent breakout. He whiffed on a big chance volley attempt in the 68th.
Going forward: Atencio showed that even with the team struggling, he could still provide impact both ways.
Attacking Midfield
Léo Chú – 5 | Community – 4.8 (off 59' for Lodeiro)
With Seattle struggling to create offense against a frantic Dallas press early on, Chú tried to be a consistent threat up the left that wasn't realized. With only 26 touches, he was absent on his wing both offensively and defensively, forcing pressure behind him and only creating a single key pass going forward in return. He left early in the second half after an ineffective match.
One thing I liked: Léo's key pass was a neat crossing ball into a great spot and Seattle failed to capitalize.
One thing I didn't like: Chú had little impact in this match, being taken out almost completely by his defensive counterpart, Ema Twumasi. His poor pass forced a Nouhou yellow card in the 10th minute and Léo didn't support either end of the field well.
Going forward: Léo must be better at adjusting when the defense can match his speed and athleticism. He may have earned himself a sub appearance in the next match.
Albert Rusnák – 6 | Community – 5.9
Rusnák was quietly excellent, doing a lot of essential work across the middle to connect with others and punish Dallas for overloading center runs. He earned a sparkling 93 percent passing rate on 54 touches, as it was Albert who connected neatly through the middle and brought balance across the field. He was 5/7 on long balls, searching for ways to put people in behind while also dropping in defensively as the other midfielders moved forward.
One thing I liked: A nice 37th minute break nearly found Cristian wide open for a goal, and he put in strong defensive work, tracking back in the 47th. A calm play in the 89th nearly started a game-tying sequence.
One thing I didn't like: There were opportunities to put Seattle on the front foot and repeatedly Albert was deep facilitating, not forward combining. This didn't work with the ineffectiveness of the wide play in this match. His set-piece delivery remains underwhelming.
Going forward: Dallas did well to pressure centrally and Rusnák's in-game adjustment to support made a big difference. He looked even more effective with another creator subbed in.
Cristian Roldan – 6 | Community – 6.3
This was one of the least effective matches Cristian has had since he returned from injury, yet he still managed a shot, a key pass, and some essential movement and creation. Active on the right with 55 touches, Roldan often moved centrally to help overload and look to spring Morris vertically.
One thing I liked: In the 24th minute, a first-time pass nearly sprung Morris. It was Cristian who constantly looked over the top to find the most effective Sounder probing the defense again and again.
One thing I didn't like: Cristian was quiet in this match, and he compounded that lack of impact with some costly errors, such as an 8th minute turnover that fed into a voracious Dallas attack, and an inability to get a shot off in the 37th when Rusnák set him up.
Going forward: Seattle goes as Cristian goes, and he's going to need to go more than that.
Forward
Jordan Morris – 8 (MOTM) | Community – 7.1 (MOTM)
Morris followed up his excellent play last match with another dominant performance. Unmarkable when in this form, it was Jordan who was a constant threat attacking the goal with purpose, going around, through, past, and over defenders. Scoring one goal that counted, another that deserved another look, and nearly putting multiple others behind the keeper, it was Jordan Morris who kept Seattle in this game. With only 22 touches, Jordan created chance after chance, and he had a sparkling 93 percent passing mark, as his holdup and connection play was once again on point.
One thing I liked: Both of his goals were breakaways and showed that he possesses a unique combination of size, speed, agility, power, and balance. After almost scoring in the 5th minute, he did score in the 48th on a supreme solo effort, stealing and shrugging off a defender, racing into the box and scoring while being fouled. In the 51st he had a RRBH moment, oozing confidence. This led to another goal just four minutes later that was never fully shown to be offside. Morris was a beast.
One thing I didn't like: Cristian and JP are the only two Sounders who consistently find Morris, and when he is in this form everyone needs to be looking quick over the top or in behind to find his creative movement.
Going forward: Jordan tried to carry the team into the next round.
Substitutes
Nico Lodeiro – 6 | Community – 6.0 (on 59' for Chú)
Again brought in for a neutralized Chú, Nico was excellent. With 25 touches and 85 percent passing, he converted his active movement into a shot, a key pass, and multiple creative combinations that started opportunities and provided scoring chances for Seattle.
One thing I liked: Immediately after subbing on, Nico nearly scored on a header, immediately signaling a direct attacking intent. He followed this up with a nifty flick, reminiscent of the last match, that released Nouhou in the 79th. He combined beautifully with Obed Vargas in the 83rd for another big Seattle opportunity.
One thing I didn't like: In minute 85, Nico had a chance to feed that man Morris in the middle but missed a crucial opportunity.
Going forward: Nico has now subbed twice at left wing and been a force, which may mean more time there going forward.
Raúl Ruidíaz – 5 | Community – 5.1 (on 69' for Atencio)
Raúl earned more time in this match, coming in with a chance to push Seattle into an equalizer and perhaps a win away. It wasn't to be, however, as Ruidíaz again struggled to find his place in the match. With some tactical moves, he appeared to be in a two-forward set with Morris, but rarely had a chance to impact the match.
One thing I liked: A nice hold-up play in the 82nd minute was one of only four touches he managed in 30 minutes.
One thing I didn't like: Raúl almost had the equalizer off some inspired Vargas movement in the 83rd minute, nearly getting a crucial deflection on frame, but it wasn't to be.
Going forward: Raúl had time but not much of the ball, which isn't a great combination.
Obed Vargas – 5 | Community – 5.3 (on 69' for JP)
In a somewhat surprising move, Vargas was inserted with a third of the match left and asked to be a single pivot central player. Although he predictably struggled to defend centrally as Seattle threw immense numbers forward, it was his attacking that stood out and highlighted a solid outing.
One thing I liked: In the 83rd minute, Obed charged forward on the dribble, combining with teammates and taking the space offered (which happened to be deep in the box), nearly creating a goal with a fantastic run and cross combination. In the 87th minute, Vargas almost tied the score with a shot as he announced his relevance to this roster on the offensive side.
One thing I didn't like: Obed struggled to cover the space in the center as the tactics often left him as a lone defender. He was nowhere to be found on multiple occasions as Dallas consistently ran vertically through the middle, eventually scoring through spaces Obed was unable to cover.
Going forward: Vargas showed the same defensive struggles, but his positive offensive movement and silky control were excellent.
Kelyn Rowe – 5 | Community – 4.5 (on 84' for Nouhou)
Rowe returned to the soccer field for the first time since July 1st, but he looked out of game shape and not in sync with his teammates. Ostensibly tasked with being more of an offensive option as Seattle threw everything forward, Rowe was more noted for his defensive actions than offensive impact.
One thing I liked: In the 87th minute, Rowe briefly kept Seattle in the match by making a crucial interception. His lunging deflection on a counter-attack likely saved a goal the other direction as the Sounders had sold out to push huge numbers forward on a set piece.
One thing I didn't like: Rowe's speed and positioning were victimized as part of the final goal against, and he didn't add much value on either end of the field.
Going forward: This had a chance to be a great story, but Rowe's return was sub-par.
Referee
Rosendo Mendoza – 4 | Community – 3.9
For the first half of this match, Mendoza did an excellent job. His fouls made sense, cards were earned, and restraint was used as tempers flared early. The 13-8 total fouls made sense, and each of the six cards (evenly distributed) were correct. Then, early in the second half, things got completely out of hand, calls didn't add up, and massive errors and inconsistencies arose.
One thing I liked: The yellows for Nouhou, Arriola, Yeimar, Atencio, etc., all made sense, and the 48th minute VAR check looked to get the right result. The game seemed under control.
One thing I didn't like: The turnaround was swift, as errors both small and large were made by this referee crew. Playing advantage multiple times on the same play for deliberate shirt pulling but failing to retroactively give the deserved yellow was ridiculous. Not giving a persistent fouls card to Paxton Pomykal until the 61st minute allowed rampant hacking and disruption centrally. The most egregious error was not calling a blatant foul on Raúl in the 74th minute in the box that should have been a penalty awarded. The justification that he wasn't involved in the play is completely bizarre, and this referee's refusal to heed the advice of his VAR team who pointed out a mistake was ridiculous.
Going forward: It was good until it got so, so bad.
FC Dallas MOTM
So much of Seattle's troublesome start to this match was down to Kamungo. In the 6th minute, he used his shiftiness to create separation from Nouhou before delivering an inch-perfect cross onto the dome of the 5'-6" Arriola for the opener. Seven minutes later, he victimized Nouhou again, this time drawing a penalty. Granted, it should also be noted that it was Kamungo's sloppy back pass early in the second half that gave Seattle life. So, lots of goal involvement for the youngster.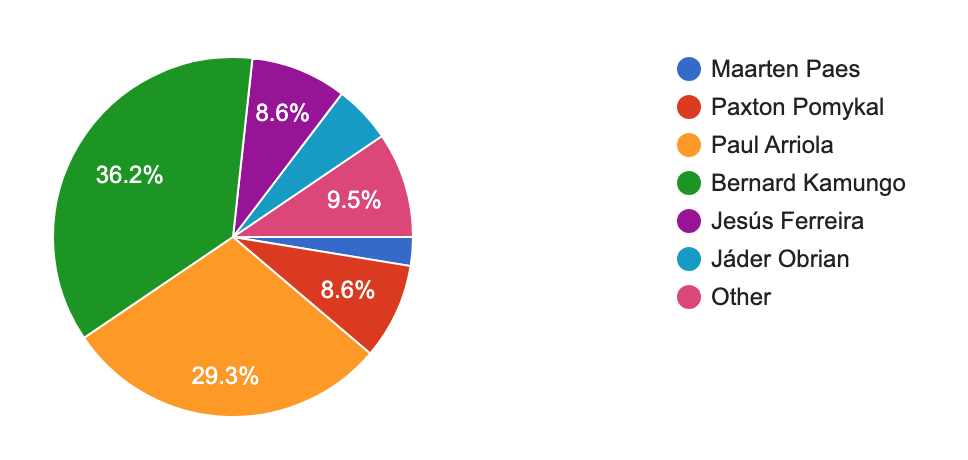 ---
Next up: One more quick game against Dallas (again)!
Comments