It was reasonable to be wary of the Sounders in the playoffs; they'd been a team that was solid and on the rise, but who knew whether they could string it all together under pressure? They did that and more against Dallas, limiting the away team to two early chances, then locking the game down while creating opportunities via possession with a purpose. Seattle attacked in waves, forced a penalty kick, and scored after one of the best examples of attacking movement and combination seen in MLS this year. There were a few early hiccups, but the Sounders dominated in all facets for the last two-thirds of the match, continuing the momentum of a team coming into form at exactly the right time. The final score was 2-0, but the winner wasn't in doubt in the second half, only the scoreline.
---
Goalkeeper
Stefan Frei – 8 | Community – 8.1
FIFTEEN. Fifteen shutouts on the season to lead the league from a guy who has barely sniffed a GKOTY vote in all his years in MLS. Some of those required less from Frei, but he earned this donut with two massive saves to control the momentum, breaking the back of the Dallas attack. He ended with four saves and was tidy with his 34 touches.
One thing I liked: Twice Seattle was beaten to balls in the middle of the park, and while there might have been a foul in the buildup, Stefan Frei still remained between striker Jesus Ferreira and the goal, denying the Dallas star both times. Silly Dallas, Jesus doesn't score, but Goalie Jesus saves.
One thing I didn't like: It took a smidge too long understanding the only option for Dallas was to take advantage of distribution mistakes, and Seattle dangerously and unnecessarily tried to play out of the back early.
Going forward: Keep doubting him.
Defense
Nouhou – 9 (MOTM) | Community – 8.4 (MOTM)
This was one of Nouhou's best matches ever. Known for his defensive shutdowns, he was his usual dominant self, tilting the field defensively and creating space for attacking up his wing. Two tackles, two interceptions, 12 duels, and a clearance combined beautifully with his 78-touch, 84 percent passing offensive show that included multiple key passes, highlighted by a beautiful assist.
One thing I liked: The balance up the left was exquisite, as Nouhou drove into the attack when needed, made near-perfect choices on both ends of the field, controlled possession, and when given a slip pass in the 74th minute, dropped an absolute dime on the noggin of Jordan Morris to put the game away. This was a complete performance highlighted by Nouhou's fantastic decisions on both ends of the field.
One thing I didn't like: The minor errors Nouhou had on the evening were missing a few passes, like a 21st minute attempt to Morris (later rectified), and a number of attempts to find Léo Chú up the wing that didn't connect.
Going forward: Competition is good, and Nouhou reminded everyone why he's the incumbent with a dominant outing.
Jackson Ragen – 6 | Community – 7.3
Ragen held down the middle, often deeper than the rest of his line as Seattle pushed waves forward to help overload the attack due to constant possession advantages. Jackson understood his role nicely, finding connecting passes and keeping clean on distribution to the tune of 92 percent completion. He was a sparkling 7/7 on long balls, finding outlets from deep with beautiful accuracy.
One thing I liked: Ragan's 11th minute slide tackle ended a brief Dallas foray into the box with authority, and he came across in the 50th minute for a crucial intervention.
One thing I didn't like: Ragen put a weak pass forward centrally in the 23rd minute. This allowed Dallas a chance when the ball was quickly transitioned back past him, requiring a Frei save. He was beaten over the top late for another chance, although the play looked to be offside.
Going forward: Ragen calmly controls so much of the back; this infuses the whole team with confidence.
Yeimar – 7 | Community – 7.5
Yeimar played more aggressively than Ragen, with four tackles and six clearances to lead the team as a roving destroyer across the back. His 72 touches came with 91 percent passing as Yeimar pushed high and supported the ubiquitous Roldanery happening on the right. Time and again his defense was the wall where Dallas attacks crashed and died.
One thing I liked: Yeimar introduced himself with a physical challenge on Paul Arriola in the 10th minute, and erased him from the match. He made a controlled 66th minute run through the defense, and he finished up with an 89th minute intervention as Dallas tried to make it interesting late.
One thing I didn't like: A bad pass in the 46th minute led to a nervy minute, and Yeimar needed Ragen's timely intervention in the 50th to remove an Arriola half-chance.
Going forward: Dallas just got Yeimar'd.
Alex Roldan – 7 | Community – 7.0
Alex started the game off with a purpose, driving forward and combining with his brother to balance the field and probe the Dallas defense. His 87 touches were mainly attacking, finding two key passes, adding a shot, and completing 79 percent as Roldan looked forward often to push the offense into attacking areas.
One thing I liked: Roldan consistently drove down the right and crossed into dangerous areas. After finding his brother forward in the 42nd minute, the older sibling earned a PK. A 61st minute overlap and cross almost earned Albert Rusnák a second, and Nico Lodeiro missed an open attempt off a 68th minute ball as well.
One thing I didn't like: Alex did everything right and came up empty after a great Chú/Morris combo got him the ball and an opportunity to shoot in the 40th minute. His well-placed effort forced a wonderful save from the opposing keeper.
Going forward: Seattle balances both wings in such different ways, each competing to be more effective. It's fun to watch.
Defensive Midfield
João Paulo – 7 | Community – 7.8
João reprised his role centrally as he and Josh Atencio put on a clinic on covering the middle, overloading forward, and facilitating attacks of all shapes and sizes. João's body of work included 5/8 long balls, 83 percent passing on a team-high 109 touches, a key pass, as well as a shot on target. Defensively, he was his usual stout self with three tackles, three interceptions, and eight duels.
One thing I liked: These two defensive midfielders complemented each other's play well, and that meant while he was racking up the defensive numbers and preventing counters, JP also found time to get a 25th minute volley, and pull the trigger on deep-lying creation like a 54th minute over-the-top ball that got Cristian in behind.
One thing I didn't like: A giveaway (due to a likely foul by Dallas) in the midfield in the 27th led to one of the only Dallas chances, and another mistake in the 52nd earned Ragen a yellow card after the centerback was forced to foul in response to a turnover.
Going forward: This defensive midfield combo is adding offensive push while still keeping the goals against at zero.
Josh Atencio – 8 | Community – 7.6
Atencio had another fantastic match, facilitating both the defense that roved in packs to earn near-constant possession, and the offense by making direct, attacking runs that Dallas was unable to defend. Josh had two tackles and two interceptions on defense and led the team with 12 duels as well. While doing all that, he also led the team in shots with five! He was everywhere on the field, popping up to add support as Seattle stretched Dallas and attacked through the gaps, or combined in tight areas to overload and create chances.
One thing I liked: Josh may need to change his last name, as his inclusion into the Roldanery happening on the right befuddles opponents. Combining with Alex and Cristian to keep possession, Atencio repeatedly displayed a vertical dash through the defense that saw one of two Roldans find him forward, and this attacking run in the 18th created a big chance off his cross. He nearly found Morris in the 63rd, and had another great ball in the 72nd. Atencio's addition to the offensive buildup has been stellar.
One thing I didn't like: Josh was chasing the play in the 11th minute as Dallas raced away from him, and he was beaten to a poor pass in the 23rd that led to the biggest chance for the away team. He found good spots and shots, but only one forced a save.
Going forward: Atencio has been everything Seattle hoped for centrally, adding defensive range and offensive push in ways no other partner with JP has this season. His ability to support diagonally forward allows massive balance across the front line, and his presence overloads the box with numbers.
Attacking Midfield
Léo Chú – 6 | Community – 6.3 (off 66' for Lodeiro)
Chú didn't score or assist in this match, but the threat of him getting in behind pulled the defense towards him, creating gaps that teammates eagerly used. He maximized his 33 touches, creating three shots and a key pass, and he was a consistent threat on the left.
One thing I liked: Léo constantly got to the end line and crossed back from prime assist areas, finding teammates in dangerous spots. A standout moment came in the 40th minute as Léo bodied off an opponent to steal possession, then found a posted Morris in the box for a give-and-go, before finding Alex for a shot that forced a big save.
One thing I didn't like: Chú was matched up with one of the few defenders who could equal his speed, and the vertical threat was limited. He missed Morris on multiple occasions (5', 46'); either one could have been a goal had the pass been better.
Going forward: A "quiet" Léo Chú match was a playoff game where he found three shots and set up others multiple times.
Albert Rusnák – 8 | Community – 7.3
Rusnák has dominated the little things that Seattle needs to create total soccer lately, and this match was no different. With 64 touches and fantastic 94 percent passing, Albert uses his tactical genius to find the right spots to support others and put them into quality areas. His smart movement brings him into the box and constantly finds the ball, and he found four shots without forcing possession. He added two key passes and scored the important opening goal from the spot.
One thing I liked: Rusnák understands the balance Seattle has, and whether it's combining on the left to open Chú's verticality, possessing central to bring Morris into the match, finding a Roldatencio combo up the right, or having a nose for shots at the top of the box, he's doing it all. Oh, and you can add Lodeiro late for flawless combination play.
One thing I didn't like: A long touch in the 15th minute prevented a fifth shot on his statsheet, and he put a 61st minute volley into the stands, a couple of minor errors compared to the excellent rest of his match.
Going forward: The key is Rusnák's willingness to drop deep, support behind Nouhou and Chú if need be, recognize when the defensive midfielders need help, and know how to bring Morris into the match. His game is quietly carnivorous, eating up possession and spitting out chances.
Cristian Roldan – 8 | Community – 7.9
Cristian Roldan had a vintage performance that saw him impact the entire match. Three shots, three key passes, 67 dangerous touches, three tackles, a PK earned, eight duels, multiple fouls received, and that sweet, sweet Roldanery that puts it all together into goal-scoring actions.
One thing I liked: Seattle controlled much of the match, but the early big chances fell to Dallas. It took a bit of brilliance from those Roldan brothers in the 42nd minute after some sustained Seattle pressure to break it open. Alex put Cristian over the top on an innocuous looking pass. Cristian showed his incredible strength and balance to tackle the ball and drive into the box, stepping neatly into the defenders path and earning a game-changing penalty kick. Dallas would barely sniff the Seattle half for the rest of the match.
One thing I didn't like: Usually automatic, Roldan missed Morris in the 51st on an inspired run that would have given Seattle some earlier breathing room.
Going forward: Seattle goes as Cristian goes, and he's goin'.
Forward
Jordan Morris – 8 | Community – 7.4 (off 83' for Ruidiaz)
Morris was fantastic in this match. And then he added a goal. His play was dynamic, dangerous, attacking, penetrative, and voracious. He ended with only a single shot and key pass, but did so much in the attacking third to create opportunities that his teammates took advantage of over and over. Showcasing some of the best hold-up play we've seen all year, Seattle found Morris as an outlet through the middle or a deep attacking option posted up inside the box before laying off backdoor lobs to teammates.
One thing I liked: After Seattle decided to pass Dallas silly for about 15 minutes after the addition of Lodeiro, in the 74th minute Nouhou found a perfect cross into a dangerous area. It was dangerous because that was where a lurking Morris leaped up and won his fourth header of the match, this time smashing home a game-sealing goal, a deserved tally after his constant creation up to that point.
One thing I didn't like: Morris made many excellent choices in this match, but in the 56th minute he had a wide open Rusnák flying up the middle on goal and Jordan didn't see him early enough, with his late pass being poked away.
Going forward: Jordan's game was a great example of playing without the ball and maximizing impact on and off the ball.
Substitutes
Nico Lodeiro – 6 | Community – 6.7 (on 66' for Chú)
Nico came in on the left wing and, oh my, did he just drop into the match and usher in 15 minutes of absolute possession dominance. Pinging the ball around and combining with nearly everyone on the field, Dallas forlornly chased the ball as Nico and crew possessed with a purpose, scoring and seeing out the match.
One thing I liked: Nico had 30 touches in his 30 minutes, combining with Albert and JP especially as they passed the ball around Dallas with ease. A wonderful possession spell culminated in Lodeiro finding Nouhou on the end line with space to dial up Morris, and Jordan answered the call.
One thing I didn't like: With a chance to shoot direct off an Alex Roldan cross, Nico whiffed in the 68th minute.
Going forward: Some of the best possession we have seen all year was the 20 minutes after Nico subbed in, adding another tactical look Seattle can leverage on this title run.
Raúl Ruidíaz – 5 | Community – 5.8 (on 83' for Morris)
It was great to see Raúl back on the field. He was active and found six touches and a shot in his limited time, and he offered a different look up front.
One thing I liked: Dangerous from anywhere, a 91st minute turn and shot seemed almost destined to score as Raúl presents a direct threat every time he touches the ball.
One thing I didn't like: He found his space in the 91st minute and took it, but seems to be rushing things as he works to be relevant in the rest of the season.
Going forward: Raúl is a killer in the playoffs.
Referee
Joseph Dickerson – 6 | Community – 4.9
Dickerson had some struggles in this match but ultimately did a good job calling fouls and facilitating a clean match. Of the 25 fouls he called, Seattle was whistled for 16 as the numbers were somewhat one-sided, but part of that is due to the game state. Although he missed some things, Dickerson got the big calls correct and listened to his assistants. On multiple occasions advantage was called appropriately.
One thing I liked: This ref took a moment and made a thoughtful choice to call the PK, not waving his hands dramatically like he was trying out for a daytime drama, which I found refreshing. He also got the call correct.
One thing I didn't like: The fouls seemed to be one-sided for as much as Seattle had the ball, (8-3 at half, 16-9 overall). The most egregious non-call was Alex Roldan getting brutally elbowed in the 38th minute in a moment that deserved a card, yet didn't even get a whistle.
Going forward: Dickerson refs a lot of Seattle matches, and this was about what was expected.
FC Dallas MOTM
Paes was credited with four saves in this one, doing all he could to keep his side in it. A few were fairly run-of-the-mill, but the one that stands out came in the 40th, as some clever Chú/Morris interplay eventually put the ball at Alex Roldan's foot near the penalty spot. His low drive forced a fantastic reaction from Paes, as he parried the effort wide to his right keeping the match scoreless for the time being.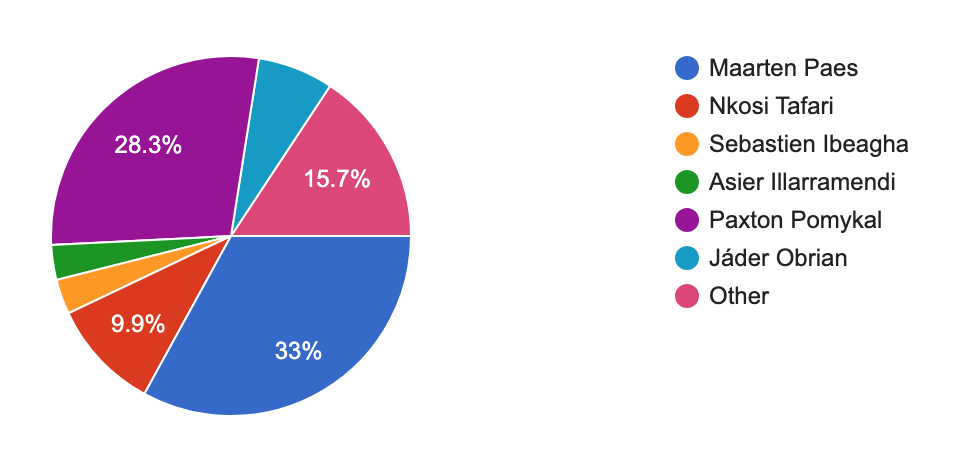 ---
Next up: One more quick game against Dallas!
Comments