The Sounders continued their best run of form since April with a 2-0 victory over FC Dallas in the first match of a best-of-3 playoff series. Now they travel to Frisco with their job half done, hoping for a win in regulation or penalties to see them through to the next round. FC Dallas are on the ropes after losing both the game and their star midfielder Alan Velasco to an unfortunate knee injury. Let's look at how the Sounders controlled the game against Dallas, and what may be in store in the rematch.
Sussing out Seattle
The Roldan Revolution — aka Roldan-a-pa-looza — continues in Seattle, where Cristian's presence has transformed the attack. Throughout the summer, the Sounders' attack was left-wing-or-bust, with Léo Chú responsible for the bulk of the dynamism. Against Dallas, Seattle's possession leaned to the right, with the Roldan brothers, Albert Rusnák, and Josh Atencio running the show. Even while Nouhou made some memorable and effective forays down the left wing, the Sounders' average positions were still quite balanced, in line with their back-three buildup shape.
Coach Brian Schmetzer mentioned how Seattle wanted to use that buildup shape to attack the wings. By compacting Seattle's back three and central midfield into a narrow shape, Dallas' front three were also squeezed laterally in order to provide pressure and block midfield passes. That left acres of space on the wings for Jackson Ragen to exploit with passes to the Roldan brothers: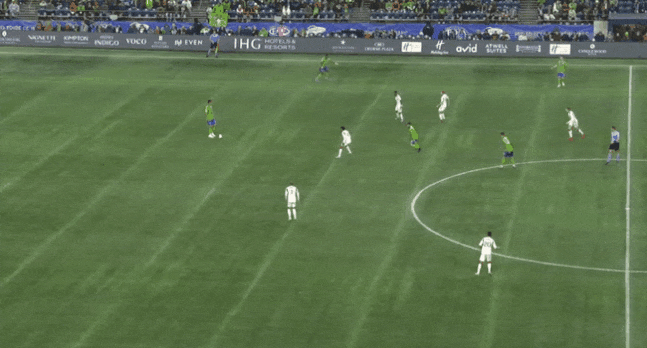 Josh Atencio continued to show his quality on both sides of the ball, this time making hard runs in the right half space for a great cutback pass to Albert Rusnák: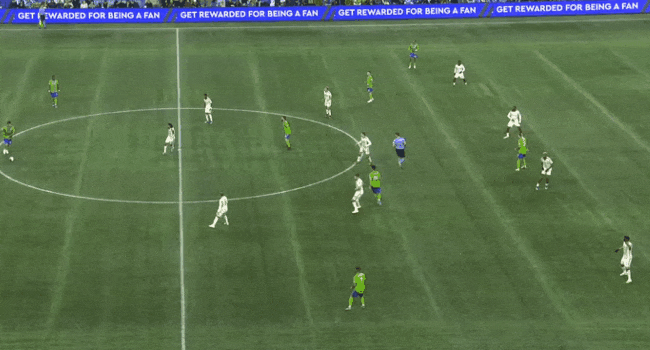 The Sounders controlled the match until Dallas grew tired of putting up a fight. Nouhou frustrated the entire left side of FC Dallas with his best two-way performance in recent memory. It is difficult to imagine a way forward for Dallas if the Sounders play this comprehensively and avoid unnecessary risks in Game 2.